Igneocnemis kaiseri

The Philippine endemic genus Risiocnemis includes 38 described damselfly species, of which 20 are assigned to the subgenus Igneocnemis. All species of the genus are reophilic forest damselflies living in habitats with good vegetation cover. Igneocnemis kaiseri is endemic to the island of Samar in the Eastern Visayas where it shares forest habitats with 6 other Risiocnemis species. Igneocnemis kaiseri was only decribed as recent as 2002 and photographed alive in the field for the first time in May 2022. Direct below is posted the first known image of a living individual, photographed undisturbed in its natural habitat.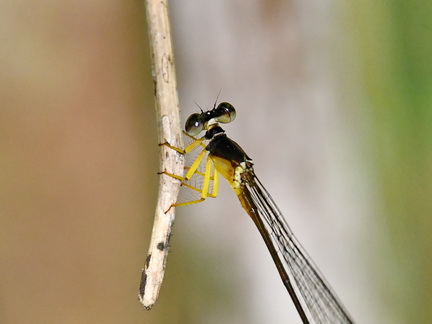 Igneocnemis kaiseri, adult male.
Samar island, Philippines, 22 May 2022
Igneocnemis kaiseri, adult male.
Samar island, Philippines, 22 May 2022


-Identification;
Males are unmistakable. There is no other damselfly on Samar with a black-yellow coloration.
I have not yet been able to photograph a female. Said to have a light brown synthorax, yellow legs and abdomen with segment 1 mainly yellow and the other segments brown.
-Habitat;
Small streams in good forest from near sea-level up to 350m asl.
Said to breed only in shady creeks extremely rich in calcium carbonate.
-Habits;
Perching low at 0,5 to 2 meter height in streamside vegetation. Hard to follow in flight. Once a good spot is found several individuals may be encountered in a small area. Observed in May.
-Distribution;
Endemic to Samar island in the Philippines.
-IUCN Red list status; Endangered ; Named after Mr. Markus Kaiser in appreciation of his contribution to the protection of natural habitats in eastern Switzerland... good work perhaps but a very odd choice for a Philippine species as it won't be easy for you to go observe this species on Samar without hearing chainsaws in the background...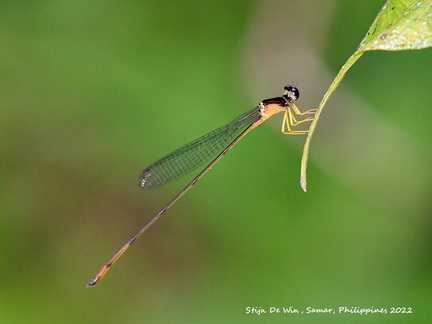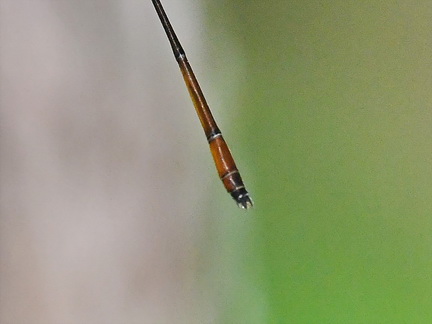 Igneocnemis kaiseri, adult male.
Samar island, Philippines, 22 May 2022
Igneocnemis kaiseri, adult male cerci.
Samar island, Philippines, 22 May 2022



All photos copyright Stijn De Win. Note my Dragonfly and Damselfly observations are also posted on iNaturalist.
Hope this page may help with the identification, education, appreciation, conservation and research efforts of the Philippine Odonata.
Contact ; stijndewin@birding2asia.com