Igneocnemis siniae

The Philippine endemic genus Risiocnemis includes 38 described damselfly species, of which 20 are assigned to the subgenus Igneocnemis. All species of the genus are reophilic forest damselflies living in habitats with good vegetation cover. Igneocnemis siniae is endemic to the Eastern Visayas where it shares forest habitats with 4 other Risiocnemis species on Biliran and Leyte and with 6 other species of the genus on Samar. Igneocnemis siniae was only photographed alive in the field as recent as 2021. Direct below is posted the first known image of a living individual photographed undisturbed in its natural habitat.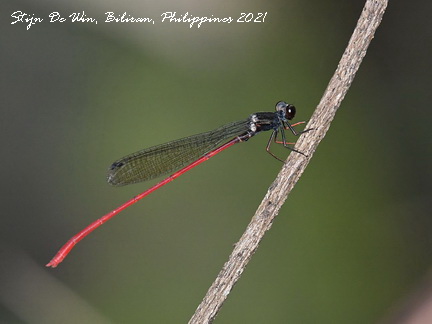 Igneocnemis siniae, adult male.
Biliran island, Philippines, 16 October 2021
Igneocnemis siniae, adult female.
Biliran island, Philippines, January 2022


-Identification;
Adult males are unmistakable in their range. (Only Igneocnemis calceata resambles siniae but may still easily be ID by the coloration of the abdomen in males. I.calceata only occurs on Panaon and Dinagat islands thus is of no ID concern when in the field.)
Note Igneocnemis siniae is the most robust damselfly of the Risiocnemis genus in the Eastern Visayas. With some good field experience including of the other Risiocnemis species of the area, I. siniae can be picked out with confidence on size and appearance alone including for females. Also the pterostigma, shape of cerci and drooping abdomen of males provide further clue.
A first time comparison of age of individuals is represented in the photos below. The first 4 are males from full color adult, over 2 stages teneral to a very fresh individual. Note how they darken over time. Next 2 photos compare a teneral female and full adult female. Hope these will be a valuable contribution for future identifications as I have noted age is almost always totally neglected in the scientific descriptions of Philippine damselflies. An image speaks a thousand words!!
-Habitat;
Small streams in good forest from near sea-level up to at least 700m asl. Even though they depend on habitats with flowing water, wanderers may often be found inside the forest some good distance from any stream or seepage.
-Habits;
Perching low at 0,5 to 1 meter off the forest floor. Flight usually very short to the next perch. Once a good spot is found several individuals may be encountered in a small area. Observations confirmed October to April but probably flying year-round.
-Distribution;
Philippines, an Eastern Visayas endemic on the islands of Samar, Leyte and Biliran.
-IUCN Red list status; Endangered. Recommended update after recent fieldwork; Vulnerable. Good news! This species still occurs in good numbers at many locations in a fairly extensive range. More data is needed for Samar and the species may be scarce on Leyte but Igneocnemis siniae is not uncommon on Biliran island where both Igneocnemis fuligifrons (rare) and Risiocnemis praeusta (scarce) occur in lower numbers at fewer sites and should be considered for uplisting.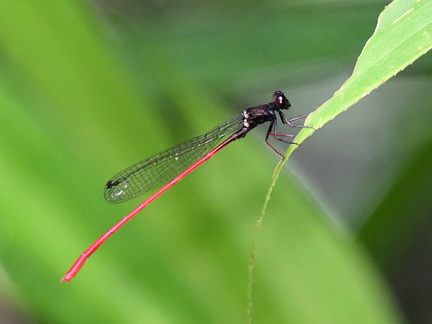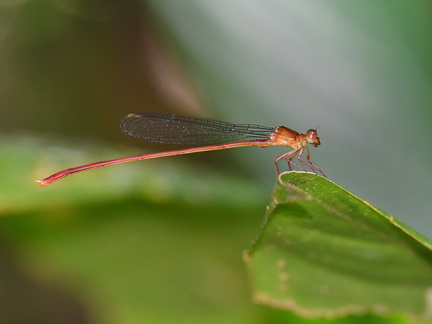 Igneocnemis siniae, full color adult male.
Samar island, March 2022
Igneocnemis siniae, older teneral male
Biliran island, April 2022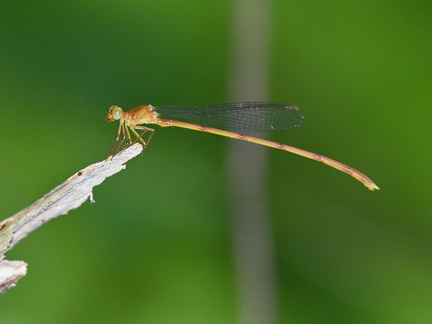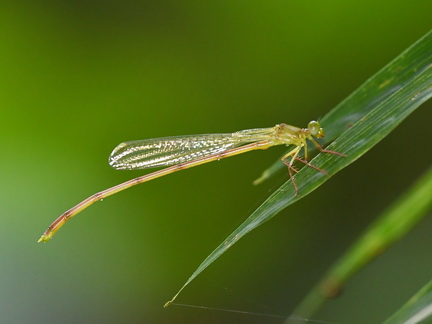 Igneocnemis siniae, young teneral male
Biliran island, January 2022

Igneocnemis siniae, very fresh male
Biliran island, March 2022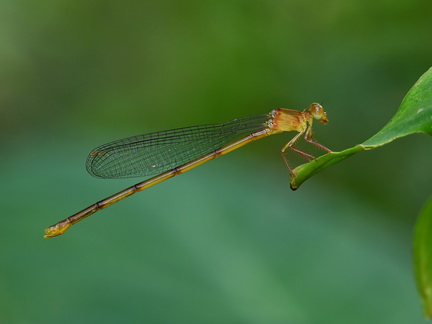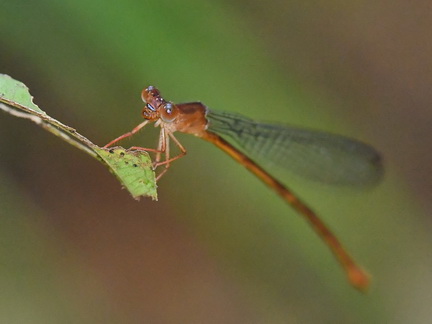 Igneocnemis siniae, teneral female
Biliran island, March 2022

Igneocnemis siniae, adult female, detail of head
Biliran island, April 2022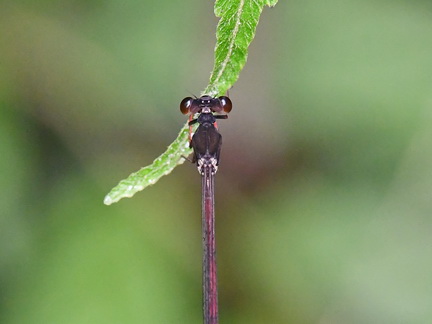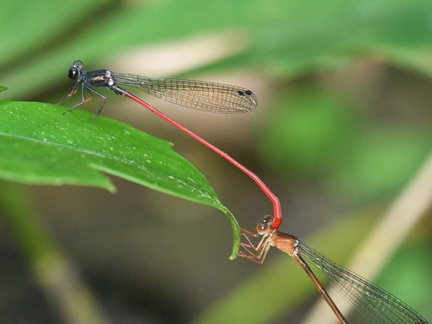 Igneocnemis siniae, adult male, dorsal view
Biliran island, April 2022

Igneocnemis siniae, tandem
Biliran island, November 2022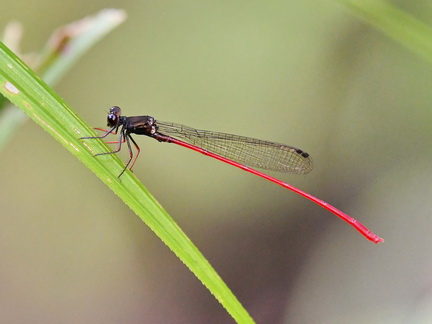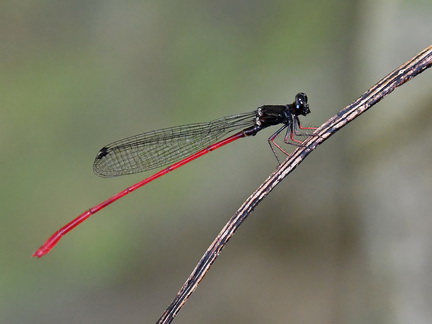 Igneocnemis siniae, adult male
Leyte island, February 2022

Igneocnemis siniae, adult male
Biliran island, January 2022




All photos copyright Stijn De Win. Note my Dragonfly and Damselfly observations are also posted on iNaturalist.
Hope this page may help with the identification, education, appreciation, conservation and research efforts of the Philippine Odonata.
Contact ; stijndewin@birding2asia.com