Articles
In Focus

This morning in Subic Bay! I mean Tuesday 27 March 2012.
We need to put expectations right. And I'm honest with it;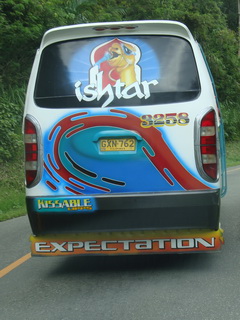 Not sure about the kissable lips though.
"Guys", this does not look good. It's quite normal for some wind to pick up by about 10 in the morning in Subic. (By which time we have always seen some good birds…) But this is strong winds even before the start. -We are in the van and on our way to Hill 394.- Wind is not good. Birds don't really sing and canopy species just get blown out. It is blowing strong! Treetops shake, leaves fluttering around. And to put matters worse, -on this morning-, the skies look grey. Heavy threatening dark clouds that is. It may start rain any minute. Perhaps just the wind to prevent this. We've got only 1 back-up morning on this trip. Oh well, let's try see 'something' and check tomorrow which target species we may still need…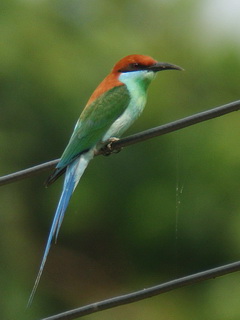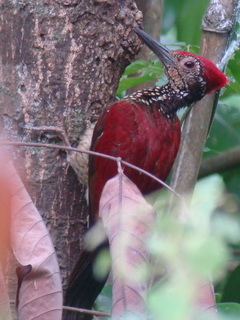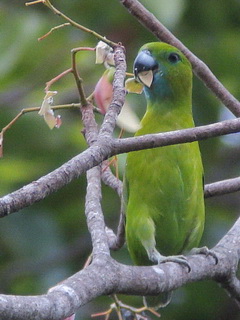 Blue-throated Bee-eater Luzon Flameback Guaiabero
Stop! Stop! We're 500 meter short of the usual parking spot. Stop the van! Quickly, we better get this! What a chance in these weather conditions and 1 not to waste. I had picked up a calling White-fronted Tit from the van. I've done this before. Once familiar the call is quite distinctive. But this one was a Tit calling in the wind. A Tit to tell us things were possible after all. A Tit showing well. This was the hardest to get target of Subic and the first bird seen this morning. Just two weeks earlier during our 2nd Phil. tour it took until the last morning for us to get views of this rarity. We are so lucky now. During that same tour I had found White-lored Orioles, -this other Subic top target-, in 'breeding mood' I would call it. Very active calling, chasing around etc. In the same spot this time it was an easy twitch. With Blackish Cuckoo-shrike in the same tree.
A perfect close fly-over Rufous-bellied Eagle and Whiskered Treeswift entertained next.
No, the wind had not dropped. Once on the track this became well clear. Fear of falling branches present. Bird activity was near to zero. Anyway, we had been visiting other sites so what we were after this morning was limited to the real Subic specialities and a few others not readily seen at any of the other birding sites on the regular circuit. We needed Luzon Flameback and Philippine Tailorbird and we did get those although not much else. Anyway if one can call Purple Needletail, Pacific Swift, Philippine Falconet, Pygmy Flowerpecker, Blue-naped Parrot and Red-crested Malkoha not much. Nothing we really still wanted though. We had visited Makiling earlier on.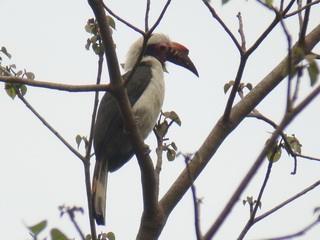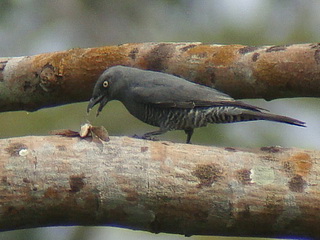 Luzon Hornbill Bar-bellied Cuckoo-shrike
Moved on to Nabusan and enjoyed Luzon Hornbill, Blue-throated Bee-eaters, Philippine Woodpecker, Elegant Tit, Stripe-sided Rhabdornis, Balicassiao, Coleto etc. before our next big target appeared. We had heard them calling for a while. Green Racquet-tails. This is a good spot for them. First one showed in the scope for as long as we wanted, later on we flushed another 3 from foliage just 3 meters away. Nabusan lies lower and the wind didn't play a role that much here. Just I've never seen the Tit or Oriole at Nabusan which marks importance of our birding at Hill 394 earlier that day. Birds were all over and around though. Hard indeed to know where to look first and yes this was in the mid-morning. Clouds had cleared as well. Things started to look real good.
We want Rufous Coucal and Sooty Woodpecker. Mmm, lets hop in the car for a short ride further down Nabusan. There's a spot where I do see both regularly… stop, walk 5 min., pair Sooty, Rufous showing. 15 min. later our driver wondering why we are back so quickly again. Finish; seen the birds is our short reply.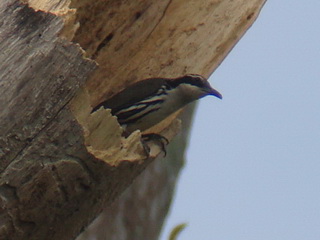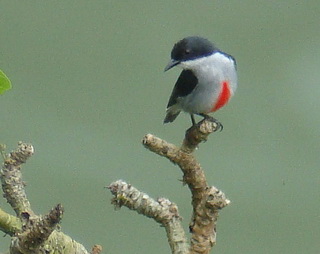 Stripe-sided Rhabdornis Bleeding-heart Flowerpecker
On our way back we had a brief stop on the road in an area I call 'water district'. We had seen Blue-headed Fantail here 2 weeks ago. Those are rare in Subic but no real speciality for the site hence we didn't bother too much knowing we would get them at Mt. Polis later on. After all, I must admit having started to fill up some time… it wasn't lunch time yet. I was running out of ideas. Finished remember. No, there's always 1 (or 2 –the fruit bats yeah!) things left to do. After enough fruit bats we went to the beach! I'm not kidding, so far I've never missed Lowland White-eye there. Not 'on' the beach eh, some woodlot nearby. And Flyeater, which actually appeared a 'hot' bird for 1 of the participants on the tour who had not taken this extension… Anyway, in just about 5 minutes we told our driver 'finished' and ready to go for lunch. It was 11h30. This was our morning at Subic. Nothing left to see…
Anyway, nothing I would readily expect one could get on every visit. We managed brief views of Luzon Hawk Eagle in the afternoon which was new for the trip. We left earlier than planned the next morning though.
Note this was one –special one- out of many of my visits to the area and the least I can say is that usually quite a bit more time is needed to get the targets in the bag. Additionally, when Subic is to be visited first on a trip the number of bird species one may want to look for is far greater and some good extra time will always be rewarded. Subic after all is the perfect introduction to birding in the Philippines and a place always enjoyed well.
Copyright

Birding2asia.com

All rights reserved. Published 26 April 2012.