Click images on this page to see the report of the tour/trip on which we photographed the bird.
Note all photos on B2A tours are opportunity shots and taken 'after' participants got plenty good views.
Please note that this is only a selection of all the tours and trips we've undertaken. While most of the main tours do get a report it would be hard to keep up posting reports for every one of our guided trips/custom tours. Nevertheless we hope you may enjoy reading our selection of reports below.
(2018 - 22; sorry for the gap - backlog of reports incl. 2x Phil, Vietnam, 2x Thailand, Taiwan, 4x Borneo.)
Borneo - Sabah- tour report. - August 2023
Sepilok has one of the best canopy walkways in the world. To see the primary forest come to life in the early morning from 40 meters up is a truly awesome experience. If this includes sightings of Bornean Gibbon, Orang-utan, Rufous-collared Kingfisher and Rhinoceros Hornbill all in the first hour of daylight it certainly becomes hard to beat. Even the afternoon produced with a group of 7 Bornean Bristleheads. These are never easy to find but such special they rank top on many birder's wish list in Sabah. Success!
Thailand - North and Central- tour report. - January 2023
Perhaps "the'" star bird of our trip was a rare daytime encounter with the Spot-bellied Eagle Owl at Kaeng Krachan. This would remind us that Thailand is about quality birds, about fantastic photo opportunities, enjoyment with birds showing well and close-up... Thailand has it all!
Taiwan - Endemics and Black-faced Spoonbills- tour report. - March 2019
Our 2019 trip marked 10 years of B2A tours to Taiwan after I first explored this beautiful place in 2007. One may get to know the island pretty well, and travel to Taiwan may have become routine but love for "Isla Formosa" and it's birds has not faded a bit. We did well finding all the endemics and some excellent bonus species like Dusky Fish Owl, Mountain Scops Owl with photos, Yellow-throated Marten, Red-flanked Bluetail and a rare vagrant Cotton Pygmy Goose. As in previous years, Taiwan Green Pigeon performed superb again at our mainland stake-out...
Philippines - Luzon, Mindanao and Palawan- tour report. - February 2019
Our relatively short Philippine tour focusing on the best birding sites and maximum endemics within the available time remains a very popular concept and always attracts an interesting mix of birders. This year was no else, we had couples from the UK and singles from Netherlands and the USA in a keen but easy going small group... "Philippine Eagle flew in to view, and then there was a lot of shouting, a rush to the scope, a little dancing, a few high-fives. Top of the wanted list for almost every birdwatcher visiting the Philippines, largest and rarest eagle in the world, Mt Kitanglad had again provided for us."
Thailand - North and Central- tour report. - January 2019
Thailand remains a very rewarding destination (for us since 1997) and the reason is simple enough. With some good effort put in, this tour always makes for happy participants. (see client feedback below) Our group recorded 382 bird species...
West Papua - Birds of Paradise tour report. - September 2018
A birding tour to West Papua to see the Birds of Paradise is a life-long dream for many. I was given the offer to join the team on this trip (thank you Peter and Sujan) which of course is an opportunity not to be missed.
Sri Lanka - All endemics tour report. - February 2018
On our tour page we promote Sri Lanka as a world top-destination for birding. While advertizing may be easy it is with great pleasure we could confirm our claim with this tour; All endemics were seen well, specialities performed and we added a few very nice surprise sightings. Wildlife viewing was superb with Sloth Bear and Leopard
Borneo - Sabah, tour report. - August 2017
Borneo is one of those incredibly diverse places where every trip may bring some very special moments. For everyone (incl. your guide) who loves the birds, the experiences and the place this is a blessing as it is such easy to remain super enthusiastic at all times. After very nice trips in May and June this year, this big tour wasn't going to be routine either, instead I couldn't wait to start in Kota Kinabalu with a very nice group of birders always ready to enjoy every moment.
Borneo - Sabah, photo report. - October 2016
Very steep slope, very steep trail; the only possibility to make the dream of an eye-level shot of the Whitehead's broadbill come true. Asia's iridescent vivid green 'Cock of the Rock' would often make it as bird of the trip just on the usual backlit 'belly shot'. Yes, this fellow is usually found pretty high up in the canopy. This male was following a bird-wave which also had Maroon Woodpecker in it. No sound recordings were used. This is just the result of an extraordinary bit of luck at a seldom visited location in the Crocker Range.
Philippines - Luzon, Mindanao and Palawan. - February 2016
What a privilege again to have led a tour where just about every other bird is a lifer even for the most travelled or experienced guests. Indeed, with so many endemic birds to go for the Philippines must be an excellent choice of destination. And yes, all was truly enjoyed by all participants. The feedback I got after this tour was so incredible positive that I can't resist posting a couple after-tour emails at the bottom of this page. And promised, all copy-paste without any modification!!
.....To marvel at the beauty of this Peacock Pheasant would be a once in a lifetime experience for most of us and this pretty much brings me back to where I started this report; a true privilege to re-visit and guide in these special places it is. I want to say thank you to an exceptional fine and fun group and confirm that is was great again to share the knowledge and experience of birding together in the Philippines.
Philippines - Luzon, Bohol, Cebu, Mindanao and Palawan. - February 2016
The Philippine Eagle Owl used to be poorly known and rarely seen until a pair was discovered breeding in the wooded grounds of the Water Authority in Manila in 2012. However they have been elusive and rarely seen ever after the chick flew. Luckily another pair was discovered at Angono Petroglyps historical site and they have been reliable in the last 3 years while raising a chick in the same location. This year the birds were not breeding. El Nino drought I presume won't sound as a strange reason for it? As a result the birds were extremely tricky to find this spring and most groups must have missed it. Luck came our way on our first 2016 tour though. Just look at him, staring down on us bunch of weird spectators...
Lesser Sundas - Flores, Komodo, Timor and Sumba with extension to Bali. - September 2015
Custom tour. Report so far only features our tour's bird list.
Lesser Sundas - Flores, Komodo, Timor and Sumba with extension to Bali. - July - August 2015
This tour turned out to be successful in every way. Fun loving participants melded together in a diverse crew driven by their passion for new horizons and discovery. In the end we had seen almost all the endemics possible plus a lot more. (our bird list) Flores Scops Owl, Flores Hawk Eagle, White-rumped Kingfisher, Wallacean Hanging Parrots, Bare-throated Whistler, Flores Monarch, Elegant Pitta, Yellow and Citron-crested Cockatoos, Sumba Hornbills, Little Sumba Hawk Owl, Red-naped and Banded Fruit Doves...
The avifauna in the Lesser Sundas is far from sorted out and lots of potential splits occur, giving rise to interesting discussions. Apart from numerous endemics these islands seem to have received a sprinkle of species from just anywhere in Australasia making it a highly interesting place to visit. We found a new species for the Indonesian (and SE-Asia!) avifauna as well: Black-fronted Dotterel at wetlands in Sumba...
Philippines - Luzon, Bohol, Palawan, Cebu, Negros and Mindanao - February-March 2015
Two successful tours, two nice groups, lots of brilliant birds, been lucky with the weather, everything was organized meticulously etc. I may not continue writing like this. I'll give this report a happy twist...
-You just need to know the exact spot!! From the park entrance walk about 200 meter down the road and turn right just after the rectangle shape pond. Walk 50 meter along the pond then turn left and you'll see a little foot bridge across a small stream in this wooded area. Scan the surroundings and especially the forest floor...-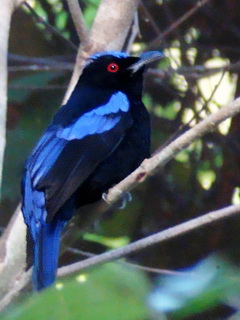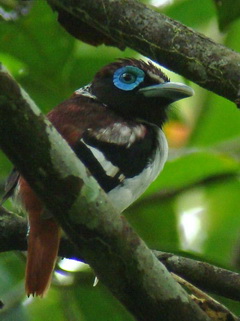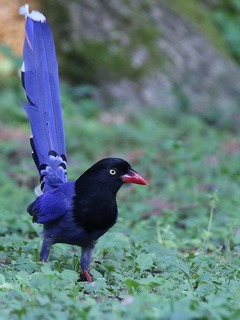 Thailand - Target birds and photography on a family trip - December 2014
This was a trip to the north only and the way it was set up was a new concept for me… after 30 years of birding around the world and countless visits to northern Thailand (going since 1997) indeed 'new' is still possible...
Indonesia - Sulawesi & Halmahera - October 2014
October 2009, our first Sulawesi trip, was such a great experience that it made us wish for just those 2 things; Get back for more and share the superb birds with other birders! I think we managed both of those quite well and here we are indeed with our successful 2014 tour marking B2A's 5 years of trips to these extraordinary islands in Indonesia.

Philippines - Luzon, Bohol, Cebu and Mindanao - February 2014
Smooth and sweet and dry, that's how this tour went. For a start, to meet for our main tour with a group of very nice and certainly smiling participants was a delight. No wonder though as they'd just come from what I was told a successful and pleasant Palawan pre-tour with Falcated Ground Babbler, Palawan Peacock Pheasant, Philippine Cockatoo and indeed all the other wished for endemics seen well. With such a head-start and happy group members it was easy to continue...

Thailand - Central and North - January 2014
This turned out to be an excellent tour as Thailand experienced a long cold spell which brought an influx of Thrushes to the North. Some days were quite cold and birds scarce but the combination of crisp air, good stake outs and many migrants made for some great birding and countless photo opportunities...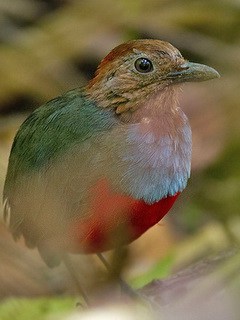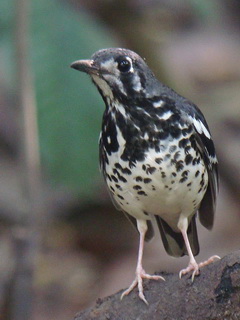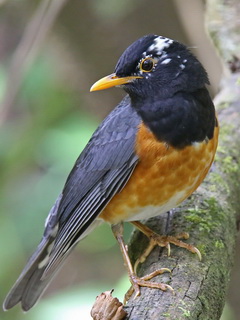 Taiwan – Endemics and Black-faced Spoonbills - December 2013
It is no wonder why Jan Willem and Marion had chosen our custom tour and Taiwan as their birding holiday destination; Jan Willem is a keen bird photographer and as you may notice from any of our trip reports, photo opportunities in Taiwan always are excellent! ...
Thailand – Kaeng Krachan and Khao Yai National Park - April 2013
We continued driving till the 2nd stream. This is where the day roost of White-faced Scops Owl is. A number of folks had dipped on the birds of late but we were fortunate enough to have them show in bright daylight. Not far from the Owls a Dusky Broadbill nest was hanging lower than the usual 20m up. Had great views of these birds as about 4 of them helped each other to construct the nest. Not long after that I heard Silver-breasted Broadbills and they quickly came in to play back. Then a pair of colorful Crimson-winged Woodpeckers showed real well. This followed by a single Streak-breasted Woodpecker so we were off for a good start...
Philippines - Luzon, Bohol, Cebu, Mindanao - February 2013
We walked away with a great many highlights on this tour; A few special ones to remember were 17 species of raptor, with six of them endemic and 1 of them "the Eagle", a gathering of 16 Stripe-breasted Rhabdornis on Kitanglad, Philippine Tarsier and Visayan Broadbill on Bohol, at least 50 Long-snouted Flipper Dolphins to entertain those not completely taken away by 'August Rush' on the fast ferry crossing Bohol – Cebu, daytime stake-out owls good for excellent photos to be taken; Philippine Eagle-Owl at Angano and Everetts Scops Owl on Bohol (and daytime Palawan Scops seen on the extension as well), and then there were the Purple Needletails...
Philippines - Palawan - February 2013
A selection of opportunity shots made on the extension to the main Philippine tour above.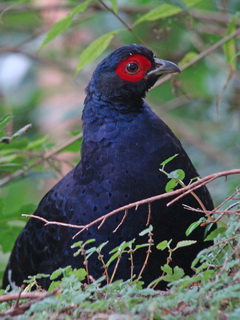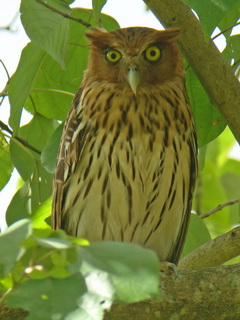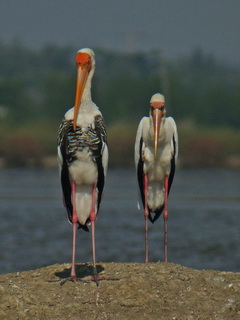 Thailand – Central Thailand extension - December 2012
A selection of opportunity shots made on the extension trip to our Mountains of the North tour posted below.
Thailand – Mountains of the North - November - December 2012
Birding in Thailand can be very rewarding in late November and early December. And I know, this is yet another statement, but looking back on the tour, our numbers and specialities recorded provide with a fine confirmation that allowed us to enjoy some great satisfaction. In hard facts, this translates with 381 bird species on the list, no, not on a 3 weeks trip, we worked hard* and did this in just 16 days. I believe it may not be possible to fill up such a huge list without adding quite a few special or hard to find birds…
Taiwan – Endemic and Black-faced Spoonbills - November 2012
November in Taiwan proved to be quite interesting again with some good surprises/bonuses found. A pair of Taiwan Thrush (the immensely distinct Island Thrush of Taiwan, see photos in our Dec. trip) was probably best as this is one of the hardest to find birds on Taiwan. The time of year, late November, proves no stranger to our sighting…I had not seen them on 5 previous trips at other times of the year. Plenty other Thrushes were encountered with migration still going on. A female Japanese Thrush found on the Hehuan Pass came as a nice surprise as it is a rare passage migrant on Taiwan...
Taiwan – Endemics and Fairy Pitta - May 2012
Another most enjoyable and highly successful tour left us wondering why so few foreign tourists make it to Taiwan. We were privileged! This beautiful island has it all; superb mountains and forests, nice beaches, interesting culture, most friendly people, plenty activities, a good infrastructure, delicious food and most important of all fantastic birding. On our trip we met foreigners twice, 50% were birders! From these figures at least we can note that Taiwan has become popular for birdwatching. Both birders from abroad and Taiwanese join to enjoy goodies like Mikado Pheasant, Swinhoe's Pheasant, Fairy Pitta, Taiwan Partridge, Golden Parrotbill, Flamecrest...
Philippines - Luzon, Bohol, Cebu, Mindanao - March 2012
I can remember John to note at the end of this tour; "Yes, it is possible indeed to see a great deal of the endemics on an enjoyable 2 week trip." Of course I can only agree with John. With a very nice group of keen birders, a good itinerary, all arrangements that went smooth as always on our tours, mostly good weather, a couple good local guides and safe travel one may just have experienced the ingredients for a successful trip. Even the birding itself felt reasonably easy this time...
Philippines - Luzon, Bohol, Cebu, Mindanao - February 2012
How about Aleutian Tern then? There's only a couple records (recent) for Philippines while the Kennedy field guide (published 2000 Oxford) only knows it from specimens taken in 1984. Perhaps it may have been a lifer for most of you? Oh sorry, endemics right! We did very well, we always do. I can keep this short. Check out last year's report. Check out the trip list of this tour. Compare with the list of our second tour from March this year...