Where2watch
birds in Asia
Stijn De Win
Asia birding info
More info, less2read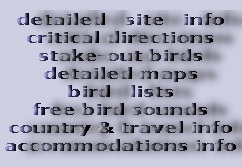 Birding2asia
sounds
on your website or blog?
Just copy and past
the code in to the
html of your
webpages
to display our
sounds image+link.
You may also check
my sounds
uploaded to the
Stijn De Win / Birding2asia free downloadable bird sounds.

Bird sounds main page Philippines / Taiwan / India / Thailand

-133 recordings from the North-East

made April – May 2009

Sounds include 8! species of Wren Babbler, Beautiful

Nuthatch, 12! species of Laughingthrush incl. Rufous-

chinned, Slender-billed Babbler, Black-breasted Parrotbill,

all 3 Tesia species, 3 Shortwings and Purple Cochoa.

Possibly best of all isn't a bird though, -check out the

superb song of the endangered Hoolock Gibbon!

Recordings mostly from Subic and Bohol incl. those

made on our February 2009 Philippines tour.

Sounds include White-fronted Tit, Red-bellied Pitta,

Scale-feathered Malkoha and Mantanani Scops Owl.

Recordings from the B2A trip made in April 2009 - 2010.

Sounds include Taiwan Bush Warbler, Whamei, Dusky Fulvetta,

Taiwan Partridge, Steere's Liocichla and White-browed Shortwing.

Compilation of 152 recordings on 12 pages incl.;

Recordings from the South, made on the B2A trip in April 2009.

Sounds include Javan Frogmouth, Green Broadbill, Raffles's Malkoha, Black Magpie.

Sounds from Krung Ching, made on the B2A trip in Dec. 2009.

Recordings incl. Fluffy-backed Tit Babbler, Streak-breasted WP, Wallace's Hawk Eagle...

Sounds from central and northern Thailand ; KY, KK, DI, DAK, DCD, DL

Links to other free Asian bird sounds on the internet.

All recordings, photographs and web design copyright Birding2asia.com

Download freely -for personal use only. Contact recordist stijndewin@birding2asia.com

The use of B2A sounds for any kind of commercial use, mass production, and resale

or otherwise without the written permission of Stijn De Win is strictly prohibited.
Copyright

Birding2asia.com

All rights reserved.