GPS coordinates
by
Stijn De Win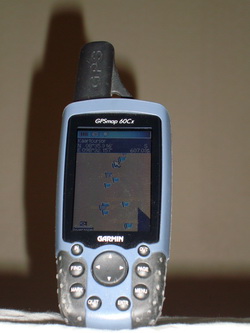 Articles
In Focus

GPS coordinates for birding.
It must have been about 5 years ago. An old Belgian friend on a short stop-over in Bangkok told me ; "GPS is 'the' future in birding". It's kept lingering in my mind ever since... So, if only coordinates could guide me my way to this exact location in the future… because I can't see the use of GPS (Global Positioning System) having gained much in popularity with the average birdwatcher. Perhaps I'm impatient with the 5 years or my friend meant only some niche of high-end birders. But I don't think so. Actually, I really believe he was absolutely right. He really hit a point there. GPS is an incredibly smart device and applications really go beyond the lady's voice in your car telling you 'turn right' 'turn left'. Let me turn my friend his words around; GPS 'should' become the future in birding! OK, I don't need to tell you what I believe. I wouldn't have done all the work on these pages if not packed with useful and genuine information again. Info gathered thanks to this wonderful device; my GPS.
Let me put a few more lines on this sporadic use of GPS for birding so far. Pretty clear if you ask me. It's a bit the same as with bird sounds. Not so long ago few birders ever used any sounds in the field simply because recordings weren't available. Nowadays this has picked up incredibly. Few species don't have a free downloadable recording online today and as a result an ever larger percentage of birders now have an I-pod or other MP3 player. Not so with GPS satellite navigation. Location coordinates (called waypoints), GPS route files and maps aren't out there commonly. Although there are some useful applications on the GPS even without this info available upfront, up to this day, to take a GPS along on your birding trip is mainly about gather information, not use it. Especially when there's a cost involved (starting 300 USD for a good Garmin GPS) it's obvious that for most birders this isn't a priority. Focus usually lies on getting the info from others upfront for use on the trip. Sharing bird sounds for free is "in" now while just a short ride back into the past tells me just about any recording was sold for money or only shared between close friends. It's a quick lesson to learn; check Google and you'll find very few useful GPS stuff when it comes to birding. Those that own a device aren't commonly sharing their info so far. Now I don't believe that that would be with the intention to put the info for sale, its probably more about the lack of a place to post stuff. What do you want me to say now; 'here we have it'? I got this idea about a new page on B2A. Enjoy the info.
What a pity now for quite a few people that by now have stopped reading because they simply thought it wasn't interesting for them by not having a GPS themselves. On these pages I will share some GPS coordinates (waypoints). These coordinates fall to an exact spot with an error margin of less than 10 meter. As well as guiding you to your destination using your GPS in the field, these coordinates can be used to find locations on a map. This becomes very easy using Google Earth. Just copy and paste in the search bar and have a nice flight! You haven't downloaded Google Earth (free though) on your computer or using a public one? Good news because for example Google maps works as well. Best to read the info below before you start using my coordinates in Google though. And of course, no need to tell you. Besides Google, there'll be some more maps and places around on the internet where coordinates can be of interest. I just haven't researched that yet.
Using Google; Copy and paste coordinates in Earth will sometimes take you automatically to some nearby marked locations (both Khok Kham locations in Thailand for example), you can here simply use the hand tool and move until the coordinates displayed at the bottom of the Google Earth map match with those on these pages. B2A welcomes you to the exact spot. Using Google maps it will nearly always take you to some nearby marked point (Red raindrop with letter in it), your exact location however is marked with a green arrow. Sometimes it's needed to zoom out a bit as the arrow falls off the initial generated map. In Google maps the coordinates seem to get automatically converted and bring you to the right spot. Using Earth, you will need to configure settings. Very simple to do. There's 4 different formats for coordinates as far as I know. I have used here GPS coordinates in Degrees + decimal minutes (=standard configuration Garmin GPS). Before you copy and paste these; In the Google Earth menu, choose Tools - Options, choose 3D View and Show Lat/Long. Click Degrees + decimal minutes to configure. Coordinates example; 00°00.000' N 00°00.000' E
(Standard configuration of Google Earth falls to ; Degrees, minutes, seconds.
Coordinates example; 00°00'00.00" N 00°00'00.00" E)
(Another option is Decimal Degrees. Coordinates example; lat 00.00000° lon 00.00000°)
All coordinates are researched in the field using Garmin GPS on a 3D satellite fix. Error is less than 10 meter.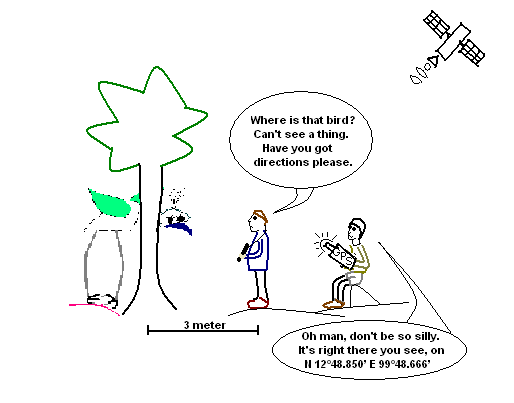 Coordinates shared here are for personal use only. All images taken at the location unless indicated otherwise. Below is an example only. Use the links below to go to the coordinates collections arranged per country.
Share coordinates for a location? stijndewin@birding2asia.com
Central Thailand

Khao Look Chang

(Good spot for Black-headed

Woodpecker in the dipterocarp forest.)

N 12°48.850' E 99°48.666'

Alt; 63m

Birds of interest;

Rufous Woodpecker,

Spotted and Asian Barred Owlet, Rufous Treepie,

Lesser Necklaced Laughingthrush, Lineated Barbet,

Black Baza,

Red-breasted Parakeet...

Black-headed Woodpecker

Photographed on location;

N 12°48.850' E 99°48.666'

by Stijn De Win.

Image from 3 Feb. 2011
This information page published 11 April 2011, Copyright

Birding2asia.com

All rights reserved.