Asia photo gallery / Birds in Flight / page 1
It's been 20 years I did own a 400mm lens, and still using the old film rolls at the time… With nothing much one can do with all those slides I've long given up, naturally. These days the new HD scopes combined with a compact digital camera makes for a real smart solution and indeed most bird photos on this website have been taken through digiscoping. I even managed the occasional flight shot this way;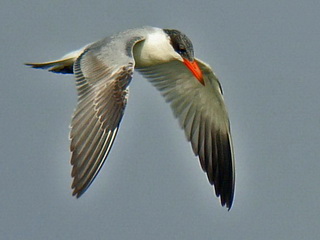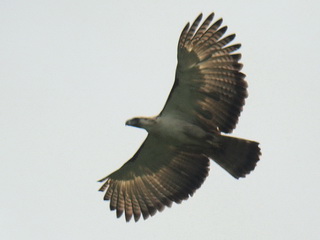 Photos taken through the scope ; Caspian Tern in Taiwan and the Philippine Eagle on Mt. Kitanglad.
Anyway, now I'm back I guess. I finally bought myself a new DSLR camera on 7 April 2013. This wasn't much new for me in the way of photography; shutter speed, aperture, ISO and all the other settings, light and composition… we've all got this. Instead, I have experienced this very much as a new dimension to birding. Focus on stuff I could hardly ever get through digiscoping, which would mainly be fast movements and flight shots… the new camera is fast and the photographer trying to be. It seems to work.
My love for the birds is stronger than ever and I never fail to enjoy the same birds over and over, for example on the local patch. However, now with the new lens I must admit it has created a renewed interest in the commoner birds; to get them 'frozen' in flight indeed! Below are the results of about 8 very short afternoon sessions, all made in the first month after I got the new camera.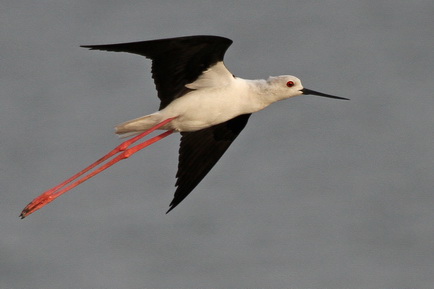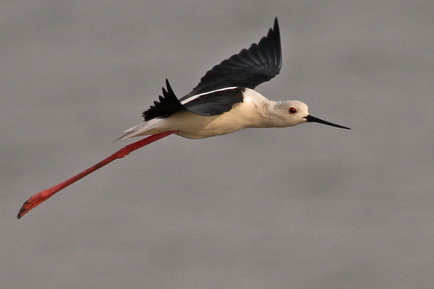 Some of my very first pictures with the new camera and lens.
Black-winged Stilts are common at Kok Kham near Bangkok and beautiful birds indeed
so they make for a nice subject for some initial practice!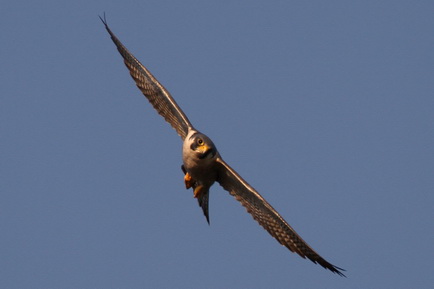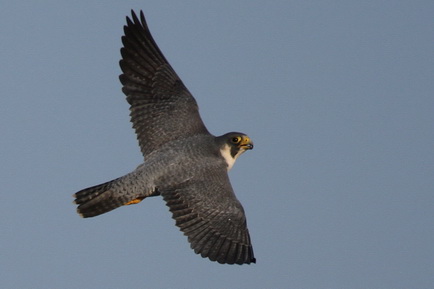 Now let's talk speed and pull out the fastest bird on the planet. The Peregrine is said to reach speeds of up to 389 km per hour while diving for prey. (hunting stoop) So when this bird swooped down right in front of me chasing the waders I was initially photographing I didn't waste the opportunity and captured the moment. I'm quite pleased the results aren't just pictures of a fly-by falcon. I believe I got the hunting machine on the wing immortalized! Ironically, the Falcon himself may not have been all that happy as it didn't make a catch on this occasion…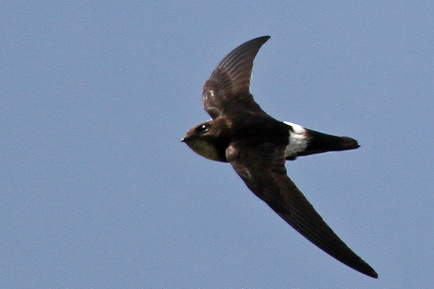 It would be easy enough to take some rather boring shots of House Swifts up in the sky. When they come down to drink on the wing -which goes fast enough-, it provides with a little challenge to enjoy. Eye-level shots are great. Luckily with digital photography and a camera that can handle up to 8 frames a second it's no problem to get the odd 50+ shots in a short time. More work comes when you have to sort out the 2 best captures. The rest of the lot simply gets deleted.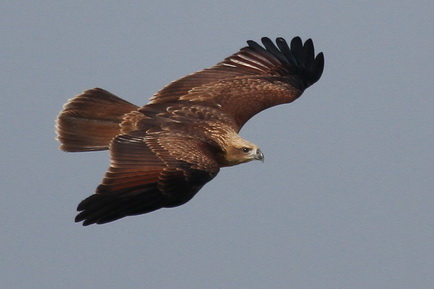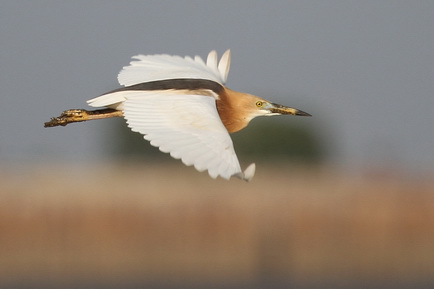 I got a puncture while on my way to Kok Kham on the motorbike. Initially I thought to have lost some good time as I was left with less than 2 hours of daylight. However, a lot seems to be possible in a short time and as I didn't use my luck yet on the road… First came this immature Brahminy Kite, rather common and a bit brownish but I believe it would be possible to make it a beauty showing it's details when captured in the right posture? Not much later and there was the Javan Pond Heron. I actually only got the 1 shot at it but in the soft 5pm evening light it came out pretty well. In the tropics, the harsh mid-day light merely is worthless trying to photograph any birds with lots of white on them. Egrets need the sun low so I learned it always comes in handy to repair your flat tire first, wouldn't it. Ah, we're not finished yet. At 5:33pm on the same day, the Peregrine. And then time to enjoy a nice sunset oh yes.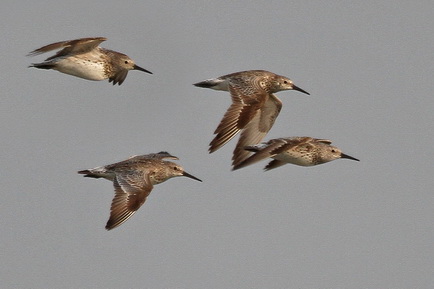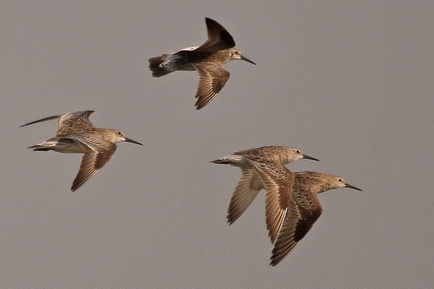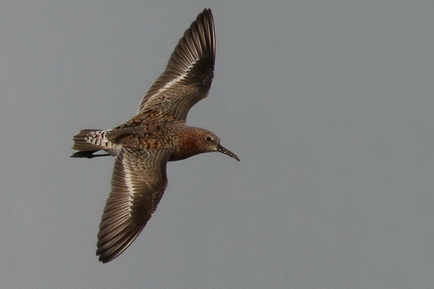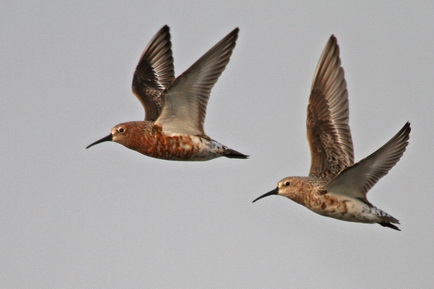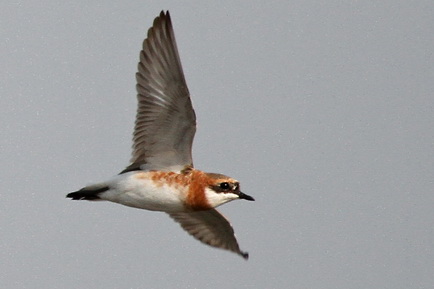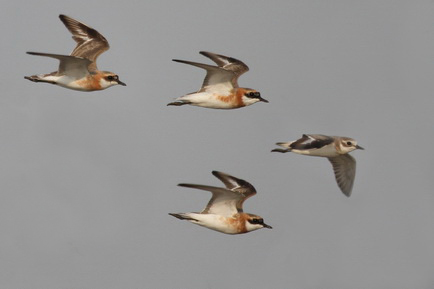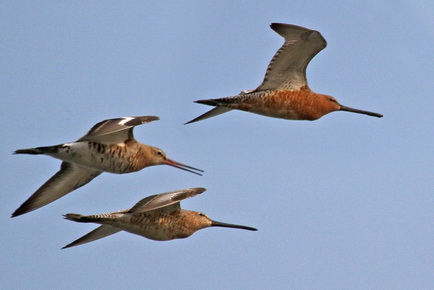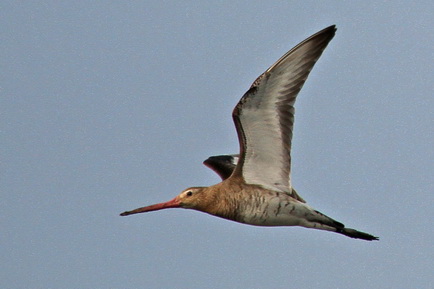 Kok Kham is famous for its waders and there hasn't been a shortage on my brief visits in April 2013. Many waders are turning into their summer plumage at this time of the year which gives a little extra touch and this is a good reason to do some additional effort getting them on the camera.
Great Knot 2x, Curlew Sandpiper 2x, Lesser Sandplover 2x, Asian Dowitcher and Black-tailed Godwit.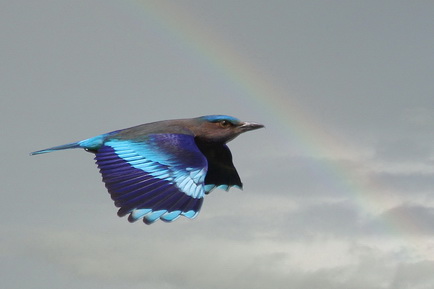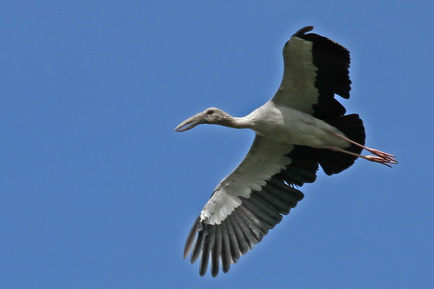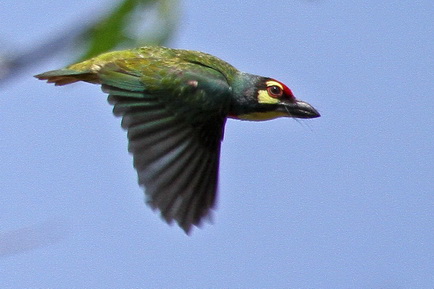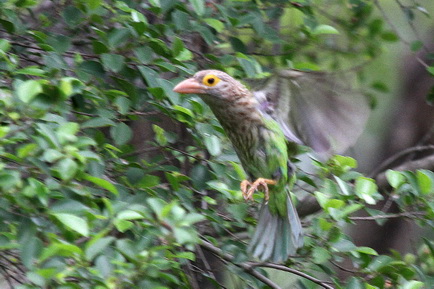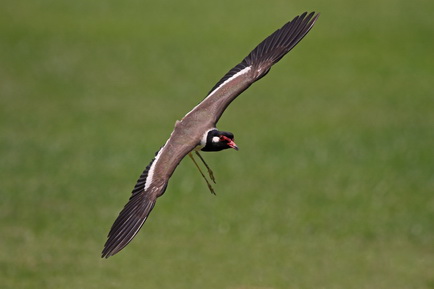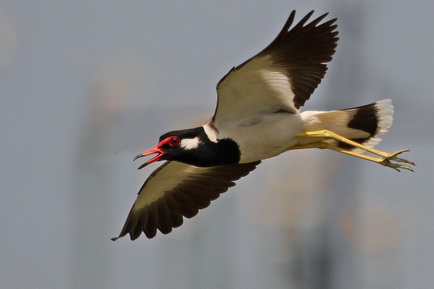 Some of the public parks in Bangkok are excellent places to find some good birds, especially during migration. Phuttamonton in the west is one of the larger parks and serves as one of my local patches while in the city. I eagerly added a Chestnut-winged Cuckoo on the list for the park this month but most of the time it's just nice to hang around a bit. And make some flight shots indeed!
Indian Roller, Asian Openbill, Coppersmith Barbet, Lineated Barbet and Red-wattled Lapwing 2x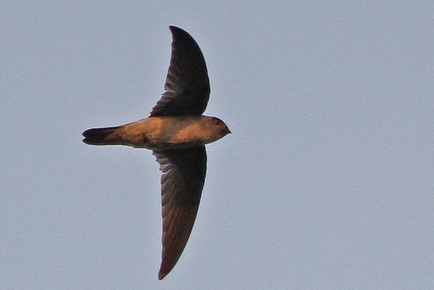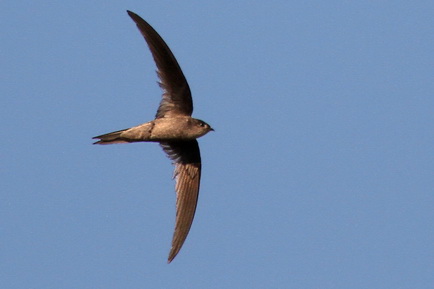 Germain's Swiftlet and the Asian Palm Swift aren't just fast on the wing; they also turn and twist around just about the whole time. As a result they aren't easy to get in the viewfinder using a 400mm lens, let alone get the photos sharp… high shutter speed is required! I would say no less than 1/1600 of a second. Anyway, both my Swiftlet shots above may be a good record but to be honest I'm not completely happy with those. I think I'll try and get some better captures. After all they are some of my favorite birds and I would like my pictures to show some of their amazing flight abilities.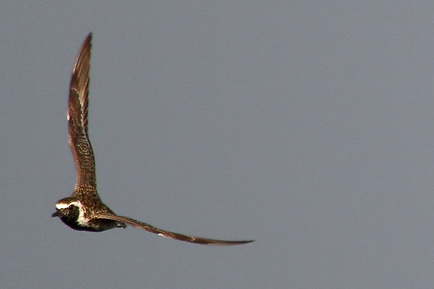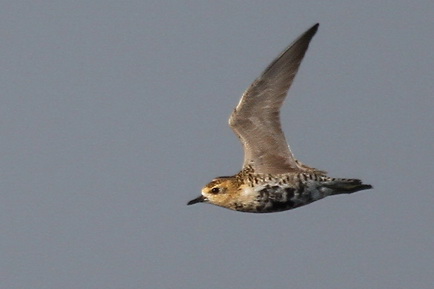 Talking favorites and waders, the Pacific Golden Plover is mine! It features a subtle winter plumage and delightful summer dress and best of all, a most powerful flight that I believe would wear out a Peregrine trying to catch up on the Plover's cruising speed.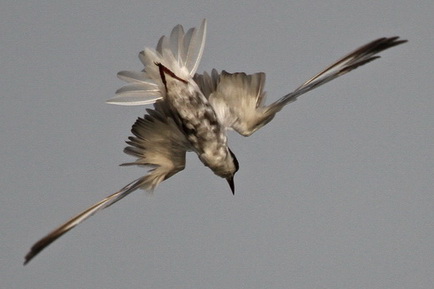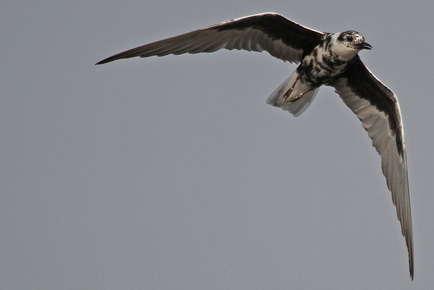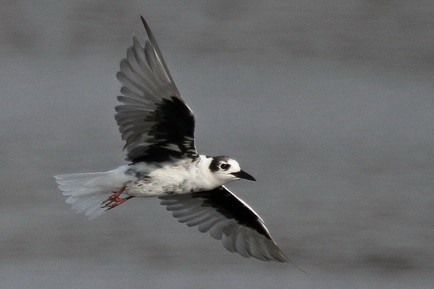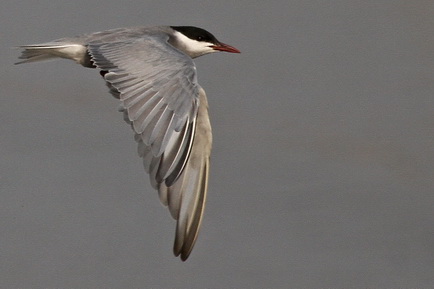 Both Whiskered and White-winged Terns are nice subjects to photograph on the wing and especially lovely when turning into summer plumage. They also appear to be more acrobatic in flight than I ever realized before. In my first shot, please note the twist in the wing of the Tern just as it is ready to dive down. An amazing show indeed but one not easily noticed unless it's been made into a frozen moment in time.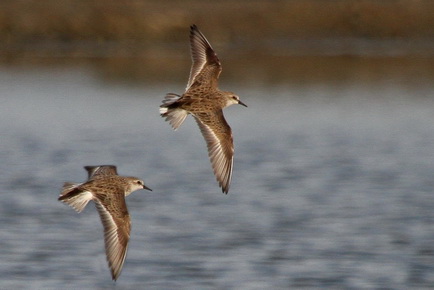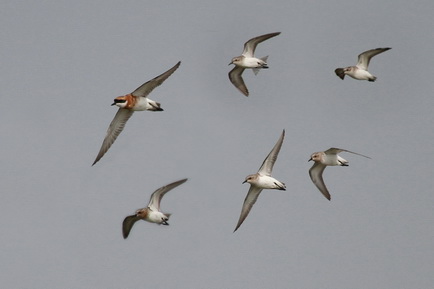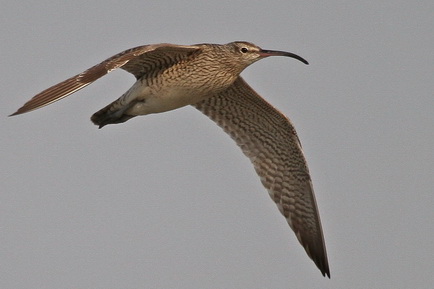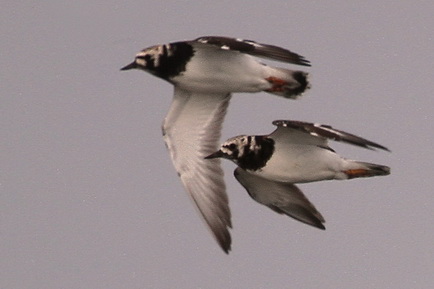 Smaller waders as these Red-necked Stints aren't easy to get in flight. It works better with a Whimbrel or Ruddy Turnstone I would say. It may be good to mention that the Stints took some more time and effort, and certainly quite a few more shots that did end up in my computer's recycle bin!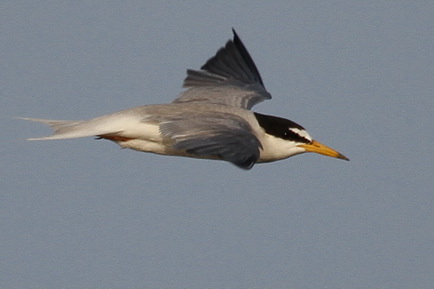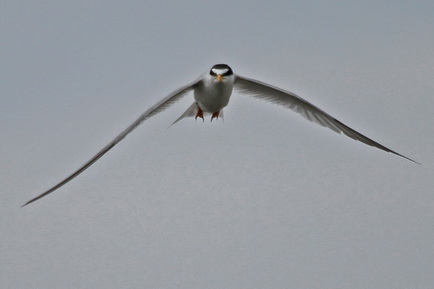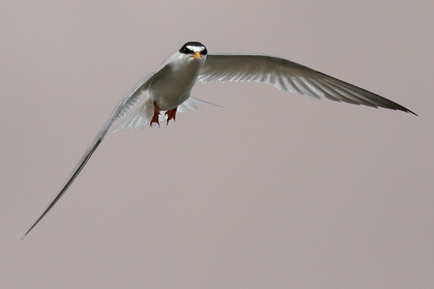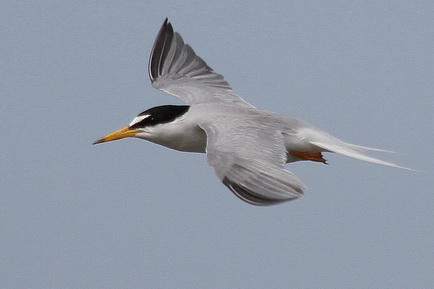 Sort out, choose and edit the harvest of the day usually is a lot of work and it really does require some good skills. When executed properly it may certainly make up for someone who hasn't invested in some of the more expensive lenses. After all an f5.6 lens has its limits although I feel it still seems to be all right for what can be done with it. An f2.8 would come with a lot more light, and the higher shutters and freedom on aperture would work superior but it would also come at the ridiculous price of a small car, a brand new car… I think I like the extra challenge of the f5.6 and I must also admit I would personally not like to carry an even heavier or bulkier camera + lens. I always used to joke that Canon should provide it's customers with a little slave for every lens bought. Oh my goodness, my lens came without… so who's the little slave now???
Here're some of my Little Tern results. Only 2 shots should be left on here so I would like to invite you and vote for the best photograph.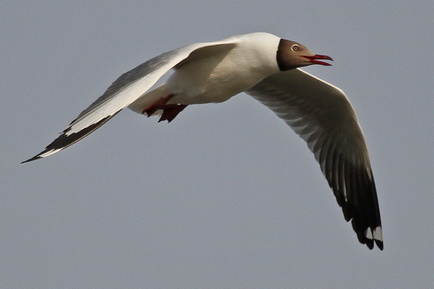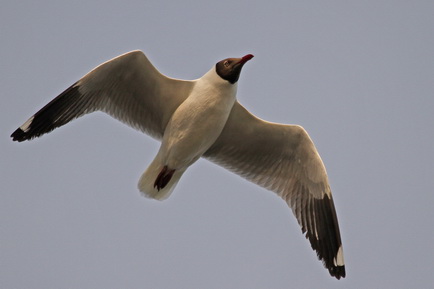 Brown-headed Gull, which is a little snap in between but I guess in summer plumage things come alive a bit more. Still a Gull though.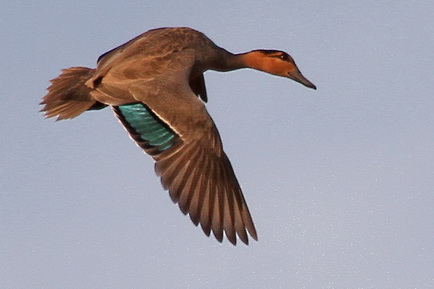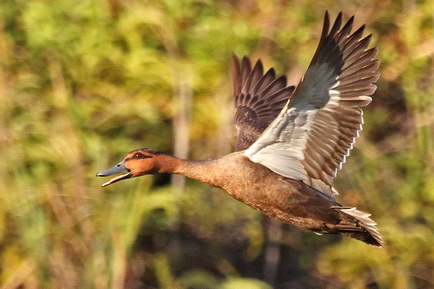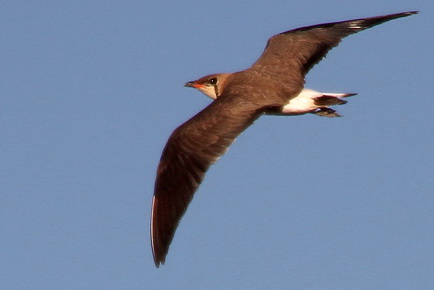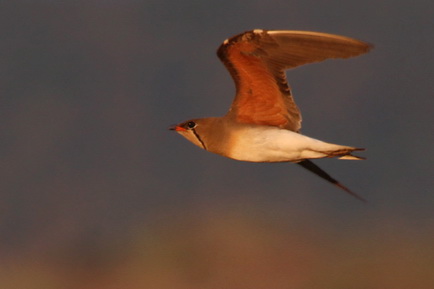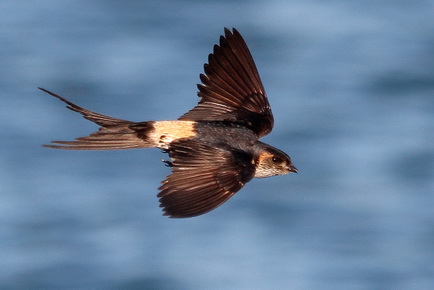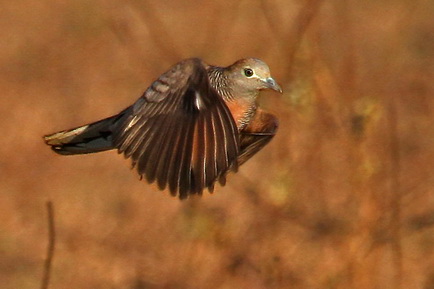 We're off to the Philippines now and in this first month I got the new camera didn't get any further than the local patch which is an open landscape. And as such there won't be any exciting Philippine endemics out of the forest on here…
We do have the endemic Philippine Duck though (I've seen it in Taiwan once!). And another of my favorite birds, the Oriental Pratincole, which breeds less than a kilometer from our house, we're blessed indeed. Also the Striated Swallows are quite nice and I got this lucky shot of a Zebra Dove.
Even though not a great many hours was spent in the field in the first month with the new lens,
I think it's been well worth the experience. Unlike 20 years ago, with my first 400mm,
it's especially nice to actually do something with all the photos obtained;
to create this page indeed that is.
And so I hope you enjoyed the photographs and comments. Thanks for your visit.
Use pictures only with the approval from the photographer.
Stijn De Win / Birding2asia.com
Copyright © Birding2asia.com 2008-2013. All rights reserved. This page published 2 June 2013.