Asia photo gallery / Welcome to our quiz / start
Birding2asia.com doesn't just offer you the ordinary online bird quiz… you may indeed wish to collect your prize,
'which might be worth money', after having successfully completed the 'reasonably easy' questions.
So, how does that work?
Our 'password' quiz is a journey through a series of secured web-pages; one must find the correct answer to be able to proceed to the next page. Your correct answer will serve as a password. Simply type in your password and click the OK button. ('Enter' on your keyboard won't work.) A correct answer will automatically direct you to the next page and the next question. A wrong answer will end up on an error page. Click 'back' into your web browser to try again. You may try as many times as you would like but failing the correct answer in the end will leave you stranded on that page. Those that make it all through will find instructions to easy collect the aforementioned prize. Swift and correct answers will see you at the finish in about 5 minutes. We wish you good luck!
And good to know;
-All birds featured occur in Asia.
-A hint will pop-up in the 'alt tag' of photos on mouse-over when using Internet Explorer.
-Please use the common name of birds. Type names correct using uppercase where appropriate. For example Black-and-red Broadbill …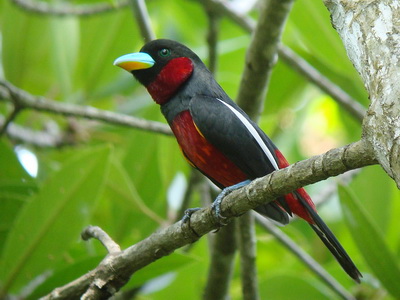 Use pictures only with the approval from the photographer.
Stijn De Win / Birding2asia.com
Copyright © Birding2asia.com 2008-2012 All rights reserved.