Where2watch
birds in Asia
Stijn De Win
Philippines
birding info

We love the Philippines!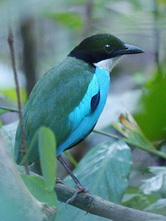 Steere's Pitta photo Stijn De Win
More info, less2read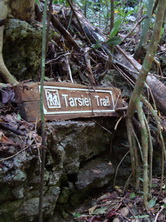 Tarsier Trail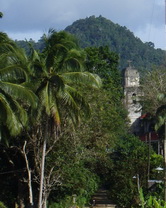 Bilar church + forest background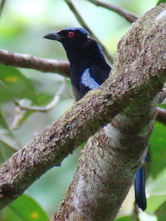 Philippine Fairy Bluebird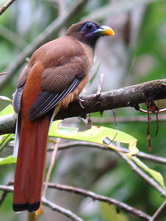 Philippine Trogon

We power your vacation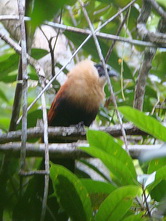 Black-faced Coucal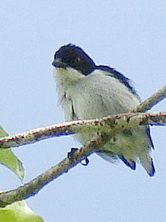 Bicolored Flowerpecker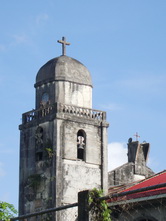 Bilar church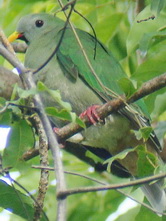 Black-chinned Fruit Dove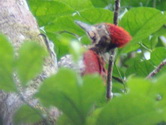 Greater Flameback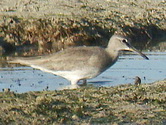 Grey-tailed Tattler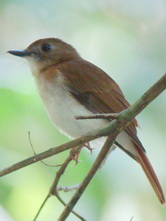 Rufous-tailed Jungle-Flycatcher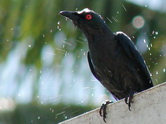 Asian Glossy Starling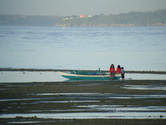 Bohol's south coast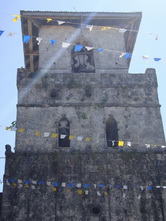 Baclayon Church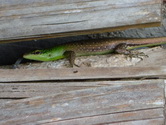 Bohol Lizard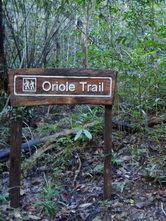 Oriole Trail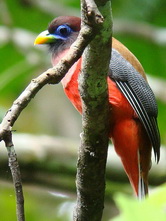 Philippine Trogon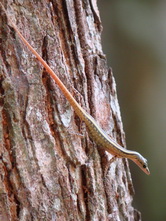 Tree Lizard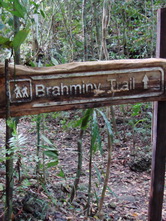 Brahminy Trail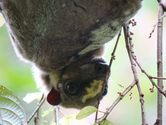 Philippine Colugo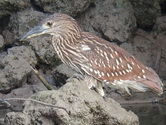 Rufous Night-Heron
All photographs taken on
Bohol by Stijn De Win
Rajah Sikatuna Protected Landscape, Bohol, Philippines.
Classified Important Bird Area in the Visayas.
The Rajah Sikatuna nature reserve forms the largest remaining tract of natural forest left on Bohol. The possibilities of seeing a number of threatened and restricted-range species in a combination with easy access through an extensive network of good trails make this a popular place for birdwatchers. In fact, superb birds seen from proper trails in a well protected forest truly make for the Rajah Sikatuna Protected Landscape to deserve the status of 'top Philippine birding' site.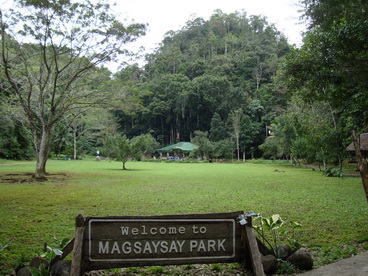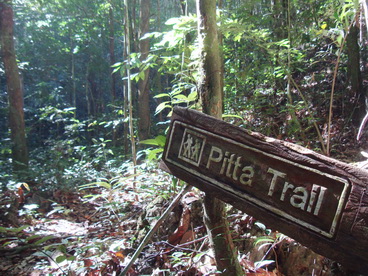 Key species
Attractions for the visiting birder include all three species endemic to the Eastern Visayas; Samar Hornbill, Visayan Broadbill and Yellow-breasted Tailorbird. Furthermore, this site holds bird species from the Mindanao Endemic Bird Area, without exception scarce species with the lowland forest on Mindanao a threatened habitat indeed. For birders, this means that Rajah Sikatuna can act, to some extend, as a good alternative for Picop, with quite a bit of overlap in bird species to occur. Most important to note are; Steere's Pitta, Black-faced Coucal, Silvery Kingfisher, Rufous-lored Kingfisher, Rufous-fronted Tailorbird and Streaked Ground-Babbler. Mindanao Bleeding Heart is another possibility at Rajah Sikatuna and possibly gone from Picop these days. A couple specialities not regularly seen anywhere else are Black-crowned Babbler and Rufous-tailed Jungle-Flycatcher. Then, this place could also serve as a site to catch up with a number of more wide-ranging but equally scarce Philippine endemics, I can think of Philippine Fairy Bluebird, Philippine Oriole, Blue-crowned Racquet-tail, Metallic-winged Sunbird, Bicolored Flowerpecker, Blue Fantail, Philippine Leaf Warbler and Philippine Trogon. Additionally, five subspecies of birds are endemic to Bohol, Streaked Ground-Babbler (fortichi), Black-crowned Babbler (boholensis), Rufous-tailed Jungle-Flycatcher (boholensis), Metallic-winged Sunbird (decorosa) and Yellow-bellied Whistler (boholensis). Night birds are well represented and I would not recommend anyone to miss out on Philippine Tarsier while in Philippines! All of this makes it easy to describe Rajah Sikatuna and Bohol in just two words –"must visit"-!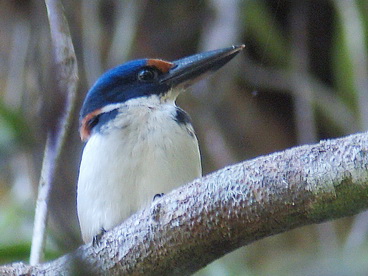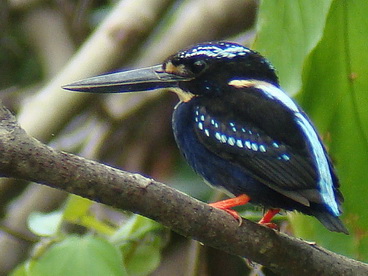 Both the scarce Rufous-lored Kingfisher and superb Silvery Kingfisher inhabit Rajah Sikatuna Protected Landscape. Photos by SDW.
Birding
Birding Rajah Sikatuna can be extremely rewarding but at the same time challenging as indeed is all forest birding in the Philippines and Asia. It is possible to see almost all of the specialities in about 2 and half days (3 mornings at least, check report). To do so however, it is best to go with someone that knows the area and birds. For this I can highly recommend the help of local guide Ryan. Another fine chance to visit Bohol and the Philippines might work for you if you have the time to travel in February 2014, check it out here.
For birders going on their own and using the info on this page, I would recommend at least 4-5 full days, if wished for to bird the place at full potential. That would be less of course for those that might target only certain bird species, with the Visayan Endemics probably highest on the list for these more specialized trips.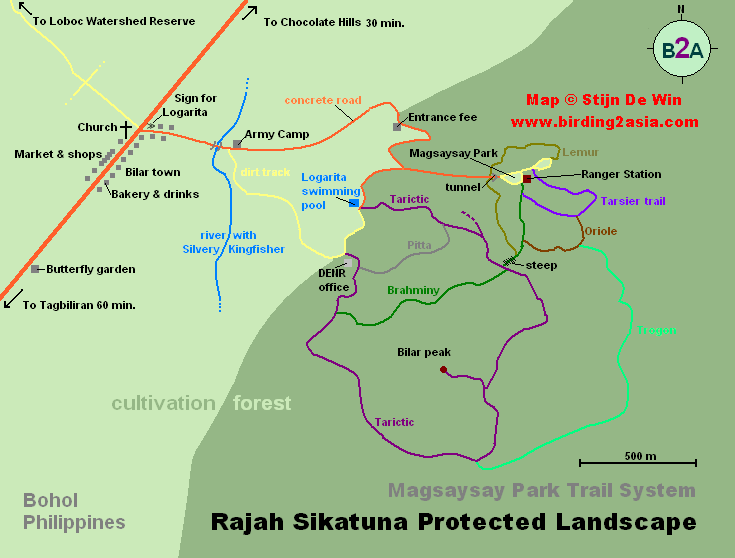 -Birding at Rajah Sikatuna can start on arrival, right there in the forest clearing of Magsaysay Park. Samar Hornbill, Rufous-lored Kingfisher and Metallic-winged Sunbird are a few nice possibilities to start with and the same clearing is good for night birding. Great-eared Nightjars overhead at dusk, with Philippine Hawk Owl, -Scops Owl and –Frogmouth all to favour the surroundings.
-Also the last stretch of the concreted entrance road can be good. Yellow-breasted Tailorbird stake-out halfway between the tunnel and intersection to Logarita swimming pool! Look out for a more open grassy area at the forest edge south of the road. Also Philippine Trogon is usually fairly easy to find here, and we even recorded a pair mating back in Feb. 2009. Visayan Wattled Broadbill travel through the forest in small groups and usually it takes a while to spend in the forest (just hang around) before the birds are encountered, if at all. However, the Broadbills seem to turn up in some certain spots at certain times of the day. I can only guess that they might indeed favour fixed feeding routes through the forest day after day. One such a spot to meet them has been the intersection of the concreted entrance road with Logarita turn-off, mentioned also above. Be here at first light, listen out for the calls and check high up in the overhead foliage.
-Any of the well marked trails can be good. However, for birding, I would recommend sticking to a few certain trails/loops, rather than try to walk them all. It would not make much sense to head for the full and long Tarictic and Trogon loops if finding most of the birds in a few days is the target set.
-An early start in the Magsaysay clearing followed by doing the loop Brahminy-Oriole-Tarsier trails (good for mixed feeding flocks) might indeed prove enough for a first full morning. We found Mindanao Bleeding Heart on the Oriole section just doing this back in Feb. 2010.
-With your own transport, to get dropped by the Logarita pool in the morning, then start on the Tarictic trail, which is excellent all the way up till the intersection with the Brahminy trail, followed by enjoying the climb up the steps ('steep on map') and walk it out on Brahminy (or Oriole-Tarsier again) to the Maysaysay ranger station, where the car would then be waiting for you, is another excellent way to spend a morning.
-Any time left before lunch could be spend well going to look for Silvery Kingfisher along the river (map), where I've also heard Hooded Pitta once.
-Another large forest block in the nearby Loboc Watershed Reserve is a spot for Rufous Hornbill. To get those however is said to be a long walk and you'll certainly need a local guide (Ryan) to find your way here.
History
As found on the info boards at Magsaysay ranger station;
"Rajah Sikatuna National Park is rich in history as Boholano chieftain Rajah Sikatuna made and entered into a treaty of friendship with the Spanish conquistadors in the 1500's. This famous blood compact symbolized the common traits and characteristics of Boholanos as friendly and hospitable, the same characteristics observed today. On July 10, 1987, the area of 10.452 ha was proclaimed into Rajah Sikatuna National Park to preserve and protect these precious natural resources."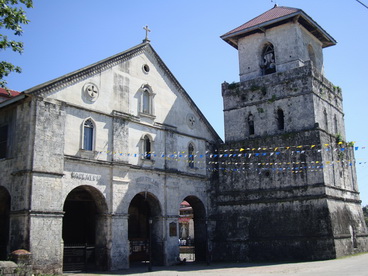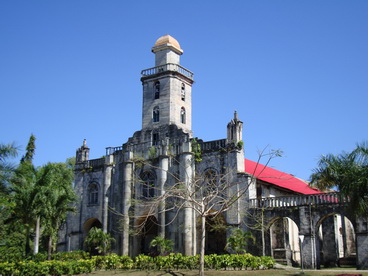 En-route from Tagbiliran to the reserve; Baclayon church is the oldest in Philippines, also the one in Albuquerque looks impressive.
Getting there & around
Tagbiliran has a tiny airport and is served daily by Cebu Pacific Air, Philippine Airlines and Zest Air, but only from Manila. Nearby Cebu has more flight connections (and Black Shama…!), from where the SuperCat fast ferry serves Tagbiliran. This most comfortable and quick way brings you from Cebu to Bohol or visa versa, in approx. 2h.

Get around on Bohol is best done by car (+ driver) or rented motorcycle. Jeepneys and other public transport are available but certainly wouldn't get you to the good birding early enough in the morning, and additionally, you will also miss out on the many sights en-route. Getting to Rajah Sikatuna certainly can be a lot more interesting than to the average birding site, but not if you find yourself on the local bus though!

Options to reach the reserve vary depending on where you base yourself. Check out the next chapter for some interesting details.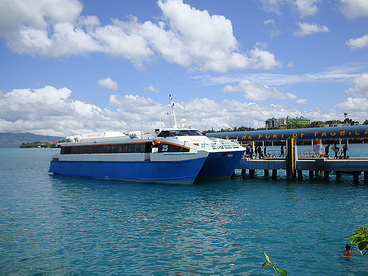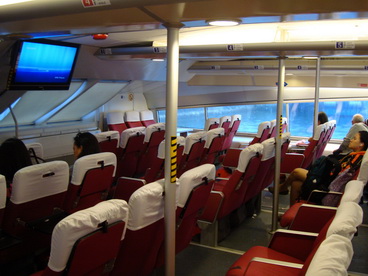 Sit back, relax and enjoy a drink in air-conditioned comfort on board the 2 hour SuperCat fast ferry service between Cebu and Bohol.
Accommodation & food
-There's no accommodation or food in the park.
-Tagbiliran city is 1 hour away on good roads and could serve as a base if you have your own car and driver. In fact, the scenic route holds quite a few attractions along the way. Chinese Egret and waders inclusive Grey-tailed Tattler can be found on the shore near Baclayon, where also the oldest church of the Philippines is worth a stop. The bridges connecting Panglao island with Bohol and Tagbiliran are worth checking for waders, Rufous Night Heron, Pink-necked Green Pigeon etc. You would also pass through Loboc and Albuquerque, scenic villages with more beautiful old churches. Philippine Tarsier can be seen near Corella and the forest here also holds some birds, Black-chinned Fruit Dove for example seems to be common. Tourist brochures mention the man-made forest to be seen en-route, and yes, this provides some nice shade on a certain stretch along the way, apart from that it's no more than a monotonous single-tree species plantation, "no birds indeed", you got that right.
While in Tagbiliran, don't forget to visit the town square in the evening for the spectacle described 'In Focus' on this website.
-Along the same route from Tagbiliran, some 15 km short of Bilar, a sign shows the turn-off to Nuts Huts (on the left of road). This place is popular with backpackers (described in Lonely Planet) and they have motorcycles for rent so you could reach Rajah Sikatuna easily and most important, early in the morning. The nearby river also holds Silvery Kingfisher here.
-There's nowhere to stay in Bilar town, but it's a good place to stock up on drinks and bakery items in the morning. (see birding map)
-The nearby butterfly garden ("Simply Butterflies" -see birding map) is an excellent place for lunch. The food is very good but orders may take a while to arrive although that shouldn't get you nervous as birding during the hot mid-day hours usually is very slow indeed. The very basic rooms here (checked myself in 2009) are said to have become 'very good value' from early 2010. Not sure though that would be 'upgraded rooms' or just real cheap for the same basics... I'll check again on my next visit.
-Those that have tried to find 'the' perfect way for having a lunch break throughout their lives, may well find it here. A visit to the Chocolate Hills combines marveling at an unearthly landscape with having good food at the restaurant, inclusive ice-cream for desert. Also, don't forget to shop for Bohol-Hills-Tarsier souvenirs and T-shirts here. The guest house on site is another accommodation possibility with Rajah Sikatuna about half an hour drive away. You would need your own car and driver though, and probably pay a room and food for the driver as well.
-No birding site description is complete without the non-birding "girlfriend option"…isn't it? And well, it's available in a perfect way for Rajah Sikatuna! Alona beach on Panglao Island is the secret. Staying in one of the resorts here could give her the option to lie in and enjoy the beach or other activities (incl. diving and boat trips) for the rest of the day. You simply sneak out early to reach Rajah Sikatuna about 1,5 hours later with a car and driver arranged for the day (plenty available), or use a rental motorcycle (plenty again) although they come a bit pricey here at 800 Pesos for the day. I bet, on at least 1 day she would like to come along for a nice forest walk – Chocolate Hills combination trip.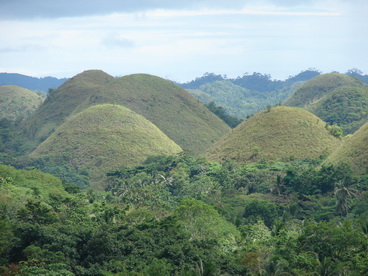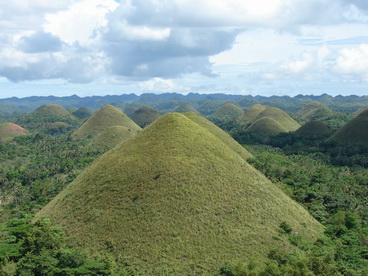 An area once below sea level, where the uplift of coral deposits and further erosion has created a most unique landform, now consists of 1268 mounds of the same general shape and has been declared a national geological monument, the famous Chocolate Hills.
127 species, 52 endemics, 07 near-endemics, 14 threatened species
This bird list is best viewed using Internet Explorer on a speedy connection.
Feel free to print your checklist for use in the field.
Please send any additions to stijndewin@birding2asia.com or by using our online form.
New! Download the Rajah Sikatuna bird list as a Word.doc for easy printing
Other wildlife
Mammals found at Rajah Sikatuna Protected Landscape include Philippine Tarsier, Philippine Flying Lemur (Colugo), Long-tailed Macaque, Common Palm Civet, Malay Civet, Phillipine Warty Pig, Small Spiny Rice-field Rat, Rice-field Rat, Oriental House Rat, Common Philippine Forest Rat, Large Mindanao Forest Rat and Mindanao Hairy-tailed Rat.
The forest is rich with bats and holds at least 24 species. I could list them here but perhaps this would get a bit long for a birding page. Simply check out the excellent boards in the ranger station where all species are pictured and named.
Same applies for a number of frog and snake species, check the illustrated info boards at the Magsaysay centre.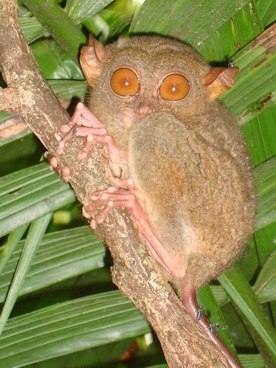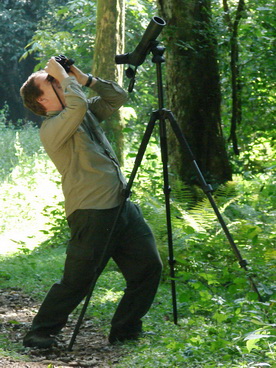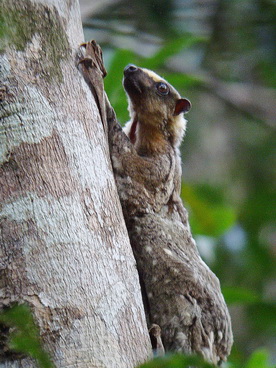 Tarsiers Birders Colugos
Bird sounds from Rajah Sikatuna
-Free downloadable sounds from our 2009 tour here.
-Sounds recorded in the reserve during our 2010 tour have been included in the tour list and these include Visayan
Wattled Broadbill, a recording of which has not been available widely and free ever before.
-Five recordings, from George Wagner and Todd Mark, on Xeno-canto Asia, -click direct link- to Bohol sounds.
Notes and additional info
-A big thank you goes out to local birding guide Ryan Sugala, who helped me composing the trail map.
-Best period to visit the National Park would probably be February through to June.
-Entrance fee, payable at the kiosk on the entrance road, is 100 Peso per person. You might be asked to pay on exit if you had entered early and before the gate was manned.
-Most of the trails are easy to follow and well maintained (steps on steep bits etc.). Some sections however go over rough and rocky limestone terrain and these can be slippery in places.
-Average elevation in the reserve is 400m asl and coordinates for Magsaysay Park are 9'42'17' N – 124'07'34' E
-No malaria here and very few annoying insects in general.
-You will find tropical Bohol to be pretty hot. Nevertheless, under the closed canopy in the forest, it's surprisingly pleasant here up to 11am. For some reason and unlike in plenty other low-lying tropical forests, humidity doesn't seem to come down on you immediately on entering forest.
-B2A tour reports incl. Bohol visit; 2009 / 2010 / 2011 / 2012 Feb / 2012 March / 2013
-Comments for this page welcome via our online mail form.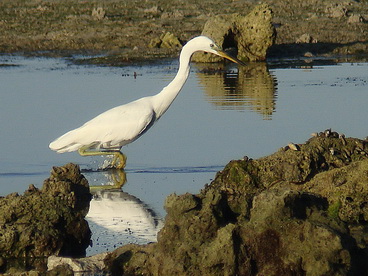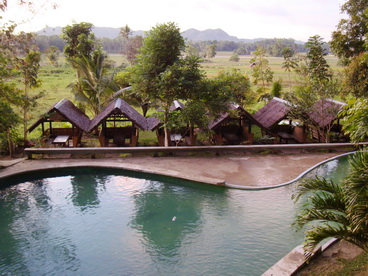 The shores on Bohol form a wintering ground for the threatened Chinese Egret. The Logarita Swimming Pool.
This information page published on 30th June 2010 by Stijn De Win. Copyright © Birding2asia.com

All rights reserved.