Where2watch
birds in Asia
Stijn De Win
Taiwan
birding info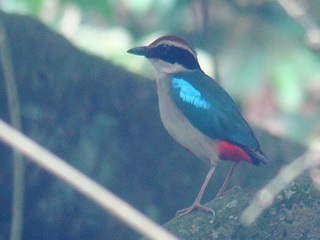 Fairy Pitta, Huben -May 2012-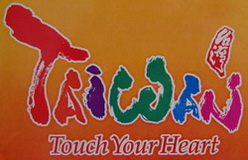 We love Taiwan!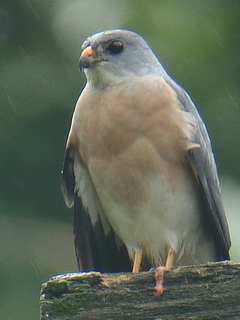 Chinese Goshawk, Huben
More info, less2read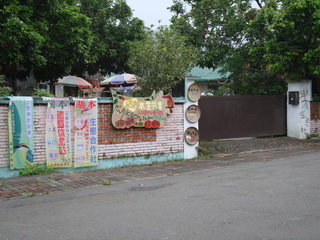 The Huben Pitta Cafe -entrance-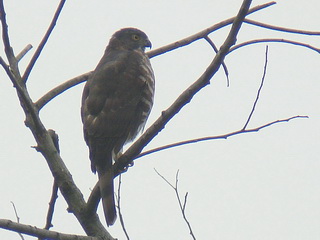 Besra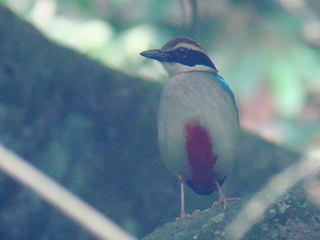 Fairy Pitta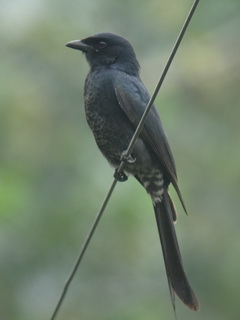 Black Drongo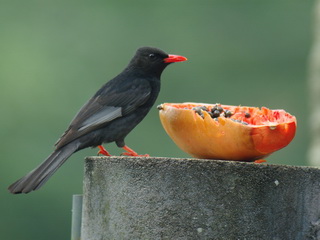 Black Bulbul
A feeding station at the Huben
temple makes for great
photo opportunities.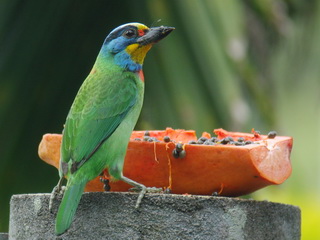 Taiwan Barbet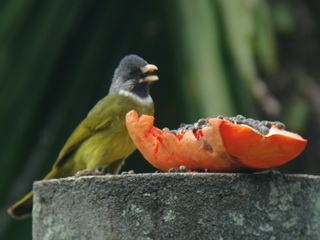 Collared Finchbill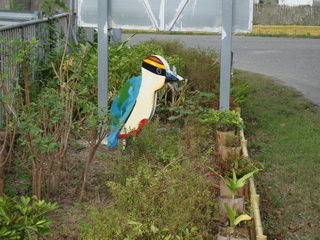 Fairy Pitta?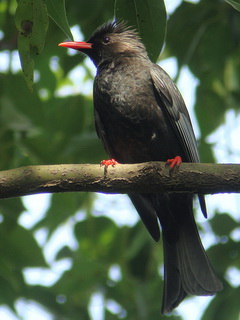 Black Bulbul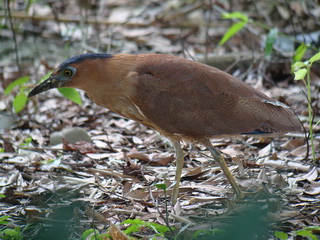 Malayan Night Heron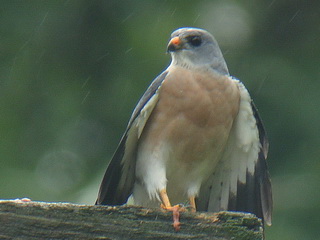 Chinese Goshawk
All photographs taken in
Huben by Stijn
Huben, Taiwan, the famous Pitta spot.
The area around Huben village is well known for its important breeding population of the globally threatened Fairy Pitta. Especially the moist lowland forest and bamboo areas around the Tian-sheng Gong Temple 'have been' popular with birders to go and find the Fairy Pitta… The bamboo gullies here are as good as it gets when it comes to breeding habitat for these birds. The species is in serious decline though and now seems absent from many spots…
The reason I would like to write about a birdwatching site that has seen some coverage previous is to bring attention to the rapid decline of the Fairy Pitta as well as to post proper directions to the temple site (been elusive so far) and simply to bring together some of the existing information about birding at Huben via some links.
Key species
-The Fairy Pitta, a summer visitor to Huben, obviously is the star attraction. The very first birds arrive at around 20 April after long migration from the wintering grounds on Borneo. (Where not often recorded.) The best time to see them is throughout May. In late April not all breeding pairs may have arrived and later on in June birds stop calling and become even more elusive. In May 2012 we found no birds in the good habitat at the temple site although a pair was easily located elsewhere in the area. With ever fewer birds arriving back after migration it now seems almost necessary to have the help of a local guide to locate any of the remaining pairs.
-Taiwan Scimitar Babbler is common as well as Taiwan Barbet, Dusky Fulvetta and Collared Finchbill. Other species of interest and readily available are Taiwan Bamboo Partridge, Grey-capped Pygmy Woodpecker, Besra, Chinese Sparrowhawk, Grey Treepie, Black-naped Monarch and I have seen Malayan Night Heron and once a Taiwan Blue Magpie right by the temple although the latter is listed as rare and nomadic in the Huben official bird list. Species listed include for example Taiwan Partridge and Swinhoe's Pheasant, which certainly occur but I wouldn't personally rate Huben as one of the best sites for finding those.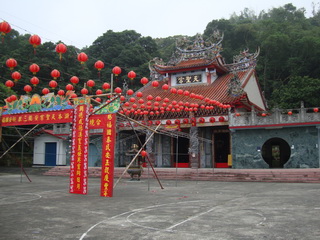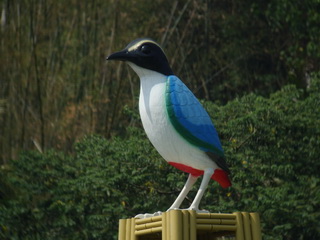 Huben temple The Fairy Pitta statue
Getting there
-As with most birding sites in Taiwan it is best if not necessary to have your own private transport in order to reach the birding areas at the right time of day. From Taipei, it takes about 3,5 hours by car to reach Huben using expressway nr 3. Count on going through 5 toll stations and each will charge 40 Taiwan Dollar for a car. The last toll station is Mingjian followed by Mingjian exit, Jhushan exit (with Malayan Nigh Heron in the Tropical Botanic garden in Chushan town), then Douliou exit from where a left turn will bring you on national road nr. 3. towards Linnei. (Or turn right if you came from the south on freeway 3). There's a gas station shortly on the right if you are in need. From the exit continue for exactly one and a half kilometer until you reach a set of traffic lights. (N 23° 44.533' E 120° 36.260'and here you'll see a 7/11 store ahead on the opposite side of the road.) There's a small sign to Huben village. Turn right and follow 1,9 km to the giant Pitta (Fairy!) statue. (N 23° 43.689' E 120° 36.781') Keep left and 900 meters further on is the Pitta café on the left. Another 200m further on you may turn right crossing the bridge over the river channel, then left again where you continue for 700 meter to the Huben temple where you can park and start explore the surroundings. The temple lies at an altitude of 216 meters on N 23° 43.394' E 120° 37.591'
-Alternatively you may reach the turnoff for Huben in Linnei township via national road nr 3. From the west you'd then approach from Douliou city going under the freeway and from the east Chushan is the last town before Linnei. From Sun Moon Lake follow road 21, then road 16 going through Shuili and Jiji (With Malayan Night Heron, wintering Thrushes etc. in the garden of the Taiwan Endemic Species Research Institute in town.), then turn left on road 3 (follow signs for Jhushan freeway entrance). Another 25 km along road 3 brings you to Linnei.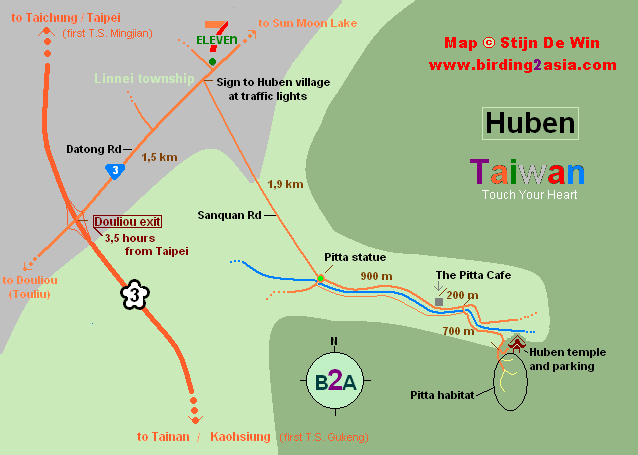 Notes, info, references
-Huben is classified as an important bird area (TW017)
-The Huben temple lies at an altitude of 216 meters above sea level (GPS measured)
-Mosquitoes are rather common in this lowland habitat. (As compared with no biting insects whatsoever while birding in Taiwan's mid and high elevation forests.)
-Basic accommodation is available at the Pitta Café Hostel, otherwise there're quite a few hotel options about 15 km away in Douliou city. (Also written as Touliu.)
-Available at the Pitta Café are some snacks and drinks, souvenirs, information, booklets, guiding etc. and the friendly staff will certainly try to help you with whatever quest you may have although not much English is spoken.
-Pitta Café ; Tel 05-5890375 No.56, Sanquan Rd., Linnei Township, Yunlin County 643, Taiwan (R.O.C.) -Pitta café website; http://diary.blog.yam.com/hubenpitta
- Central Taiwan Birder ; Birding in Huben-Hushan area.
- Anti Hushan Dam blogspot ; Birding in Huben-Hushan area.
-OBC birdwatching in Taiwan includes a note on Huben.
-Birdlife factsheet ; Fairy Pitta
An example line from the factsheet; Huben-Hushan IBA in Yunlin County, Taiwan, supports the largest known breeding population of the species, but it is seriously threatened by the proposed Hushan Dam Project, which would flood 422 ha of key habitat. Despite opposition from conservation groups this project has not been stopped and disturbance at the construction site saw the number of breeding birds drop to 18 in 2007, from 32 the previous year (Fang Woei-Horng in litt. 2007).
- Hushan dam Project; Birdlife news - Antihushandam blog
- Taiwan Yuhina.webs ; Birding in Taiwan incl. page on Huben.
- Sitou Forest Reserve is a well known birding location and lies nearby Huben. Going through the towns of Chushan and Luku you may reach mid elevation forest here with a different set of bird species as compared to the lowland habitat of Huben.
- Story ; My local patch is a temple with fairies.

Bronzed Drongos, Huben, November 2010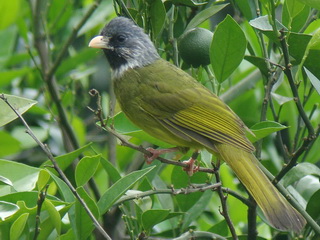 Malayan Night Heron Huben, May 2012 Collared Finchbill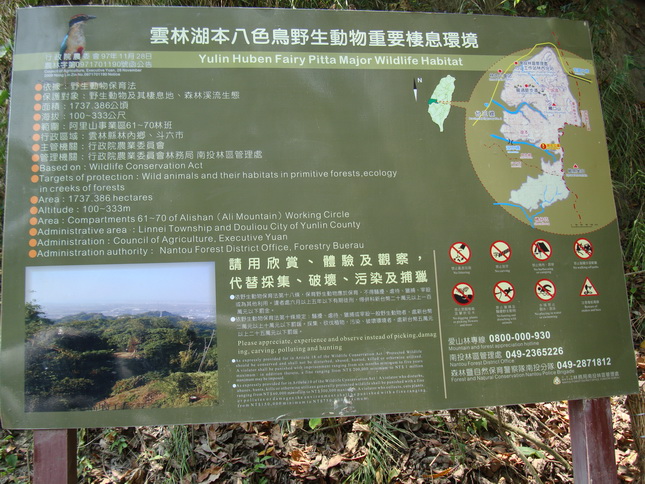 See also our info page; GPS coordinates Taiwan Visit Taiwan
This information page published on 09 July 2012 by Stijn De Win. Copyright © Birding2asia.com

All rights reserved.