Where2watch
birds in Asia
Stijn De Win
Asia birding info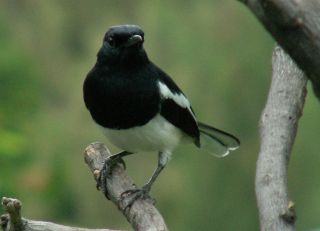 Oriental Magpie Robin by Stijn DW
More info, less2read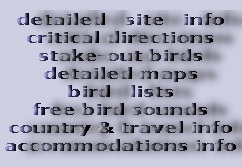 Where2watch
birds in Asia

We power your vacation
Copyright © Birding2asia.com

All rights reserved.
Thailand
Intro

Imagine a country with beautiful National Parks, a rich culture, great food, friendlypeople, comfortable accommodation

and good roads in addition to some of the most rewarding birding in Asia.

Thailand's remarkably diverse avifauna has always been the prime Asian target for birders worldwide. The colourful

resident birds and the many winterersfrom Siberia invariably make for the biggest trip lists for any Asian country,

including such delights as Broadbills, Hornbills, numerous Kingfishers, Pheasants and a host of elusive Pittas.

Key species

There're no endemics on offer for the visiting birder in Thailand, but it does have a number of species that are more easily

found in this country than anywhere else, making them the main targets on many birders wish list.

Species that might be much harder to find outside of Thailand include Coral-billed Ground Cuckoo, Gurney's Pitta, Blue

Pitta, Spoon-billed Sandpiper (except Hong Kong), Nordmann's Greenshank (except Malaysia), Baer's Pochard, Siamese

Fireback, Hume's Pheasant, Silver Pheasant, Black-headed Woodpecker, Pale-capped Pigeon, White-rumped Falcon

(except Cambodia), Christmas Island Frigatebird (except Christmas Island!), Purple Cochoa, Giant Nuthatch, Fire-capped

Tit, Large Wren Babbler, Brown-winged Kingfisher, Streaked and Asian Golden Weaver and Pin-tailed Parrotfinch.

Birding

Thailand has some of the easiest birding in Asia with birds generally more abundant and easy to see than in any other

Asian country. It certainly is the best destination if you're looking for an introduction to birding in Asia. This said, more

experienced birders would not be left in the cold with a number of harder to find specialities on offer.

Getting there & around

Thailand is served by a wide range of international and domestic flights with direct connections to anywhere in Asia and a

large number of countries worldwide. Air fares into Thailand are relatively cheap compared to other countries. For a

listing of all Low Cost Airlines with services in and to Thailand, visit this online free guide.

Thailand has an extensive and good road network. While it is possible to use the excellent public transport system to

reach some of the birding sites, many other locations, inclusive most national parks require private transport. The most

convenient and productive way to get around for birding is to hire a car. Most major companies are represented at the

airports and major cities, self-drive is the norm and relatively easy, although Bangkok might be a challenge for the first

time visitor.

Accommodation & food

Hotels with comfortable modern rooms are plentiful in most cities. A range of accommodation can be found just outside

most national parks. Hotels, resorts with rooms or bungalows and camping are the usual choice here.

Most national parks do have bungalows for rent near the headquarters but these have to be booked up front and aren't

usually great value. Almost all national parks have camping with facilities of varying standard.

Thai food need no introduction and is amongst the best in the world. Hygiene is of high standard and the food is generally

very safe (inclusive ice for drinks) and available almost everywhere at any time of day.

Notes & info

-The best time to visit is the dry season, which usually lasts from November until May. This is a more comprehensive

overview with notes on all months of the year.

-Expect fairly easy birding with birds plentiful compared to other parts of Asia. A small team of keen birders might get up

to 400 bird species in just 2 weeks of intensive birding. It is possible at many birding sites in Thailand to get daily lists of

over 100 species.

-Thailand has a large number of protected areas and national parks although a lot still has to be done to give them the

full protection they deserve.

-National parks and most other reserves do charge entrance fees for visitors.

-Thailand is a very safe country to travel in and poses very few hassles or dangers. The troubled Deep South should be

avoided however as it's still considered unsafe to visit for tourists.

-There're not many annoying insects around in general although few places do have plenty mosquitoes and/or leeches at

certain times of year. Thailand is considered to be a very low risk area for malaria, but it does occur close to the

borders with Myanmar, Laos and Cambodia. Most birders visit without taking any prophylaxis, but you should take proper

precautions to avoid mosquito bites.

-Language is usually not a problem although English is still very poor with many, even in touristy areas. It always helps to

learn a few words of Thai and this is appreciated by the people a lot.

-The best road map to use for Thailand I found is Berndtson & Berndtson 1 : 1 500 000. It's laminated, durable, up to date

and shows the location of many national parks.

974 species, 47 near-endemics, 144 threatened species (Clements 6th edition)

This checklist is best viewed using Internet Explorer on a speedy connection.

Special birds in special places…

A selection of the most sought-after birds of Thailand, with the best location to find the species described.