Sri Lanka


Kitulgala, Sinharaja, Uda Walawe, Yala NP, Tissa area, Nuwara Eliya, Horton Plains, Kandy.


Tour leader; Stijn De Win Group size ; max. 6 !

Feb - March '18 ; View our tour bird list. and photo report.

Top ten! To write another great story about a must visit birding destination is very easy if you pick Sri Lanka. Choosing your next holiday out of many thousands of fantastic bird watching sites is another matter. However it may be of great help to note that Sri Lanka has made it regularly into the top ten must visit places worldwide. Birders have voted for it in more than a few online articles and magazines. Sri Lanka's birdlife is most remarkable for its high degree of endemism along with superb wintering birds like Indian Pitta and Pied Thrush. Near-endemics shared only with southern India are another celebrated feature while respect for wildlife, or all life, has created a unique bond between Sri Lankans and their natural surroundings. Birds are abundant and often very approachable thanks to a fascinating Buddist culture dating back thousands of years. This is a feel good place with many well protected National Parks and lots of 'green' countryside. Infrastructure, facilities and lodging have all greatly improved since my first visit back in 2000. Most amazingly though, they have also added a newly discovered species since, the Serendib Scops Owl. This highly rewarding short tour offers lots of excitement; a superb boost to your bird list, great wildlife sightings, your perfect introduction to the Indian subcontinent, authentic food, a quick 'winter' escape, good photographic opportunities, beautiful scenery,… a must have lifetime experience!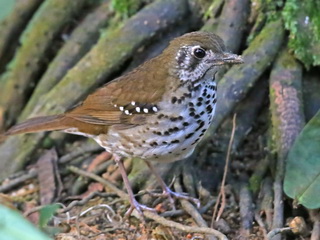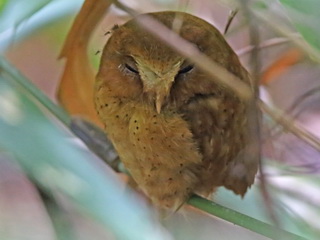 Spot-winged Thrush, Sinharaja Biosphere Reserve
Serendib Scops Owl, Sinharaja
Day 1
International arrivals into Colombo. We include a first night near the airport. This is not only great to recover from the flight but may also produce a first few birds in the hotel's garden.
Day 2
Early start to Kitulgala situated on the banks of the River Kelani. It may soon become apparent that our first 2 hour drive will be a nice introduction to all further road journeys on this tour; Expect a countryside that is superbly scenic at both nature and cultural aspects, and with refreshingly good roadside birding! Wet zone (most of the endemics) birding starts for us at Kitulgala which has plenty on offer in beautiful surroundings. Spot-winged Thrush, Indian Pitta, Yellow-fronted Barbet, Sri Lanka Grey Hornbill, Layard's Parakeet, Orange-billed Babbler, Legge's Flowerpecker, Sri Lanka Hanging-Parrot, Malabar Trogon… introductory birding Sri Lanka style! At Kitulgala we will be after a few species that may be harder to come by at Sinharaja like Chestnut-backed Owlet and Brown-capped Babbler.
Day 3
Kitulgala comprises a mosaic of habitats, and exploring these will keep our bird list at a steady growth rate this morning. While both productive and rewarding for our tour start, our next birding site may just be superior. No wonder our itinerary includes only 1 night at Kitulgala and 3 nights at Sinharaja. Today we expect to arrive at Sinharaja in time for some late afternoon birding. Our birder's lodge just outside the reserve has on offer; comfortable air conditioned rooms, some of the most authentic and best Sri Lankan food of the tour, and birds to watch in/from the garden… last visit this included Indian Pitta, Slaty-legged Crake, Indian Paradise-Flycatcher, Crested Hawk-Eagle, Sri Lanka Myna and Legge's Flowerpecker.
Day 4 + 5
Sinharaja, a designated biosphere reserve, a Unesco World Heritage Site, a world-renowned biodiversity hotspot… or simply 2 full days birding at Sri Lanka's number 1 site for endemics; Sri Lanka Blue Magpie, Red-faced Malkoha, Sri Lanka Scaly Thrush, Sri Lanka Spurfowl, Green-billed Malkoha, Serendib Scops-Owl, Ashy-headed Laughingthrush, White-faced Starling, Sri Lanka Frogmouth, Sri Lanka Woodpigeon etc. Sinharaja also has plenty other wildlife to look out for. For example Toque Macaque, Purple-faced Langur and Grizzled Giant Squirrel, which are nice and certainly easy to spot mammals.
Day 6
We will spend a last morning birding at Sinharaja followed by a mid-day drive featuring a dramatic change of scenery. Welcome to Sri Lanka's dry zone! Dry woodlands, open grasslands and wetlands are teaming indeed with new birds for the trip. And no better way for a first sample then with an afternoon safari in open-topped jeeps at Udawalawe National Park. This park is famed for its wild Indian Elephants and other wildlife. Birds to look out for include Sirkeer and Blue-faced Malkohas, Malabar Pied Hornbill, Painted Stork, Lesser Adjutant, Sri Lanka Woodshrike and with some luck even a Brown Fish Owl would be possible.
Day 7
For many our visit to Yala NP will be another top-highlight. Exploring the grasslands, dry forest, wetlands and scenic coastal lagoons of Sri Lanka's second largest national park on a jeep safari is a memorable experience; not least for the high chance we have encountering one of Yala's many Leopards. This park indeed is well known for having the highest density of Leopards anywhere on the planet. Additionally, sightings of Sloth Bear are regular and there will be some less elusive wildlife on show for sure. The birding can be excellent too; Wooly-necked Stork, Great Thick-knee, Ashy-crowned Sparrow-Lark, Pied Cuckoo, Blue-faced Malkoha, Eurasian Spoonbill, Orange-breasted Green Pigeon, Sri Lanka Woodshrike, Indian Peafowl, Marshall's Iora, Jerson's Bushlark…
Day 8
The Tissamaharama area and edges of Bundala NP have lots on offer. Reservoirs (locally known as 'tanks') and other wetlands hold plenty interesting target birds; Black Bittern, Streaked Weaver, Cotton Pygmy-Goose, Watercock, Lesser Adjutant, Pheasant-tailed Jacana, Black-headed Ibis, Small Pratincole. We will also be looking for a few specialities in the mosaic of other habitats of the area; Indian Scops Owl in lush gardens, Indian and Jerdon's Nightjar in dry scrub, the handsome White-naped Woodpecker in coconut groves… my first visit back in 2000 even produced a wintering Caspian Plover!
Day 9
After some final birding near Tissa we head to the hill country around Nuwara Eliya. This is a place very different from the steamy 'Wet Zone' jungles or open 'Dry Zone' habitats experienced earlier on the tour. We may now enjoy a cool climate, cloud forest and the finest Ceylon Tea! We'll do quite a few birding stops looking for a set of new birds that may include the stunning Yellow-eared Bulbul, Sri Lanka Woodpigeon, Sri Lanka White-eyes and Sri Lanka Scimitar-Babbler. We will also visit Victoria Park, famous as a site for wintering Pied Thrush and Kashmir Flycatcher.
Day 10
Our visit to the cool heights of Horton Plains National Park will not only get us into an extra sweater but also into beautiful subtropical dwarf forest dominated by rhododendron. Sri Lanka Whistling-Thrush must be the star avian attraction here while other goodies include Sri Lanka Bush-Warbler, Dull-blue Flycatcher, Yellow-eared Bulbul and the endemic race of Indian Blackbird.
Day 11
The scenic city of Kandy and its nearby attractions must not be missed on any tour. The rainforest of Udawattakele sits just above the city and offers fine birding. However, with most if not all target birds already seen at this point on the tour, we may have the opportunity to keep our visit brief and instead include some extra sightseeing. Kandy, Sri Lanka's cultural heartland, indeed would be the perfect spot for this with the famous 'Temple of the Tooth' and other great sights located in town. We should also have a little time for a spot of –yes- shopping, as we must bring home a few (inexpensive ha :-) packs of fresh Ceylon Tea before we drive to the airport in Colombo to mark the end of the tour.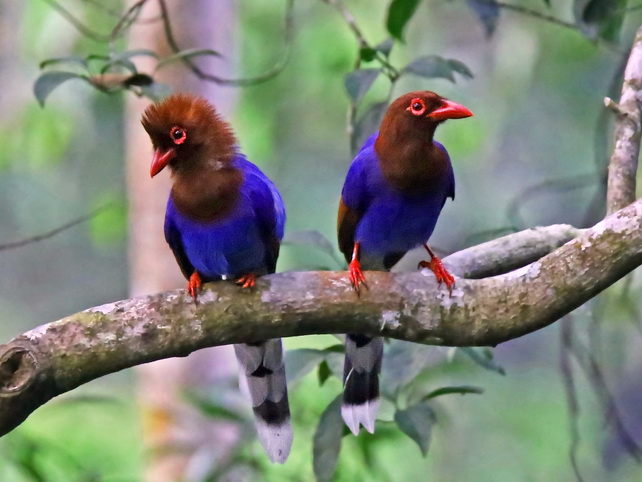 General info :
Comfortable air-conditioned accommodation in high standard hotels with private facilities. Transport between sites by air-conditioned van. Safari rides at 3 National Parks on board open-sided jeeps. Walking is easy and most birding is done on level roadside/tracks/trails. Weather is quite hot in the lowlands but still pleasant at this time of year. We can expect a couple cold/cool mornings and evenings in the highlands. Some short rain showers are always a possibility even though late Feb. and March may get us the best chance on dry weather. Sri Lankan food is hygienically prepared and very tasty. Some 'western' food options are available for those struggling with the many new flavours and spices of Sri Lankan cuisine. Excellent photographic opportunities are a feature on this tour.
All photographs on this page taken by Stijn on a February 2017 trip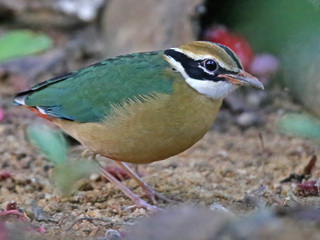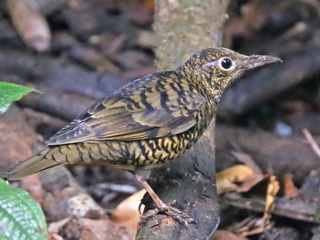 Indian Pitta at Sinharaja
Sri Lanka Scaly Thrush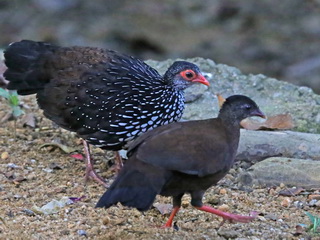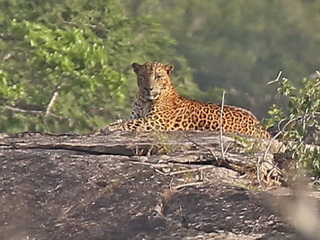 Sri Lanka Spurfowl pair
Yala National Park is famous for its Leopards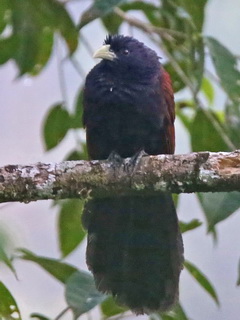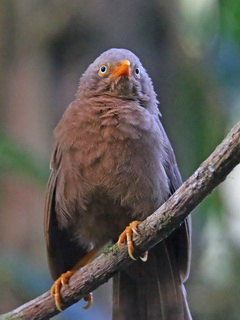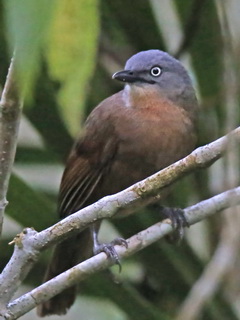 A set of Sri Lankan endemics; Green-billed Coucal, Orange-billed Babbler and Ashy-headed Laughingthrush.
Home / Top / Sinharaja Forest Reserve photo report / 2018 tour report