Sabah, Borneo.


Mt. Kinabalu, Kinabatangan River, Sepilok, Poring, Rafflesia Forest Reserve, Gomantong


Tour leader; Stijn De WinGroup size ; max. 6


12 - 22 August 2023 (Guaranteed departure, tour is full)

All trip dates posted are for the main tour only. Any trip may feature the Danum Valley or Tabin Wildlife extension for which you should count 4 extra days by the end of the tour. Small groups are a key and cost is according to number of participants. Apart from the scheduled tour you may also suggest other dates for 2023, interested? You are welcome to send us an email; info@birding2asia.com


It could well be that only 2 kinds of birders exist…
Those that have been to Borneo and those who still need to go.
It's a must. Essential.
We shall go. And you're welcome…
enquire; info@birding2asia.com

We are under the impression that, on this page, it may not be necessary to describe Borneo's nature in superlatives. It simply is great and birders interested in a trip would probably know already. So you may well find yourself with those that still need to go… And we'd like to help make things easier. It works simple. We would wish you to be able to experience Sabah for real, in the field on Borneo, not just on our tour page. We worked hard to be able to offer a solid holiday at a price as affordable as possible without compromising the birding experience. The result may well be a competitively priced tour that we would like to feature exceptional value, experienced guides, and a friendly atmosphere all amongst some of the finest birding in Asia. Our tour should be accessible to people with all levels of birding skills as in the end the bird and wildlife will just be as diverse as the people watching it. Let us go and enjoy the temperate climate on Mt. Kinabalu, the lush rainforests of Sepilok and the wonders along the Kinabatangan River… We are highly committed to make our next tours a great success again.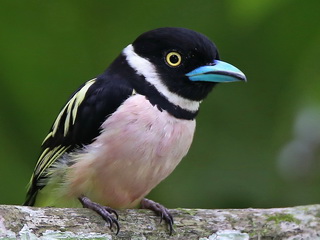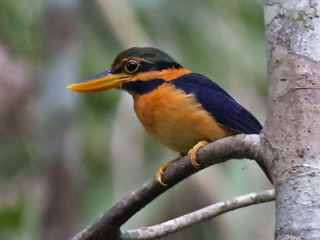 Endemics and rarities you may find in the photo gallery below!
Borneo is all about enjoying loads of fantastic bird species. These might include some common birds to start with. We photographed this rather impressive looking Black-and-Yellow Broadbill at Sepilok. The Rufous-collared Kingfisher is a little harder to find but still isn't too scarce. Psst, remember, top quality on Borneo is not something reserved for the main target birds only... -are you ready to discover Sabah's secret?!
Day 1
International arrivals into Kota Kinabalu which is a surprisingly modern city. Those with early arrivals have the opportunity to visit the nearby park and waterfront for some fun introductory birding. Birds like Long-tailed Parakeet, Blue-naped Parrot, Sunda Woodpecker, Pied Hornbill and White-bellied See-eagle may make for a good start on an easy stroll from the hotel. Recently we have also added visits to another park near KK for both staked-out Sunda Frogmouth and Sunda Scops-Owl, with success in May and August 2017 + further sightings of Hooded Pitta, Bornean Banded Kingfisher, Black-and-red Broadbill, Rufous Night-Heron, Blue-eared Kingfisher... Night in Kota Kinabalu.
Day 2
We'll be out and birding in no time for a good start near Tambunan at the Rafflesia Forest Reserve in the Crocker Range where we spend at least the best part of the morning or more if needed to connect with the birds special to the area. These include some mid-altitude species not often recorded at other sites on the regular Sabah birding circuit. We'll focus on finding both Bornean and Mountain Barbet, Bornean Bulbul, Bornean Leafbird, Black-and-crimson Oriole, Pale-faced Bulbul and the enigmatic Fruithunter. Later we continue to majestic Mount Kinabalu for an exciting introduction to Kinabalu National Park. The drive is a scenic one and sightings en-route have included goodies like White-fronted Falconet, Bornean Ibon and Grey-rumped Treeswifts.

Day 3 - 5
We have 3 full birding days on the mountain. That this will be, besides the pleasant cool temperatures and beautiful montane forest, full of endemic birds need no say. The Whitehead's trio, 2 Partridges, a Stubtail, a Wren Babbler, 'the' Trogon, 2 Laughingthrushes, a 'Green' Magpie, Eyebrowed Jungle-Flycatcher, Kinabalu Serpent Eagle, Everett's Thrush, Mountain Black-eye, Bornean Whistling Thrush, Bornean Treepie and Flowerpecker…lots more. The birding is done along the road towards the summit and on a network of wonderful trails. The restaurant in the National Park is excellent for lunch and for bird watching from the balcony. Temminck's Sunbird, Mountain Warbler and Chestnut-crested Yuhina show here regularly and may provide with excellent photo opportunities. Nights will be spend in a resort near the mountain.

Day 6
A day trip to the nearby Poring Hot Springs may well offer quite a few different birds. With luck a flowering Rafflesia is a possibility as well . Poring is on the lower Kinabalu slopes inside the National Park. Birds of the lowlands and those associated with rainforest on foothills find a home here. Sightings on our trips in the summer of 2017 include; Chestnut-naped and White-crowned Forktail, Wreathed Hornbill, Chestnut-capped Thrush, Green and Banded Broadbill, Grey-headed Babbler, Rufous-collared Kingfisher, Bornean and Malaysian Blue-Flycatcher, Banded, Maroon, White-bellied and Buff-rumped Woodpeckers, Red-naped Trogon, Scaly-breasted Bulbul, Fulvous-chested Jungle-Flycatcher, Dark-throated Oriole, Gold-whiskered Barbet, Silver-rumped Needletail...

Day 7 - 8
After a final morning on Mt. Kinabalu we depart for Sepilok. The Rainforest Discovery Center here makes for the perfect introduction to the lowland forest birding on Borneo. The superb canopy walkway will be of great help for spotting plenty bird species. Of course we also need to explore the forest edge and the many trails available. Even the resort grounds have good birds and this has included the rare Large Green Pigeon on a recent trip.
The birds available at the Rainforest Discovery Center go far beyond an 'intro' to Sabah's birds .
To notch up close to, if not a 100 species during our 2 days here would be well possible. A number of excellent birds call Sepilok home; Rhinoceros Hornbill, Raffles's Malkoha, Red-naped Trogon, Diard's Trogon, Black Hornbill, Buff-necked Woodpecker, Orange-backed Woodpecker, Black-crowned Pitta, Black-and-Yellow Broadbill, Bar-bellied Eagle-Owl, Rufous-collared Kingfisher, Banded Kingfisher, Crested Jay, Bornean Black Magpie, Rufous-bellied Eagle, Wallace's Hawk Eagle,… and a host of Babblers, Spiderhunters, Sunbirds and Flowerpeckers.
We need some luck with Bornean Bristlehead which has been reliable for a season in the recent past but proves irregular most of time. This unique bird is the only member of its own monotypic family, it's endemic, incomparable, and it certainly looks exotic. We had success finding 3 birds in August 2017 and also in April and July 2018 but luckily there are also other Bristlehead chances at Kinabatangan and Danum Valley.
Many bird tours seem to visit Sepilok only briefly. However one could happily spend a week there. This is very pleasant birding with good accommodation just 5 min. from the forest. For the tour, our two days and a morning is the minimum to do the place justice.Besides, we thought that in order to enjoy an introduction to the lowland rainforest, it is best done in a relaxed way.
Additionally we may hear Bornean Gibbons at Sepilok and an evening walk may put Red Flying Giant Squirrel, a Slow Loris or a Bornean Striped Palm Civet in the spotlight.

Day 9
A last morning at the Sepilok RDC before our transfer to the Kinabatangan River. En-route we visit Gomantong Caves for the swiftlet colonies and after arrival in our attractive lodge on the banks of the river, we set off on a first cruise in search of this celebrated wildlife experience the Kinabatangan is so renowned for. It's not going to disappoint. Proboscis Monkeys, Orangutan, Silvered Langur, Maroon Langur, Smooth Otter, 8 species of Hornbill, Storm's Stork, Lesser Adjutant, Saltwater Crocodiles, Mangrove Snake, numerous raptors, Stork-billed Kingfisher, Long-tailed Parakeet…with some more luck even a Bornean Pygmy Elephant or Bornean Ground-Cuckoo.
Day 10
A full day on the Kinabatangan with several boat trips scheduled. In between those comfortable cruises and back in the lodge grounds, we may want to stretch our legs for a spot of birding from the boardwalk. Black-crowned and Hooded Pitta, Black-capped Babbler, Maroon-breasted Philentoma, Malaysian Blue-Flycatcher, Rufous-tailed Tailorbird, Rufous Piculet, Bushy-crested Hornbill, Buff-necked Woodpecker and Black-and-Yellow Broadbill are all there to be found.
Day 11
We will go for a last morning cruise along the river. Before we drive back to Sandakan (or proceed to Lahad Datu for BRL) we may have time for some forest birding along the quiet entrance road to Gomantong Caves. Orangutan, Maroon Langur, Red-naped Trogon, Rufous-chested Flycatcher, Banded Kingfisher, Rufous-bellied Eagle, Black-crowned Pitta, Rhinoceros Hornbill and much more are all possible here. The drive back to Sandakan/Lahad Datu takes a couple hours to connect with our flight back to Kota Kinabalu which marks the end of our tour.
Danum Valley extension; A 4 day/3 night birding package at the Borneo Rainforest Lodge (or Tabin Wildlife Resort). After Kinabatangan drive to Lahad Datu for the night and on to the Danum Valley Conservation Area the next morning. Here the excellent Borneo Rainforest Lodge will become your home for the next 3 nights. This place has been called the single most exciting tropical rainforest experience on our planet... What is sure is that you'll be staying amidst some of the best birding on Borneo with impressive views of real superb primary rainforest. An extensive trail network and a nice canopy walkway will help to reveal the riches of the ancient rainforest. Specialities found at BRL include Great Argus, Blue-headed Pitta, Giant Pitta, Bornean Banded Pitta, Black-throated and Bornean Wren Babbler, Crested Fireback, Great-billed Heron, Bristlehead… too many to name. This is the home of an impressive host of Hornbills, Malkohas, Kingfishers, Woodpeckers, Spiderhunters, Babblers, Tailorbirds, Barbets, Sunbirds, Broadbills, Bulbuls, Pittas, Flycatchers... And we should not forget the mammals. Night drives from the lodge may well produce a Leopard Cat, Civet, Tarsier or Loris while by day there is always a good chance to find Bornean Gibbons, Red Leaf Monkeys or a Bornean Orangutan. The lodge doesn't come exactly cheap at about $ 400 pp for a shared room or 500 USD single a night on a full board deal. In our opinion it's worth it every cent though. The lodge mostly caters for tourists with some interest in nature (less than 10% are birders) and must be regarded as a smart business model. We may want to conclude that the money certainly helps the conservation of the surrounding forest! Who wouldn't want to support that?
General info;
Comfortable accommodation in high standard hotels or lodges with private facilities. Transport by air-conditioned van. Food hygiene is of high standard with both tasty Malaysian or Western choices available at all birding sites. Walks are easy to moderate throughout. The weather is cool and pleasant on Mt. Kinabalu and rather hot and humid in the lowlands. Some rain is always a possibility. Photographic opportunities are worthwhile on Mount Kinabalu while they may appear excellent at Sepilok and on the Kinabatangan River cruises.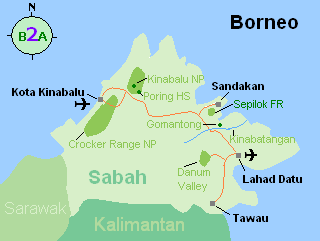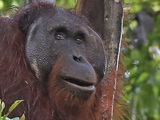 B2A's experience with Sabah starts back in 2003. Ever since, Stijn has
loved it, every trip, time after time. But please try not to walk behind
me, I may not lead. Neither walk in front of me, I may not follow.
Just walk beside me and be my best birding friend. Cheers!
We hope you may enjoy the photos on this page. All are opportunity shots taken on previous B2A trips.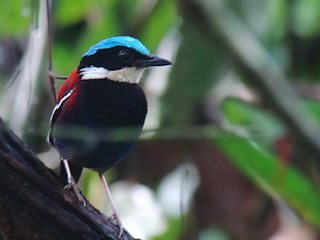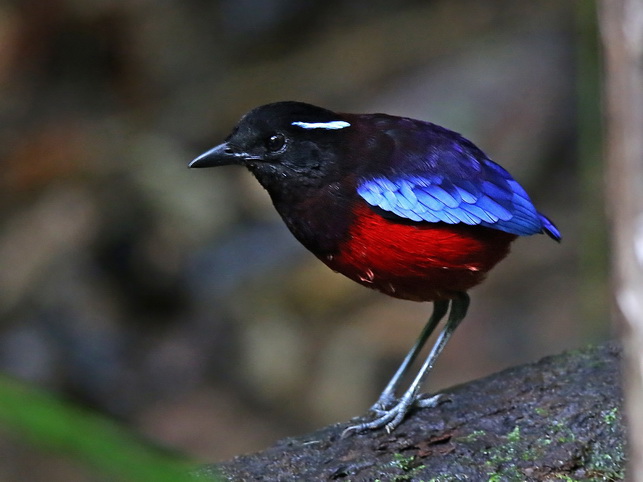 Blue-headed Pitta, Danum Valley
Black-crowned Pitta, Sepilok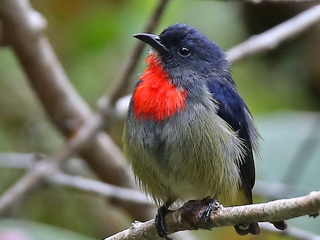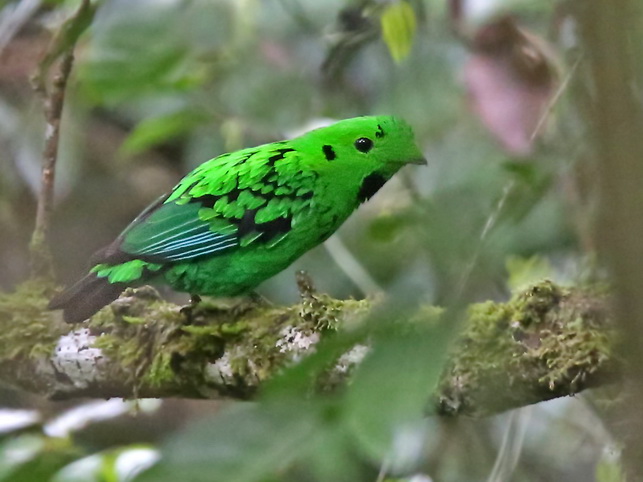 Bornean Flowerpecker, Mt. Kinabalu
Whitehead's Broadbill, Crocker Range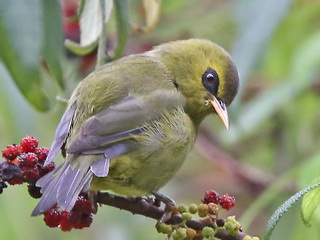 Mountain Black-eye, Mesilau
View on Mount Kinabalu from our resort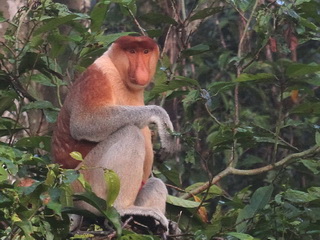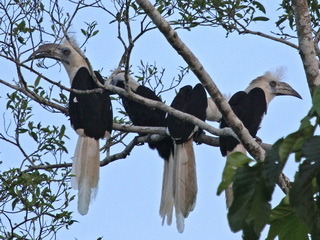 Proboscis Monkey, Kinabatangan
White-crowned Hornbills, Kinabatangan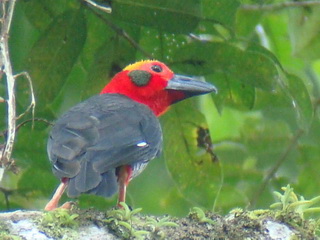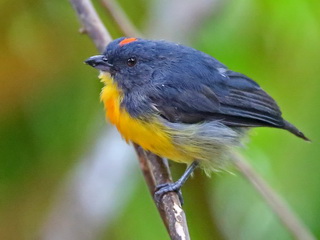 Bornean Bristlehead, Danum Valley
Yellow-rumped Flowerpecker, Sepilok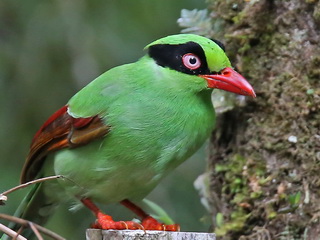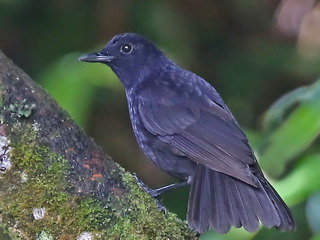 Bornean Green Magpie, Mt. Kinabalu
Bornean Whistling Thrush, Mesilau

Our June and August 2018 trips were blessed with a good sightings of Bornean Pygmy Elephants at the Kinabatangan River. Photo above shows members from a 30+ herd we found in 2013.