Indonesia; The Lesser Sundas


Flores, Komodo, Timor and Sumba


Tour leader; Stijn De Win

20 July - 06 August 20..? ; Places available Group size ; max. 6

This Indonesia tour explores the islands strung out to the east of the popular holiday island of Bali. Our Lesser Sundas tour represents an enjoyable and exhilarating adventure for those who want to see the many exciting endemics and little-known avian specialities of these scenic islands. We offer a comprehensive coverage visiting the main islands Flores, Komodo, Timor and Sumba which are home to a remarkable number of Indonesia's rarest and least known bird species. Prepare for quality birds as the list of top-species is long; Elegant Pitta, Yellow-crested Cockatoo, Sumba Hornbill, White-rumped and Cinnamon-banded Kingfishers, Flores Monach, Orange-banded Thrush, Timor Sparrow, Timor Black Pigeon, Black-banded Fruit-Dove, Bare-throated Whistler, Flores Crow, Olive-shouldered Parrot and Tricoloured Parrotfinch are just a few to start with. Besides fantastic scenery, good food and pleasant company, sits also high on the agenda a beast of menace, the aptly named 3 meter Komodo Dragon.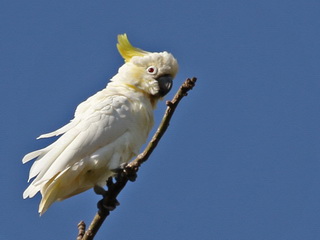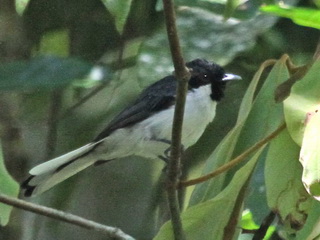 Yellow-crested Cockatoo
Flores Monarch
The Lesser Sundas have not usually been regarded as a priority destination for birding in Asia. No wonder it took us until 2013 for a first visit, at last drawn by some excellent recent trip reports from independent birders. It was an eye opener. Those are fantastic welcoming islands with great birds and scenery while at the same time travel can be comfortable and safe. Any journey would be super enjoyable and rewarding if the right strategy for a trip has been adapted. With our tour we would like to offer a fresh start and prove the Lesser Sundas are not just a hardcore birding destination. We certainly plan to put in some keen birding although we do understand that the often rushed and sometimes frantic pace of some existing itineraries may leave the participants exhausted in the end and perhaps frustrated over the one that got away! The Lesser Sundas is in need of a tour where a more leisurely approach can blend in perfectly with finding the best birds. Thanks to good knowledge of all the birding sites and target species we should be able to do just that. We'll be busy finding love and appreciation for the unique birdlife rather than numbers for a list and aim to offer an extraordinary adventure that can be truly enjoyed as we would allow for sufficient rest and comforts during unproductive times of day for birding. This doesn't mean the bird list won't be long in the end as we plan on going hard during those brief windows of opportunity that birding days always have on offer!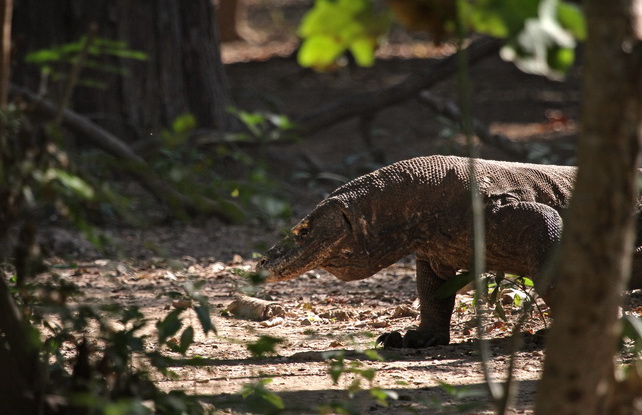 A Komodo Dragon crossing our way as he patrols his island forest.
Forest birding on Flores, Komodo, Timor and Sumba often is a little easier than it may be in the tall and dense tropical rainforests found in many parts of Asia. While the mountains on Flores certainly have some luxuriant cloudforest, the lower elevations mostly support much drier and more open forest habitats where birding may go well during the good morning hours and feel like a series of delightful discoveries for all the enjoy. This together with some easy open country birding, shorebirds and wetlands can make these islands a pleasant destination and a perfect match indeed even for those going on a first birding trip in Asia. Easy access and being only a short hop away from tourist and transport hub Bali is another advantage. Popularity is already increasing and we are keen to help open up the place to more birders.

"Beach resort" in Lubuan Bajo on Flores comes with Beach Thick-knees!!!
Day 1
International arrivals into Denpasar airport on Bali. Dinner and night in our nearby hotel in Kuta.
Day 2
A morning flight will take us to Lubuan Bajo on the west coast of Flores, where a short drive will take us to our beach resort which will serve as an extremely comfortable base for exploring the surroundings, nearby forest and adjacent Komodo island. We should not forget to mention the beach and resort grounds here aren't so much about sunbathing instead have some excellent birds on offer. A walk on the beach may come with Beach Thick-knees, Great-billed Heron, some waders and we found some unexpected wintering Australian Pelicans on our 2013 trip as well. The resort grounds and immediate surroundings are interesting as well and may produce a decent list of good birds; Mees's Nightjar, Yellow-spectacled White-eye, Zebra Finch, Stork-billed Kingfisher, Flame-breasted Sunbird, Sacred Kingfisher…
In the afternoon we head to the mountains and visit the forest at Puarlolo. The Flores Monarch is our main target as it is restricted to submontane forest in West Flores and Puarlolo may well be the only easy accessible site for it. Russet-capped Tesia, Tick-billed Heleia, Crested Dark-eyes and Golden Whistler are other birds to look out for and with luck we may even chance upon a Chestnut-capped Thrush or Rufous-chested Flycatcher.
Day 3
Anyone looking for an awe-inspiring experience should try a day visit to Komodo National Park. We start with an exhilarating speed-boat ride passing by several other smaller islands offering a backdrop of craggy peaks in an arid and inhospitable landscape. A few seabirds are possible enroute and we enjoyed watching Lesser Frigatebirds and Indo-Pacific Bottlenose Dolphins on our 2013 trip.
Once landed on the island it's a matter of finding both the beauty and the beast. It shouldn't be that hard as good numbers of the endangered Yellow-crested Cockatoo have a last stronghold on Komodo island. I don't need to mention the Komodo Dragon will do its best to show us the beastly side of the coin. There're definitely some other sights to be found in between the two extremes; Green Junglefowl, Grey Tit, Island Collared Dove, Orange-footed Scrubfowl, Helmeted Friarbird and Lemon-bellied White-eye are a few of those.
There will be time for snorkeling at a stop on the return journey and we may make it back in time to enjoy one of those fabulous sunsets as watched from the beach at our accommodation.
Day 4
We'll head back to Puarlolo this morning. After our first afternoon venture here it will be nice to pick up the bird activity in the cool morning hours this time.
We'll have lunch back in the beach resort and there will be some time to relax or explore the surroundings and the beach in the early afternoon.
When things get a little cooler again we head for some good roadside birding at Potawangka road. The forest here is famous as a site for the scarce Wallace's Hanging Parrot but has a lot more on offer. Elegant Pitta, White-rumped Kingfisher and Flores Crow are some top-species we recorded here on our last visit. Great-billed Parrot is another excellent possibility. At dusk we will have a good chance of finding Mees's Nightjar and Moluccan Scops-Owl. It's then only half an hour drive back to our resort so we'll be ready in no time for another dinner in a tranquil setting by the beach.
Day 5
We must bird Potowangka during the good morning hours as well after which we'll have a last lunch in Lubuan Bajo. We then leave this part of Flores and head inland for 4 hours to the next pleasant base in the central mountains. The journey is full of fabulous scenery and surprises abound. A Wooly-necked Stork was certainly unexpected on our last trip and we had the luck to watch a Short-toed Snake-Eagle take off with a fresh catch.
Idyllic rice terraces make for another good stop and photo-opportunity while we learned that the vanilla we love so much in our ice-cream is actually grown in these mountains. We will spend the next 4 nights in Ruteng, situated nice and cool in the Flores highlands.
Day 6
An early start will see us birding the lowland forest at Kisol first. This site holds some similar species than at Potowangka but we'll get a few new ones and we should look out for a couple specialities like Flores Hawk-Eagle.
The forest at Kisol is small and rather degraded and afternoon birding can get desperately slow. Many tour itineraries spend 2 nights in very basic accommodation near Kisol but we smartly opt for a daytrip only where we can even visit Lake Ranamese on the return journey to Ruteng. After all we've got many Kisol-species already in the bag in a most comfortable way from the sites near Lubuan Bajo.
Day 7
Poco Ranaka is an active volcano with some excellent forest on its flanks. A narrow and disused but sealed road winds up through some good forest and provides with good birding and nice views on the valley below. Black-banded Fruit-Dove is common here and we'll be looking for other specialities that favour the sub-montane habitat. A surprise or two is always possible and both Sunda Cuckoo and Bonelli's Eagle where good finds on our morning here in 2013.
Day 8
The incredible dawn chorus of Bare-throated Whistlers on the mountain pass of Golo Lusang always is a highlight on Flores. You'll be listening to one of the best songbirds of Asia in the crisp morning air. These birds are good looking as well and on top of that they are endemic to Sumbawa and Flores and only found on the higher elevations. We'll have here a top-contender for bird of the trip and a super memorable experience indeed.
In the afternoon we visit Lake Ranamese once again in search for any birds we may still have on the wish list.
Day 9
We take a morning flight from Ruteng to Kupang on Timor this morning. In clear weather this means volcano viewing from the air at least for those sitting on the left side of the plane.
After arrival we will first settle in our comfortable hotel in this modern city and have an early lunch before we go to Bipolo which is a remnant patch of tall monsoon forest about an hour's drive away. Timor holds the largest number of endemics on this tour and our first venture out should easily produce a huge set of new birds. Timor Sparrow was my first bird seen here on our 2013 trip. Cinnamon-banded Kingfisher, Timor Blue Flycatcher, Timor Figbird, Orange-banded Thrush, Red-cheeked Parrot, Timor Oriole, 3 species of Honeyeater, Red-chested Flowerpecker… the list is long.
Day 10
We visit Bipolo again this morning before moving on to Oelnasi. The dry forest in the hills here is a good site for Timor Black Pigeon, Timor Stubtail, Timor Chat, Buff-banded Ticket-warbler, Broad-billed Flycatcher and Bar-necked Cuckoo-Dove. From Oelnasi forest its only 15 km to the town of Soe where we spend the night.
Day 11
A day trip to Gunung Mutis, West-Timor's highest mountain is on the agenda. Specialities found here include Timor Imperial Pigeon, Timor Wren-Babbler, Lesser Shortwing, Iris Lorikeet, Blood-breasted Flowerpecker, Metallic Pigeon, Island Thrush, Timor Leaf-warbler… Night in Soe.
Day 12
We'll try Oelnasi forest in the morning this time and see what else we can find. After lunch we visit yet another area with good forest enroute back to Kupang, named Camplong. It may serve as the perfect back-up site for a few of the more difficult target birds. Night in Kupang.
Day 13
We could give Camplong a try in the morning or visit Bipolo again first as today will be flexible so we can pull our best cards for any bird species still wished for although we may just as well choose to do some pleasant relaxed birding and return to the site we liked the most. Night in Kupang.
Day 14
Each island on this tour has its own distinctive character and this morning we fly to Sumba for yet another set of new impressions to enjoy. Our last destination may well hold a grand finale with some excellent birds and good birding to go.
The start of our program on Sumba will depend a bit on the arrival time of the not always reliable flights between the 2 islands. We may head straight for the forests near Lewa inclusive the excellent Manupeu Tanadaru National Park or first have a look at some sites near Waingapu. Both the grasslands of Yumbu and the permanent freshwater wetlands of Kadumbul aren't far from Sumba's capital city and should be good for some introductory birding.
Day 15, 16 and 17
Full days birding near Lewa where the remnant forest holds many of the Sumba endemics. Red-naped Fruit-Dove, Marigold Lorikeet, Sumba Jungle-Flycatcher, Blood-breasted Flowerpecker, Apricot-breasted Sunbird, Lesser Wallacean Drongo, Chestnut-backed Thrush, Elegant Pitta, Variable Goshawk, Black-naped Fruit-Dove, Australian Koel, Sumba Myzomela, Red-cheeked Parrot, Great-billed Parrot, Rainbow Bee-eater, Little Sumba Boobook and Sumba Hawk-Owl are some of the goodies to look for. We will also visit the viewpoint at Watumbelar to look for the Citron-crested Cockatoo and Sumba Hornbill.
Day 18
Having returned to Waingapu the previous evening we will have some time this morning to further explore the nearby grasslands and wetlands and if the tide is right we could choose the mudflats as well. It will then be time for our return flight to Bali which marks the end of the tour.
Note;
Short extensions for birding on Bali would be possible at both ends of this tour. This could be a 1 to 3 day excursion to Bali Barat National Park or for those with only a few hours to spare some sites near Kuta-Denpasar can be visited. Some mudflats for waders are nearby at Benoa Harbour and Nusa Dua Sewage Treatment Lagoons is a good place to see some waterbirds. Uluwatu temple area may produce Black-winged Starling and White-tailed Tropicbird is present at the dramatic seaside cliffs.
Tour code;
Mostly easy walks at the usual slow pace good for birding -- photographic opportunities are worthwhile -- weather usually hot and dry in the lowlands with very pleasant temperatures in the mountains -- we'll have air-conditioned transport and the roads are in a fair condition although often very windy -- early starts are best for bird watching and we'll have the odd late return for some owling , however we'll balance this out and there will be sufficient rest overnight and during the hot hours of the day -- we have found the food to be both tasty and safe with no stomach problems encountered during our last trip.

View our Lesser Sundas photo gallery. (2013 trip photos)
View our Lesser Sundas tour report and bird list. (2015 Jul-Aug tour)
View our Lesser Sundas tour bird list. (2015 September tour)