Thailand


Central plains and National Parks + the mountains of the north.


Kaeng Krachan, Laem Pak Bia - Pak Thale, Beung Boraphet, Mae Wong, Mae Ping, Doi Inthanon, Doi Ang Khan, Chiang Dao, Doi Lang...

January 2023 tour report Group size ; max. 6

14 - 27 January 2024 ; Tour is full

2 - 15 February 2024 ; Custom tour, full.

12 - 25 January 2025 ; places available
Interested? Welcome to email info@birding2asia.com

Bangkok has long proved a great base for us doing tours in Asia. This city also is 'the' gateway for birding trips in central Thailand and with Bangkok we have some of Thailand's premier birding sites and national parks within a couple hours drive. For us this feels like home and so we would like to share our experience and offer guests on this tour an unforgettable Asian birding adventure! Central Thailand with its exceptionally diverse range of habitats is an ideal introduction to the biological riches of Southeast Asia. Mudflats and saltpans abound with shorebirds (Spoony!), both coastal and inland marshes are teeming with waterbirds and the rainforest and montane evergreen forests of Kaeng Krachan and Mae Wong offer a dazzling array of distinctly tropical specialities.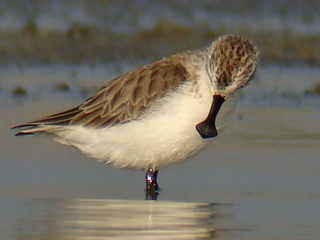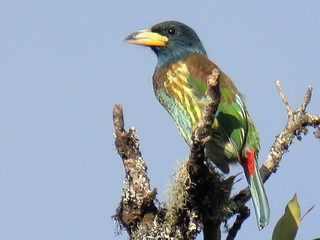 Spoon-billed Sandpiper, Pak Thale
Great Barbet, Doi Lang
We dedicate the second half of our tour to northern Thailand. Numerous mixed flocks and countless specialities are a feature in the mountains. High diversity in the north and a whole new and different set of birds are our secret to a huge bird list without making this a long tour. Expect close to if not over 400 species and we don't have to make it a rush for this. Thailand's high diversity and our knowledge should make this quite an easy journey. We just hope you may get a feel of our enthusiasm and passion for the country. No wonder we will enjoy sharing our experience of a place that we are so privileged to live in, we may call Thailand home indeed.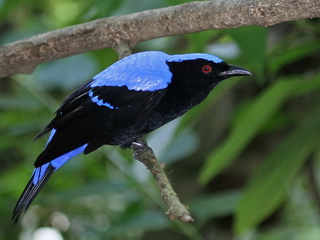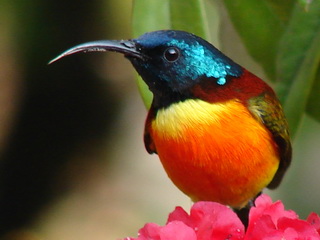 Asian Fairy Bluebird, Khao Yai
Green-tailed Sunbird, Doi Inthanon
Day 0
Pre-tour; International arrivals in Bangkok, pick-up by hotel shuttle, night in Bangkok.
Day 1
We make this an early start and head straight for the wader areas of Pak Thale and Laem Pak Bia ; Spoon-billed Sandpiper, Nordmann's Greenshank, boat trip for White-faced Plover... we have been visiting this area for many years on countless occasions and we may note that it's never failed to deliver a great start to a tour! Night in a nice beach resort near Hat Chao Samran!

Day 2
Laem Pak Bia has a lot more on offer besides the waders and a day list close to a 100 species is well possible especially if the excellent marshes and nearby agricultural area is also visited. We'll do just that today but of course this extra day in the area would serve as a safe back-up just in case any of the important waders eluded us the previous day even though we don't expect much of a problem in this quest if the tides are favourable during our visit. In the late afternoon we may pay a short visit to the dry dipterocarp forest at Khao Look Chang before we drive to our nature resort near Kaeng Krachan National Park.

Day 3 + 4
Two days in one of the most bird-rich forests of Thailand; Kaeng Krachan National Park, where we will focus one day each on the lower reaches around Ban Krang camp and the higher part around Panoeng Thoeng mountain. Each part, at different altitude (300m and 900m), has quite some different birdlife and this diversity is guaranteed to offer us an exciting and highly rewarding couple of days birding. The permanent hides set up at waterholes near Kaeng Krachan are not to be missed as they always reveal a number of elusive species for prolonged looks. Species that so often only allow a glimpse in the forest may simply put up a show meters in front of us, delighted birders. For the photographers; Please make sure to bring enough memory cards!
Later we use the hot afternoon hours for the drive to our resort near Khao Yai National Park.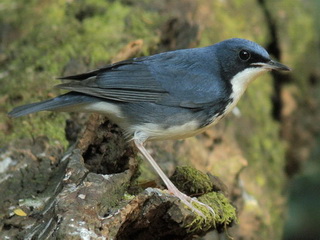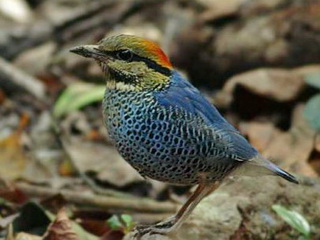 Siberian Blue Robin, Kaeng Krachan
Blue Pitta, Kaeng Krachan NP
Day 5 + 6
Two full days in Khao Yai NP. Thailand's first national park and a World Heritage Site, is justly regarded as one of the premier reserves in Asia. The lush evergreen forests and grassy clearings provide ideal habitat for many birds and mammal species. We will focus on finding the specialities of this park and we may catch up on some species not seen earlier at Kaeng Krachan as there is a significant overlap in species between both parks. Khao Yai of course is also an excellent place for mammals, we regularly see Asian Elephants, White-handed Gibbons, East Asian Porcupine...
Day 7
This morning we visit Wat Phraputtabath Noi. This temple is set amongst beautiful limestone crags where or prime target is the localized Limestone Wren Babbler. This special site nowadays seems to feature on quite a few itineraries, however few people do know that this has only been possible because of B2A who, back in 2008 provided the public with details of the site. Please have a look on our info page Wat Phraputtabath Noi. We may have time for some additional birding stops before our drive to Bangkok airport. A one hour flight will see us arrive in northern Thailand. From Chiang Mai airport it should only take 50 min. to our hotel near Doi Inthanon National Park.
Day 8
Dawn will see us at Doi Inthanon National Park gate where we start looking for the many specialties and other goodies at the various birding sites on the mountain. Especially the tracks at km 37 and 34 will get our attention today. Just a few of the birds we'll be looking for; Black-headed Woodpecker, Collared Falconet, Green Cochoa, Dark-sided Thrush, Slaty-bellied Tesia, Ashy Woodpigeon, Lesser Shortwing, Eye-browed Wren Babbler, Yellow-bellied Flowerpecker, Spectacled Barwing, Long-tailed Broadbill and White-necked Laughingthrush...
Day 9
Another full day on Doi Inthanon where we will make a quest to reach the summit boardwalk before the crowds do so. Specialities to look for at these heights include Pygmy Wren Babbler (Cupwing), White-browed Shortwing, Snowy-browed Flycatcher, Rufous-throated Partridge and Chestnut Thrush. With the first rays of sunlight catching the moss covered trees and rhododendrons, the flocks with Sunbirds, Bar-throated Minla etc. become active and add plenty colour to our visit. Temperature will be just above freezing and that's why the kiosk selling hot chocolate, tea or coffee is so popular while watching the Green-tailed Sunbirds flit around in the nearby flowers.
Later on we'll visit a couple waterfalls where birds as White-capped Water Redstart and Slaty-backed Forktail might be expected. We spend another night just down the mountain near the park entrance gates.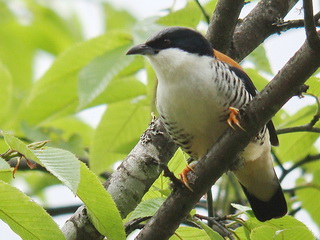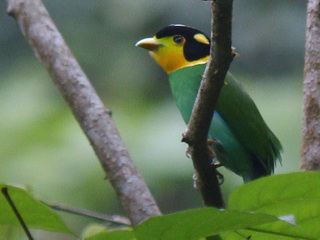 Cutia, Doi Lang
Long-tailed Broadbill, Doi Ang Khan
Day 10 -Sunday-
On our last full morning on Doi Inthanon we will have the freedom to choose and revisit any areas we may have found productive or we could target any bird species special on the mountain and still high on the wish lists. In the afternoon we drive to Fang, a town about 3 hours north of Chiang Mai and a good base for our visits to the excellent birding areas on Doi Lang and Doi Ang Khan. A couple birding stops in interesting habitat like forest edge, rice paddy, dry fields or open county with scattered trees may well add some good lowland birds; Red Avadavat, Citrine Wagtail, Rufous-winged Buzzard, Black-collared Starling, Grey-headed Lapwing, Wire-tailed Swallow, Red-billed Blue Magpie, Painted Snipe, Indochinese Bushlark...

Day 11 + 12 -Monday & Tuesday-
Doi Lang may need little introduction amongst birders. In a remote but easy accessible location close to the Burma border a variety of habitats are found on this mountain. Doi Lang ranks as a top Thai birding destination not for nothing; high diversity of species, plenty specialities, high bird activity which usually lasts throughout the day and excellent photo opportunities all on top of easy roadside birding with superb mountain scenery, no traffic, few people and certainly no tourists other than birders, pleasant temperatures and few or no biting insects. To complete our statement I will not this time do a little list of possible species instead write down some of the goodies we did record in 1 single day visit which was on 20 December 2014. Let me add we missed the early morning hours and still Doi Lang did produce; Hume's Peasant (2 males), Giant Nuthatch, Crimson-breasted and Stripe-breasted Woodpecker, Cutia (5+), Grey-headed Parrotbill (10+), Large Niltava, White-gorgeted Flycatcher, Rusty-cheeked Scimitar Babbler, Siberian Rubythroat (3 nice males), Slaty-blue Flycatcher, Sapphire Flycatcher, Ultramarine Flycatcher, Olive-backed Pipit, Chestnut-vented Nuthatch, Hill Prinia, Long-tailed Broadbill, Bamboo Woodpecker, Maroon Oriole, Speckled Piculet, Gould's Sunbird and Brown-breasted Bulbul along with a host of more common birds.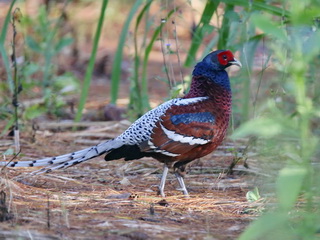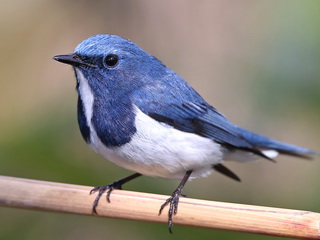 Doi Lang; from our visit on 20/12/2014 as mentioned above, Hume's Pheasant and Ultramarine Flycatcher.
Day 13 -Wednesday-
A full day up famous Doi Ang Khan won't easily disappoint and is bound to produce a set of new birds even by the end of the tour. The mountains here support more grassy and scrubby habitats which along with the Royal Project gardens provide some different habitats with a few specialities that may be absent or scarce on DI or Doi Lang. Some goodies we'll target this morning are Black-breasted Thrush, Crested Finchbill, White-browed Laughingthrush, Silver-eared Mesia, Spot-breasted Parrotbill, White-browed Scimitar Babbler and Chestnut-bellied Rock Thrush.

Day 14 -Thursday-
On the last morning we leave for Chiang Dao, where we have plenty time to explore the grounds of the nearby temple. That this is an excellent birdwatching site with Streaked Wren Babbler, Violet Cuckoo, Blue-bearded Bee-eater and others to look for got well proved on our visit in November 2009 when we recorded no less than 52 bird species in just 2 hours from the lookout. You may read the article here. After this we pay a short visit to the rice paddies near the town with Wire-tailed Swallow and Grey-headed Lapwing target birds to look out for. After lunch we continue towards Chiang Mai with birding stops at Mae Teang Irrigation project, Huay Tung Tao and/or Mae Hia before we get to the airport for our flights back to Bangkok which will mark the end of our tour.

Tour code;
Nice rooms in good standard hotels with private facilities -- mostly easy walks at the usual slow pace good for birding -- photographic opportunities are good to excellent -- weather in central Thailand usually hot and dry in the lowlands with pleasant temperatures in the mountains at Khao Yai and Kaeng Krachan -- the north usually has pleasant temperatures throughout although mornings could start rather chilly in the mountains -- any rain would be a little unusual at this time of the year -- we'll have air-conditioned transport throughout on very good roads -- early starts are best for bird watching -- Thai food needs no introduction and will be excellent throughout.
We hope you may enjoy our photo gallery below. All are shots from our previous trips. Copyright B2A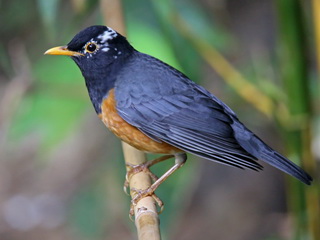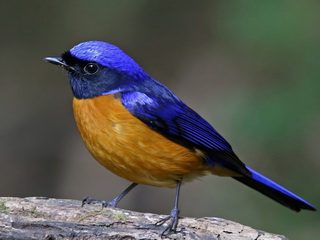 Black-breasted Thrush, Doi Ang Khan
Orange-bellied Niltava, Doi Ang Khan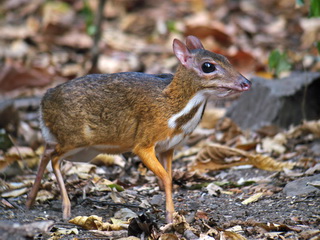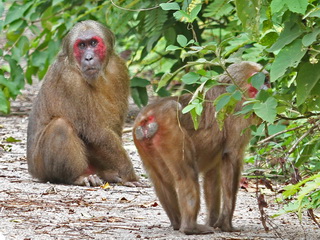 The elusive Lesser Mouse Deer and rare Stump-tailed Macaque from Kaeng Krachan National Park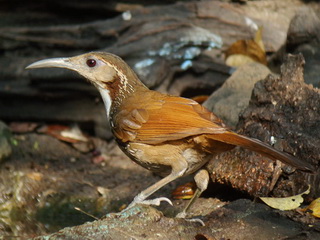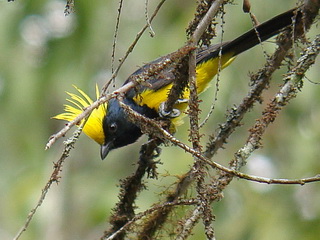 Large Scimitar Babbler, Kaeng Krachan
Sultan Tit, Kaeng Krachan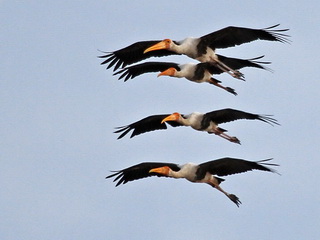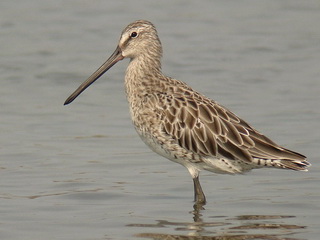 Specialities at Laem Pak Bia; Painted Storks and Asian Dowitcher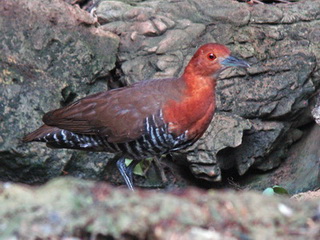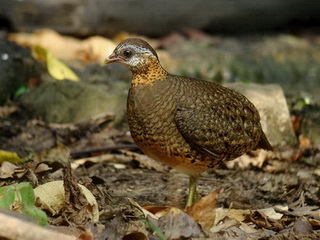 Slaty-legged Crake, Kaeng Krachan
Scaly-breasted Partridge, Kaeng Krachan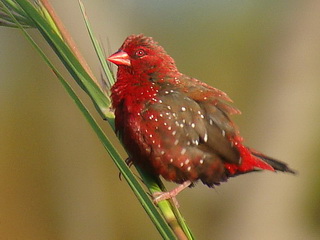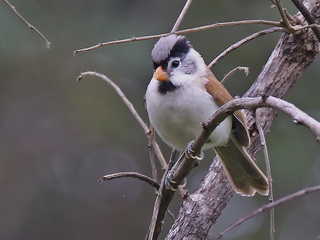 Red Avadavat, Huay Tung Tao
Grey-headed Parrotbill, Doi Lang
Home / Top