Birdtours2Asia
Expert guided birding tours
Cost
5955 USD
Manado-Makassar
single room supplement
585 $
The cost includes
all accommodation
5 internal flights
2x ferry Ternate-Halmahera
overland transport
mangrove boat trip
all meals and snacks
drinks
tips
guiding fees incl. local guides
entrance fees
The cost excludes
international flights
insurance
e-mail for bookings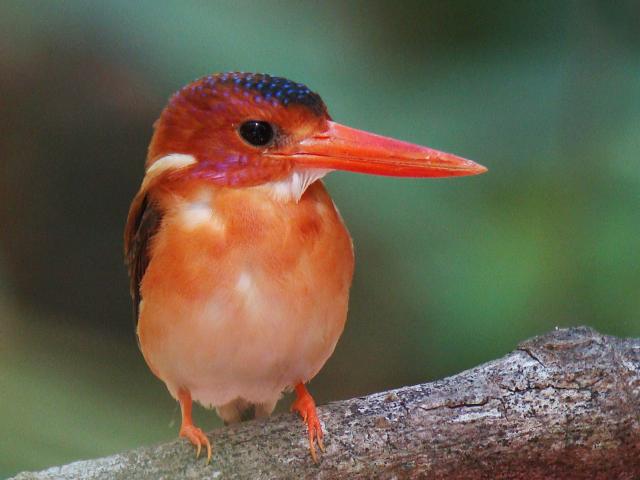 Sulawesi Kingfisher -photo by Stijn De Win
B2A
Join us on a tour and you'll get
Top-quality holidays
Friendly & experienced leaders
Excellent itineraries & trip logistics
Comfortable high quality accommodations
All inclusive competitive tour prices
Small groups - size limit=6
Finest birding in Asia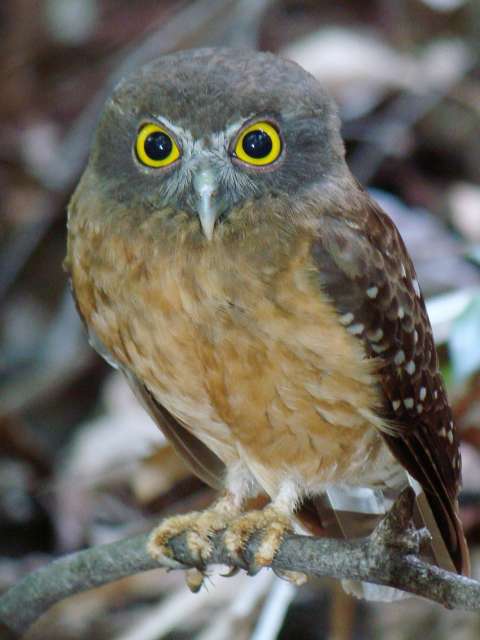 Ochre-bellied Boobook

We power your vacation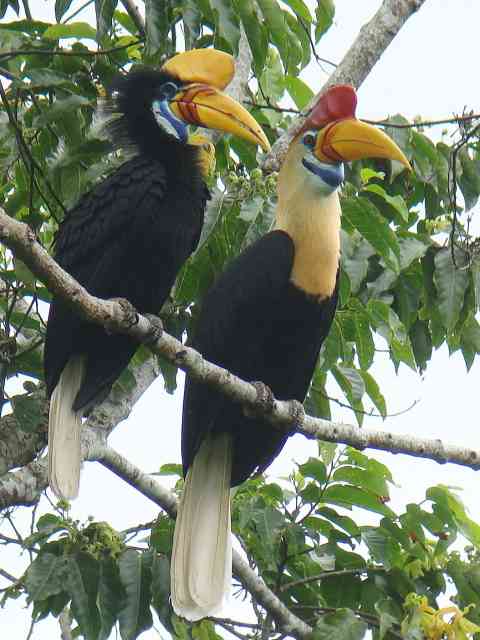 Knobbed Hornbill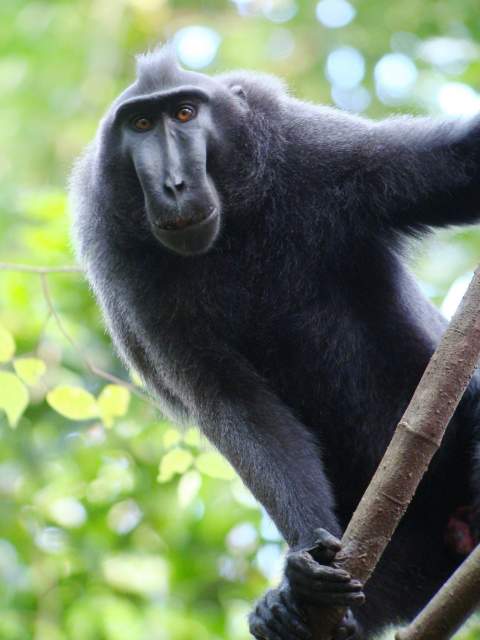 Sulawesi Crested Macaque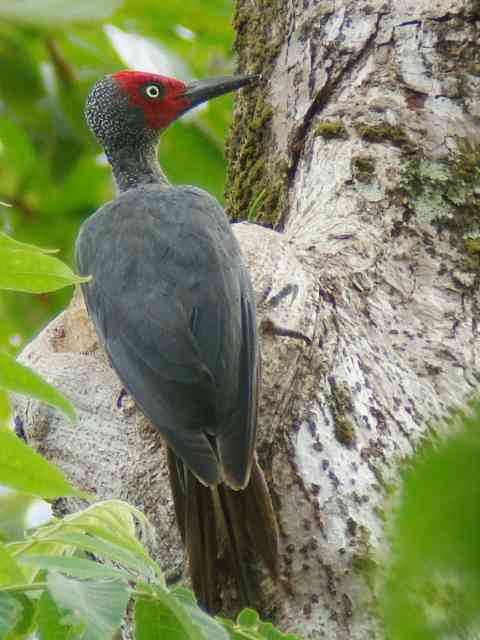 Ashy Woodpecker

Spectral Tarsiers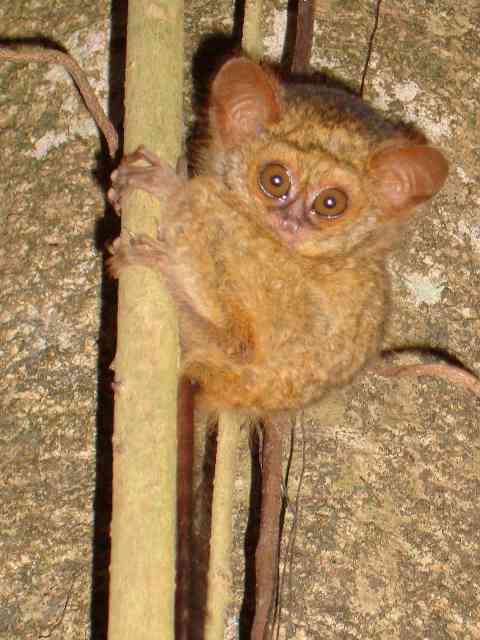 And here's a baby Tarsier.
Purple-bearded Bee-eater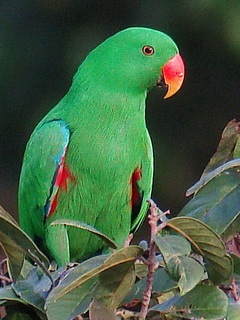 Eclectus Parrot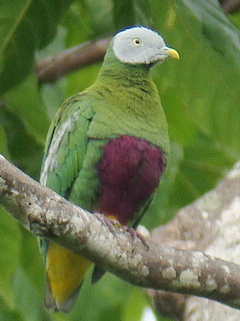 Grey-headed Fruit Dove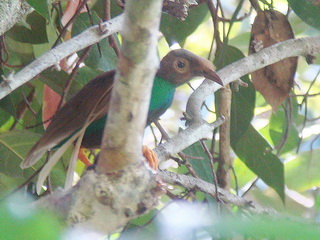 Standardwing Bird of Paradise
Maleo
Copyright © Birding2asia.com

All rights reserved.
Sulawesi & Halmahera
1 - 18 October 2017

Places available.




Check out our other Indonesia tour; The Lesser Sundas. 23 July - 09 August 2018

Our 2010 tour report. / 2011 report

Tour leader ; Stijn De Win / Peter Ericsson Scrol down for tour photo gallery.
An ever growing popularity of birding trips to Sulawesi and Halmahera isn't for nothing, this is one of the most biologically diverse and endemic-rich areas on earth.
While for some these Wallacean islands may still sound as a far away destination, with this tour me may just prove its accessibility to everyone.
Sulawesi and Halmahera do have some of the most remarkable bird species in Asia, -Maleo, Wallace's Standardwing, Ivory-breasted and Red-bellied Pitta, Knobbed Hornbill, Red-backed Thrush, Great Shortwing, Piping Crow, Malia, White Cockatoo, Ashy Woodpecker, Purple-bearded Bee-eater...- and this trip is great for Kingfishers, Owls, Fruit Doves and Parrots.
On this tour, we will have the added assistance of some of the very best local birdwatching guides on the islands, who, trust me, will lead us in no time to the latest stake-out birds and other goodies.
In short, anyone looking for some of the richest ornithological experiences to be found anywhere in the world, need no look further.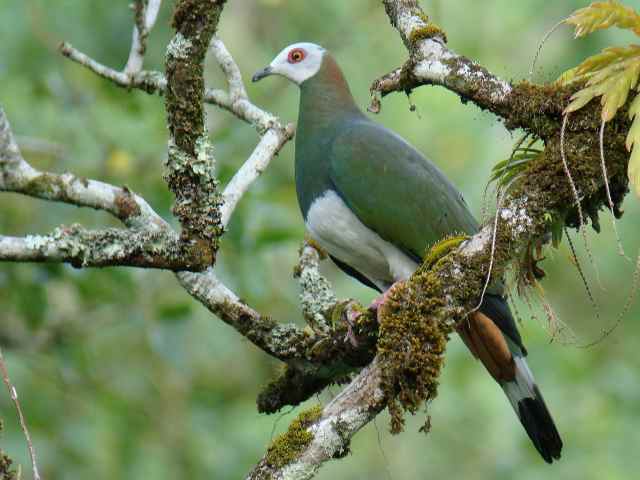 Red-bellied Pitta White-bellied Imperial Pigeon
Day 1
International evening arrivals in Manado (Sam Ratulangi Airport Manado, North-Sulawesi, MDC) and transfer to our nearby hotel for dinner.
Day 2
After an early breakfast we leave Manado for the drive to Gunung Ambang. A couple birding stops en-route should get us our first endemics before we have lunch in the homestay close the mountain.
The afternoon on Gunung Ambang will be spend mostly at the forest edge with some easier birding to start with. That this is due to give us plenty lifers and some very nice species is sure. Expect birds as White-bellied Imperial Pigeon, Ornate Lorikeet, Sulawesi Woodpecker, Superb Fruit Dove and with some more luck Golden-mantled Racquet-tail. As dusk approaches, we move to the forest interior to start looking for the recently described Cinnabar Boobook. In fact, it's fairly common here and we have a good chance to get one in the spotlight with the right effort put in. Other owls present are Speckled Boobook, Sulawesi Masked Owl, Ochre-bellied Boobook and Sulawesi Scops Owl.
Day 3
A full day on Gunung Ambang where we concentrate on some of the more difficult species in the forest interior, especially Scaly-breasted Kingfisher and Matinan Flycatcher are priced here and where successfully located on our previous tour. Others to look for include Purple-bearded Bee-eater, Yellow-vented Whistler, Sulawesi Blue Flycatcher, Rusty-bellied Fantail, Crimson-crowned Flowerpecker, Lesser Sulawesi Honeyeater, Malia, Cerulean Cuckoo-shrike and Chestnut-backed Bush-Warbler.
In the evening we have the chance to catch up on any owls missed yesterday and especially Cinnabar Boobook should be ticked 'off' as there's no other chance later on.
Day 4
Another morning on Gunung Ambang to catch up on any species missed previously. We might well choose to swap the trail for some equally good forest found along the nearby road, which provides some easier birding indeed. We should head down for an early lunch today though, as we are due to visit Tambun in the afternoon, a 2 hour drive away.
Maleo come down from the hill forest to lay their eggs in the volcanic soil or to roost on the breeding grounds at Tambun and this is why we plan our first visit to this superb birding site in the afternoon. Other birds at the site might include our first Knobbed Hornbill, Green-backed Kingfisher, White-necked Myna, Maroon-chinned Fruit Dove, Ivory-backed Woodswallow, Yellow-billed Malkoha and Ashy Woodpecker. The rare Blue-faced Rail performed here in the autumn of 2013. At dusk Great-eared Nightjars hawk overhead and with luck we may glimpse the resident Sulawesi Nightjar as well.
Day 5
This morning we head for Toraut, where the tall forest remnant holds such highlights as Sulawesi Dwarf Hornbill, Yellow-breasted Raquet-tail, Maroon-chinned Fruit Dove, Red-bellied Pitta, Lesser Fish Eagle, Sulawesi Kingfisher and Sulawesi Hawk Eagle. Speckled Boobook has been here on a day roost in an old building for years so lets hope it's waiting for us on our next visit as well.
After lunch, we may visit the reserve at Tambun a bit more thoroughly. As well as being a safe back-up for Maleo, a second visit to this interesting area should give us opportunities to find any species missed previously. But we're flexible and with the Tambun specialities in the 'bag' we could choose to give Tapak Kolintang a first try.
Nights on the Dumoga-Bone leg of our trip in Kotamobagu.
Day 6
Our last morning within the Dumoga-Bone (Bogani Nani Wartabone) National Park. Easy but excellent roadside birding awaits us at Tapak Kolintang where the more humid hill forest is home to decent densities of Knobbed Hornbill. Other gems to look for are Black-naped Fruit Dove, Sulawesi Dwarf Kingfisher, Bay Coucal, Purple-winged Roller, Sulawesi Black Pigeon, Sulawesi Crested Myna and Large Sulawesi Hanging-Parrot.
After lunch comes the time for the transfer back to Manado where some modern comfort awaits us in the comfortable hotel.
Day 7
An early start and less than 2 hours drive will see us at the fantastic TangkokoNational Park. It is good to have this diverse place on the North-Sulawesi leg of our journey last to visit as it provides the opportunity to catch up on any species missed at Dumoga-Bone while it is certain to still give us a number of lifers not likely seen earlier on. These include Lilac Kingfisher, Red-backed Thrush, Black-billed Kingfisher, Tabon Scrubfowl, Pied Cuckoo-Shrike, Isabelline Bush-Hen, Sulawesi Black Pigeon and Stephan's Dove. Additionally, a few species are easier to come by at Tangkoko, count on Red-bellied Pitta, Green-backed Kingfisher, Sulawesi Dwarf Kingfisher, Ashy Woodpecker and Silver-tipped Imperial Pigeon.
Tangkoko is a good place to see some amazing mammals too. We will certainly visit the Spectral Tarsiers coming out of roost in the evening and the critically endangered and impressive Sulawesi Crested Macaque has its stronghold here.
Day 8
Another full day at Tangkoko where our local guide is likely to show us yet another couple excellent stake-out birds. These might include daytime roosts of Sulawesi Nightjar, Ochre-bellied Boobook and Sulawesi Masked Owl.
In the afternoon we set out on the enjoyable boat trip in a quest to see the Great-billed Kingfisher in a mangrove line channel. It's an opportunity to add quite a few species to our list additionally, several Tern species frequent the bay as well as a few waders, White-bellied Sea-Eagle and Lesser + Great Frigatebirds are another possibility. Sulawesi Masked Owl can often be seen here on its day roost up the cliffs that border the bay and in August 2010 we where lucky enough to observe a group of Indo-Pacific Bottlenose Dolphins perform some fine spins fully clear from the water surface.
Day 9
A last morning in Tangkoko and a special one at that... we will visit a superb viewpoint overlooking plenty good forest and you know, this spot might rank as the 'birdiest' in Sulawesi. Our 2010 tour scored on no less than 5 species of Pigeon in a single tree here... also excellent to get those Raquet-tails and other Parrot species (we did 5 also here) for eye-level views with another good chance on Sulawesi Crested Myna at this site if not encountered earlier on.
Next follows the transfer to the airport for our flight to Ternate and from there we take a speed boat to Sidangoli on Halmahera. We might well see some Frigatebirds and Tern species en-route and after check-in at our accommodation we'll have the time for some initial birding on the island. Initial... well, that did include Ivory-breasted Pitta, Common Paradise Kingfisher and White Cockatoo straight off on our 2010 tour and it's been excellent ever after!
Day 10 - 11 - 12
Following an early start on our first full day on Halmahera, it will only take a short drive and a short walk to the Wallace's Standardwing lek site for a first unforgettable birding experience. Also the journey to the lek may well produce some interesting stuff, an excellent Moluccan Owlet-nightjar and walk-away views of Ivory-breasted Pitta on the pre-dawn roost provided us with some remarkable moments on the last tour. On the way back from the Standardwing lek, we will have more chances on Ivory-breasted pitta and Common Paradise Kingfisher and we will search for Sombre Kingfisher, Goliath Coucal, Golden Whistler, White-naped Monarch, Blue-capped Fruit Dove and Blyth's Hornbill.
We will return to the hotel for lunch and in the afternoon get out again for birding along the road. Several excellent viewpoints provide opportunities to scan the forest canopy for Parrots. Chattering Lory, Violet-necked Lory, White Cockatoo, Eclectus Parrot, Red-cheeked Parrot and Red-flanked Lorikeet are most likely to turn up sooner or later. In the same way Fruit Doves, Cuckoo-shrikes and quite a few Blyths Hornbills can be found and we shall keep an eye out for raptors with Gurney's Eagle the biggest price here.
On the next day we will be birding another area which is good for White-streaked Friarbird, Dusky Scrubfowl, Chattering Lory, Moluccan King Parrot, Wallace's Standardwing, Paradise Crow, Cinnamon-bellied Imperial Pigeon, Scarlet-breasted Fruit Dove, Mollucan Owlet Nightjar, Mollucan Scops Owl etc.
At another site to visit on our Halmahera leg we will overlook a forested slope which we may experience as a very 'birdy' spot indeed. Birds possible to see include; Mollucan Starling, Purple Dollarbird, Gurney's Eagle, Variable Goshowk, White Cockatoo, Red-Flanked Lorikeet, Great-billed Parrot, Violet-necked Lory, Cinnamon-bellied Imperial Pigeon, Spectacled Imperial Pigeon, Grey-headed Fruit-Dove, Blue-capped Fruit-Dove, Eclectus Parrot, Blue-and-white Kingfisher, Moluccan Cuckoo-Shrike, Halmahera Cuckoo-shrike, Moustached Treeswift, Blyth's Hornbill, Flame-breasted Flowerpecker, Golden Bulbul...
Day 13
We will have the time to spend the best hours of our last morning on Halmahera in the forest before we catch the boat ride back to Ternate. From here we hop on our flight to Makassar in south-Sulawesi to connect with another short flight to Palu in central Sulawesi. Evening arrival, with dinner and a night in a luxury hotel in Palu.
Day 14
This morning we head for Lore Lindu National Park. Birding starts en-route with Savannah Nightjar on the day roost and we are likely to connect with the scarce Pale-headed Munia and White-shouldered Triller here. The superb montane forests of Lore Lindu may well provide us with some of the best and most enjoyable birdwatching of the trip. On this first afternoon birding in the National Park, we make stops at various altitudes which should produce the first specialities and endemics.
Day 15 - 16 - 17
Three full days birding Lore Lindu which will include our walk up the famous Anaso track, where the higher reaches provide a fine chance to find some of Sulawesi's most wanted endemics; Greater Sulawesi Honeyeater, Diabolical Nightjar, Great Shortwing, Red-eared Fruit Dove, Mountain Serin and Purple-bearded Bee-eater. Both Geomalia and Sombre Pigeon inhabit the forest but seem increasingly difficult to connect with these days. Our last tour also found 2 species of Parrotfinch, unexpected Tawny-breasted and the rarely seen Blue-faced Parrotfinch.
Birding around the lake and roadsides is equally rewarding with such delights as Piping Crow, Maroon-backed Whistler, Yellow-flanked Whistler, Superb Fruit Dove, Blue-fronted Flycatcher, Pygmy Cuckoo-shrike, Lesser Sulawesi Honeyeater, Malia, Sulawesi Thrush, Crimson-crowned Flowerpecker, Chestnut-backed Bush Warbler, Sulawesi Goshawk, Sulawesi Woodpecker, Pale-blue Monarch and Sulawesi Babbler.
Nights in Wuasa, which is at a lower elevation near the park. On the last day we shall return to Palu for another night in a very good hotel.
Day 18
A short drive brings us to the airport in Palu for the 1 hour return flight to Makassar (Ujung Pandang, UPG) which is the aviation transport hub of Sulawesi from where it should be easy to connect with international flights.
Two nights in very good hotel in Manado and two nights in luxury hotel in Palu. Other accommodation comfortable but basic. Walks of easy to moderate difficulty throughout, but on 2 occasions harder walks are needed to reach habitat for certain species, transport in air-con vehicles. Food is generally of very good quality and you'll find the local people to be friendly. Lore Lindu has pleasant cool temperatures and also Dumoga-Bone isn't too hot, Tangkoko is fairly hot but usually a sea-breeze makes things more enjoyable, you might find the lowlands on Halmahera to be hot and humid. We travel in the dry season for this part of the world, nevertheless some rain can be expected, especially in the afternoons and in mountainous areas.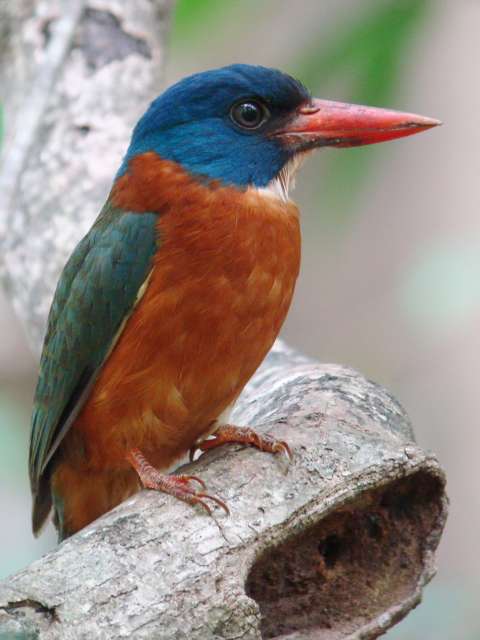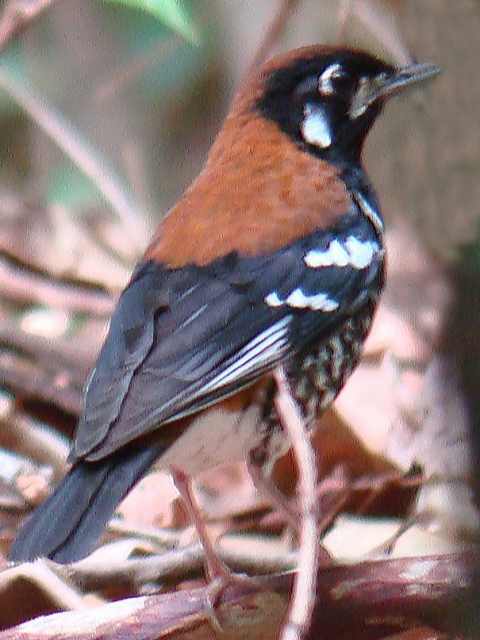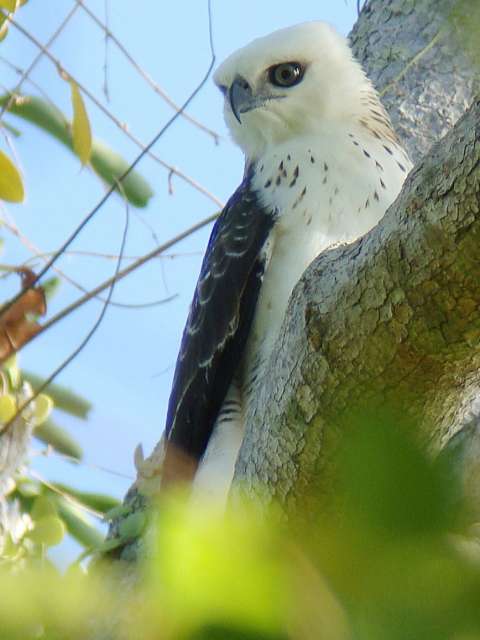 Green-backed Kingfisher Red-backed Thrush Sulawesi Hawk Eagle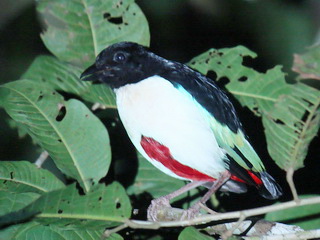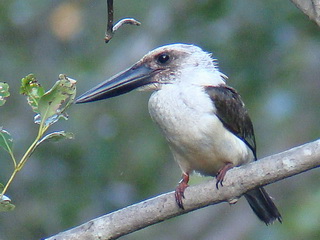 Ivory-breasted Pitta Great-billed Kingfisher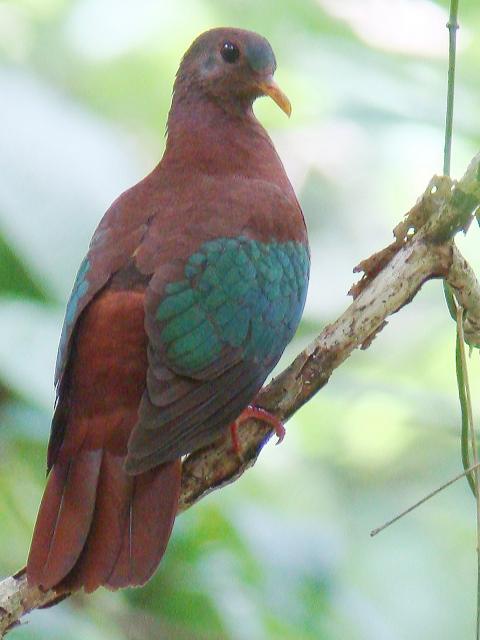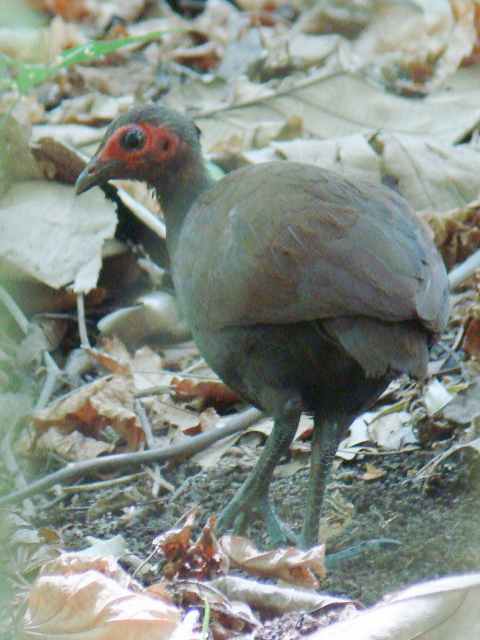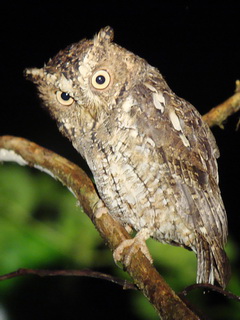 Stephan's Dove Tabon Scrubfowl Sulawesi Scops Owl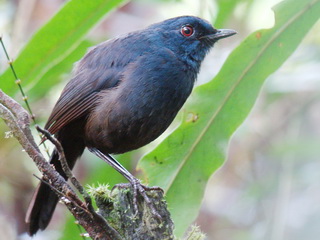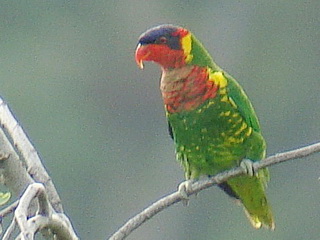 Great Shortwing Ornate Lorikeet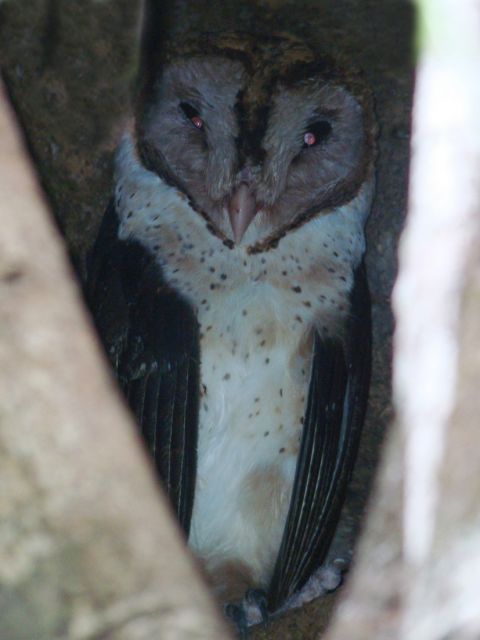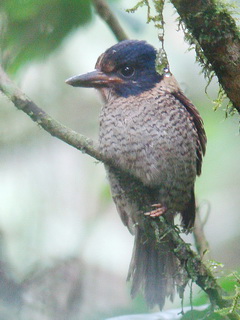 Sulawesi Masked Owl Scaly Kingfisher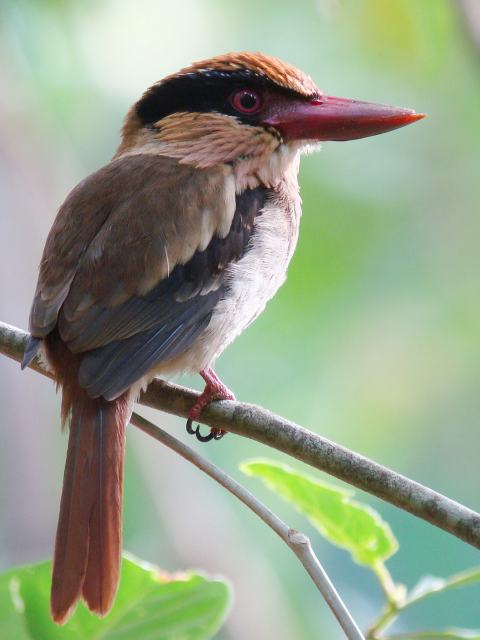 Lilac-cheeked Kingfisher
All photographs taken on our previous trips by Stijn.