Birdtours2asia
Expert guided birding tours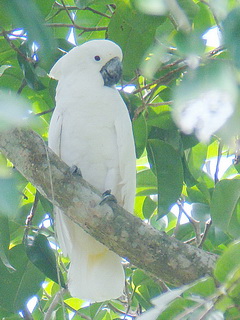 White Cockatoo, Halmahera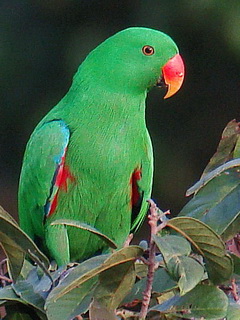 Eclectus Parrot, Halmahera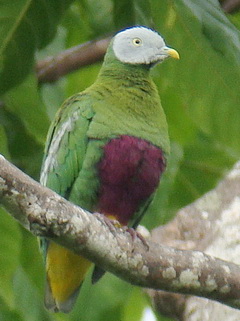 Grey-headed Fruit Dove
A common sight on Halmahera.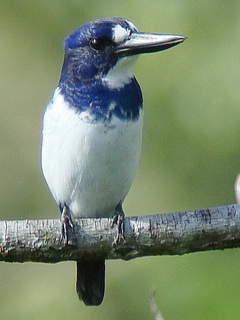 Blue-and-white Kingfisher, Halmahera
Birdtours2asia
Join us on a tour and you'll get
Top-quality holidays
Friendly & experienced leaders
Excellent itineraries & trip logistics
Comfortable high quality accommodations
All inclusive competitive tour prices
Small groups - size limit=6
Finest birding in Asia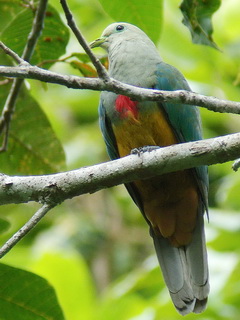 Scarlet-breasted Fruit Dove ranks amongst
the most difficult to find species.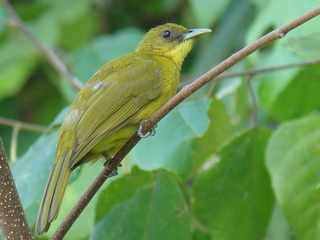 Golden Bulbul, Halmahera

We power your vacation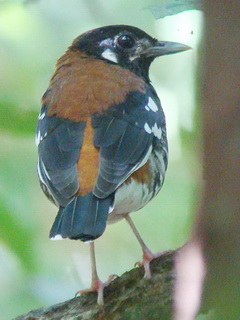 Red-backed Thrush, Tangkoko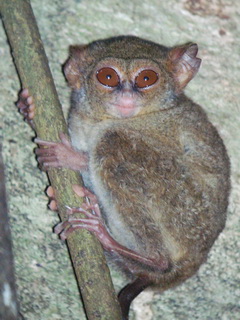 Spectral Tarsier, Tangkoko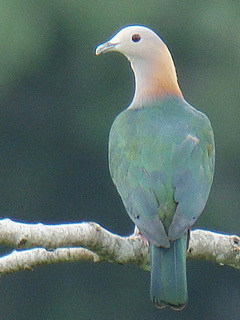 Green Imperial Pigeon, Tangkoko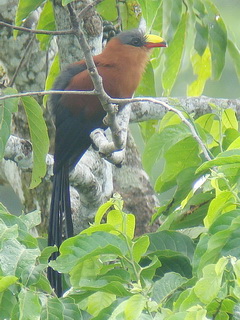 Yellow-billed Malkoha, Tangkoko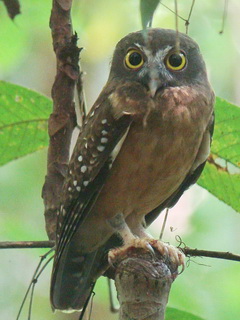 The Ochre-bellied Boobook on the
dayroost is always a favourite
at Tangkoko.
All bird photographs taken
'on tour'
are opportunity shots by
Stijn De Win
B2A Sulawesi & Halmahera 2010 tour report.
03 – 21 August
Participants ; Bob East and Michael Welch
Tour leader ; Stijn De Win
Part 2; Halmahera and Tangkoko
Text and photos Stijn.
We made a good start birding on Halmahera with Beach Kingfisher and Moustached Treeswift from the boat in the mangroves before arrival. On our first afternoon, White Cockatoo and Halmahera Cuckoo-shrike were some of the birds encountered before we set off for a couple stake-out birds. Not just ordinary stuff, both Common Paradise Kingfisher and Ivory-breasted Pitta were lured into view. We also enjoyed the change of Hornbill species, -Knobbed to Blyths- at that, to mark these first couple hours birding on Halmahera.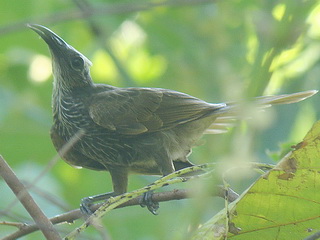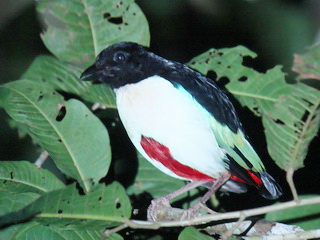 White-streaked Friarbird Halmahera Ivory-breasted Pitta
A first full morning on Halmahera gave us the full set of Monarch/Flycatcher species needed on the trip. Spectacled Monarch is pretty common and possibly also the best looking although scarce White-naped Monarch must score high as well. The Slaty (Moluccan) Flycatcher isn't too hard to come by which can not be said from Shining Monarch, which we recorded –very shy and brief at first-, then, at another spot a male was good for photo opportunities, quite remarkably that is! (OBI for example just owns the 1 poor shot for the moment.)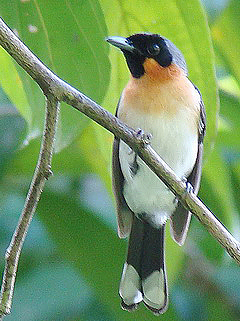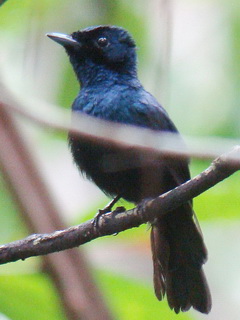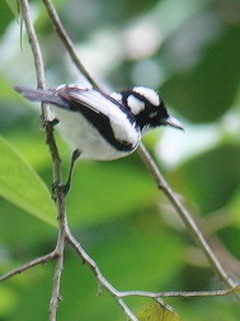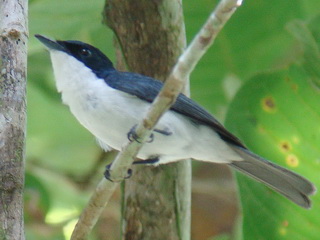 The full set of available Monarch/Flycatchers on Halmahera ; Spectacled, Shining, White-naped and slaty.
Accommodation at Sidangoli on Halmahera provided through the ground agents typically include rooms that do have no less than 35 degrees Celsius at all times. People rather sweat than sleep through the night I reckon! However, after my decision that this was in need of some exploring into town, I did came back with no less than air-con rooms for our guests so we changed rooms swiftly. I'm pretty sure they actually are the first ever birders having enjoyed this privilege on tour in Halmahera…at no extra cost!

We did well on finding quite a few other goodies on the first day, reducing the remaining number of species on the target list quickly; Sombre Kingfisher, Chattering Lory, Paradise-crow, Gurney's Eagle, Grey-headed and Blue-capped Fruit Doves, Cinnamon-bellied Imperial Pigeon, Eclectus Parrot, Red-cheeked Parrot, White-streaked Friarbird, Moluccan Cuckoo-shrike, Common Cicadabird, Golden Bulbul, Cream-throated White-eye, Dusky-brown (Halmahera) Oriole, Long-billed Crow, Metallic and Moluccan Starling.

After that I'll keep to listing some of the absolute highlights. Of course should start with the Standardwing Bird of Paradise, a tough walk to the lek actually but oh so worth the experience, and with both Moluccan Owlet-nightjar and Ivory-breasted Pitta good for walk away views on the same journey should make it one to remember.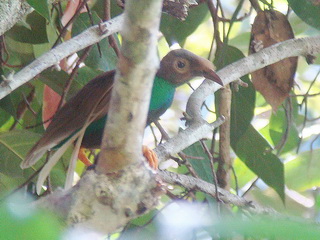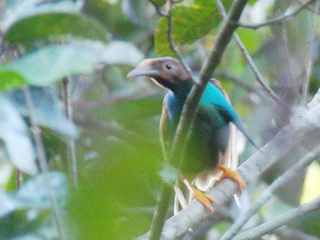 I never used flash to photograph the Standardwing Bird of Paradise. Low early morning light in the forest interior makes for a slow shutter so these turn out just right as a record shot, no more. At least colours got preserved and I'm pretty sure you'll get the idea.
Our morning walk at km 12 produced the hard to find Scarlet-breasted Fruit Dove and the long awaited Goliath Coucal that we had been hearing, finally made a decent appearance.
Another afternoon walk gave us one of the best birds of the entire trip. A Great Cuckoo Dove, easily identified, gave some fine flight views showing the whitish head and breast with chestnut upperparts and a real long tail. This species is very rare indeed and in fact seldom a feature on trips to Halmahera!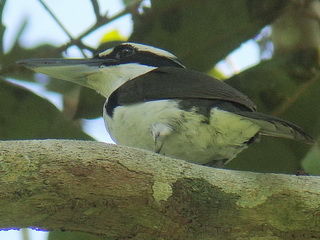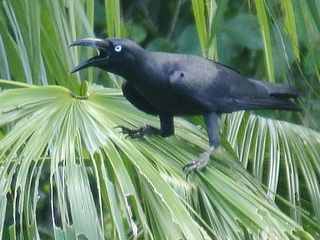 The Sombre Kingfisher isn't always easy to find. Long-billed Crow, Halmahera.
At Gunung Mamin, we had probably used our luck on the Cuckoo Dove as no Purple Dollarbird appeared. Chances on this other Halmahera rarity probably are much better than for Great Cuckoo Dove but still way less than 50% I guess. Nevertheless, birding at Mamin was just great and from the single viewpoint a good number of species were recorded. Blue-and-white Kingfisher, White Cockatoo, Red-flanked Lorikeet, Violet-necked Lory, Spectacled Imperial Pigeon, Moustached Treeswift, plenty Blyth's Hornbills, White-bellied Cuckoo-shrike, White-streaked Friarbird…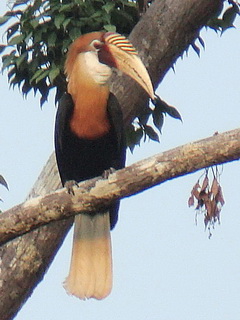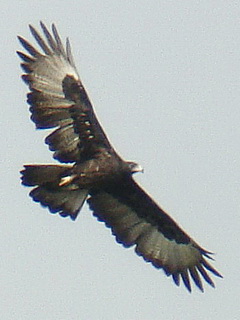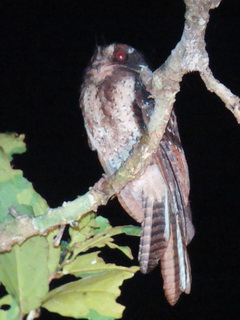 Blyth's Hornbill, Halmahera Gurney's Eagle (yes, also digiscoped) Moluccan Owlet-nightjar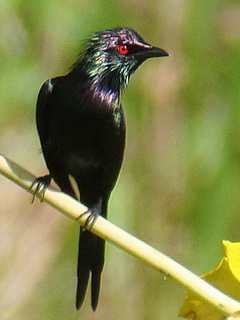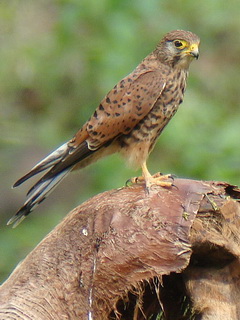 Metallic Starling Spotted Kestrel Red-cheeked Parrot
Once back on Sulawesi, Tangkoko was the last place to visit and we gave it a good start finding a Red-backed Thrush. They had proved impossible to find just months earlier (wet conditions in the forest) according to the local guides. Green-backed Kingfisher was good again and Sulawesi Nightjar present on the day roost.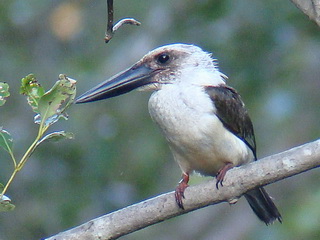 Sulawesi Black Pigeon Tangkoko Great-billed Kingfisher
Also at Tangkoko rooms got upgraded to nice wooden chalets at a newly build resort (no charge for our guests) while we happily watched a big birding tour group with 11 participants take in our previously planned accommodation, basic rooms at no less than 35 degrees…
The Tangkoko bay and mangrove boat trip always is an enjoyable one and a nice change from the forest walks. Additionally, I believe this one was a whole lot more successful than a previous one I did back in 2009. Not only did we managed Great-billed Kingfisher for photo opportunities, after this main target, we got treated to plenty more good stuff; A few Bottlenose Dolphins gave a show with loops you'll otherwise only see in the sea life centre. A pair Sulawesi Masked Owls was located on the cliffs and to find a pair rather than a single bird was a first for our local guide as well. Grey-tailed Tattler always is one of the better waders to get and Great-billed Heron, Silver-tipped Imperial Pigeon and Sacred Kingfisher were some of the others that gave the Great-billed Kingfisher a supporting cast.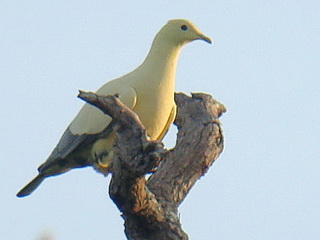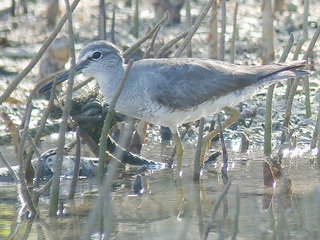 Silver-tipped Imperial Pigeon Tangkoko mangrove boat trip. Grey-tailed Tattler
I should mention a superb Red-bellied Pitta performance on the next morning as well as Lilac Kingfisher, Sulawesi Black Pigeon, Tabon Scrubfowl and a Ruddy Kingfisher to complete the '13 Kingfisher species' run on this tour. Also mammals were good in the forest at Tangkoko again with Bear Cuscus, Sulawesi Crested Macaque and cute Spectral Tarsiers all for us to enjoy.
The last morning of the tour saw us at one of the best 'spots' of TangkokoNational Park. A fine viewpoint were high bird activity is the norm. A little record came in the form of 5 pigeon species in a single tree; Grey-headed, White-bellied, Green and Silver-tipped Imperial Pigeons with Grey-cheeked Green Pigeon to complete the list, -in the 1 tree at least as we found Black-naped Fruit Dove perched nearby.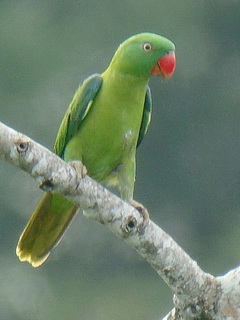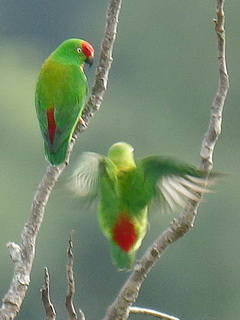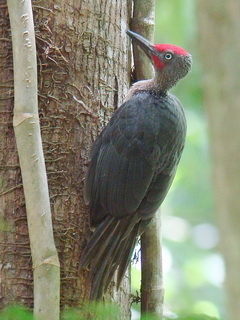 Blue-backed Parrot Large Sulawesi Hanging Parrot Ashy Woodpecker
Also parrots were in evidence; both Golden-mantled and Yellow-breasted Racquet-tail, Ornate Lorikeet, both Large and Small Sulawesi Hanging Parrot with a Blue-backed Parrot posing for photos as well.
We did finally get Sulawesi Hawk Eagle here, a fine perched imm., and 2 Peregrine Falcons also showed with once more Sulawesi Dwarf Hornbill perched nearby. Sulawesi Crested Myna were located in and near the nest-hole before we made our way back to Manado airport.
Part 3 of this report; the full trip list with more photos on the next page.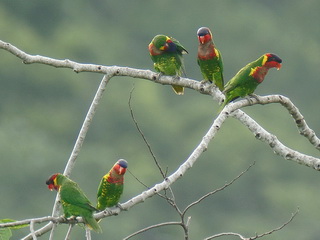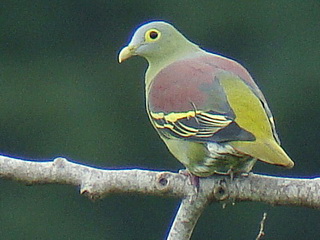 Ornate Lorikeets Tangkoko viewpoint Grey-cheeked Pigeon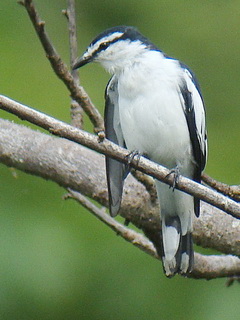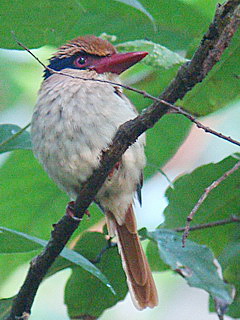 Sulawesi Triller Black Sunbird Lilac-cheeked Kingfisher