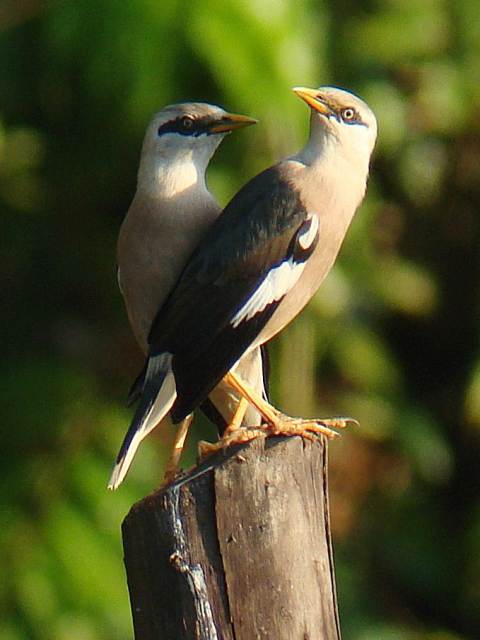 Vinous-breasted Starlings
B2A trip Thailand - Khao Luang NP - Krung Ching WF, 27 - 29 December 2009
Guests ; Jans and Trudi Sikkens
The area around the HQ, and the trail to Krung Ching waterfall -encompassed in Khao Luang NP in southern Thailand- is one of the most rewarding spots for birding in South Thailand. Any short trip is likely to be highly productive with both bird activity and the number of sought-after species around surprisingly high!
27 December 2009
We started our trip in Hua Hin around noon and made our way south by car to Surat Thani for the night. We knew we had to keep an eye out for Vinous-breasted Starlings on this journey. And indeed, after checking endless kilometers of roadside wire and poles we glimpsed a few birds from the car that were looking suspiciously unlike Mynas.
We quickly parked near km marker 38 south of Chumphon and got around 10 birds in the scope immediately. A first surprise were a couple Jungle Mynas nearby, a very scarce species in Thailand. This becoming only the 3rd location we know of for them to occur in Thailand. The others being near Krabi and Takua Pa.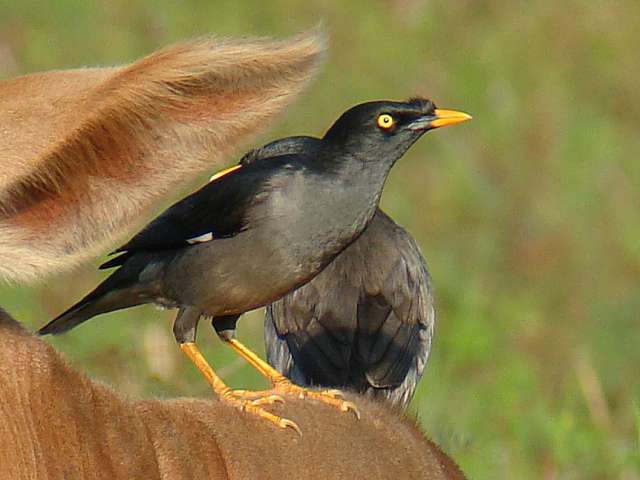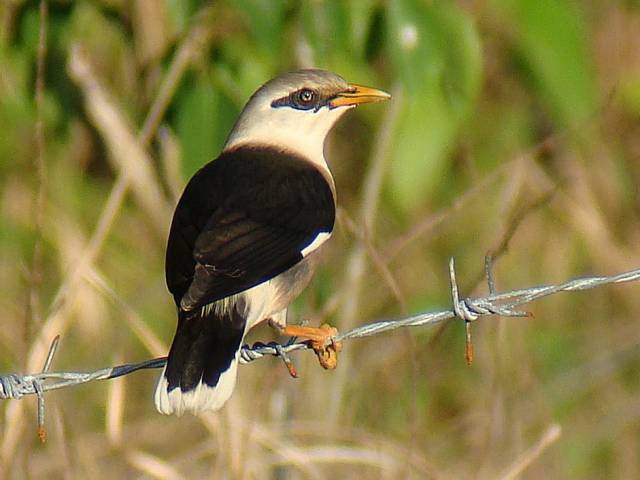 Better even, after checking the area more thoroughly, we found 'numbers' of Vinous-breasted Starling! A brief count of us got to 61 birds but it's sure some more were around, possibly close to 70 birds. Vinous-breasted Starling is a very scarce and localized bird throughout its range in SE-Asia and I've never seen them in numbers like this, although Southern Laos is good to get quite a few. What a start to a trip!
28 December 2009
Up early, quick breakfast and on for the drive to Krung Ching. The wide 3,7 km trail to the waterfall has excellent birding but today, with bird activity so high on the last stretch of the entrance road, we actually never made it early on the trail. No worries though with another morning tomorrow for an early trail start and here's a 'little' list of birds we got within 10 meters of the car. Big!
Black-bellied Malkoha and Chestnut-breasted Malkoha both for good looks, a pair Dark-throated Oriole performed well as did an Asian Drongo Cuckoo –actually- it sat on the same perch in the open for over half an hour… Lesser Cuckoo Shrike is always nice to get and Silver-rumped Needletails my favourite bat-like flyers! More goodies were both Green and Great Iora, Black-and-yellow Broadbill to perform sitting on wires, Blyth's Hawk Eagle, both Spectacled and Yellow-eared Spiderhunter, Red-throated Barbet for good looks, Lesser Green Leafbird, Ruby-cheeked Sunbird and Yellow-vented Flowerpecker.
All before 9.30 am when we finally made it to the start of the waterfall trail.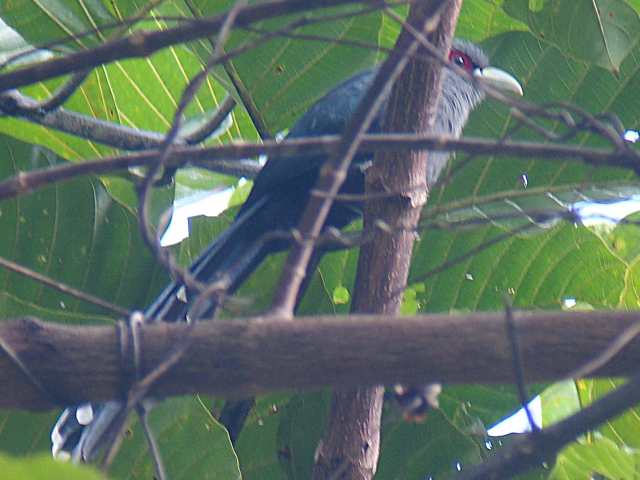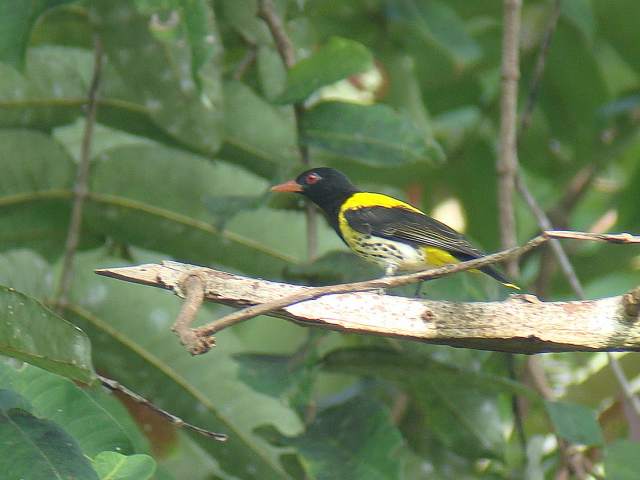 Black-bellied Malkoha Dark-throated Oriole
That Krung Ching is one of the best spots to see plenty Babbler species became clear soon. We recorded 12 species on our 2 mornings. Today it started with Scaly-crowned quickly followed by Grey-throated and Chestnut-winged Babbler. It wasn't long before we found what was perhaps the best species of the trip. Some chatters were sound recorded and on playback a Fluffy-backed Tit-Babbler soon appeared and started singing! I had seen this species years ago in Thailand, in the Sirindhorn Peat Swamp in the deep south but never after that. Pleasantly surprised to find it again!
Both Scarlet-rumped and Orange-breasted Trogon were heard as was Raffles' Malkoha.
Little later a male Banded Kingfisher came into view for prolonged scope views and less colourful perhaps but more scarce was a Fulvous-chested Jungle-Flycatcher seen near the 2 km mark. While having a little rest at the shelter here, a Great Argus started calling with a singing Dark-throated Oriole to compete with White-handed Gibbons for filling in the background sounds.
The last part of the trail is a little less interesting for birdwatching but we walked on to have a look at the waterfall before starting our return walk.
In the afternoon the birding is somewhat slower, obviously, but we managed a couple more species nevertheless. A Grey-rumped Treeswift perched high was located after we had heard some and Chestnut-headed Bee-eaters came overhead. We heard a Red-bearded Bee-eater calling close but couldn't get onto it for views as it kept above thick canopy. To continue what we had started with on the trail –Babblers- did we add both Streaked Wren Babbler and Grey-headed Babbler to the list.
A Brown Wood Owl was calling somewhat early in the day before we got back to the HQ area. Time for some drinks and half an hour later, at dusk, came the end of a superb day with Buffy Fish Owl perched for scope views.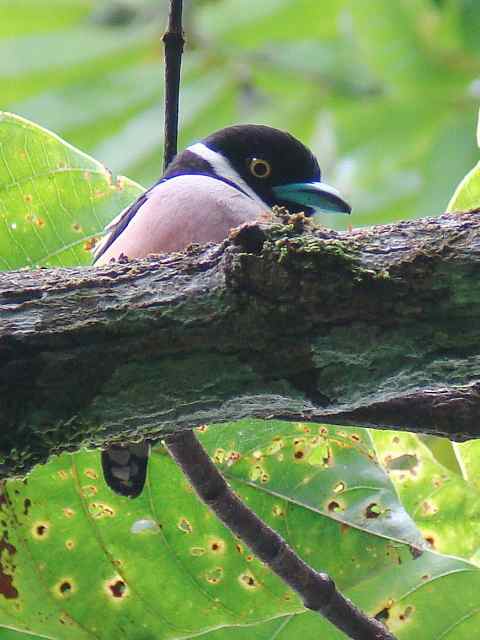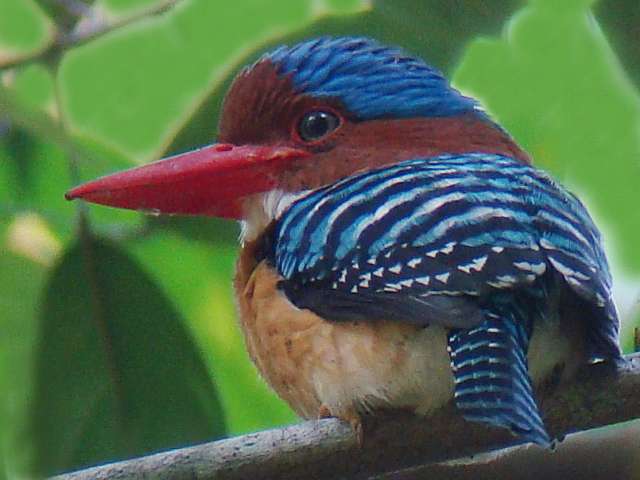 Black-and-yellow Broadbill Banded Kingfisher male
29 December 2010
Try get through on the entrance track without stopping…so we can get on the trail early today…not before a Blue-winged Pitta got flushed and a Rufous-collared Kingfisher was heard calling. More Blue-winged Pittas seem to be recorded in mid-winter in south Thailand in recent years. At KNC there're a couple birds now at least to stay throughout the winter season.
Back on the trail, first was a calling Streak-breasted Woodpecker, which took a while to get into view but worth the effort as it's a good one to get. Just to continue on the Woodpeckers a bit…it seemed, as next came a very nice Maroon one!
White-crowned Hornbills were picked up calling and 1 came in to show briefly and then disappeared again before Jans or Trudi got a look -pity. Also a Banded Pitta wasn't seen as it called only once and somewhat distant with little chance to ever get it into view. Scope views of Orange-headed Thrush were very nice though and it's always a trill to get Wallace's Hawk Eagle perched below the canopy for excellent looks!
That Krung Ching also is a good place for Sundaic forest Bulbuls is clear. In the forest interior, Grey-cheeked Bulbul seems to be common (and nowhere else in South Thailand?) and we also got Hairy-backed and Yellow-bellied Bulbul.
Very soon it became 11am and time to leave, with 2 Crested Serpent Eagles soaring us goodbye before we got into the car.
Click for sound recordings of 26 bird species, all made on this trip. Free downloadable!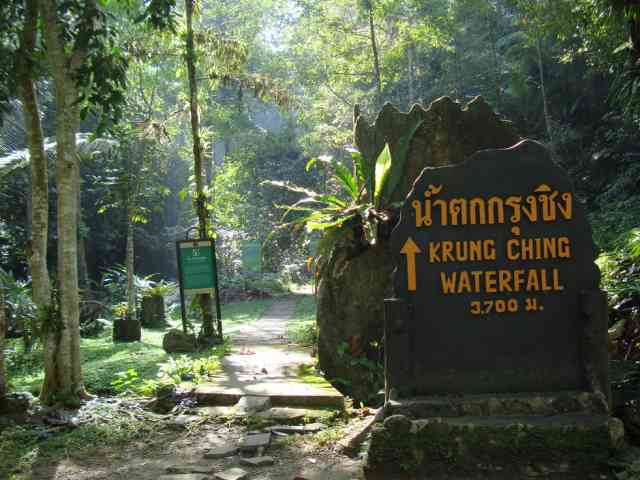 Gateway to some of the best birdwatching in Southern Thailand...
Copyright

Birding2asia 2008-2011. All rights reserved.