Birdtours2asia
Expert guided birding tours

We power your vacation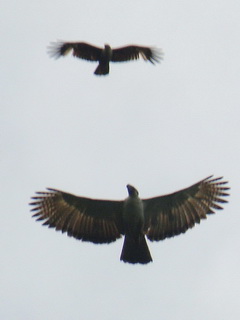 Tiny Brahminy Kite...
Mount Kitanglad
Birdtours2asia
Join us on a tour and you'll get
Top-quality holidays
Friendly & experienced leaders
Excellent itineraries & trip logistics
Comfortable high quality accommodations
All inclusive competitive tour prices
Small groups - size limit=6
Finest birding in Asia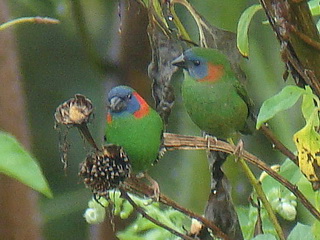 Red-eared Parrotfinch
Kitanglad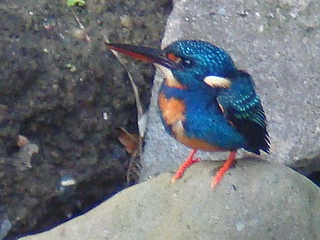 Indigo-banded Kinfisher
Los Banos -Makiling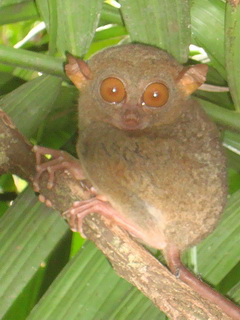 Philippine Tarsier, Bohol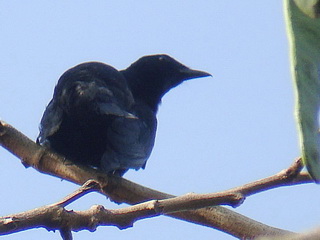 Blackish Cuckooshrike
Subic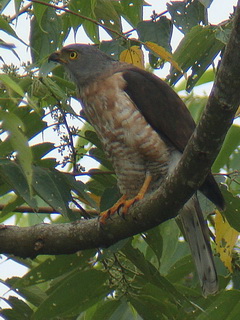 Crested Goshawk
Mount Kitanglad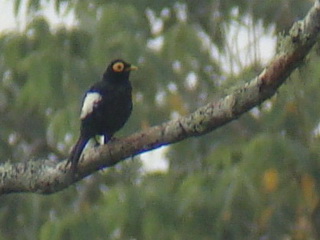 Apo Myna
Mt. Kitanglad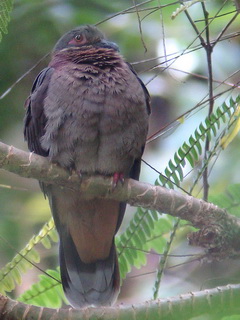 Amethyst Dove
Mt. Kitanglad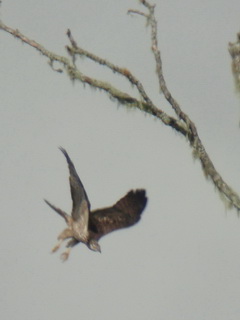 Steere's Honey-Buzzard
Mt. Kitanglad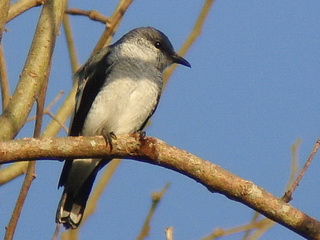 Black-and-white Triller
Mount Makiling
A record shot of our
Blue-crowned Racquet-tail at
Tabunan forest on Cebu.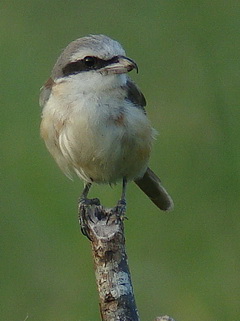 Brown Shrike
Los Banos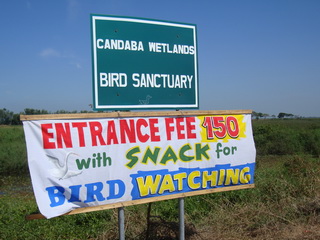 Candaba Marsh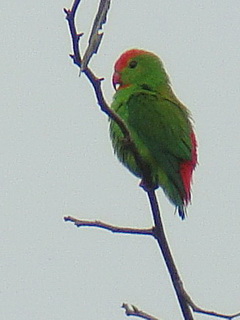 Colasisi
Mt. Kitanglad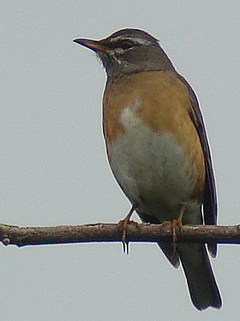 Eye-browed Thrush
Mt. Kitanglad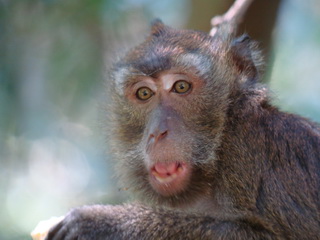 Philippine Macaque
Subic Bay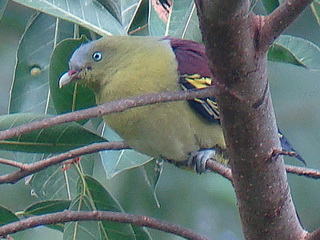 Philippine Pigeon
Subic Bay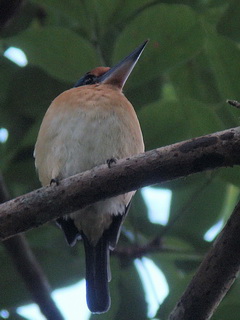 Rufous-lored Kingfisher
Rajah Sikatuna, Bohol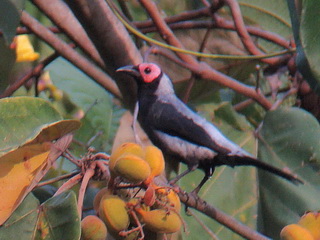 Coleto
Subic Bay
White-breasted Woodswallow
Subic Bay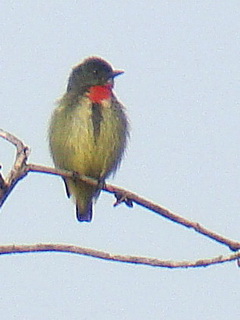 Fire-breasted Flowerpecker
Mt. Kitanglad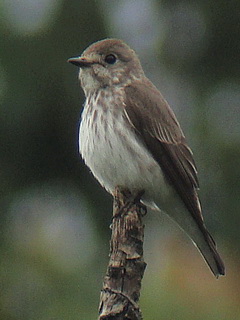 Grey-streaked Flycatcher
Mt. Kitanglad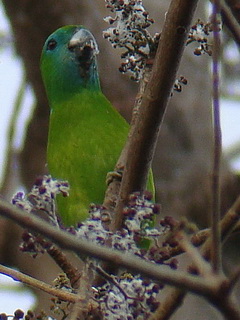 Guaiabero
Subic Bay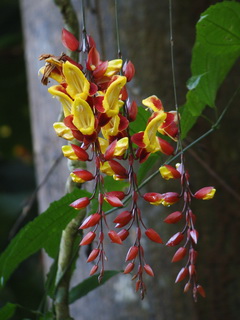 Beauties on Mt. Makiling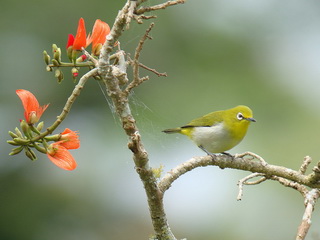 Mountain White-eye
Kitanglad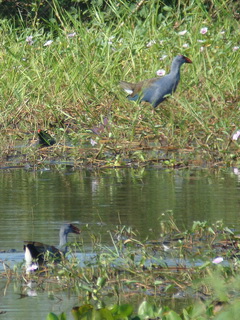 Purple [Philippine] Swamphens
Candaba Marsh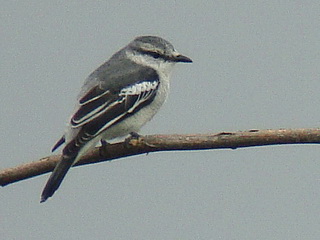 Pied Triller
Mt. Kitanglad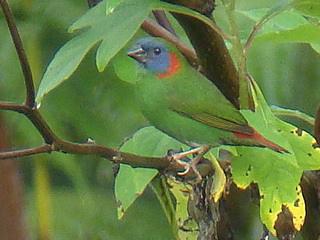 Red-eared Parrotfinch
Mt. Kitanglad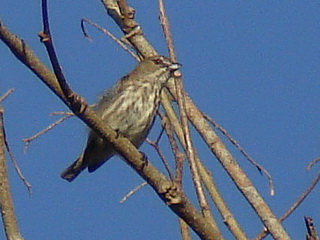 Striped Flowerpecker
Mt. Makiling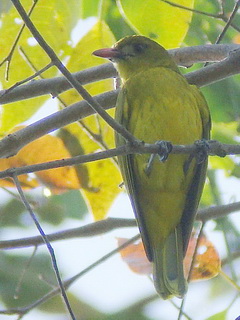 White-lored Oriole
Subic Bay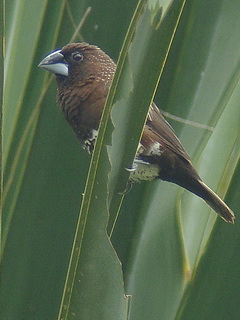 White-bellied Munia
Tabunan -Cebu
White-bellied Sea-Eagles
attending the Fruit Bat colony
at Subic Bay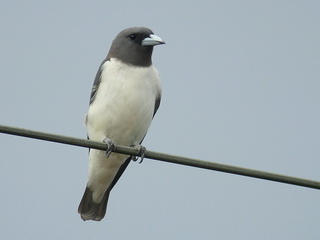 White-breasted Woodswallow
Subic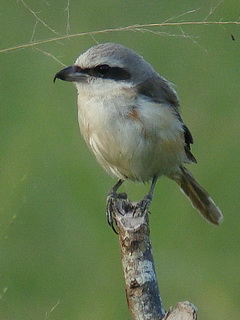 Brown Shrike
Los Banos
White-lored Oriole
Subic Bay
All bird photographs taken
'on tour'
are opportunity shots by
Stijn De Win
Copyright © Birding2asia 2008-2011. All rights reserved.
B2A Philippines 2011 tour report.
20 February - 5 March
Participants ; Noel Lock and Jill Gillman, David Branagh,
Bill Glanz, Lyle Babberl and Koen Job
Tour leader ; Stijn De Win
Luzon, Bohol, Cebu and Mindanao
Our trip list. Tour photos by Stijn.
Grey Heron Ardea cinerea
Seen at Candaba marsh only, where common.
Purple Heron Ardea purpurea
50+ birds seen Candaba and 1 overhead in the evening of 21st at Subic which is an addition for the area list.
Great Egret Ardea alba
10+ at Candaba and few en-route Luzon
Intermediate Egret Egretta intermedia
Few at Candaba Luzon.
Little Egret Egretta garzetta
Few seen throughout the trip
Chinese Egret Egretta eulophotes Vulnerable (VU)
The regular spot on the coral flats on Bohol en-route to Bilar held no birds on the morning of our visit but we found 1 bird on a sandy beach/bay nearby.
Javan Pond Heron Ardeola speciosa
Candaba marsh held 1 bird. (rare on Luzon)
Cattle Egret Bubulcus ibis
Fairly common throughout.
Striated Heron Butorides striata
Seen on 2 dates on Bohol, total 4 birds.
Black-crowned Night-Heron Nycticorax nycticorax
300+ in colony at Candaba and 10+ en-route Luzon on 23rd
Rufous Night-Heron Nycticorax caledonicus
2 birds seen in flight from the car at dawn en-route to Rajah Sikatuna, Bohol.
Black Bittern Dupetor flavicollis
One flew in to a lily covered pond at Candaba to give excellent perched views. A nice one to get in Philippines as not regularly encountered on tours in the country.
Yellow Bittern Ixobrychus sinensis
An amazing 15+ birds seen at Candaba Marsh, later also 1 seen from the car along the Luzon expressway.
Cinnamon Bittern Ixobrychus cinnamomeus
3 birds seen at Candaba
Philippine Duck Anas luzonica Vulnerable (VU) Near-endemic
Approx. 100 birds at Candaba Marsh were a good count, some good for great close looks. Also 1 and 8 birds seen in flight at Subic Bay.
Eurasian Teal Anas crecca
A very scarce winterer in Philippines but we recorded 30+ birds at Candaba. This is a higher number than we record usually on the tour.
Garganey Anas querquedula
Also Garganey was present in good numbers at Candaba Marsh with 200+ birds.
Tufted Duck Aythya fuligula
Only 6 birds at Candaba Marsh, down from 99 present during last year's tour.
Barred [Steere's] Honey-buzzard Pernis celebensis [steerei] [Country endemic]
Pretty scarce and we got only 1 bird but then found it perched on Kitanglad for good looks, always a bonus.
Oriental Honey-buzzard Pernis ptilorhynchus
Seen briefly on Mt.Makiling, and later this odd looking philippensis subspecies with the very rufous underparts performed on Mt.Kitanglad for great looks.
Brahminy Kite Haliastur indus
Fairly common throughout. Also seen circling together with our 'Eagle'… it's so small this Kite, just tiny!
White-bellied Sea-Eagle Haliaeetus leucogaster
A nice bonus with both an ad. and juv. perched strategically near the enormous fruit bat colony at Subic.
Philippine Serpent-Eagle Spilornis holospilus Country endemic
Three sightings, on Kitanglad, Bohol and Luzon. Perfect perched views at Subic and heard on Mt.Makiling.
Eastern Marsh-Harrier Circus spilonotus
A scarce winterer in Philippines which showed very well at Candaba Marsh and later on 1 was seen from the car on the Luzon Expressway.
Crested Goshawk Accipiter trivirgatus
Seen twice, perched on Mt.Kitanglad and in flight at Rajah Sikatuna, Bohol.
Chinese Goshawk Accipiter soloensis
Also 2 sightings, Mt.Makiling and Bohol.
Besra Accipiter virgatus
The Hill 394 track at Subic held our only sighting.
Great Philippine Eagle Pithecophaga jefferyi Critically endangered (CR) Country endemic
Our peaceful wait at the viewpoint on Mt.Kitanglad traditionally interrupted by excited shouts; EAGLE!!! Last year it was Danny to give alarm first, this year Carlito's son. Last year we looked out above the forest canopy, this year we looked… UP! I've never seen this gigantic Eagle closer, it must have been at 30 meters distance max. circling above our heads where it suddenly appeared and stayed long enough gaining height slowly to allow for some photographs –digiscoped yep-. In fact, Carlito's Eagle kept showing on the wing for a full 7 min. (11h45 – 11h52) until it went to perch on the forested mountain slope opposite the viewpoint.
Rufous-bellied Eagle Aquila kienerii
A nice bonus to pick up in Philippines with rather perfect eye-level looks from the viewpoint just above Del Monte lodge. Another sighting, presumably of the same individual l(immature) from Eagle viewpoint.
Philippine Hawk-Eagle Spizaetus philippensis Vulnerable (VU) Country endemic
Increasingly scarce and as was last year, we only got 1 sighting on this trip. Another good reason to visit Rajah Sikatuna on Bohol it seems…
Philippine Falconet Microhierax erythrogenys Country endemic
Three birds, and on our second visit to Hill 394 at Subic 2 birds on the same stake-out allowed for excellent looks.
Peregrine Falcon Falco peregrinus
Four sightings, two different subspecies. The dark 'ernesti' (resident) was seen at Candaba. The light 'calidus' (visitor) seen in Subic twice and at the dairy farm at Los Banos – Makiling.
Red Junglefowl Gallus gallus
Good views of a pair at Subic, heard also at Rajah Sikatuna.
Spotted Buttonquail Turnix ocellatus Country endemic
No less than 5 birds seen on our first visit to the dairy farm at Los Banos. One bird didn't just cross the track here but performed 'on it' for a full 5 minutes. Two birds at the same location seen on the next day.
Barred Buttonquail Turnix suscitator
One bird seen on each visit to the dairy farm at Los Banos.
Buff-banded Rail Gallirallus philippensis
2 birds seen on the edge of a rice paddy at Candaba, another bird from the car on SLEX
Barred Rail Gallirallus torquatus Near-endemic
3 birds seen Candaba, 3 on Bohol crossing the road and 1 on Cebu, heard Los Banos…
Plain Bush-hen Amaurornis olivacea Country endemic
Watching Spotted Buttonquails at Los Banos did the trick as 1 bird surprised us by crossing the track right in front of us.
White-breasted Waterhen Amaurornis phoenicurus
5 at Candaba
White-browed Crake Porzana cinerea
Candaba held birds in every corner it seemed. About 10 seen.
Purple [Philippine] Swamphen Porphyrio porphyrio
Fewer seen at Candaba Marsh than last year but still good for 5+. Rare in Philippines and sometimes split as Philippine Swamphen.
Common Moorhen Gallinula chloropus
Approx. 10 birds at Candaba.
Pheasant-tailed Jacana Hydrophasianus chirurgus
A single sighting of 1 bird at Candaba Marsh.
Greater Painted-snipe Rostratula benghalensis
1 bird good for a couple flight views at Candaba
Oriental Pratincole Glareola maldivarum
10+ seen at Candaba.
Black-bellied Plover Pluvialis squatarola
2 + 6 birds on the coral flats on Bohol.
Lesser Sandplover Charadrius mongolus
20+ birds Bohol coral flats
Bukidnon Woodcock Scolopax bukidnonensis Country endemic
Traditionally recorded just about every evening and early morning at Del Monte lodge, Kitanglad. Once we went out to a nearby clearing for great flight views and at another time it showed while we had coffee at the lodge itself. Heard on plenty more occasions.
Whimbrel Numenius phaeopus
4 + 2 birds near Tagbiliran, Bohol
Common Sandpiper Actitis hypoleucos
Singles Bohol and Cagayan de Oro bay
Grey-tailed Tattler Tringa brevipes
On the coral flats near Tagbiliran, Bohol, we got 2 birds on a first visit and a record count of 14! on the next.
Wood Sandpiper Tringa glareola
5+ birds at Candaba and 1 en-route on Luzon
Ruddy Turnstone Arenaria interpres
20+ birds on coral flats near Tagbiliran, Bohol.
Black-headed Gull Larus ridibundus
4 seen at Cebu port after the Supercat crossing from Bohol.
White-winged Tern Chlidonias leucopterus
Singles Candaba and Bohol.
Whiskered Tern Chlidonias hybrida
Candaba, NLEX, Bohol, Los Banos laguna.
Common Tern Sterna hirundo
10+ birds seen off-shore Bohol.
Island Collared-Dove Streptopelia bitorquata
Just as last year, only 1 bird of this very scarce species seen at Candaba Marsh.
Red Collared-Dove Streptopelia tranquebarica
10 + Candaba Marsh.
Spotted Dove Streptopelia chinensis
Candaba, Los Banos, Bohol, Mt.Kitanglad
Philippine Cuckoo-Dove Macropygia tenuirostris Near-endemic
1 bird seen Kitanglad and 2 sightings at Rajah Sikatuna, Bohol, where also more birds heard.
Emerald Dove Chalcophaps indica
5 birds total seen at Subic and 1 at Tabunan, Cebu.
Zebra Dove Geopelia striata
Sightings at Candaba, Kitanglad, Bohol, Subic, Makiling.
Amethyst Dove Phapitreron amethystinus Country endemic
Photographed on Mt.Kitanglad, other birds heard.
White-eared Dove Phapitreron leucotis Country endemic
Regular encounters at most sites visited.
Pompadour [Philippine] Green-Pigeon Treron pompadora [axillarus]
30+ birds entertained us at a fruiting tree with a few more birds seen at scattered locations in Subic Bay. Otherwise only heard at Rajah Sikatuna, Bohol.
Yellow-breasted Fruit-Dove Ptilinopus occipitalis Country endemic
At Kitanglad we got 1 bird on the 3rd, then recorded 5+ the next day on the 'Apo Sunbird walk'.
Black-chinned Fruit-Dove Ptilinopus leclancheri Near-endemic
1 came in to tape at Hill 394, Subic, then we got an attractive pair on Mt.Makiling with a single seen on the last morning at Makiling and the species was regularly heard at Rajah Sikatuna.
Green Imperial Pigeon Ducula aenea
Regular sightings on all days at Subic and a few seen on Bohol.
Guaiabero Bolbopsittacus lunulatus Country endemic
Lots of flowering trees made us see up to 20 birds a day at Subic incl. plenty perched. Seen once Makiling.
Mindanao Racquet-tail Prioniturus waterstradti Near-threatened (NT) Country endemic
2 sightings of 1 bird from Eagle viewpoint Kitanglad
Green Racquet-tail Prioniturus luconensis Vulnerable (VU) Country endemic
This Subic speciality proved quite easy this year with good numbers and especially the good perched views were enjoyed. Day counts of exactly 5 + 1 + 10 + 2
Blue-crowned Racquet-tail Prioniturus discurus Country endemic
Widespread maybe but increasingly rare everywhere in Philippines. The bird that flew in at Tabunan, then perched for good looks came as a surprise. Cebu is supposed to have no forest left you know… but it seems this bird is still clinging on if not a vagrant to the island possibly from nearby Bohol or Negros. A lifer for all of us except local guides Oking and Lushela.
Blue-naped Parrot Tanygnathus lucionensis Near-threatened (NT) Near-endemic
Good numbers seen at Subic only.
Philippine Hanging-Parrot Loriculus philippensis Country endemic
(Colasisi) Fairly common at both Subic and Mt.Kitanglad. Good to get those perched regularly!
Philippine Hawk-Cuckoo Cuculus pectoralis Country endemic
Two birds seen at Mt.Makiling, one at Tabunan and heard at both Kitanglad and Rajah Sikatuna.
Brush Cuckoo Cacomantis variolosus
Heard Bohol, Tabunan and Kitanglad.
Philippine Drongo-Cuckoo Surniculus velutinus Country endemic
We enjoyed this delightful bird at Rajah Sikatuna where 1 allowed for prolonged looks and photos. Further on we had 2 other sightings on Bohol and heard it at Mt.Makiling where it proved unresponsive to tape at a stake-out from last year.
Asian Koel Eudynamys scolopaceus
Seen twice at Subic where more birds heard.
Red-crested Malkoha Phaenicophaeus superciliosus Country endemic
We had daily sightings of this amazing Malkoha at both Subic and Mt.Makiling.
Scale-feathered Malkoha Phaenicophaeus cumingi Country endemic
While the Red-crested might be brilliant, this simply must be the best looking Malkoha around. We heard it first at Subic but Mt.Makiling remains the better spot to connect and we did greatly so with no less than 8 birds on our first morning. Funny enough, none were seen on the next morning session…
Rufous Coucal Centropus unirufus Near-threatened (NT) Country endemic
Subic is the place for this localized and peculiar species hiding in bamboo clumps in groups of 10+ birds. We encountered a group on our first afternoon, two more the next morning and we found a group located in exactly the same spot as previous on the last morning at subic Bay.
Black-faced Coucal Centropus melanops Country endemic
3 sightings of this superb species at Rajah Sikatuna Protected Landscape, Bohol.
Philippine Coucal Centropus viridis Country endemic
3 + 2 birds seen at Subic and 2 more at Tabunan, Cebu.
Lesser Coucal Centropus bengalensis
Heard at Candaba marsh.
Philippine Scops-Owl Otus megalotis Country endemic
Heard at Rajah Sikatuna, Bohol.
Mindanao Eagle-Owl Mimizuku gurneyi Country endemic
On the only dry evening, we heard it briefly at the lodge on Mt.Kitanglad.
Philippine Hawk-Owl Ninox philippensis Country endemic
Common at Subic and we got 1 bird for good views in the spotlight in no time with other birds heard nearby. Also heard Makiling.
Philippine Frogmouth Batrachostomus septimus Country endemic
At Del Monte lodge on Kitanglad, we used a couple dry minutes (rain!) on the first evening to spotlight 1 for good scope views.
Great Eared-Nightjar Eurostopodus macrotis
2 birds in the clearing at Rajah Sikatuna Bohol and heard at Subic, 1 was seen on Kitanglad with more heard.
Philippine Nightjar Caprimulgus manillensis Country endemic
One bird at Subic for great looks in the spotlight.
Glossy Swiftlet Collocalia esculenta
Commonly seen on Mindanao and Bohol.
Grey-rumped Swiftlet Collocalia marginata Country endemic
Common on Luzon- Subic, Mt.Makiling – Los Banos and Tabunan – Cebu.
Pygmy Swiftlet Collocalia troglodytes Country endemic
Great views (low down and with forest background) of this easy ID job at Rajah Sikatuna, with even more brilliant views (looking down on them) from the Chocolate Hills viewpoint on Bohol, few at Tabunan also.
Philippine Swiftlet Aerodramus mearnsi Country endemic
Common on Mt.Kitanglad, where typically in groups and flying higher than the Glossies around.
Uniform Swiftlet Aerodramus vanikorensis
Only a few seen, near Tagbiliran on Bohol and 1 was recorded in Cagayan.
Purple Needletail Hirundapus celebensis Near-endemic
3 birds seen Subic, at Hill 394
Asian Palm-Swift Cypsiurus balasiensis
Seen on Bohol and at Tabunan.
Fork-tailed Swift Apus pacificus
A few birds at Makiling on our last morning there.
House Swift Apus nipalensis
20+ birds on the campus grounds at Los Banos. (while watching Indigo-banded Kingfisher)
Whiskered Treeswift Hemiprocne comata
Daily sightings at Subic and once at Rajah Sikatuna. Not even an endemic but this little beauty usually end up as a big favourite. Consistently good for some nice photo opportunities too, which might well help touch some hearths.
Philippine Trogon Harpactes ardens Country endemic
Remains quite common at Rajah Sikatuna, Bohol, where we saw male and female with others heard, also heard Makiling.
Common Kingfisher Alcedo atthis
We made it up to 9 Kingfisher species on this tour but lets start easy. 5+ at Candaba and 1 on Bohol.
Indigo-banded Kingfisher Alcedo cyanopectus Country endemic
Readily seen from the bridge on the university campus at Los Banos this year where 1 bird performed for looks as long as we wanted with another bird seen briefly further on the stream. Little stunner!
Silvery Kingfisher Alcedo argentata Vulnerable (VU) Country endemic
Unexpectedly only seen in flight (and only by Koen) on our first visit to the river at Rajah Sikatuna, Bohol so we needed a second attempt (usually we just return for more great looks at this little gem) and still struggled but then as it flew past once more and into vegetation got it fixed in the scope to the joy of all.
Ruddy Kingfisher Halcyon coromanda
The bonus Kingfisher as not regularly encountered on this tour (or Philippines) but 1 bird had been around at Rajah Sikatuna for quite a while and we enjoyed great prolonged scope views.
White-throated Kingfisher Halcyon smyrnensis
Few on Bohol, common Subic and 2 seen on Kitanglad.
Rufous-lored Kingfisher Todiramphus winchelli Vulnerable (VU) Country endemic
Virtually the first bird seen at Rajah Sikatuna after we left the clearing for some decent forest birding. I managed to photograph a male last year so it was pretty good to have a female perform this time.
Collared Kingfisher Todiramphus chloris
Almost daily sightings.
Spotted Wood Kingfisher Actenoides lindsayi Country endemic
We wasted no time… getting this first target on the first morning at Makiling. Actually we arrived a bit early on the stake-out so had to wait for some decent light to appear under the forest canopy before moving into action with the tape. Quite hard waiting indeed when birds keep calling loudly in the gloom. Then… superb scope views at the first shot.
Blue-capped Wood Kingfisher Actenoides hombroni Vulnerable (VU) Country endemic
Carlito had a new stake-out near the lodge for this one. Reluctant but faithfully nevertheless left it in his hands to wait until the last morning as on the full days we had some important stuff to handle further up the mountain. (Eagle, Parrotfinch, Apo's…) So when this last morning arrived, expectedly without much else to look for still, went on the trail and played the tape… to no response. All right, this bird is increasingly difficult and it's not a shame to miss it, we wouldn't have been the first group. Play! Play he said. Play again! Carlito usually knows what he's doing. Softly at first, then closer and more clear. Calling from the dense undergrowth, ever elusive. Keep playing! A flash and there it was! This brilliant male in full view. Briefly though as just another flash and gone. Whow. Everyone got that? Big smiles and 1 disappointed face… You know, whenever possible we take it to different lengths getting good views for everyone and it wasn't easy. Apparently 2 Blue-capped Wood Kingfishers were around but they just didn't play it again. One kept calling from high up, the other from dense undergrowth. Perseverance! I think half the group went back to the lodge for coffee and packing up for the walk down. Keep trying and then suddenly another good response from a bird close by. Carlito was the one to point it out again! Scope views, photographs, enjoying the superb views of a fine male perched at eye-level. "The" perfect end to another immensely successful Philippines tour deserves some more text in the trip list. Cheers!
Blue-throated Bee-eater Merops viridis
Adding colour on every day at Subic and also the birds at the roadside colony on Mindanao en-route to Kitanglad were present again.
Blue-tailed Bee-eater Merops philippinus
Several noted at Candaba, few on Bohol.
Dollarbird Eurystomus orientalis
One only, at Subic Bay.
Luzon Hornbill Penelopides manillae Country endemic
Up to 10 birds daily at Subic and also a few daily on Mt.Makiling.
Samar Hornbill Penelopides samarensis Country endemic
3 birds seen on our first day at Rajah Sikatuna, Bohol with a bird each seen on the next days, also plenty more heard in the reserve.
Mindanao Hornbill Penelopides affinis Country endemic
Three birds seen on the first full day on Kitanglad. Heard only the next day and 2 seen again on the last morning.
Coppersmith Barbet Megalaima haemacephala
1 birds of the 'red-headed' and endemic 'cebuensis' subspecies seen at Tabunan, Cebu. Heard at Kitanglad and several sightings at Subic and Makiling.
Philippine Woodpecker Dendrocopos maculatus Country endemic
Regular encounters at Subic and Makiling. Good for photos on Kitanglad.
White-bellied Woodpecker Dryocopus javensis
This most impressive woodpecker is one of my favourites and therefore not strange I do like the birding at Subic. It's possibly nowhere as common and easy to see. Four birds on our first afternoon, then another 3 and 2 on the next days. Heard at Rajah Sikatuna.
Greater Flameback Chrysocolaptes lucidus
3 endemic subspecies seen; spp. montanus, 1 seen Kitanglad ; spp. rufopunctatus, 3 birds seen Bohol ; spp. haematribon, at least 15! birds seen at Subic
Sooty Woodpecker Mulleripicus funebris Country endemic
Another superb woodpecker and seen in good numbers at Subic, a total of 9 birds.
Visayan Broadbill Eurylaimus samarensis Vulnerable (VU) Country endemic
Yep, we managed the Broadbills again. Amazingly, we found a group of them in the afternoon where we had set off on a walk with thoughts like 'we might see something' as usually the forest is pretty quiet after midday at Rajah Sikatuna on Bohol. It was Ryan who picked up the song first and we then got calls and bill snapping noise before 2 or 3 birds showed one by one.
Azure-breasted Pitta Pitta steerii Vulnerable (VU) Country endemic
High on the wish list as ever but birds proved unusually difficult to get this year. Although Ryan told me they'd become more easy again by late March, we needed a mini off-trail expedition as no birds were calling anywhere near the trail at the time of our visit. We managed well in the end with brief but great views of 1 bird showing on a mount of dirt in the open before bouncing off back into the forest again. (Steere's Pitta)
Barn Swallow Hirundo rustica
Seen daily
Pacific Swallow Hirundo tahitica
First recorded at Candaba, then also at Subic, Makiling and Bohol.
Striated Swallow Cecropis striolata
Plenty at the dairy farm at Los Banos and also seen on Bohol.
Oriental Pipit Anthus rufulus
Mt.Kitanglad, Makiling and Candaba.
Eastern Yellow Wagtail Motacilla tschutschensis
50+ at Kitanglad, heard at Candaba
Grey Wagtail Motacilla cinerea
Kitanglad and Los Banos.
Beer-bellied Cuckoo-shrike Coracina striata
Fairly common at Subic but also seen Makiling and Rajah Sikatuna.
Blackish Cuckoo-shrike Coracina coerulescens Country endemic
This Subic speciality proved easy to connect with this year. We got 2 + 2 + 4 birds.
McGregor's Cuckoo-shrike Coracina mcgregori Near-threatened (NT) Country endemic
Great views, but just the 1 bird makes me worry a bit about declines at Kitanglad
Black-and-White Triller Lalage melanoleuca
Real nice to connect with this one again at Makiling. Two birds showed well and allowed for some photos, long shots though but who doesn't like a challenge?
Pied Triller Lalage nigra
One seen briefly at Subic but most of us connected with it on Bohol 5+, Tabunan 5+ or Kitanglad 5+
Ashy Minivet Pericrocotus divaricatus
A group of about 10 at Subic and 15+ at Makiling
Yellow-wattled Bulbul Pycnonotus urostictus Country endemic
Brief sightings at Subic and Rajah Sikatuna, plenty more heard.
Yellow-vented Bulbul Pycnonotus goiavier
Common everywhere except Bohol where we didn't see any.
Philippine Bulbul Ixos philippinus Country endemic
We didn't score as good as last year when it was seen on every single day of the trip. This year, there was 1 day on the tour on which it was heard only. (on Bohol for the record)
Streak-breasted Bulbul Ixos siquijorensis Endangered (EN) Country endemic
At Tabunan, Cebu, David only went lucky to get looks at 1 bird present.
Blue Rock-Thrush Monticola solitarius
1 seen Subic Bay, near the airfield.
Island Thrush Turdus poliocephalus katanglad
A real good bonus and surprise at Kitanglad was the sighting of 1 bird near the Apo Sunbird spot. It does get rarely recorded in the area and at the altitudes normally visited. Moreover, the 'katanglad' subspecies is endemic to central Mindanao, yes, that would be little more than the Kitanglad range itself so I guess, if we take it to subspecies level, this must make it one of the most range-restricted birds of the trip.
Eyebrowed Thrush Turdus obscurus
Common also this year at Kitanglad. Time after time we kind of recorded only half the amount from the previous day though. 40+ on the first afternoon, then 20+ next day, down to 10+ and just a few on the last morning. I bet they were 5+. He he!
White-browed Shortwing Brachypteryx montana
Skulky thing not to be compared with for example birds on Doi Inthanon where usually easy too see. A couple brief, brief glimpses until on the last morning we managed to get 1 cross the trail. A real good songster though and again here very different to what one might hear on mainland SE Asia.
Bright-capped Cisticola Cisticola exilis
Only 1 bird seen but it showed well at the dairy farm –Los Banos. (Golden-headed Cisticola)
Zitting Cisticola Cisticola juncidis
Heard at Candaba and seen Los Banos.
Long-tailed Ground-Warbler Bradypterus caudatus Country endemic
Few birds heard only on Kitanglad.
Oriental Reed-Warbler Acrocephalus orientalis
5+ at Candaba
Rufous-headed Tailorbird Orthotomus heterolaemus Country endemic
2 or 3 good sightings on Mt.Kitanglad.
Philippine Tailorbird Orthotomus castaneiceps Country endemic
Not always easy to get into view but 2 birds performed very well at Hill 394, Subic.
Rufous-fronted Tailorbird Orthotomus frontalis Country endemic
Quite a few heard at Rajah Sikatuna with 1 bird that showed in the end.
Grey-backed Tailorbird Orthotomus derbianus Country endemic
Heard only Makiling.
Yellow-breasted Tailorbird Orthotomus samarensis Near-threatened (NT) Country endemic
A nice confiding male of this Visayas endemic for great views at Rajah Sikatuna, Bohol.
Arctic Warbler Phylloscopus borealis
Seen twice on Makiling.
Mountain Warbler Phylloscopus trivirgatus
Common on Mt.Kitanglad.
Philippine Leaf-Warbler Phylloscopus olivaceus Country endemic
Daily at Rajah Sikatuna Bohol.
Tawny Grassbird Megalurus timoriensis
Several seen Kitanglad, Tabunan and Makiling.
Striated Grassbird Megalurus palustris
Rather common throughout
Rufous-tailed Jungle-Flycatcher Rhinomyias ruficauda Near-endemic
We found 3 birds of the endemic boholensis race for good looks at Rajah Sikatuna Protected Landscape.
Rarely seen outside of the Philippines (supposed to be on Borneo) and certainly also uncommon on the islands with only Rajah Sikatuna and Picop to be spots with regular sightings.
Grey-streaked Flycatcher Muscicapa griseisticta
Fairly common and regularly recorded throughout.
Mugimaki Flycatcher Ficedula mugimaki
Just as we did last year on Mt.Kitanglad, got two sightings of this lovely winter visitor.
Snowy-browed Flycatcher Ficedula hyperythra
1 bird seen on Mt.Kitanglad on our last morning
Little Pied Flycatcher Ficedula westermanni
3 males seen Mt.Kitanglad
Mountain Verditer Flycatcher Eumyias panayensis Near-endemic
Plenty sightings at Mt.Kitanglad. (Island Flycatcher)
Mangrove Blue-Flycatcher Cyornis rufigastra
1 birds at Tabunan forest, Cebu.
Oriental Magpie-Robin Copsychus saularis
Only seen on Bohol, 5 birds total.
White-browed Shama Copsychus luzoniensis Country endemic
Elusive as ever. We got 1 bird fly across the road at a stake-out in Subic where it usually performs but then unexpectedly a bird along the Hill 394 track decided to show well for a chance. More heard, also on Makiling.
Black Shama Copsychus cebuensis Endangered (EN) Country endemic
Rain at Tabunan forest, Cebu! It didn't stop us to get several brief but good looks of our main target at the site though.
Pied Bushchat Saxicola caprata
Singles at Candaba and en-route on the Subic – Tarlac expressway.
Blue Fantail Rhipidura superciliaris Country endemic
3 sightings at Rajah Sikatuna NP, few more heard.
Black-and-cinnamon Fantail Rhipidura nigrocinnamomea Country endemic
Up to 5 daily at Mt.Kitanglad. Stunner!
Fried Pantail Rhipidura javanica
Few seen, Tabunan, Bohol, Candaba and Cagayan de Oro.
Black-naped Monarch Hypothymis azurea
A pair at Subic and several seen in mixed flocks on Bohol.
Rufous Paradise-Flycatcher Terpsiphone cinnamomea Country endemic
1 bird seen on our first morning at Makiling with a second bird calling nearby
Yellow-bellied Whistler Pachycephala philippinensis Country endemic
Couple sightings at Kitanglad and at Rajah Sikatuna Bohol.
Striated Wren-Babbler Ptilocichla mindanensis Country endemic
A first encounter remained heard only but then later on we found 1 bird responsive and it showed exceptionally well, at least for this species that is.
Brown Tit-Babbler Macronous striaticeps Country endemic
Two sightings on Kitanglad, 1 and 5 birds respectively.
Golden-bellied Gerygone Gerygone sulphurea
5+ seen at Subic (Flyeater)
Elegant Tit Pardaliparus elegans Country endemic
Three seen at Subic, 2 at Makiling, heard Tabunan and 5+ daily on Kitanglad.
White-fronted Tit Sittiparus semilarvatus Near-threatened (NT) Country endemic
Always a tricky target but again managed to keep the record on not having missed it on our tours so far. They actually performed exceptionally well. First 2 birds by the roadside, then no less than 5 on the track which we watched feeding/working their way through for quite a while.
Sulphur-billed Nuthatch Sitta oenochlamys Country endemic
A couple sightings daily at Mt.Kitanglad, at least 11 birds total.
Stripe-sided Rhabdornis Rhabdornis mysticalis Country endemic
Fairly common at Subic (got 3 + 1 + 1) and also a couple sightings on Mt.Makiling.
Stripe-breasted Rhabdornis Rhabdornis inornatus Country endemic
The birding started slow on our first afternoon walk on Kitanglad but then one of the first goodies to appear was the Stripe-breasted. No less than 5 allowed for good looks and actually gave a false sense of being common or easy to get on the mountain. Not! I had to explain our guests that we just got very lucky to connect so quickly and indeed only 2 brief flight views was all we got later on.
Plain-throated Sunbird Anthreptes malacensis
Plenty sightings at Mt.Makiling.
Purple-throated Sunbird Leptocoma sperata
Not endemic but always a delight and we got 1 bird of this beautiful species for good looks on Bohol.
Olive-backed Sunbird Cinnyris jugularis
Fairly common and seen regularly during the trip.
Grey-hooded Sunbird Aethopyga primigenia Country endemic
Quite a few sightings at Mt.Kitanglad.
Mount Apo Sunbird Aethopyga boltoni Near-threatened (NT) Country endemic
For some reason David had set this his prime target on Mt.Kitanglad. (Not sure that was before or after the beers though, he he). Anyway, he made it up all the way on the difficult trail where located at around 1800m altitude lies the prime area to look for it. Beautiful mossy forest and good for Island Thrush and Amethyst Dove on this visit. Superb! As we did last year, we even got Mountain Shrike again which remains rather difficult on Kitanglad and it won't get seen on every single trip. Little or no activity though and certainly no Sunbird. Lunch arrived. Birding again. I think we spent 3 hours looking and we had to set off for the long walk back to camp. Just as we did a lively feeding flock arrived so we gave it another 10 min. to scan it for the Sunbird. Nothing. Flock moved on. Then suddenly Carlito picked up the calls and little later we finally got our Sunbird. Pff.
Metallic-winged Sunbird Aethopyga pulcherrima Country endemic
A couple brief sightings in the clearing at Rajah Sikatuna NP, Bohol.
Handsome Sunbird Aethopyga bella Country endemic
1 seen Mt. Makiling
Eastern Crimson Sunbird Aethopyga siparaja
2 birds at Tabunan forest, Cebu
Striped Flowerpecker Dicaeum aeruginosum Country endemic
4 birds on Makiling. [Thick-billed Flowerpecker]
Olive-capped Flowerpecker Dicaeum nigrilore Country endemic
Usually common but only 4 bird seen this time on Kitanglad
Bicolored Flowerpecker Dicaeum bicolor Country endemic
A nice male performed in the clearing at Rajah Sikatuna.
Red-striped Flowerpecker Dicaeum australe Country endemic
Tabunan forest, Bohol and Makiling.
Orange-bellied Flowerpecker Dicaeum trigonostigma
Several at Rajah Sikatuna, Bohol.
Buzzing Flowerpecker Dicaeum hypoleucum Country endemic
At least 3 birds seen on Kitanglad.
Pygmy Flowerpecker Dicaeum pygmaeum Country endemic
1 bird seen singing from the same snag at Subic on 2 dates and 1 sighting at Makiling.
Fire-breasted Flowerpecker Dicaeum ignipectum
Two sightings on Kitanglad.
Lowland White-eye Zosterops meyeni Near-endemic
Amazingly got a group of 15 birds at a stake-out in Subic and also 1 bird briefly on the Los Banos campus grounds.
Mountain White-eye Zosterops montanus Near-endemic
Very (extremely!) common at Mt.Kitanglad.
Mindanao White-eye Lophozosterops goodfellowi Country endemic
3 birds total seen on higher reaches of Mt.Kitanglad. Also called Black-masked White-eye.
Cinnamon Ibon Hypocryptadius cinnamomeus Country endemic
Up to 10+ birds seen daily at Kitanglad. Lovely birds.
White-lored Oriole Oriolus albiloris Country endemic
Toughest of the Subic specialities to get but we did even better than the good looks from last year. This time the bird stayed around for ages and indeed allowed for a couple decent photographs. Useful as there's not that many of those around I reckon.
Black-naped Oriole Oriolus chinensis
Seen Kitanglad but especially common at Subic.
Philippine Fairy-bluebird Irena cyanogastra Country endemic
Again only seen at Rajah Sikatuna this year.
Brown Shrike Lanius cristatus
common throughout and seen daily
Long-tailed Shrike Lanius schach
Candaba, Los Banos, Kitanglad.
Mountain Shrike Lanius validirostris Near-threatened (NT) Country endemic
We did it again! A single bird for great looks on the high trail at Mt.Kitanglad.
Balicassiao Dicrurus balicassius Country endemic
1 bird of the white-bellied 'mirabilis' spp. at Tabunan forest, common (balicassius) at Subic and Makiling.
Spangled Drongo Dicrurus bracteatus
Plenty at Rajah Sikatuna on Bohol.
White-breasted Woodswallow Artamus leucorynchus
Rather common throughout.
Large-billed Crow Corvus macrorhynchos
common at Subic, also Makiling and Cagayan.
Asian Glossy Starling Aplonis panayensis
Subic, Bohol, Tabunan, Caganyan. The roost in Tagbiliran on Bohol at full strength (10000+) providing the usual spectacle in the evening on the town square.
Short-tailed Starling Aplonis minor Near-endemic
Worryingly few at Kitanglad with only 2 + 3 birds seen.
Apo Myna Basilornis mirandus Near-threatened (NT) Country endemic
Excellent to get 10+ birds on both full days on Kitanglad
Coleto Sarcops calvus Country endemic
Up to 10 daily at Subic and a few at Rajah Sikatuna, Bohol. A superb endemic.
Crested Myna Acridotheres cristatellus
Numbers increased at Subic of this introduced species. Around 20 birds present now near the airfield.
Eurasian Tree Sparrow Passer montanus
Missed this one for 2 full days on Kitanglad. Euhh.
Red-eared Parrotfinch Erythrura coloria Near-threatened (NT) Country endemic
A much better performance than usual. Great scope views for as long as we wanted and good for a couple decent although still distant shots.
Scaly-breasted Munia Lonchura punctulata
A few at Los Banos.
White-bellied Munia Lonchura leucogastra
Another addition for the Subic site list (1 bird seen). Four seen on Bohol and 5+ incl. nesting activity at Tabunan, few on Kitanglad.
Chestnut Munia Lonchura atricapilla
fairly common
White-cheeked Bullfinch Pyrrhula leucogenis Country endemic
Scope views of 1 bird on Kitanglad near Eagle viewpoint. Later also 7 seen in flight and a few more heard.
Home / top / other B2A reports Philippines report 2009 / 2010 / 2011