Sinharaja, 20 - 22 February 2017.


Sri Lanka's celebrated Biosphere Reserve and World Heritage Site; A photo report.


On this page I would like to showcase the riches of Sinharaja National Park. You may find a selection of opportunity shots made on the afternoon of 20th, a full day and the morning of 22nd Feb. '17. Focus was on the birds of course but I hope the good number of material obtained in such a short time may make us realize what an incredible biodiversity hotspot Sinaraja is. My short two days of birding here was part of a longer trip that also included visits to Yala NP and Tissamahama area in Sri Lanka's dry zone. The time of year was rather perfect. This is after the 'high' tourist season, with just about the best chance in the year on dry weather, and all wintering birds still present. Birding was done on the main track into the park and a couple sites on the parks boundary. The grounds and vicinity of the accommodation (comfortable air-con rooms and excellent authentic food) held good birds as well; Slaty-legged Crake, Indian Pitta, Sri Lanka Hill Myna...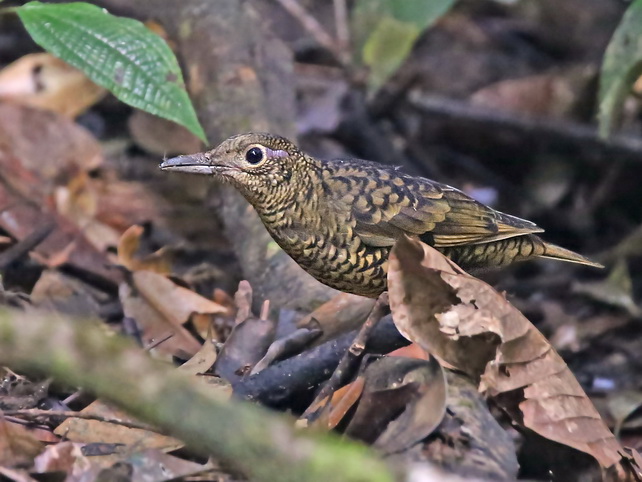 The Sri Lanka Scaly Thrush is often regarded as 1 of the more difficult to find endemics. With only 1 sighting
it didn't appear common but once found our bird was quite cooperative and we watched it for at least
15 minutes while it kept foraging in the leaf litter. Undisturbed as the bird was I think it only looked up
and into the lens once so I'm pretty happy I was able to capture the moment.
This is 1 of only few endemic birds listed as threatened in Sri Lanka. As with so many places on earth
habitat loss is a problem. However, in Sri Lanka birds are very well protected inside the reserves.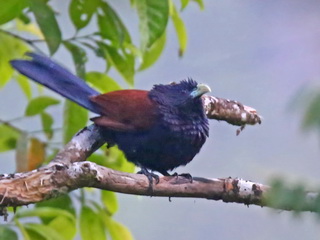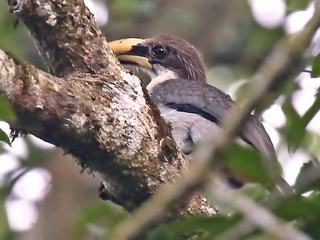 Green-billed Coucal
Sri Lanka Grey Hornbill
Posted just above are two more fine Sri Lankan endemics. Most species featuring "Sri Lanka" in their
name may alternatively retain "Ceylon", the former naming of the island. (Ceylon Grey Hornbill.)
Out of 34 Sri Lankan endemic birds (IOC world bird names), no less than 28 may be found at Sinharaja!!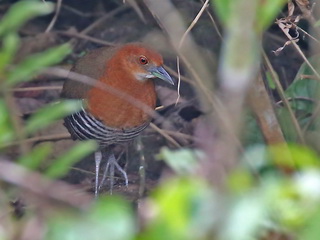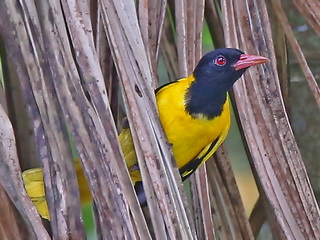 Let us take a little break from the endemic bonanza. And from the forest perhaps? Time to post a few photos taken in the grounds of the Blue Magpie Lodge. The Slaty-legged Crake is a scarce winter visitor to most of South and South-east Asia. It is really amazing how we found this elusive Crake simply in the garden of the lodge. With the Black-hooded Oriole it got even better, this shot was taken from the lunch table!!

This Green Vine Snake was found along the main track in the National Park.
Harmless and super beautiful, these pencil size creatures are easily overlooked!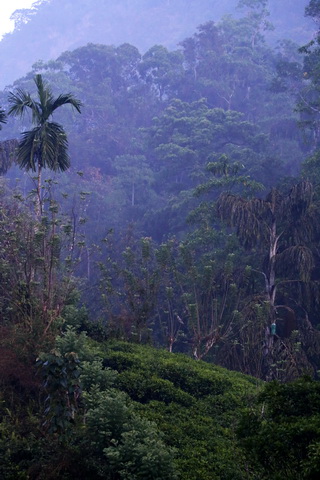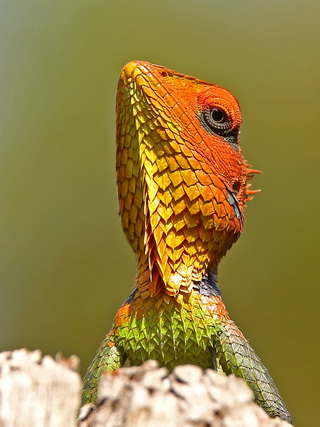 This misty morning image shows some tea plantation mixing in with forest at the park's boundary.
The Common Green Forest Lizard is all green indeed, except for when in high breeding mood!!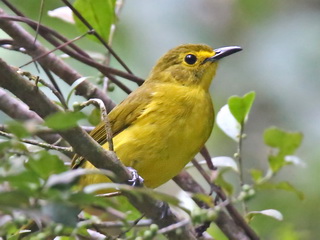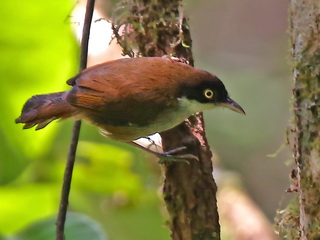 Two cute forest birds. The Yellow-browed Bulbul and the Dark-fronted Babbler
may not be too easy to photograph but they are not scarce inside good forest at Sinharaja.
Together with quite a few other species they are excellent candidates to be added to
your life list on a Sri Lanka visit, that is unless you have been to peninsular India previous.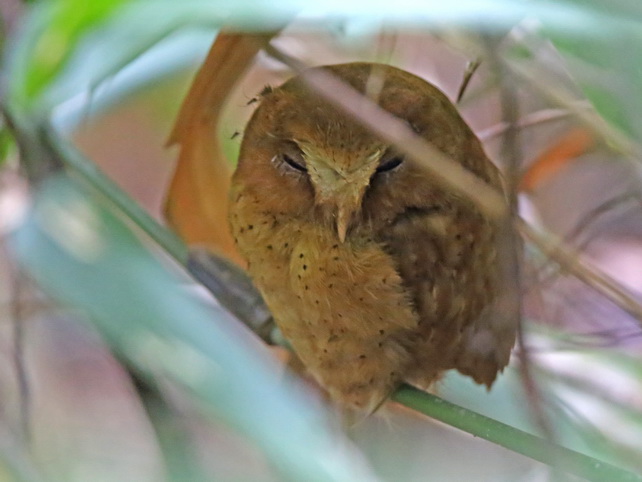 If ever you would have been looking for a reason to visit a place again... this must be a proper case! I did not see the Serendib Scops Owl on my first Sri Lanka visit! Because it simply wasn't discovered yet (and I wasn't the one finding it first ha ha). Back in 2000 nobody knew about this owl while it was present in a well birded location. Today it features on most trip lists. As in this case it is not unlikely to be rewarded with a daytime sighting even though they may not roost in exactly the same spot every day.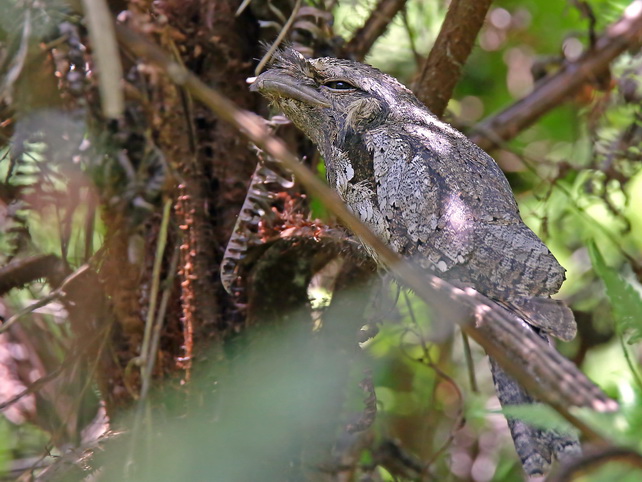 Daytime night birds do give birders more time in the evening to celebrate the sightings of the day :-)
Sri Lanka Frogmouth, here the male, and with the female roosting nearby, were found with relative ease.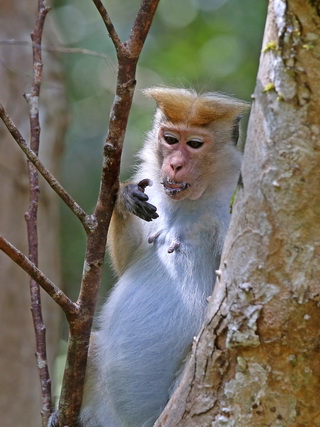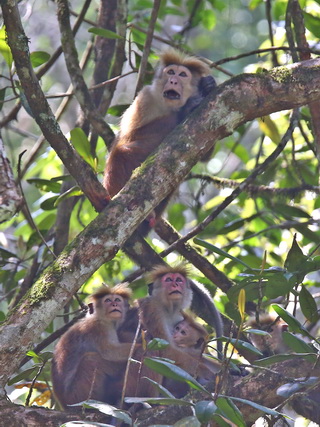 For the Toque Macaque it is all about hairstyle, eyeliner and black lipstick... but then Black Eagle alarm!!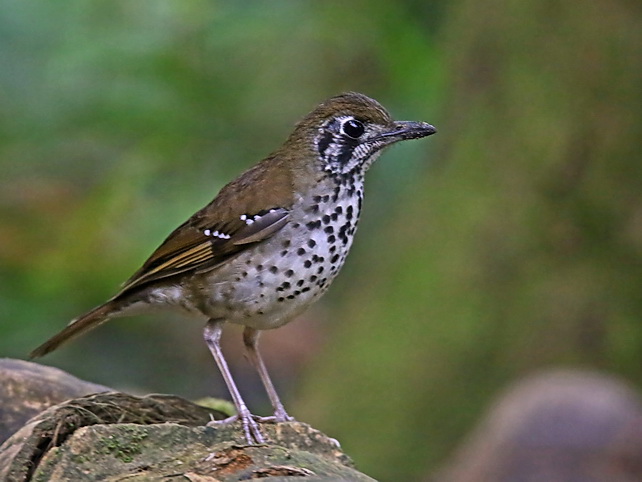 The lovely Spot-winged Thrush is another must-see target bird. With 3 sightings it easily added to the
Sinharaja endemics tally. However only 1 individual was friendly enough to allow for photo opportunities.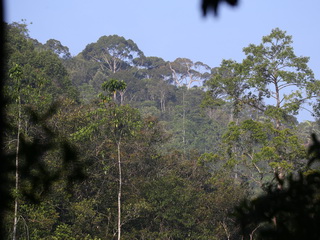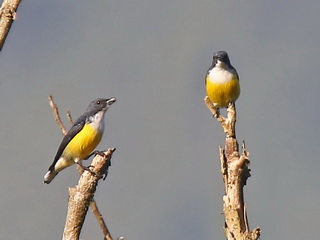 A forested ridge at Sinharaja core area.
The Legge's Flowerpecker, must be endemic!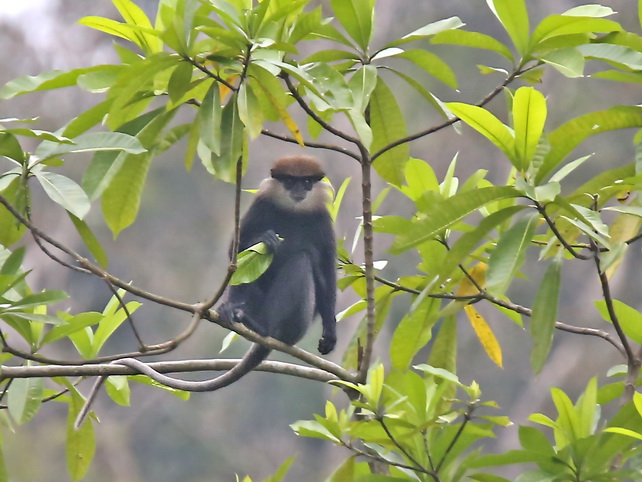 A rather distant shot of the Purple-faced Langur! There are 4 distinct subspecies recognized. The ones found at Sinharaja Forest Reserve are from the race 'vetulus' or Southern Lowland Wetzone Purple-faced Langur.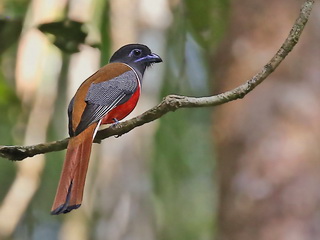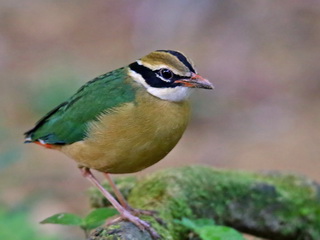 The cream of forest birds! Trogons and Pittas always make for a happy day.
Both the Malabar Trogon and Indian Pitta may be best (easier) seen in Sri Lanka rather than in India
where the Pitta breeds in the north, while the Trogon occurs in peninsular India only.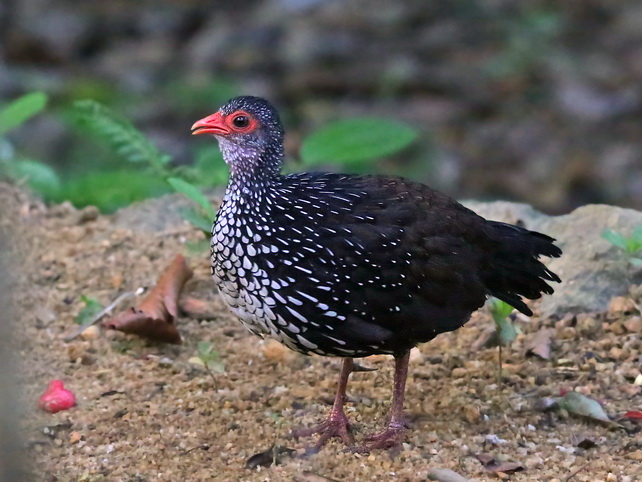 At Sinharaja, after connecting with most of the endemics and good target birds, which would be the 1 left to look for?? Quite possibly it would be the Sri Lanka Spurfowl indeed. Not always easy to find, not always
showing too well, but a little essential as Sinharaja simply is the best site for these stunners. And there
is more, they have an incredible sound. The male bird pictured is calling and I can tell you this is SO loud
when you are just a few meters away!! I didn't manage a sound recording but I have embedded a
superb Xeno-Canto recording made by a friend from Belgium in the column on the left. Try it!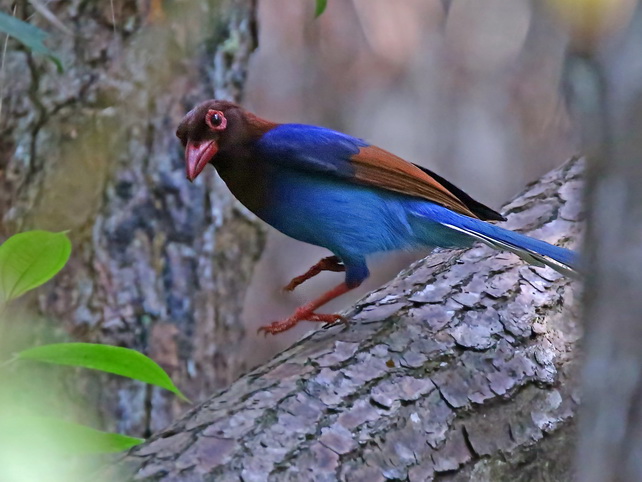 It may be less easy than it looks from my photos to connect with the Sri lanka Blue Magpie as they have very large foraging areas. Three sightings isn't too bad even though they have declined somewhat. However this doesn't mean great photo opportunities yet and my first encounter only yielded a record shot.
They didn't seem easy inside the park during my visit. But at the parks boundary I got lucky twice.
First a superb pair which now features on our Sri Lanka tour page and on my last morning I was happy
to capture this jumping Magpie action on film. This is a restricted range endemic listed as vulnerable.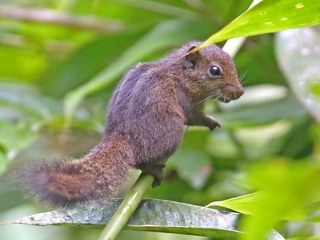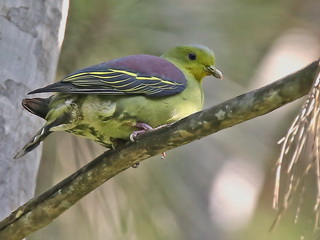 Not only the birds may be endemics at Sinharaja. This is the Dusky Palm Squirrel, only found in Sri Lanka
and listed as vulnerable on the IUCN Red List. On the right is a photo of a nice male Sri Lanka Green Pigeon.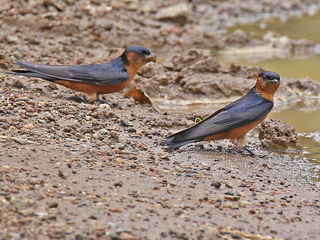 Restricted range, uncommon, local and listed near-threatened, all doesn't look that good for the Sri Lanka Hill Myna but luckily we have Sinharaja Forest Reserve where the species remains common.
On the right are Sri Lanka Swallows busy collecting mud for nest building.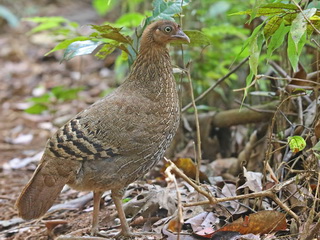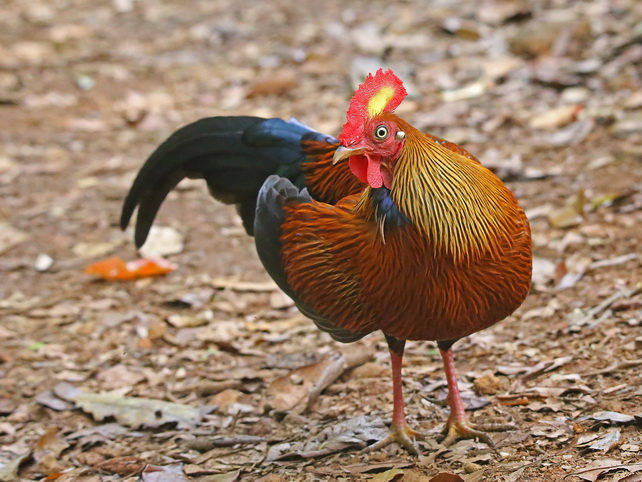 The national bird should not be missing from this page. Mind you, Sri Lanka Junglefowl are endemic and well protected by law. No wonder they were easy to photograph. They also sound better than domestic chicken!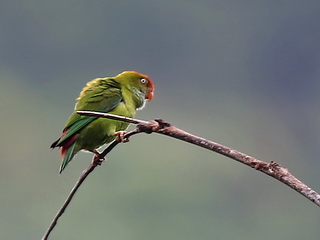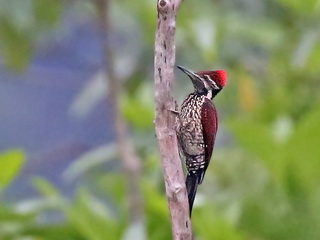 Any perched Hanging Parrot must be good! Luckily Sri Lanka Hanging Parrots remain common and sooner
or later a good sighting is to be expected. On the right is the commoner of the two Flamebacks on the island. This is the beautiful Lesser Sri Lanka Flameback and the species occurs both in the
wet and dry zone but is absent from the northern half of the island.

Home / Top / Visit Sri Lanka