Birdtours2asia
Expert guided birding tours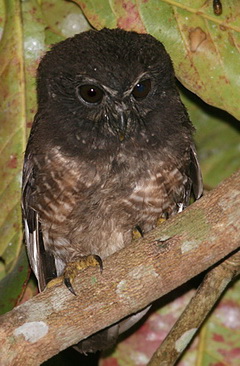 Specled Boobook
Dumoga Bone NP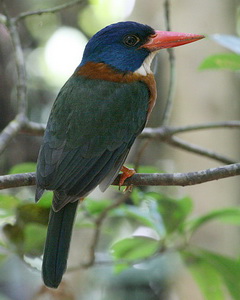 Our tour featured no less than 14
Kingfisher species. This is the endemic
Green-backed Kingfisher from Tangkoko.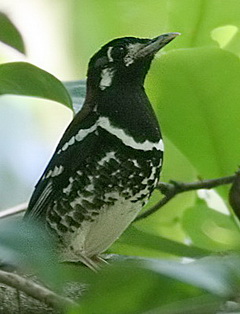 Red-backed Thrush -Tangkoko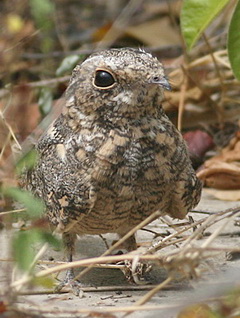 Savanna Nightjar -near Palu
Birdtours2asia
Join us on a tour and you'll get
Top-quality holidays
Friendly & experienced leaders
Excellent itineraries & trip logistics
Comfortable high quality accommodations
All inclusive competitive tour prices
Small groups - size limit=6
Finest birding in Asia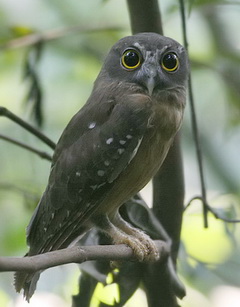 Ochre-bellied Boobook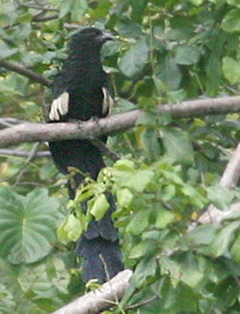 Goliath Coucal

We power your vacation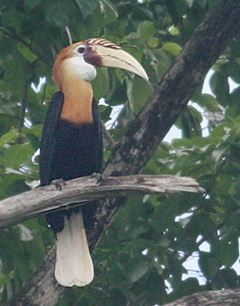 Blyth's Hornbill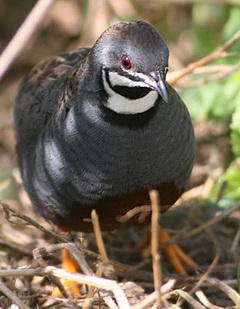 Blue-breasted Quail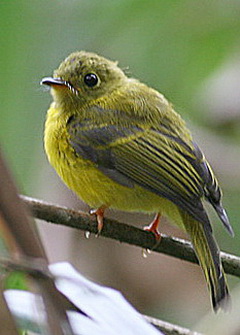 Citrine Flycatcher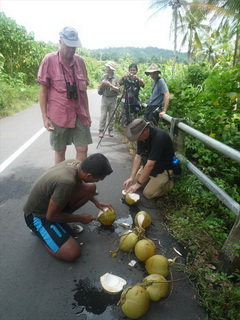 'Coconut' break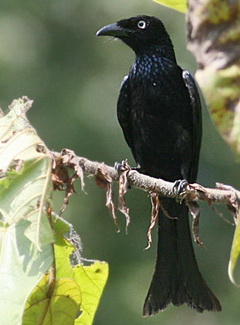 Hair-crested Drongo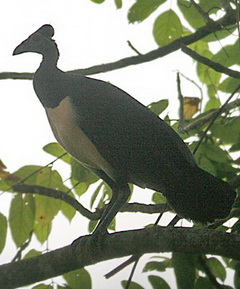 Maleo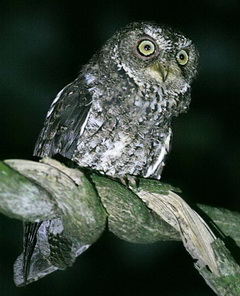 Sulawesi Scops Owl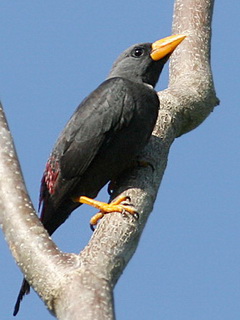 Grosbeak Starling
All bird photographs taken
'on tour'
are opportunity shots by
Peter Ericsson
More photos on the birdlist page.
B2A Sulawesi & Halmahera 2011 tour report.
11 – 28 August
Participants ; Keith Blomerley, Theo Buchholz, Richard Winspear, Simon Wotton
Tour leaders ; Peter Ericsson & Royke Mananta
Text and photos by Peter Ericsson
When Stijn De Win from B2A asked me if I could act as tour leader to Sulawesi/Halmahera I was more then thrilled. Having visited Sulawesi with Stijn back in 2009 I knew the exciting birds waiting in these exotic lands. The tour had 4 participants besides Royke and me. All experienced global birders in the 4-5000 'birds seen' region. Thus it was no surprise that the tour ended up with 239 species recorded and a record 105 endemics.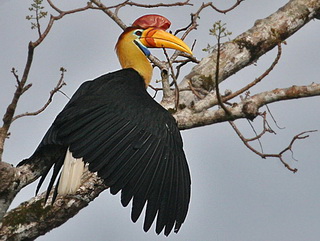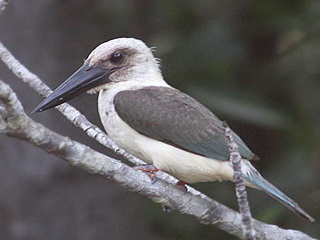 Red-knobbed Hornbill Black-billed Kingfisher
The real draw with Sulawesi/Halmahera is the very many endemic birds. Birds not seen elsewhere but who are confined to these green and hilly islands. Birding itself at times can be rather slow as density is low but with persistence and zeal most species can be found.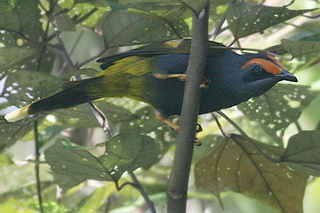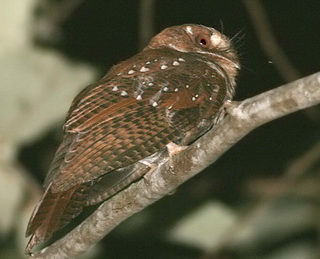 Fiery-browed Starling Moluccan Owlet-Nightjar
We stayed in very plush hotels when possible, such as at Manado and Palu. The other sites had to make do with more basic accommodations as there simply aren't many options. The food was very good throughout and plentiful. It was mostly cooked in authentic Indonesian style. The tour began at Manado and included 5 flights within the 2 islands. Flights were with the best airlines possible: Garuda and Lion Air. No problems occurred except for heavy turbulence from Makassar to Palu. Land transportation was with 2 Toyota Avanza cars. These proved sufficient and comfortable.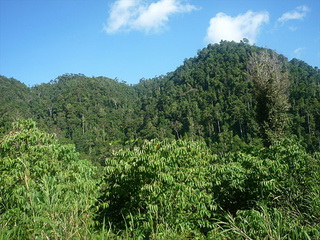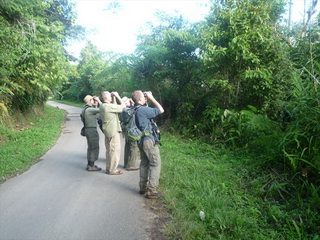 Forest on Halmahera Roadside birding
We left Manado after a hefty breakfast. August is the time of Ramadan in Indonesia and thus hotel breakfasts were ready at a very early hour. Some paddy fields gave us good views of a pair of Blue-breasted Quails. Not endemic but always hard to see well. Other nice birds seen along the way: Barred and Buff-banded Rail, White-browed Crake, Cinnamon Bittern, Sulawesi Hawk-Eagle, Yellow-billed Malkhoa, Grey and Yellow-sided Flowerpeckers, Black Sunbird and more. The drive to Ambang took a few hours. We settled at Julius home stay (his wife is a good cook), basic but close to the mountain and birding area and thus an excellent base for our visit.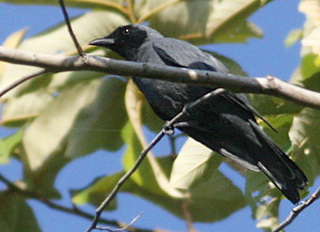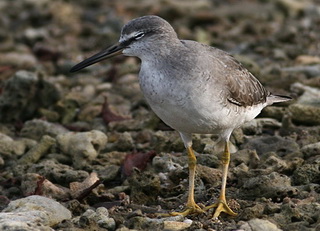 Halmahera Cuckoo-shrike Grey-tailed Tattler
It rained that first afternoon and it made the trail up the mountain very slippery and hard to walk. No owl's active that evening. Instead we made it up the following morning before dusk. A first rarity, Scaly-breasted Kingfisher, loudly announced daybreak as we obtained flight views.
We continued up the mountain in search of the very rare Matinan Flycatcher.
In the end we ended up with good views of a singing bird. A flock of noisy and
obtrusive Malias called for everyone's attention. This bird wasn't to be seen again until we visited Lore Lindu.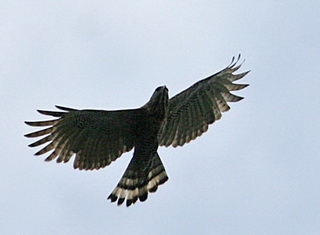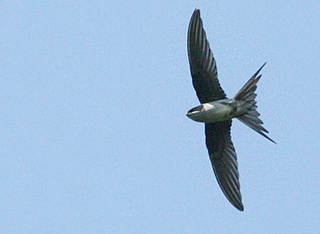 Sulawesi Hawk Eagle Grey-rumped Treeswift
There were a number of more common birds around: Chestnut-backed Bush Warbler, Yellow-vented Whistler, Sulawesi Leaf Warbler, Mountain Tailorbird, Citrine Flycatcher, Pale Blue Monarch, Sulawesi Babbler, Fiery-browed Starling and Rusty-bellied Fantail to name a few. Another 'biggie', Purple-bearded Bee-eater showed up as well. Our afternoon in the forest was followed by a clear night, and good for owling. The endemic and recently discovered Cinnabar Hawk Owl gave good looks.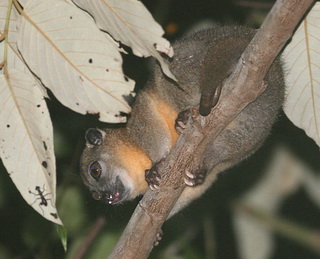 Northern Oriental Cuscus Blue-fronted Flycatcher
The next day everyone had a 'sleep in' until 5 am. Birding along a hilly roadside for the morning and a drive to Tambun in search for the Maleo was on the itinerary.
However it wasn't until next morning that we managed to get good looks at the Maleos. Max, the local ranger and care taker of the Maleo project found a couple of birds who immediately took to the trees where everyone could view them extensively. Some general birding continued and then we left for DumogaBoneNational Park headquarters where we lodged for a couple of nights. My favorite for the afternoon was Sulawesi Crested Myna, a real cracker! Birding around here was pretty good and we got views of Speckled Boobook, Sulawesi Scops Owl, Sulawesi Dwarf Hornbills, Blue-backed Parrots, Yellow-breasted Racquet-tails, Pied Cuckoo Shrikes, Silver-tipped Imperial Pigeons, Blue-eared Kingfisher, Lesser Fish Eagle and more. After this first part of the tour, the hotel at Manado felt like heaven that evening with a large bed and hot shower.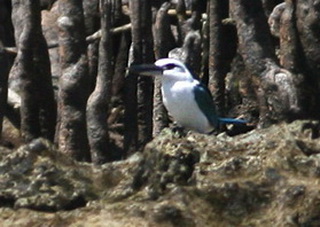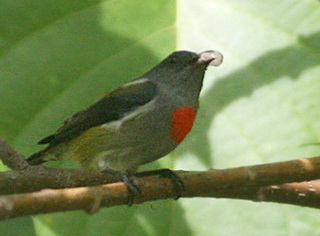 Beach Kingfisher Flame-breasted Flowerpecker
Next on the agenda was Tangkoko, so it meant another early morning.
We spent the first hours scoping the lovely canopy of the forest below us with an impressive valance in the background. Golden-mantled Racquet-tails were flying around. A Vinous-breasted Sparrowhawk sunned itself in a tree top, loads of Pied Imperial Pigeons roosting, a single Grey-headed Imperial Pigeon, Sulawesi Dwarf Hornbill, huge flocks of Grosbeak Starlings, and a pair of Red-knobbed Hornbills were sunning themselves nearby. Talaud Kingfisher has recently colonized NE Sulawesi and amazingly found 1 from our viewpoint.
Later on we explored Tangkoko itself and scored on the major target birds: Ochre-bellied Boobok, Red-bellied Pitta, Red-backed Thrush, Green-backed and Lilac Kingfisher and Sulawesi Nightjar. Plus several Tarsiers were seen on their day roosts.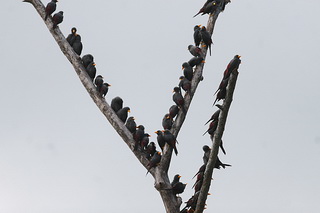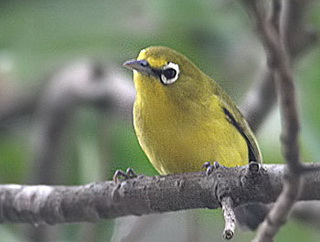 Grosbeak Starlings Lemon-bellied White-eye
Next on the agenda was a flight to Halmahera. That means leaving the Sulawesi region or the Wallace's and entering into the Moluccas's, also know as the Spice Islands. With it came a whole slew of new endemics. The flight is less then an hour but one feels like being transported into an entirely different world.
We landed at Ternate which is the main township and where the governmental offices for Halmahera are located. This small island is quite busy with loads of little businesses and buildings all crammed in right next to a volcano.
As we left the airport we travelled through the fresh market where we picked up fruits. The stores were full of various spices. A speed boat took us to the mainland of Halmahera where we quickly settled in a small home stay, turned into guesthouse.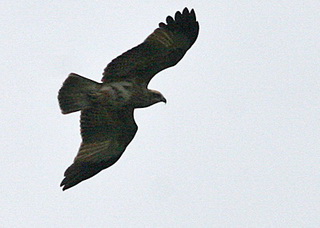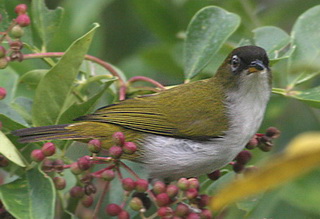 Gurney's Eagle Cream-throated White-eye
From here we ventured out into the Northern parts of Halmahera during the following 4 days mostly birding along the road side. I ended up counting 44 bird species not otherwise found on this tour, which just show how different the island is from Sulawesi. The island seems rather undeveloped and is covered in greenery. Hardly any shops around, except for tiny local ones. . The coffee in Indonesia, by the way, is very good. We had plenty of it at our various places of lodging.
One morning we had to get up at 3 am to be able to get to the site where Wallace's Standardwings come to display. The walk wasn't that bad but took awhile.
About half a dozen of birds came to display and the show kept on for 45 minutes in the wee hours of the day.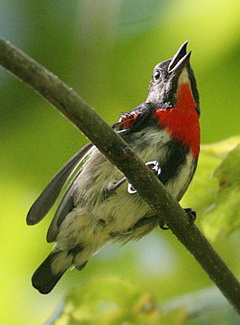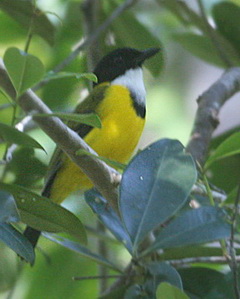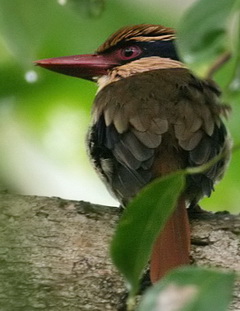 Grey-sided Flowerpecker Golden Whistler Lilac Kingfisher
After that we picked up a few new birds but mainly concentrated on getting views of the Ivory-breasted Pitta. The bird is calling from just about everywhere but does not come in to playback. It took us a full 2 hour session to be able to see one well enough. A huge Pitta , truly wonderfully adorned.
Another highlight was to see the spectacular Moluccan Owlet Nightjar at close range.
4 days on Halmahera seemed to be quite enough. We only missed out on a couple of hard to find species which is to be expected and so we headed back to Manado for a flight to Makassar and then on to Palu. 3 flights on a day are about as much as one can handle. The airports are modern though and aside from Ternate have Wi Fi available. So, on this tour it's a smart way to minimize time lost for travel.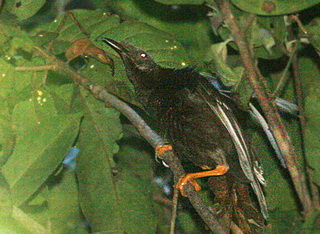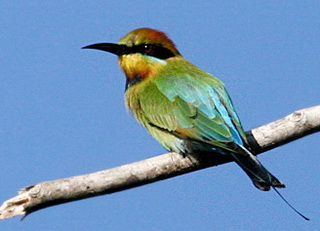 Wallace's Standardwing Rainbow Bee-eater
At Palu we stayed at a plush hotel which was a real treat after the rather spartan accommodation in Halmahera. Next morning we drove out of Palu and 1st stop was at some paddies. Well over 100 Pale-headed Munias was a real eye catcher in this place. Another stop produced many roosting Savanna Nightjars that proved approachable.
A few hours later after a lovely drive up the narrow winding mountain road we arrived at Lore Lindu. We stayed at Sely's resort which sported a new building with nice spacious rooms. No need for air-con up here as the temperatures are always pleasant.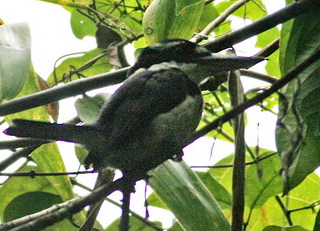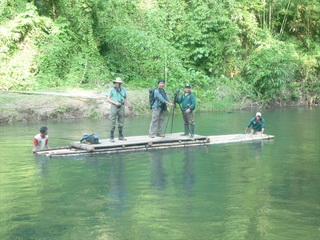 Sombre Kingfisher River crossing at Dumoga-Bone NP
Lore Lindu added another 10 or so species for the trip and amongst them were:
Great Shortwing, Sulawesi Thrush, Piping Crow, Blue-fronted Flycatcher,
Maroon-backed and Yellow-sided Whistler, Lesser -and Greater Sulawesi Honeyeater, and for those that braved the long walk up the mountain: Geomalia.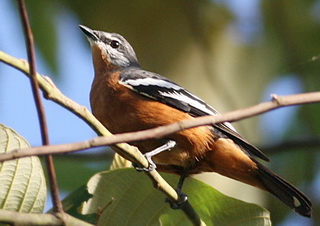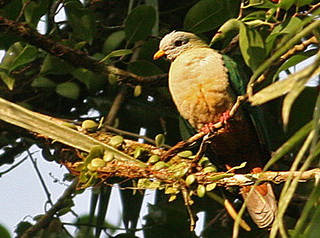 Rufous-bellied Triller Maroon-chinned Fruit-Dove
This tour itself is very rewarding in terms of endemics and unique birdlife. Seeing the slower paced lifestyle of the local and seemingly content people gives reason for reflection. The environment is relatively unspoiled, especially on Halmahera.
The trip however is not for those who want a huge long list but for those who understand the uniqueness of these islands and is willing to put up with early mornings and long hours in the field.
I personally walked away with a feeling of being blessed to have had the opportunity again to sample this very rich birdlife and wonderful islands.