Stijn De Win

Huanggang Shan (Wuyishan) & Poyang Hu, Jiangxi Province, China.
Charles Davies & Stijn De Win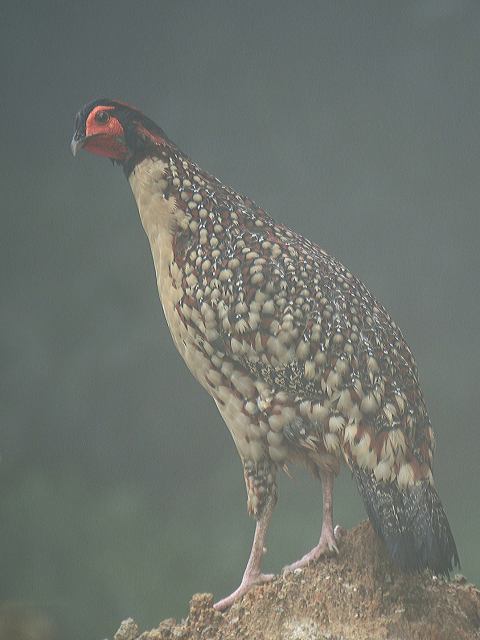 Trip report and photos by Stijn De Win
Charles had arranged for Laolin of Nanchang to show us around so I joined him on this short birding trip to SE-China in August 2009, focused mainly to see Cabot's Tragopan at Wuyishan. Our trip coincided with 3 days of constant rain while we were up Huanggang Shan but this didn't keep us from seeing 4 species of Pheasant inclusive the odd 10+ Tragopan sightings and an unexpected male Elliot's Pheasant (we were given 5% chance on it), with both males Koklass and Silver Pheasant very nice additions. I added an extra day at Poyang Hu to the trip, which got me a fifth pheasant species, Common Pheasant.
Logistics for this trip have been described in the 2007 trip report by John&Jemi Holmes so I won't repeat them here, see their report.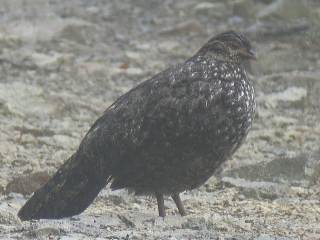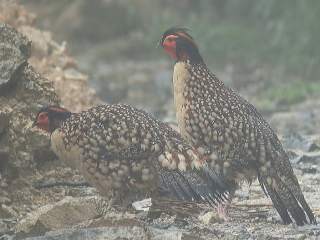 Female Cabot's Tragopan and our 2 males seen on the track.
Day accounts/itinerary;
7 Aug;
Evening flight Bangkok to Guanzhou on AirAsia. Overnight at Pullman airport hotel.
8 Aug;
Morning flight to Nanchang and met by Laolin at arrivals for the 6,5 hour drive to the reserve HQ. A couple hours were left for some initial birding with Brown Dipper, Crested Kingfisher and Chinese Bamboo Partridge the best finds.
9 Aug;
Heavy rain and windy conditions kept us in the car for most of the day but as driving up and down the track is actually the best tactic to see the Tragopans, it gave us our first sightings of 3 females and a male perched up in a roadside tree. Near the summit we got a male Koklass Pheasant for good looks and plenty Rosy Pipits.
10 Aug;
An excellent start to the day with a sighting of a male Elliot's Pheasant 1km below the reserve entrance gate. Further up 2 male Cabot's Tragopan put a show up for us on the track where we could watch them for about 20 minutes and where able to leave the car and approach fairly close allowing for 116! photos to be taken by me. In rainy and misty conditions though, this resulted in just about 10 good photos, the best of which you can see on this page.
As it wasn't that windy today we could do some birding on foot along the track, with our umbrella's of good use. A few nice mixed flocks were encountered. Best birds seen Ferruginous Flycatcher, Green Shrike Babbler, Vinous-throated Parrotbill, Yellow-browed Tit, Fork-tailed Sunbird and Brown Bullfinch.
11 Aug;
A slow start today and still raining. We saw some endangered Stump-tailed Macaques and a Tufted Deer to make up for the lack of birds. Later in the day we got a male Silver Pheasant and again a couple Tragopan sightings with a female allowing for photographs to be taken.
Near the summit Buff-throated Warblers and a group Vinous-throated Parrotbills were nice and lots Asian Martins were nest building both in abandoned buildings on the summit and on cliff faces along the track. Other nice birds seen included Small Niltava, Streak-breasted Scimitar Babbler, and Black-chinned Yuhina. A Russet Bush Warbler was singing in the higher part along the track.
In the bamboo area below the gate a female Koklass Pheasant and Barred Cuckoo Dove were seen. A perched Besra allowed for excellent looks.
12 Aug;
A short morning walk from the HQ up in the bamboo zone produced plenty Chinese Bamboo Partridges, a few Rufous-faced Warblers, Chestnut Bulbul and another group Vinous-throated Parrotbill.
En-route back to Nanchang we saw a single Masked Laughingthrush, a perched Mountain Hawk Eagle and a pair Red-billed Blue Magpie. A stop at a pond produced a Pheasant-tailed Jacana with 3 tiny chicks and a few Red-billed Starlings.
13 Aug;
Charles had left yesterday for work in Korea so just Laolin an myself went for an extra day at Poyang Hu. This is a vast area of lakes and marshes and an important wintering ground for 3 species of Cranes and Oriental Stork. This birds are absent in mid-summer of course and it was very hot with over 35 degrees Celsius. Best birds seen today were Common Pheasant, White-browed Laughingthrush, Pale Sand Martin, both Yellow and Cinnamon Bittern and plenty Red-billed Starlings and Grey-headed Lapwings.
Late afternoon flight back to Guanzhou and late evening flight to Bangkok.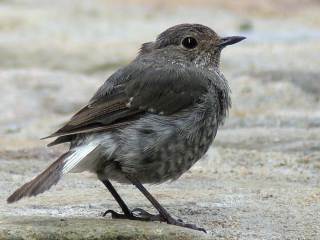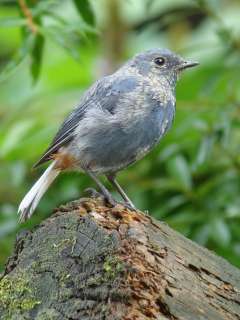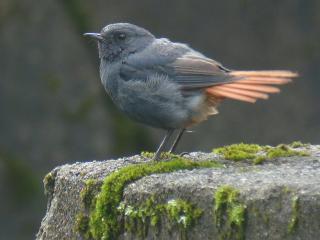 Plumbeous Water Redstart near the accommodation at Wuyishan. Here a female, young male and adult male.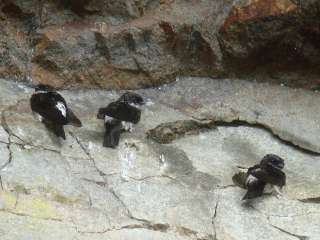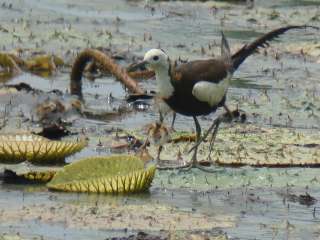 Plenty Asian Martins breed at Wuyishan. Pheasant-tailed Jacana with chicks en-route to Nanchang.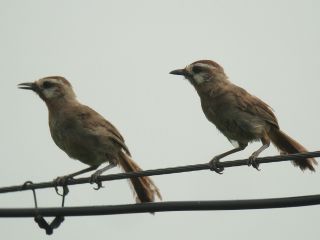 Grey-headed Lapwing and White-browed Laughingthrush at Poyang Hu near Nanchang.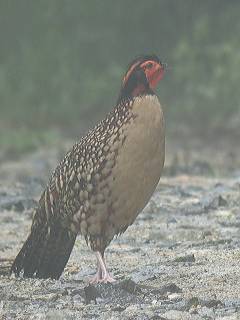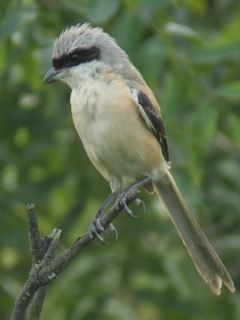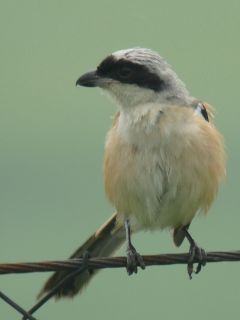 Another male Cabot's Tragopan photo and Long-tailed Shrikes near Nanchang and at Poyang Hu.
Stijn De Win / Birding2asia.com has published this information page on 22 August 2009.
Copyright

Birding2asia.com

All rights reserved.