Stijn De Win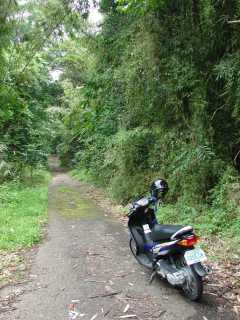 Nice way to explore Subic.

We power your vacation
Trip report

Subic Bay Philippines by Stijn De Win / Birding2asia

This is a report on a series of birding trips to Subic, all made in February Ė September 2008.

For detailed information on Subic Bay, incl. birding maps, detailed directions and a bird list, please

visit the Asian Birding Info on the Birding2asia website.

Any locations mentioned in the daily accounts below are described on these pages.

Numerous photos of 'Subic birds' in the B2A Philippine tour reports; 2009 2010 2011

Trip 1 ; February 2008

Wednesday 20th Feb.

A late morning trip to Hill 394 didnít produced a big number of birds as fairly strong winds picked

up soon. However, the walk was absolutely worth it because I got good views of the rare

White-lored Oriole which traveled at mid-level through the forest together with 2 Blackish Cucoo-

shrikes.

Other birds included Sooty Woodpecker, which is always nice to see, as well as Red-crested

Malkoha. Two Stripe-sided Rabdornis gave good views while Bar-bellied Cuckoo-shrike and

Philippine Bulbul were common. A single Purple Needletail was spotted overhead. Philippine

Coucal gave brief views from the grass by the roadsides and Glossy Swiftlet (Grey-rumped) were

common.

Saturday 23rd Feb.

A short trip for roadside birding at the Nabusan beach road produced some nice birds incl.

excellent looks at 2 Sooty Woodpeckers, a Greater Flameback, Guaiabero, Philippine Coucal,

Green Imperial Pigeon, Coleto, Balicassiao and Black-naped Oriole. Philippine Tailorbird was

heard only.

Trip 2 ; April 2008

Thursday 3rd April

An early morning trip to the area around the entrance of the Apalin trails produced 2 sightings

Of White-bellied Woodpecker, Greater Flameback, a White-browed Shama along the first 100m

Of the long trail, Ashy Minivets, Luzon Hornbill, 3 Blue-naped Parrots in flight, Coleto, Grey-streaked

Flycatcher, Stripe-sided Rabdornis and White-eared Brown Dove.

The late morning was spent walking the track to Hill 394, best birds included 2 Philippine Fairy

Bluebirds which gave perfect looks, 1 Philippine Cuckoo-Dove, heard only Hooded Pitta,

Philippine Falconet, Coleto, Philippine Tailorbird, Blackish Cuckoo-shrike and many Bar-bellied

Cuckoo-shrikes.

Trip 3 ; May 2008

Wednesday 21st May

Having rented a motorbike at Baloy beach I went cruising the many quiet roads on the Naval base for

some roadside birding. I only got to the birding areas in the afternoon today so decided not to go for

the tracks and trails as it gets a bit hot for long walks later in the day. Nevertheless, I got to see a

nice selection of species.

On my way in a White-bellied Sea Eagle flew overhead near the airport. Both White-breasted

Woodswallow and Coleto were nesting in electricity poles by the roadside.

The first real good birdwatching spot I hit was the dead-end road to the Water station. From the

motorbike I noticed 2 birds being perched in some dead branches, which turned out to be a pair

Green Racket-tails and they gave great views. Better than the usual fly-by sightings at least.

A White-browed Shama gave excellent views a bit further on and was still active singing this late in

the day. Not much else here but nice was an Emerald Dove that walked on the road on my way out.

In the area around the Botanical Garden, Guaiabero gave nice views while perched. I found a

Cuckoo-shrike very high up in a tree but couldnít really confirm itís ID just with binoculars, theyíre

usually just Bar-bellied but this one had something different and it might have been Black-bibbed

Cuckoo-shrike. The species should be possible at Subic but Iíve never heard about a confirmed

sighting for it. Balicassiao had a nest with chicks in it, hanging from a branch above the road.

Other sightings this afternoon from random roadside spots include Red-crested Malkoha, a female

Blue-naped Parrot in flight, 3 sightings of Luzon Hornbill, imm. Black-naped Oriole, a female White-

bellied Woodpecker, Philippine Coucal and Whiskered Treeswift.

Thursday 22nd May

A early morning trip to Hill 394 produced some good birds.

On my way in I heard Red-bellied Pitta calling from the first intersection after having turned-off at

The botanical garden.

On the track I got good looks at Philippine Tailorbird which seemed to come in to tape a little better

than they do earlier in the year. Two Rufous Coucals were skulking in some dense tangles and it

took almost 30 min. to get good looks, with the birds calling all this time. I got incredible close looks

at Yellow-breasted Fruit-Dove which were taped in with the call of Black-chinned Fruit-Dove which I

was trying to get, strangely enough.

A Hooded Pitta was calling from inside the forest, two groups Blackish Cuckoo Shrike were

Encountered as was a Philippine Trogon. Other nice sightings include a male Sooty Woodpecker,

Stripe-sided Rhabdornis and Luzon Hornbill.

After my walk I continued exploring the roadsides near the entrance to the track were I found a

Philippine Serpent Eagle nicely perched as well as 3 sightings of Philippine Falconet. Purple

Needletail gave away a show and I got good looks at the white lores.

Best bird of the day I got on my way out near the bat colony were a White-fronted Tit was seen

by the roadside, while me still sitting on the motorbike!

Saturday 24th May 2008

Heavy rain cut short my time for birding when I went out this afternoon. Still got a few nice birds

though. I picked the road to the hospital and BotonFalls this time to be checked. Best birds

found were a nice party of 4 Elegant Tits (2 imm.) and a number of Blue-naped Parrot sightings.

(3 perched, 3 + 3 + 1 fly-by) Both male and female Luzon Hornbill gave good looks and also a

single Black-naped Monarch was seen, which seems to be not so common at Subic.

Trip 4 ; September 2008

Wednesday 17th

A completely dry afternoon is rare enough in September but it happened today and I made use of it

for another short trip. On entering the base, I noticed some Terns near the outlet, so I went for a

closer look and found -the White-winged Turns apart- a nice weedy field close to the lighthouse.

Long-tailed Shrike was nice to see here together with a couple of Brown Shrikes. Near the shore I

found Eastern Yellow Wagtail, Oriental Pipit, male Pied Bushchat and a single Common Sandpiper.

It was already well after 3pm when I got to the forest where I did some roadside birding first on my

way to the BotonFalls. Near the JEST camp a noisy family group Barred Rail showed well, with

Luzon Hornbill, Philippine Falconet, Whiskered Treeswift and numerous Coletos a bit further on.

At the entrance to the BotonFalls track, quite some activity was going on and drumming

woodpeckers showed in the form of both White-bellied Woodpecker and Greater Flameback. A

group of 5+ Red-crested Malkohas showed here as well.

On the trail a Guaiabero was found low down in dense bamboo, an unusual spot to see it really.

In a small clearing, a Philippine Coucal was seen but not much else on the way down. The falls

looked rather nice now with all the rain of the past days. No hoped for Indigo-banded Kingfisher on

the stream though, which looked suitable for it nevertheless.

On my way back (and up) I heard a group Rufous Coucals. As usual, they tried hard to stay out of

view but a single bird eventually showed very well. In the same spot 2 Sooty Woodpeckers came

through with great looks on the male. White-eared Brown Dove was the only other bird seen on the

way up but White-browed Shama was heard.

Back on the track I had another half hour of daylight left and this was spent along the first few

hundred meters of it. I got another group of Red-crested Malkohas, which a single Scale-feathered

Malkoha accompanied this time, a bird definitely less common at Subic. Another group Rufous

Coucals, Bar-bellied Cuckoo Shrike and Black-naped Oriole also showed before dark.

Stijn De Win / Birding2asia
Copyright © Birding2asia.com

All rights reserved.