Stijn De Win

Southern Thailand, 26-29 November 2006
Mark Piazzi & Stijn De Win
26/11/2006
Our trip started with a quick look at the paddies and marsh area south of Thai Muang golf course (Phang Nga province). We arrived at 10 am and that means it was already hot, but birds where everywhere and numerous. As usual the three Lapwing species where present with several River Lapwings and approx. 40 Grey-headed Lapwings being a high count. A few Purple-backed Starlings had perched high up a casuarinas tree and where joined by 2 Chestnut-tailed Starlings. Approx. 10 Orange-breasted Green Pigeons flew by and Ashy Minivets and Lineated Barbet showed well in the nearby woods. Loads of birds then went on the wing, probably disturbed by a passing Eastern Marsh Harrier. In the air ; 100s Pacific Golden Plover, around 20 Long-toed Stints, Oriental Pratincole, Purple Heron and Wood Sandpipers. Both Cinnamon and Yellow Bittern flushed from besides the track as well as 2 Watercock. A lone Sand Martin was then seen and Black-browed Reed Warbler showed well. A quick check of the lagoon added 8 Black Bazas, Plaintive Cuckoo and Lesser Sandplovers. We opted not to go wading across the lagoon to try for the Malaysian Plovers that were present just a week earlier as the heat had become intense by now. Instead, we headed for lunch at Thai Muang beach, which proved to be an excellent move as an imm. Great Frigatebird had chosen to come and fly right above our table just only a little higher than the nearby casuarinas trees.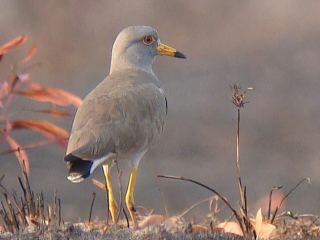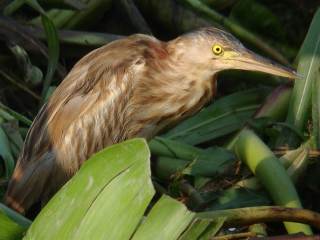 Grey-headed Lapwing Yellow Bittern
After lunch we started our drive towards Khao Nor Chuchi. On the way near Phang-gna we stopped at the mangrove boardwalk close to the intersection for Krabi. This spot is apparently much better in the breeding season and we saw no birds in the mangrove. (But always worth checking as just only a week later Stijn got a imm. male Von Schrenk's Bittern at the same boardwalk) However, from the parking lot both a Rufous-bellied Swallow and Dusky Crag Martin were sighted high up near some limestone outcrop.
Next stop was at the Jungle Myna stake-out* 6,5 kms south of Krabi airport, with the Mynas on show as soon as we arrived. Other birds seen here include ; 2 male Eastern Marsh Harriers and 1 male Pied Harrier. Then we got soaked in the 15 seconds we needed to run to the car just only 100m away. The umbrellas we had didn't help at all and by the time we reached the car the deluge had stopped. Oh well, tropical birding!
Some roadside stops in the last 10 km before reaching Morakot resort at KNC produced Thick-billed Warbler and both Great-eared and Large-tailed Nightjar. Checked in at Morakot resort and had dinner. Friendly service as ever. Had a nice chat with 2 other birders from England. Then went spotlighting for 2 hours which produced nothing, strangely enough. Made up for it with a cool beer before going to bed.
27/11/2006
Breakfast at 5.30 am, served with a friendly smile! Very special place, this resort.
6 am saw us on trail B with the birds still sleeping it seemed. Smart they are! Except for a Banded Pitta that gave an alarm call from close to the stream crossing at the start of B trail. It wasn't before we got to the area of B and C trails intersection that some activity had started. Stijn heard a Red-bearded Bee-eater that was spotted soon after, nicely sitting on some dead twigs in the sun. Luckily we did take the scope after all (we had questioned this earlier) and Mark got some excellent digiscoping opportunity.
While watching the Bee-eater the other birders joined us and made for pleasant company for the rest of the day and we went via trail C to trail D where we got a family of Green Broadbills and Black Giant Squirrel. Cream-vented and Streaked Bulbul were seen before reaching the Crystal Pool with some fruiting trees next to it. Lots of birds came in with the best being Red-crowned Barbet, a female Red-throated Barbet, Crimson-breasted Flowerpecker and Greater Green Leafbird. The first open area before the Emerald Pool had a Black-thighed Falconet perched on top of a dead tree. After this we headed for lunch via the A-track.
Went to the Spotted Wood Owl daytime roost after lunch but this became a miserable attempt because we were chased away by some angry and drunk local even before reaching the site.
Spent the afternoon walking to the coffee plantation and back with our vehicle parked just beyond U-trail. Birding was slow but we managed to see Silver-rumped Needletail, Brown-backed Needletail, Spectacled Spiderhunter, Blue-throated Flycatcher and a male Gurney's Pitta called on our return very close to the main track between trails E and H, not a usual location.
After dinner came the time for some real work. Our search for White-fronted Scops Owl. Arrived at 8 pm and 2 birds were heard calling soon after. It took us until 11.30 pm (3,5 hours) to see one, but then, after all the work it tastes even sweeter.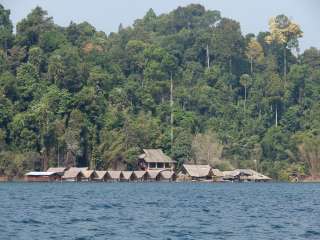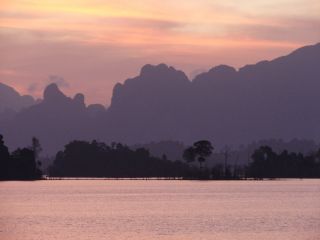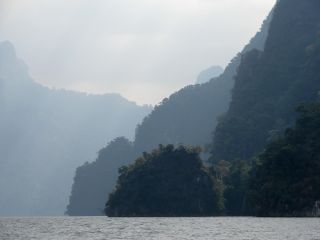 Accommodation - sunset - on the Chieo Lan reservoir.
28/11/2006
After yesterday's heavy owling we gave ourselves half an hour more to get up with breakfast as late as '6am'. Birded trail B once more until 9am with the Red-bearded Bee-eater again on post and a Black-bellied Malkoha seen high up in the trees. A male Gurney's Pitta called 3 times from the area 100m beyond B-C intersection on B-trail and from the nearby gully that can be viewed by turning left on a small trail also 100m past B-C intersection on B. This apparently is a good spot to see Gurney's as Stijn has seen them here in the past, not today however.
Time for us to leave the area, but not before discovering that the Morakot resort ran out of bananas (that they make those delicious shakes with). Hit the road after having a coke instead.
Our next stop was Wat Tham Seua close to Krabi town. The valley surrounded by limestone cliffs reached by climbing the second stairs is a good Streaked Wren Babbler site. They are usually easy to see but today we didn't come closer than hearing a bird nearby in the 1 hour we had at the site. Thick-billed Pigeons and Black-naped Monarch were seen.
Time to head for Khao Sok NP and Khlong Saeng WS to go paddling on the Chieo Lan reservoir. This is a totally different approach to birding and a great way to see Hornbills. Pick up by (noisy engine!) long-tail boat was at 2.30 pm and we got to our accommodation an hour and Grey-headed Fish Eagle and Osprey later. Set off at 4pm for an easy evening paddle. First we explored the area close to the accommodation. Birding was slow but we did enjoy good views of Dusky Langur. Next we crossed the reservoir which is not wide at this point and got into birders heaven. With only a few 100 meters to paddle and into quick succession we saw ; 2 Black-thighed Falconets, Greater Flameback, Great Hornbills, 2 Wallace's Hawk Eagle, Ashy Drongo (grey migrant race), Oriental Hobby (actually common in the reservoir area), Wreathed Hornbill, heard Rufous-collared Kingfisher and Bushy-crested Hornbills. The paddle at dusk back to the floating huts was tranquil and relaxing. Dinner was waiting and we did some 'fruit testing' as a desert.
29/11/2006
Sunrise from our accommodation looking out over the reservoir and mountains was one of the best I've ever seen.. A cup of coffee later saw us in the long-tail boat with toast and eggs for breakfast and the canoes in tow. Got a Stork-billed Kingfisher, Oriental Pied Hornbills and more Fish Eagles on the way. Destination was Khlong Mon inside Khlong Saeng Wildlife Sanctuary for the morning's paddle. The sun is blocked out here by the mountains until about 9am making for an enjoyable and cool paddle. We had incredible close-up views of a pair of Great Hornbills feeding on fruits in a lake-side tree. Wreathed Hornbills flew over high up. Another Oriental Hobby was perched on top of a dead tree. Many birds were heard this morning ; Banded, Black-and Yellow and Green Broadbills, Banded Kingfisher, Rufous-winged Babblers, Orange-breasted Trogon and Green Magpie.
After an early lunch back at the accommodation went out again for a walk up some stream to a tiny waterfall. Apart from Ochraceous Bulbul no birds were seen but got a nice Lantern Bug. (weird and beautiful!).
Early in the afternoon it was time for Stijn to leave this peaceful place, back to the hectic outside world. On the boat-ride out a 1 meter long snake was doing a 1 kilometer swim across the reservoir….Makes you wonder really how this place must have been before it was flooded by the dam. Storm's Stork, abundant wildlife and inaccessible…
Mark stayed another night with more paddling and birds. Additional sightings included ; Lesser Fish Eagle, Helmeted Hornbills, Pacific Swifts, Orange-breasted Trogon, Crimson Sunbird, Raffles' Malkoha and a Great Argus was heard.
*Jungle Myna stake-out 6,5 kms south of Krabi airport.
Birders who have visited the Indian Subcontinent would probably not be interested but Jungle Myna is actually very scarce in Thailand (and SE Asia), some would even say rare. Up to 2007, I always got about 10 to 15 birds here, easily. In recent years however the site has become less reliable and is now scheduled for development into a housing project. Once it's gone another place that could serve as a Jungle Myna twitch spot would be TakuaPa town and surroundings. (north of Khao Lak)
Anyway, directions to the Krabi site;
Exactly 6,5 km south of the Krabi airport entrance on HW 4 is an area with wet fields (high grass) and some marshy margins. The area is easily visible from the HW on your right hand side, just past km marker 93. For better access into the area turn right off the HW, 200m before km marker 93. This when coming from Krabi and thus 800m past km marker 92. Take then the first dirt track left which is less than a km along. You're in the middle of the fields now and hopefully watching Jungle Myna's soon.
Other birds that have been seen in the area are Watercock, Zitting Cisticola, Baya Weaver, Yellow Bittern, Siberian Stonechat, Pied & Eastern Marsh Harrier, Grey-headed Lapwings, Rusty-rumped Warbler and Red-collared Doves are resident. (scarce in the south).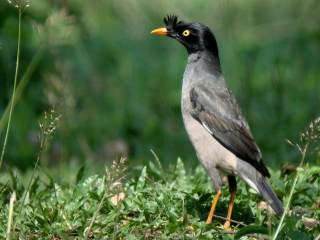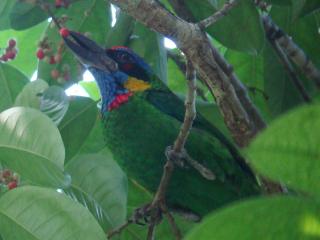 Jungle Myna Red-crowned Barbet
Species List
Little Cormorant

Great Frigatebird

Purple Heron

Great Egret

Intermediate Egret

Little Egret

Cattle Egret

Chinese Pond Heron

Striated Heron

Yellow Bittern

Cinnamon Bittern

Osprey

Black Baza

Oriental Honey Buzzard

Black-shouldered Kite

White-bellied Sea Eagle

Lesser Fish Eagle

Grey-headed Fish Eagle

Eastern Marsh Harrier

Pied Harrier

Crested Goshawk

Japanese Sparrowhawk

Black-thighed Falconet

Oriental Hobby

Great Argus Heard

Watercock

River Lapwing

Grey-headed Lapwing

Red-wattled Lapwing

Pacific Golden Plover

Kentish Plover

Lesser Sand Plover

Pin-tailed Snipe

Wood Sandpiper

Common Sandpiper

Sanderling

Long-toed Stint

Red Collared Dove

Spotted Dove

Orange-breasted Green Pigeon

Thick-billed Green Pigeon

Vernal Hanging Parrot

Asian Koel

Black-bellied Malkoha

Raffles' Malkoha

Chestnut-breasted Malkoha

Greater Coucal

Lesser Coucal

White-fronted Scops Owl

Sunda Scops Owl Heard

Great Eared Nightjar

Large-tailed Nightjar

Germain's Swiftlet

Silver-rumped Needletail

Brown-backed Needletail

Pacific Swift

Grey-rumped Treeswift

Orange-breasted Trogon

Stork-billed Kingfisher

White-throated Kingfisher

Black-capped Kingfisher

Common Kingfisher

Banded Kingfisher Heard

Rufous-collared Kingfisher Heard

Indian Roller

Dollarbird

Oriental Pied Hornbill

Great Hornbill

Helmeted Hornbill

Wreathed Hornbill

White-crowned Hornbill Heard

Bush-crested Hornbill Heard Lineated Barbet

Gold-whiskered Barbet Heard

Red-throated Barbet

Blue-eared Barbet

Coppersmith Barbet

Greater Flameback

Common Flameback Heard

Green Broadbill

Banded Broadbill Heard

Black-and Yellow Broadbill Heard

Banded Pitta Heard

Gurney's Pitta Heard

Sand Martin

Barn Swallow

Pacific Swallow

Dusky Crag Martin

Rufous-bellied Swallow

Paddyfield Pipit

Red-throated Pipit Heard

Ashy Minivet

Bar-winged Flycatcher-shrike

Black-headed Bulbul

Black-crested Bulbul

Stripe-throated Bulbul

Yellow-vented Bulbul

Streak-eared Bulbul

Ochraceous Bulbul

Streaked Bulbul

Greater Green Leafbird

Blue-winged Leafbird

Asian Fairy-bluebird

Common Iora

Green Iora

Blue Whistling-thrush

Blue-throated Flycatcher

White-rumped Shama Heard

Zitting Cisticola

Common Tailorbird

Dark-necked Tailorbird Heard

Rufous-tailed Tailorbird Heard

Black-browed Reed-warbler

Thick-billed Warbler

Arctic Warbler

Pale-legged Leaf-warbler Heard

Dark-sided Flycatcher

Asian Brown Flycatcher

Black-naped Monarch

Abbott's Babbler

Chestnut-winged Babbler Heard

Streaked Wren-babbler Heard

Large-wren Babbler Heard briefly

Striped Tit-babbler

Brown-throated Sunbird

Olive-backed Sunbird

Crimson Sunbird

Spectacled Spiderhunter

Little Spiderhunter

Yellow-breasted Flowerpecker

Crimson-breasted Flowerpecker

Scarlet-backed Flowerpecker

Brown Shrike

Black Drongo

Ashy Drongo

Crow-billed Drongo

Large-billed Crow

Common Green Magpie

White-vented Myna

Jungle Myna

Common Myna

Daurian (Purple-backed) Starling

Chestnut-tailed Starling

Eurasian Tree Sparrow

Scaly-breasted Munia
Stijn De Win / Birding2asia.com has published this information page on 2 September 2009.
Copyright

Birding2asia.com

All rights reserved.