Stijn De Win

INDIA 19 Jan – 14 Feb 2007
Report by Stijn De Win
GUJARAT – JAIPUR – AGRA – OKHLA – CHAMBALRIVER – BANDHAVGARH AND KANHA

ITINERARY
19 January
Morning flight Bangkok – Delhi with Air India (1,5 hours delay), Delhi Hotel Blue.
20 January
Pick up Sara at domestic airport, taxi to Nizzamudin train station for night train to Ahmedabad
21 January
Arrival Ahmedabad in morning and bus to Bhuj, pick up in evening and drive to Cedo centre.
22 January
Morning birding Banni grassland + lagoon. Afternoon at Fulay for Hypocolius and evening again Banni.
23 January
Naliya grassland areas, Indian Bustard etc. Small area of thorn-scrub in evening on way back.
24 January
Morning in thorn-forest for White-naped Tit. Afternoon taxi to Dhrangadra. Evening drive to lodge near Little Rann of Kutch.
25 January
All day jeep drive in Little Rann of Kutch. Asiatic Ass etc.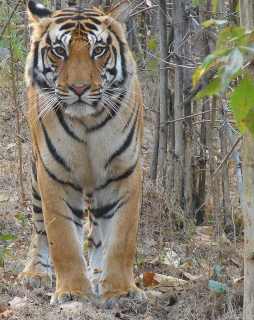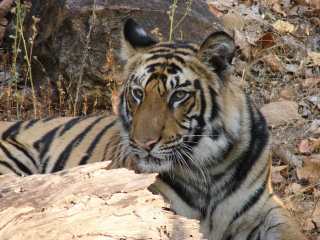 Male Tiger at Kanha NP Nine months old cup at Bandhavgarh NP.
26 January
Early morning bus Dhrangadra – Junagath (5h30-11h30). Internet, ATM and lunch in Junagath. Taxi to Sasan Gir. Rajestri Guest House.
Walk along river next to village.
27 January
Morning safari Gir NP, 7h-9h20, route 3. (3015Rs for 4 persons, no Lion)
Walk along river near village. 11h30-13h40 (hot!)
Evening safari, 15h30-18h30, route 2. (3015Rs, no Lion)
Motorbike night drive.
28 January
Morning safari Gir NP, 7h-10h30, agriculture/village! Route + route 3. (3015Rs, no Lion)
7 km Lion walk in Gir NP, 12h10-13h50 (1000Rs only if seen, we paid!)
Walk along river. (16h30-18h30)
Taxi to Junagath, Relief Hotel.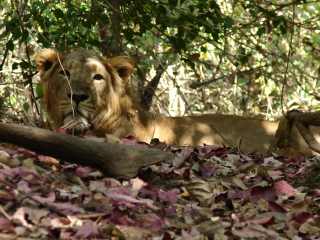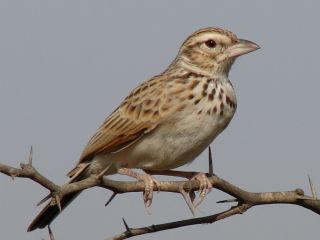 Asiatic Lion at Gir NP, 12m away while we were on foot, no armed guard with us! Indian Bushlark.
29 January
Climb 4000 steps (+ 750m altitude) to main temple complex on Girnar Hill. Sara climbed the 5000 steps to the top. This got us stiff for the next 6 days!
Taxi to Diu. Alishan Hotel.
30 January
Morning walk to Diu fort.
14h00 ricksha to Una, 15h25 taxi to Bavnagar
31 January
Taxi to Velavadar NP and on to Ahmedabad (12h00)
In evening, start on night train to Jaipur.
1 February
Arrival 8h00 Jaipur train station. Visit Amber fort/palace, coffee day and subway.
Train to Agra 16h00, late arrival at Agra. Hotel the Oasis.
2 February
Morning Agra town.
12h20 start to Chambal Safari lodge with taxi, arrival 13h45. Start drive to Chambal river 14h20. River boat trip 15h00-18h00. (2500Rs/person) Dolphins, Skimmers, Black-bellied Tern…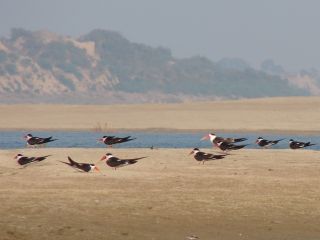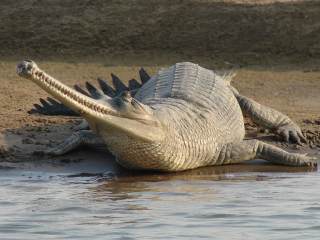 Indian Skimmers and Gharial at the Chambal River Sanctuary.
3 February
Morning birding on Chambal lodge grounds + surrounding fields and village pond.
Drive back to Agra at noon.
Evening visit to viewpoint for Taj Mahal on opposite site of the Yamuna river.
4 February
Visit Red fort , Agra. Evening train to Delhi. (second sitting class!)
5 February
Delhi. Sara to airport 23h00 and back to Belgium.
Hotel Blue
6 February
Visit Okhla Island with taxi 7h00-12h00.
In evening night train to Katni. (for Bandhavgarh)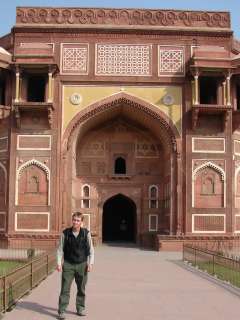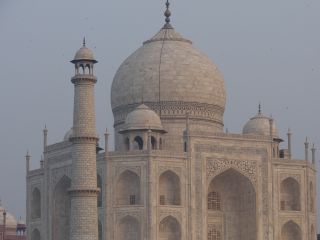 At the Red Fort in Agra. Taj Mahal
7 February
Arrival at Katni 10h30 (2h20 delay), taxi to Tala (1250Rs, 2h20 drive)
Evening safari Bandhavgarh NP, 15h00-18h00
Stay at Kum kum home.
8 February
Morning safari 6h30-10h30, Tigers!
At noon walk near hotel.
Evening safari.
9 February
Morning safari, mother Tiger with 2 cups on kill (Sambar)!
Rest of day birding on foot along road to Umaria and along stream from NP-gate.
10 February
Rain in morning and walk along road to Umaria.
Taxi Tala (Bandhavgarh) to Khatia (Kanha), 10h00-15h15
Evening walk on Kanha nature trail, 16h00-18h00
Barasingha resort.
11 February
Morning safari Kanha NP, to Soph grassland, 6h30-12h00. Gaur and Swamp Deer.
At noon walk along river near Wild Chalet.
Evening safari.
12 February
Morning safari, Mukki range and Kanha grasslands. Male Tiger.
Evening safari to Kanha grasslands, rain and cold. 8 Gaur seen.
13 February
Due to rain park was closed in morning. It cleared up later and they opened certain tracks at 8h45. Male Tiger from elephant.
Left Kanha NP 11h00 and start drive to Jabalpur at noon. Arrive Jabalpur 15h15, café coffee day and train to Delhi at 18h00.
14 February
Arrival with train Delhi Nizzamudin 16h00 (4,5 hours late!)
15 February
Morning flight Delhi to Frankfurt. High speed train to Dusseldorf. Car to Belgium.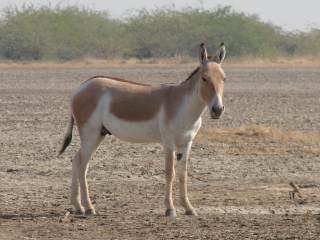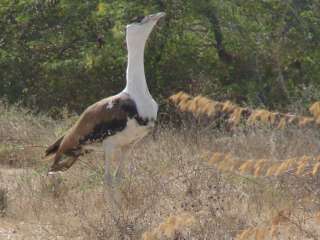 Asiatic Wild Ass, Little Rann of Kutch. Indian Bustard, Greater Rann of Kutch.
BIRD LIST
List follows Grimmett, Inskipp, Inskipp, Birds of the Indian Subcontinent.

xPainted Francolin ; pair Kanha NP
xGrey Francolin ; common Kutch (Kutch=Bhuj-Naliya area) , few Chambal Safari lodge
Common Quail ; pair Banni Kutch
Barred Buttonquail ; two Bandhavgarh NP
Red Junglefowl
Indian Peafowl
Greylag Goose ; Okhla
xBar-headed Goose ; 100+ Chambal river, few Okhla
Lesser Whistling Duck ; Kanha NP only
Ruddy Shelduck ; Chambal river
Common Shelduck ; Chambal river, Agra
Comb Duck ; pair Chambal safari lodge (village pond)
Cotton Pygmy-Goose ; Kanha NP
Gadwall ; Kanha NP only
Eurasian Wigeon ; Little Rann
Spot-billed Duck ; Chambal river
Common Teal
Northern Pintail
Northern Shoveler
Tufted Duck
Rufous Woodpecker ; one Kanha NP
Yellow-crowned Woodpecker ; pair Chambal safari lodge grounds
Black-rumped Flameback ; Chambal safari lodge, Kanha NP
White-naped Woodpecker ; Bandhavgarh and Kanha NP
Brown-headed Barbet
Coppersmith Barbet
xIndian Grey Hornbill ; Chambal, Bandhavgarh and Kanha
Malabar Pied Hornbill ; two Bandhavgarh
Common Hoopoe
Indian Roller
Common Kingfisher
White-throated Kingfisher
Green Bee-eater
xCommon Hawk Cuckoo ; Bandhavgarh and Kanha
Asian Koel
Greater Coucal
Rose-ringed Parakeet
Plum-headed Parakeet
xWhite-rumped Needletail ; group Kanha NP
Pallid Swift ; A large pale brown swift seen in Kutch was believed to be this species.
Asian Palm Swift
House Swift
Crested Treeswift
Brown Fish Owl ; one Bandhavgarh daytime
xMottled Wood Owl ; pair at roost Bandhavgarh gate, 1 mobbed by Jungle Babblers Kum kum house garden (Tala-Bandhavgarh)
Jungle Owlet ; 3-4 Kanha NP
Spotted Owlet
Brown Hawk Owl ; pair at roost Chambal safari lodge grounds
Indian Nightjar ; heard Gir
Nightjar spec. ; Banni, Gir
Rock Pigeon
Oriental Turtle Dove
Laughing Dove
Spotted Dove
Red Collared Dove
Eurasian Collared Dove
xYellow-footed Green Pigeon ; common
xIndian Bustard ; 1 male grasslands near Naliya
Sarus Crane ; one from train south of Delhi, few from car near Ahmedabad
Common Crane ; large numbers Kutch, Little Rann
White-breasted Waterhen
Purple Swamphen
Common Moorhen
Common Coot
xChestnut-bellied Sandgrouse ; Kutch
Common Snipe
Common Redshank
Marsh Sandpiper
Common Greenshank
Green Sandpiper
Wood Sandpiper
Common Sandpiper
Temmincks Stint
Little Stint
Ruff
Greater Painted-Snipe ; one female seen well Bandhavgarh
xIndian Courser ; 6-7 Kutch
Eurasian Thick-knee ; 2 pairs Kanha NP
Black-winged Stilt
Great Thick-knee ; 6 Chambal river
Little Ringed Plover
Yellow-wattled Lapwing ; few Kutch and Kanha NP
River Lapwing ; Chambal river
Red-wattled Lapwing
White-tailed Lapwing ; 3 Okhla
xCaspian Gull (formerly with Yellow-legged, Larus cachinnans) ; few Chambal river
Pallas's Gull ; hundreds Chambal river
Black-headed Gull ; Okhla
Gull-billed Tern
xRiver Tern ; Banni Kutch, Gir, Chambal river and lodge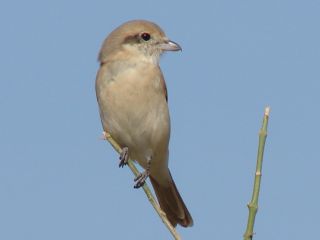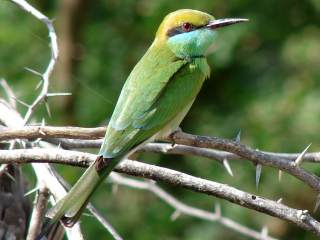 Rufous-tailed Shrike, Gujarat. Green Bee-eater

xBlack-bellied Tern ; 5 Chambal river
xIndian Skimmer ; approx. 45 Chambal river
Osprey ; Gir
Black-shouldered Kite
Black Kite
Egyptian Vulture ; Gir, Chambal and Bandhavgarh
White-rumped Vulture ; few Kutch and 2 ad, 2 juv. Kanha NP, approx. 10 Dhrangadra town
Long-billed Vulture ; approx. 20 both at Girnar hill (Junagath) and Bandhavgarh
Eurasian Griffon ; few Kutch
Red-headed Vulture ; only one Kanha NP
Short-toed Snake Eagle
Crested Serpent Eagle
Eurasian Marsh Harrier ; Little Rann, Okhla
Pallid Harrier ; 10s Kutch incl. males
Montagu's Harrier ; 10s Kutch incl. males
Shikra
Oriental Honey Buzzard
xWhite-eyed Buzzard ; few Gir, one Kanha NP
Common Buzzard ; one Kutch
Long-legged Buzzard ; several Kutch
Greater Spotted Eagle ; two Kutch Banni
Tawny Eagle ; one Kutch Banni
Steppe Eagle ; common Kutch Banni
Changeable Hawk Eagle ; Gir, Bandhavgarh, Kanha NP
Common Kestrel
Red-necked Falcon ; one Chambal river
Laggar Falcon ; one Little Rann
Peregrine Falcon
Little Cormorant
Great Cormorant
Little Egret
Western Reef Egret ; Kutch
Intermediate Egret
Cattle Egret
Indian Pond Heron
Grey Heron
Purple Heron
Little Heron
Yellow Bittern
Cinnamon Bittern
Greater Flamingo ; few Little Rann
Lesser Flamingo ; 100s Little Rann
Glossy Ibis ; Kutch
Black-headed Ibis ; Kutch, Chambal
Black Ibis ; Kutch, Gir, Bandhavgarh, Kanha
Eurasian Spoonbill ; Chambal, Little Rann
Great White Pelican ; 10s Little Rann
Dalmatian Pelican ; approx 10 Little Rann incl. 1 ad breeding plumage (red! pouch)
Painted Stork ; few Chambal
Woolly-necked Stork ; 3 birds each at Gir, Bandhavgarh and Kanha, one from train south of Delhi
White Stork ; single at Banni Kutch
Black Stork ; single at Kanha NP
Black-necked Stork ; 2 soaring near Lala bustard sanctuary, Kutch
Lesser Adjutant ; 3 Bandhavgarh
xRufous-tailed Shrike, isabellinus ; common Kutch, 1 Okhla, few Kanha
xBay-backed Shrike ; few throughout
Long-tailed Shrike
Southern Grey Shrike ; 2 Kutch, 1 Chambal
Rufous Treepie ; common
House Crow
Large-billed Crow
Black-hooded Oriole
Large Cuckooshrike
Small Minivet ; Kutch and Gir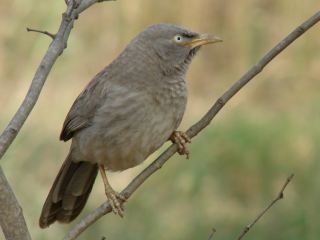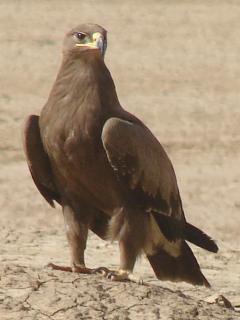 Jungle Babbler near Chambal. Steppe Eagle, Greater Rann of Kutch.

Scarlet Minivet
White-browed Fantail ; Gir, Bandhavgarh, Kanha
Black Drongo
Ashy Drongo
White-bellied Drongo
Spangled Drongo ; Kanha only
Greater Racket-tailed Drongo
Black-naped Monarch
xMarshall's Iora ; Kutch
Common Woodshrike
Blue Rock Thrush
Orange-headed Thrush, x cyanotus spp of the peninsula, 2 at Kanha NP
xTickell's Thrush ; 4-5 Bandhavgarh (White Tiger lodge grounds and surroundings) and 1 Kanha (Wild Chalet resort grounds)
xDark-throated Thrush, atrogularis ; 4 Bandhavgarh and 3 Kanha (same spots as Tickell's)
Asian Brown Flycatcher
Red breasted Flycatcher ; common
xUltramarine Flycatcher, superciliaris ; 1 male Bandhavgarh, 3 males Kanha nature trail
Tickell's Blue Flycatcher
Grey-headed Canary Flycatcher
Bluethroat
Oriental Magpie Robin
Indian Robin
Black Redstart
Siberian Stonechat
xWhite-tailed Stonechat ; several pairs Okhla
Pied Bushchat
xBrown Rock-Chat ; 3 Amber fort Jaipur, 1 Red fort Agra, few en route Agra area
xVariable Wheatear ; several Kutch
Desert Wheatear ; common Kutch
Isabelline Wheatear ; few Kutch
Brahminy Starling
Rosy Starling ; common Gujarat and 1000s coming to roost in the evening at Ahmedabad
train station was an impressive sight
Asian Pied Starling
Common Myna
xBank Myna ; small numbers throughout trip, not Kanha
Chestnut-bellied Nuthatch ; 2 Bandhavgarh
xWhite-crowned Penduline Tit ; 1+2 Okhla, surprise bird of the trip!
Great Tit
Sand Martin ; common Kutch
Plain Martin ; Chambal
Dusky Crag Martin ; Kutch, Girnar hill, Gir NP
Barn Swallow
Wire-tailed Swallow ; Kutch, Gir, Chambal, Bandhavgarh
Red-rumped Swallow
xWhite-eared Bulbul ; fairly common Kutch
Red-vented Bulbul
xGrey Hypocolius ; 3 males Fulay Kutch
xRufous-fronted Prinia ; few Kutch
Grey-breasted Prinia
Jungle Prinia
Graceful Prinia ; few near Velavadar
Plain Prinia
Ashy Prinia
Zitting Cisticola
Oriental White-eye
Rusty-rumped Warbler ; 1 Okhla
Paddyfield Warbler ; Kutch Banni, Okhla
Clamorous Reed Warbler ; Kutch Banni
Striated Grassbird ; 1 Okhla
Booted Warbler ; 2 Kutch
Lesser Whitethroat ; several Kutch
Orphean Warbler ; few Kutch
Common Tailorbird
Common Chiffchaff
xSulphur-bellied Warbler ; 1 Bandhavgarh
Tickell's Leaf Warbler ; 1 Kanha NP
Hume's Warbler ; Chambal safari lodge, Bandhavgarh
Greenish Warbler
Tawny-bellied Babbler ; Bandhavgarh
Yellow-eyed Babbler ; 1 Kanha NP
Common Babbler ; Kutch Banni
xStriated Babbler ; common Okhla
xLarge Grey Babbler ; common in agriculture around Chambal safari lodge
Jungle Babbler
Brown-cheeked Fulvetta ; few Kanha NP
xIndian Bushlark ; fairly common Kutch, few Chambal lodge area
Ashy-crowned Sparrow Lark
xRufous-tailed Lark ; 2 en route Bhuj-Dhangadhra, 1 Little Rann
Bimaculated Lark ; few Kutch
Greater Short-toed Lark ; very common Kutch
Sand Lark ; few Chambal river
Crested Lark
xSykes's Lark ; 10+ Kutch area
Oriental Skylark ; several Okhla
Thick-billed Flowerpecker
Purple Sunbird
House Sparrow
Chestnut-shouldered Petronia
White-wagtail
White-browed Wagtail
Citrine Wagtail
Yellow Wagtail
Grey Wagtail
Paddyfield Pipit
Tawny Pipit
Tree Pipit
Olive-backed Pipit
xBlack-breasted Weaver ; 1 Okhla
Baya Weaver
Indian Silverbill
White-rumped Munia
Crested Bunting ; 1 Kanha NP
Grey-necked Bunting ; common Kutch area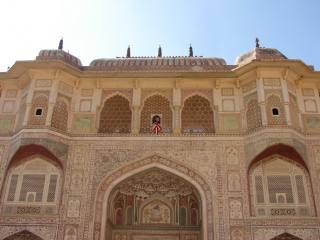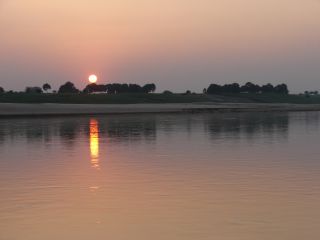 Amber Fort at Jaipur. Sunset on the Chambal River.
MAMMAL LIST
Chital (Axis axis) ; common Gir, Bandhavgarh, Kanha
Swamp Deer (Cervus duvaucelli) or Barasingha ; only site for this species in Central India is Kanha
NP ; approx. 40 Soph Grassland, few at both Kanha Grassland and Mukki range.
Sambar (Cervus unicolor) ; Gir, Bandhavgarh and Kanha, and 1 'kill' by Tiger
Nilgai (Boselaphus tragocamelus) ; Kutch, Gir, Little Rann, Velavadar
Indian Muntjac (or Barking Deer) (Muntiacus muntjak) ; few Gir and Kanha
Chinkara (or Indian Gazelle) (Gazella bennetti) ; few Kutch grasslands
Blackbuck (Antilope cervicapra) ; 100s Velavadar
Gaur (Bos frontalis) ; Kanha NP, up to 8 incl. male and young, most in the Kisli gate area, seen on
all 3 days of visit.
Red Fox (Vulpes vulpes) ; 2 Little Rann (white tail tip)
Indian Grey Mongoose (Herpestes edwardsii) ; one Gir
Indian Hare (or Black-naped Hare) (Lepus nigricollis) ; one Kutch
Jungle Cat (Felis chaus) ; one Kutch from car in morning, one near Chambal safari lodge in
daytime
Asiatic Lion (Panthera leo persica) ; 2 males Gir, seen on foot only about 10-12m away.
Bengal Tiger (Panthera tigris tigris) ; mother with 2 cups, 9 months old that were almost as big as
the mother, seen from elephant at Bandhavgarh ; 2 males at Kanha NP, one from elephant
and another one from jeep.
Asiatic Ass (or Khur) (Equus Hemionus) ; approx. 50 Little Rann
Hanuman Langur (Semnopithecus entellus) ; Gir, Bandhavgarh and Kanha
Rhesus Macaque (Macaca mulatta) ; Bandhavgarh
Wild Boar (Sus scrofa) ; Gir, Bandhavgarh and Kanha
Ganges Dolphin (Platanista gangetica) ; 2 on Chambal river boat trip
Flying Fox spp ; colony at Chambal safari lodge
Large Bandicoot-Rat (Bandicota indica) ; Kutch
Tree-striped Palm Squirrel (Funambulus palmarum) ; Gir, Dhrangadra etc.
REPTILES
Mugger Crocodile (Crocodylus palustris) ; one 3m long Gir, one big Chambal river boat trip
Gharial (Gavialis gangeticus) ; loads on Chambal river sand banks
Stijn De Win / Birding2asia.com has published this information page on 3 September 2009.
Copyright

Birding2asia.com

All rights reserved.