Stijn De Win

We power your vacation
Sulawesi, 6-13 October 2009
Beyond expectations!
Peter Ericsson and Stijn De Win
(Text and photos Stijn)
I assume it will be easy for anyone to figure from my photos on this page that the birds were great! Let me start about the island first, -no not its shape-, who ever notices that when you're on the ground enjoying the place? After arrival, what becomes quickly evident is it's relaxed atmosphere and easy going nature. The ever friendly and smiling people and tropical climate. The excellent food, from the first dinner up to the last lunch, tasty all through! We went for birding right? What do you need then? Some nice forests and other habitat, good company, a pair of binoculars and not to be missed the excellent help of the local guides on Sulawesi. They did a great job and I want to thank Max, Teo, Ramoy, Ijong and Samuel for their impeccable service and this most rewarding experience we were treated to. I had actually hoped to glimpse a few Owl species, single sightings at best, but you know what? –We got double observations of 4 out of 5 Owl species on this short trip. Many good for photo opportunities and there we have it –beyond expectations- !

Eh you -Roy- safe journey it was! Good driving man.

Lilac-cheeked Kingfisher

If I may compare the Sulawesi experience with some other places in Asia, I believe few places would match. I can think of Bohol in Philippines having the same relaxed atmosphere and equally great birds. Also Palawan and perhaps Laos but with a definite more Oriental feel then.

While they certainly have other qualities, very little of this is to be found in Malaysia, Thailand or Vietnam, and for example Java if you want to stay in Indonesia. Expect a more modern, pressured or rushed era in these nations –nothing bad of course- but not so much the real tropical escape…

Ashy Woodpecker male - Tangkoko NP - Sulawesi Dwarf Kingfisher
October 6th 2009
Travel day. Bangkok to Kuala Lumpur and on to Manado on AirAsia. Meet with driver Roy on arrival for the transfer to Hotel Minahasa.
October 7th
Travel to Gunung Ambang with a couple stops en-route. These produced Black-faced Munia and Barred [Sulawesi] Honey Buzzard not seen on the trip otherwise. Lunch and a little rest at our local homestay before the short drive to the nearby birding site on Gunung Ambang. Impressed immediately by such delightful species as White-bellied Imperial Pigeon, Ornate Lorikeet and the only Golden-mantled Raquet-tails of the trip before we got Spot-tailed Goshawk in the forest interior with some decent owling to follow. It didn't take that long at all to track down an excellent and only recently described Cinnabar Boobook, a write in for the Wallacea field guide indeed. A Speckled Boobook soon followed for great looks and we did the Cinnabar over again a little later as Peter had missed the first one.
Sulawesi Masked Owl, Ochre-bellied Boobook and Sulawesi Scops Owl were all heard but had to wait for sightings later on the trip as it started raining indeed shortly after we got to the car again.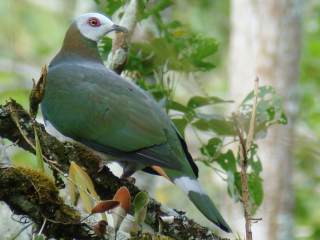 Gunung Ambang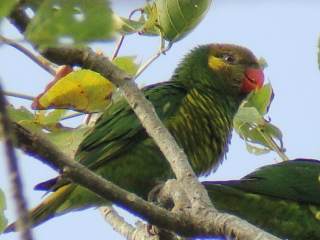 White-bellied Imperial Pigeon Yellow-and-green Lorikeet
October 8th
Equally great birding on Gunung Ambang this morning again.
Purple-bearded Bee-eater, Superb Fruit Dove and Yellow-and-green Lorikeet were certainly enjoyed as well as plenty other new species.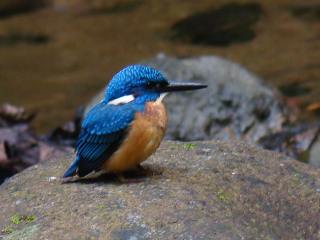 Gunung Ambang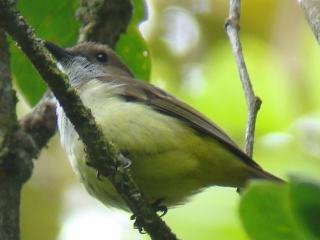 Common Kingfisher, which, on Sulawesi very much looks like Blue-eared KF, to be split soon? Sulphur-bellied Whistler
Lunch and transfer to Tambun were we met with our guide "sharp eyes" Max and the warden of the reserve, Ramoy. Maleo of course was the sole most important target species and with Max' help we very soon spotted a bird perched up high in a tree. When this one took off leaving us unsatisfied, even if the bird had been there for a couple minutes, we soon got showed a second bird a little further on. Some species just need some more time to enjoy more thoroughly, especially if they're a mega Megapode!
October 9th
Another morning at Tambun and with the Maleo scored yesterday more time indeed to concentrate on the other birds of the area. Plenty highlights here but I assume for most birders the important ones would be a scarce Maroon-chinned Fruit Dove as well as White-necked Myna, Green-backed Kingfisher, Bay Coucal, Ivory-backed Woodswallow, Ashy Woodpecker and brief views of another Maleo and a Red-bellied Pitta.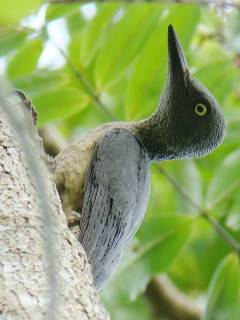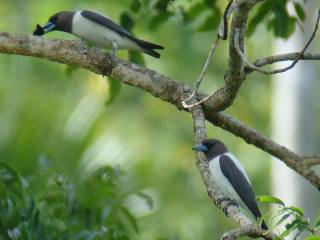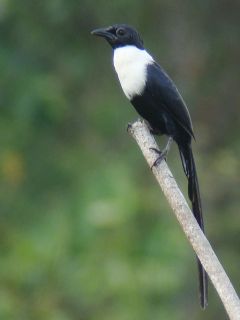 Ashy Woodpecker female -Tambun- Ivory-backed Woodswallow -Tambun- White-necked Myna
A nice lunch at 'Max' homestay followed by our drive to Torout. Here we spent a bit long marvelling at the Speckled Boobook on its day-roost, so our time in the superb forest remnant seemed a bit short in the end.
Anyway, -short-, that is Sulawesi Dwarf Hornbill, Yellow-breasted Raquet-tail, Blue-backed Parrot, Silver-tipped Imperial Pigeon, perched Sulawesi Hawk Eagle, Spotted Kestrel and Purple Needletail all before another successful owling session. Sulawesi Masked Owl and Sulawesi Scops Owl twitched with ease while the Ochre-bellied Boobook only called sporadically and we didn't pushed on for it to become another daytime roost scored on this trip later on in Tangkoko.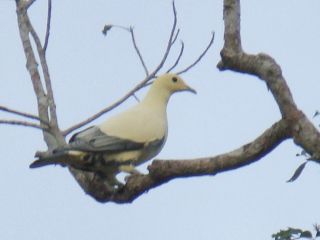 Torout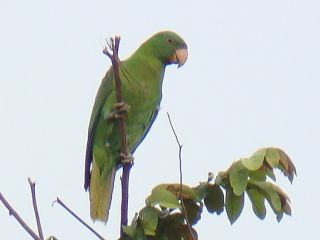 Silver-tipped Imperial Pigeon Blue-backed Parrot
October 10th
Birding the forest in the hills at Tapak Kolintang certainly gives another feel as it looks much damper here. Or perhaps it was just the easier roadside birding that rewarded us with quite a few superb Knobbed Hornbill sightings. They really are very common still in these unspoiled forests. Strikingly attractive are the words that come into mind when I remember our 2 sightings of Sulawesi Dwarf Kingfisher. No need to tell you that it was 'sharp eyes' Max who found both of these tiny fellows for us.
While regularly heard at Tangkoko later on, we did see our only Purple-winged Rollers along this stretch.
Another sumptuous lunch at the homestay later got us ready for the long drive to Tangkoko, arriving after dark.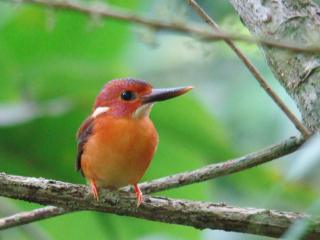 Tapak Kolintang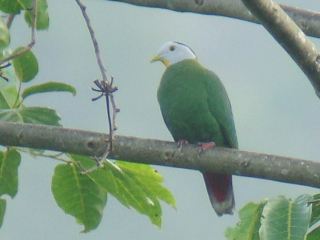 Sulawesi Dwarf Kingfisher Black-naped Fruit Dove
October 11th
It became clear soon. Our delightful time at Tangkoko with Samuel was going to be remembered as he's such a joyful fellow and highly skilled showing you just about one after the other target species you might be after.
It started for us right away with Sulawesi Black Pigeon (which becomes White-faced Cuckoo-Dove in Clements…), I can only assume some of those who visited Tangkoko already might have missed it as it's not at all easy to get and pretty scarce indeed.
Peter had set his hopes high on photographing Red-bellied Pitta…Samueeel…'Pitta time'…no kidding, straight on it next thing!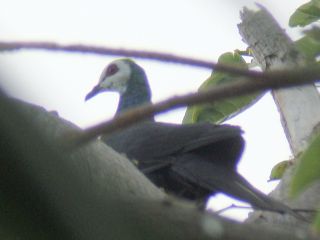 Tangkoko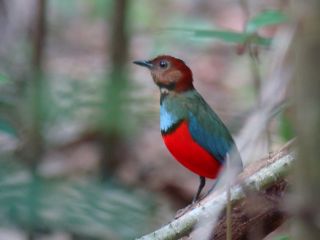 Sulawesi Black Pigeon Red-bellied Pitta
The rest of the day went on pretty much just like that; Red-backed Thrush, Isabelline Bush-Hen, White-rumped Cuckoo-shrike, Green-backed Kingfisher, Lilac-cheeked Kingfisher, Tabon Scubfowl, Sulawesi Babbler, Bay Coucal…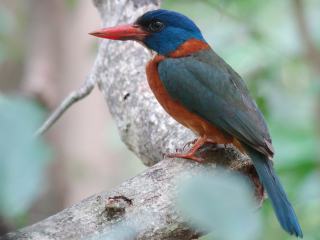 Tangkoko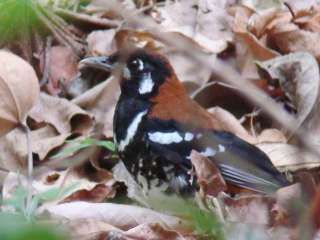 Green-backed Kingfisher Red-backed Thrush
Another absolute highlight of the trip came with our late afternoon walk. Not so birdy…but then again with my keen interest in mammals and the Bear Cuscus in the morning, this is a mammal watching day to rank high in the lists. First came a big male Sulawesi Crested Macaque, which was a bit shy at first but then allowed for some decent portraits to be taken. Exactly the way you want to see the first one of this critically endangered and impressive looking monkey. A group of up to 80 seen in the forest was an experience on our last day but they seemed a bit used to tourists and cameras…
Now, it's getting better still, Spectral Tarsier stake-out next! I've been treated seeing Philippine Tarsier on Bohol before and my second species was equally…what I'm going to make it…cute!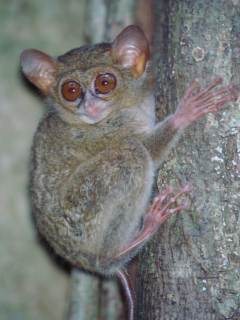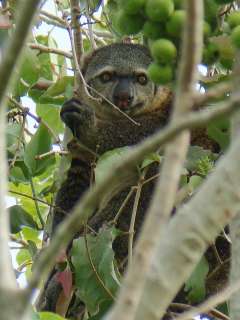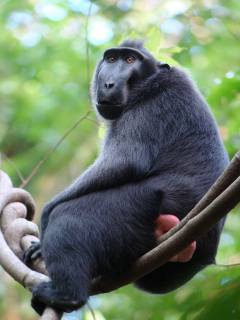 Spectral Tarsier Bear Cuscus Sulawesi Crested Macaque
October 12th
Samuel…Samuel, money back he said if you don't see Ochre-bellied Boobook…
Ochre-bellied Boobook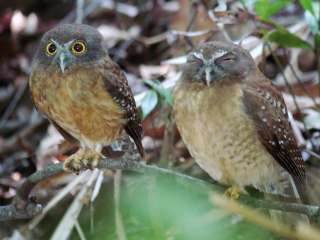 Tangkoko
Pied Cuckoo-shrike is another hard to get one pointed out to us and how difficult it was to tear away from that Sulawesi Dwarf Kingfisher.
The boat ride off Tangkoko beach is nothing less than absolutely enjoyable. Additionally it does add quite a few species to the list and the ultimate climax comes in the form of Great-billed Kingfisher of which we saw a couple.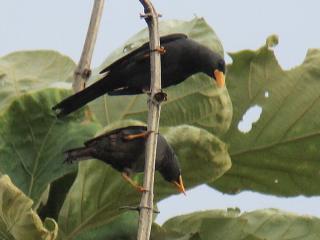 more endemics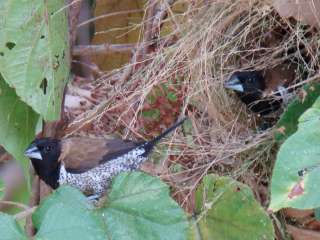 Grosbeak Starling Black-faced Munia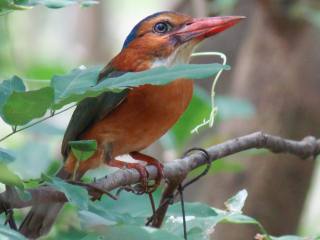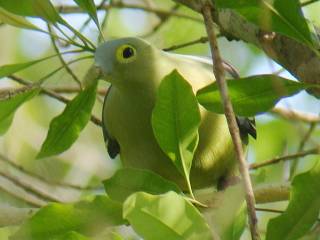 Green-backed Kingfisher female Grey-cheeked Green Pigeon...as they say...mmm
October 13th
Last morning of the trip and spent well. Small Sulawesi Hanging Parrot was a good endemic to add to the list being near-threatened and I managed to photograph Ashy Woodpecker 3 times, including 2 males.
Samuel then found us a new daytime roost of Sulawesi Masked Owl, not sure how high he jumps but certainly he was the happiest man on earth when he did and actually he did forget to start joking about charging extra.
Another Red-bellied Pitta, quite a few Yellow-billed Malkohas and on the walk back Red-backed Thrush twice with a superb Stephan's Dove along and a Ruddy Kingfisher photographed before we got back isn't just the ordinary end of a last morning's birding.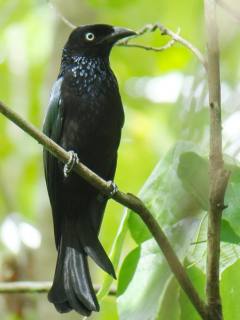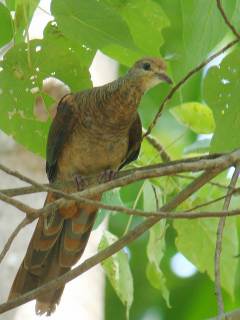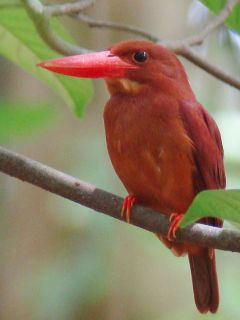 Hair-crested Drongo 'leucops' Slender-billed Cuckoo-Dove Ruddy Kingfisher
In the afternoon it was Roy again to work with a smooth drive in a brand new car back to Manado, but not without one last stop en-route. Not sure how we could have found the Crested Myna, perched so far away from our viewpoint over the forest but after a couple long minutes it became clear that there was indeed a bird out there! Scope up and scored our last endemic. Our second sighting of Sulawesi Dwarf Hornbill is certainly worth to mention, very smart looking birds indeed!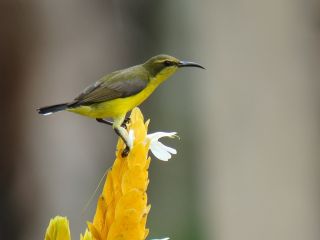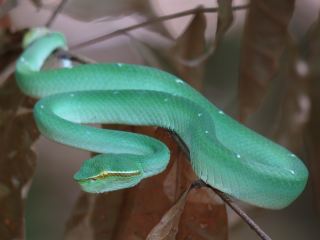 No need to crop -beauty like that- Olive-backed Sunbird -at the homestay- Wagler's Pit Viper -Tangkoko-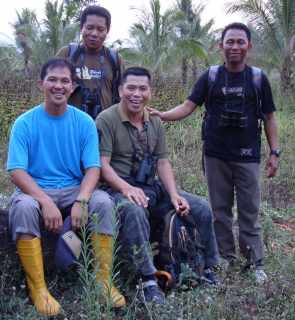 Full trip list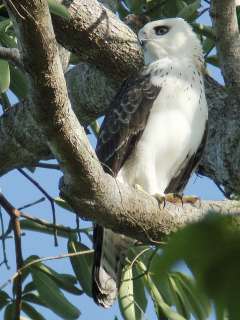 The crew at Torout. More photos on Birding2asia. Peter's website -photos-! Sulawesi Hawk Eagle immature
Stijn De Win / Birding2asia.com published this information page on 22 October 2009.
Copyright

Birding2asia.com

All rights reserved.