Stijn De Win
Bull-headed Shrike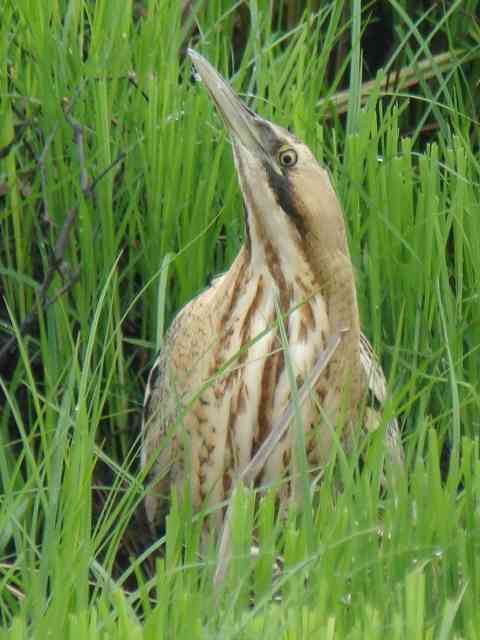 Great Bittern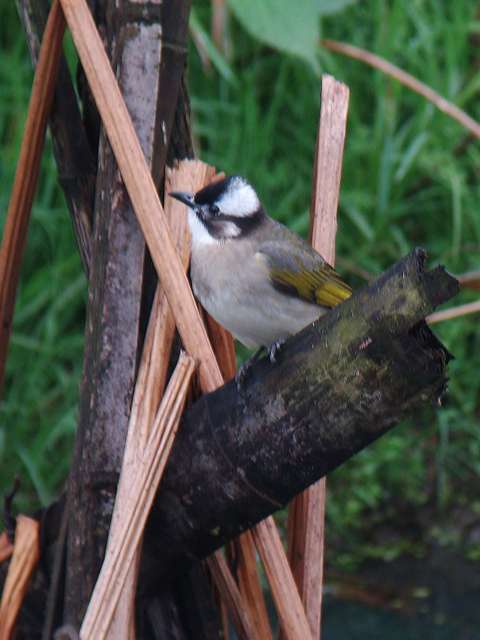 Chinese Bulbul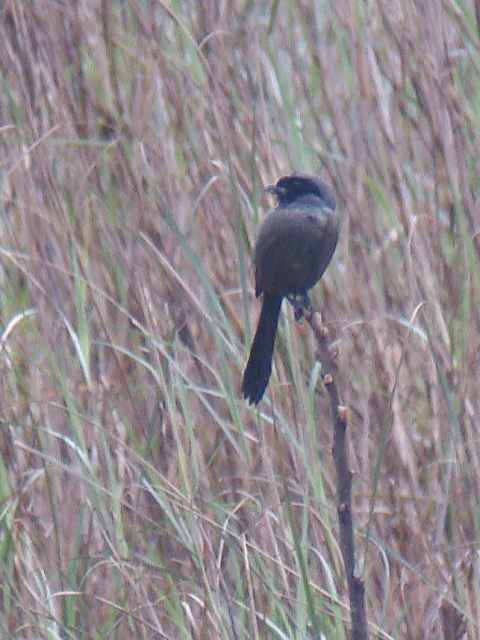 'Dusky' Shrike

We power your vacation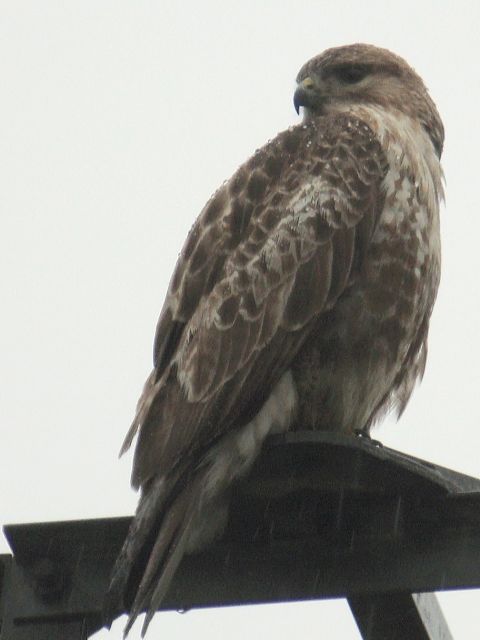 Eurasian Buzzard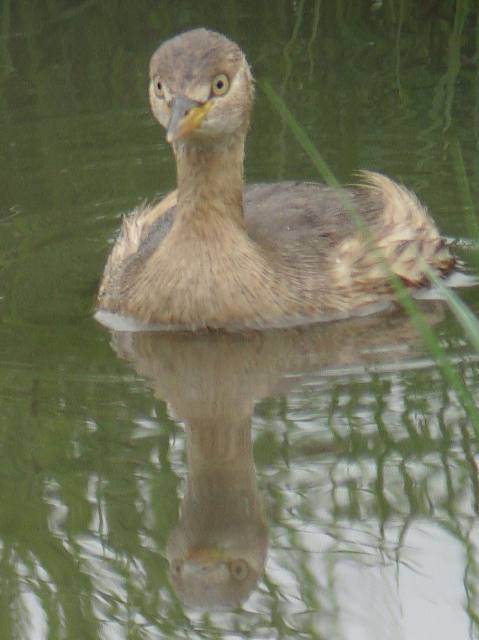 Little Grebe
All birds
photograped
'on this trip'
by
Stijn De Win
March 2010. Poyang Hu, Jiangxi Province, China.
Stijn De Win
Another excellent trip with Laolin of Nanchang (see Wuyishan 2009) focused on seeing Scaly-sided Merganser and the specialities of Poyang Hu lake –Cranes, Oriental Stork, Swan Goose- but actually scored on quite a few bonus species. Particularly nice were the endemic Yellow-bellied Tit, Bull-headed Shrike, Falcated Duck and Long-billed Plover.



White-naped Cranes and Scaly-sided Mergansers, and the odd 30 Oriental Storks captured in 1 picture,
good for just a few of the highlights of this trip.
Day 1;
Evening flight Manila - Guangzhou on Cebu Pacific Air. Overnight at Pullman airport hotel.
Day 2;
Morning flight on China Southern Air to Nanchang and met by Laolin at arrivals. An extra fleece, jacket and hot coffee got us on the road to visit the Nanjishan Nature Reserve section of Poyang Hu lake.
Birds seen en-route were a nice Brown Crake, flocks of Yellow-billed Grosbeaks, Ring-necked Pheasant, Red-billed and White-cheeked Starlings and 1 pond had its water level right to hold 500+ Dunlin, 100s Black-tailed Godwit, and a few Red-necked Stints, Marsh Sandpiper and Black-winged Stilt.
Once arrived in the reserve area proper, goodies quickly came in. The first Oriental Stork a trill, the Great Bittern good for a couple decent photos to be taken, plenty Swan Goose with a few Greylag and numerous Bean-Goose nearby. A Lesser White-fronted Goose an unexpected find. Tundra Swan and Eurasian Spoonbill in good numbers are always a delight, then soon came our first Crane species of the trip –Hooded Crane-, stunning!
A couple more hours birding after lunch produced Japanese Quail, Peregrine Falcon, Northern Harrier, Grey-headed and Northern Lapwings, Dusky Thrushes, Chestnut-eared and Pallas's Bunting. Laolin seemed pretty keen on taping out Marsh Grassbird and we got a couple weak responses indeed although the bird itself never showed.
Started the rather long drive to the Merganser sites mid-afternoon, dinner en-route and reached the hotel by 8pm something.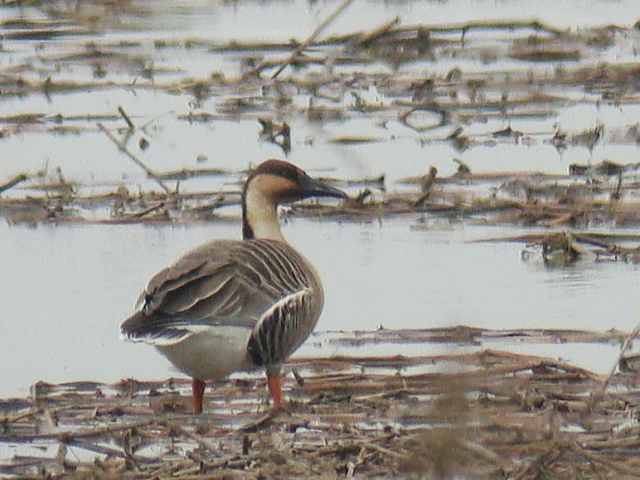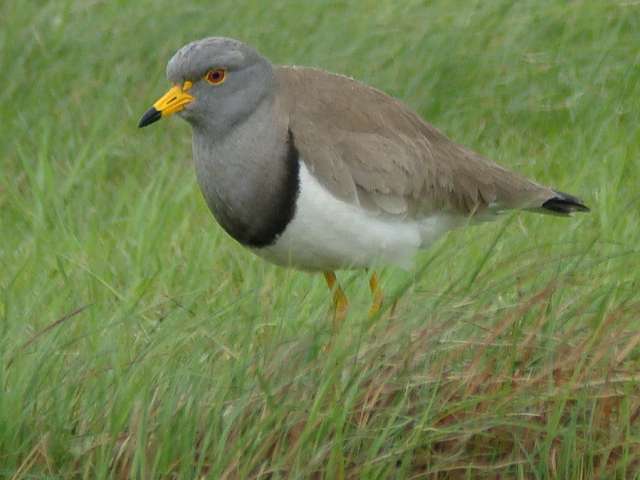 Swan Goose is another speciality of Poyang Hu. Grey-headed Lapwing is always nice to see.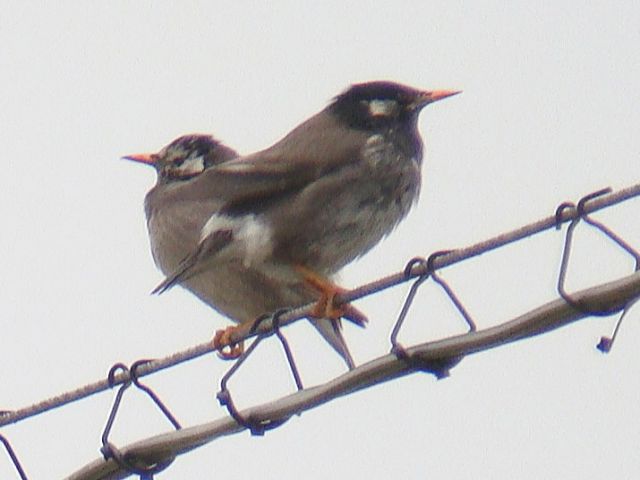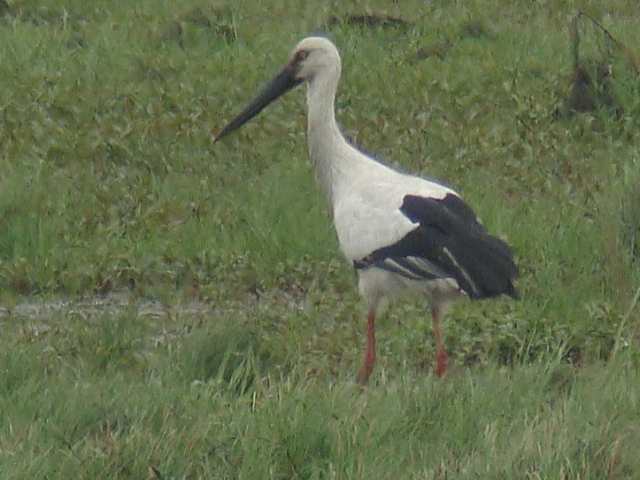 White-cheeked Starlings. Oriental Stork, endangered but easy to see at Poyang Hu.
Day 3;
I had noticed the river close to the hotel yesterday in the dark. Today, just 300m from the hotel, a first excellent pair Scaly-sided Merganser to start the day with…sit back, relax and anything more will come in as a nice bonus. They proved quite a few; another 14 Chinese Mergansers to start with! Bull-headed Shrike took some finding but was good enough for some nice photographs as was a Long-billed Plover, always a good wader to get. Not seen in Wuyishan last year and therefore a keen catch-up was the endemic Yellow-bellied Tit, a group of 5+ birds performed well for some while. Other birds recorded include Chinese Bamboo Partridge, 2 groups of Vinous-throated Parrotbill of which 1 counted over 50 birds, the weird dark morph Long-tailed Shrike - "Dusky Shrike" was good to see, Masked Laughingthrush showed well while Spot-breasted Scimitar Babbler was good for a sound recording. Always nice are Red-billed Blue Magpies and an Eurasian Magpie made me ignore the nearby calling White-browed Laughingthrushes. These things happen when one spend most of his time in SE-Asia…
Also nice to see Blackbird again but the Eurasian Jays don't look quite the same as in Western Europe, and just therefore, good to see as well!
Today's Brown Crake performed so well for photos that I must note it again and others definitely noteworthy include two males Daurian Redstart and Collared Finchbills.
Late afternoon drive back to Nanchang for dinner and lodging.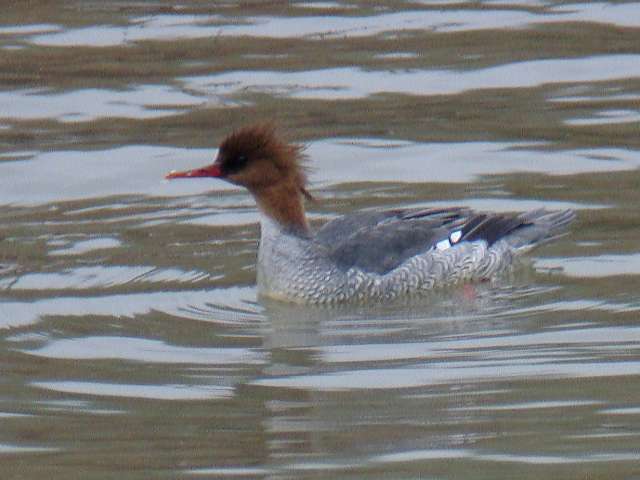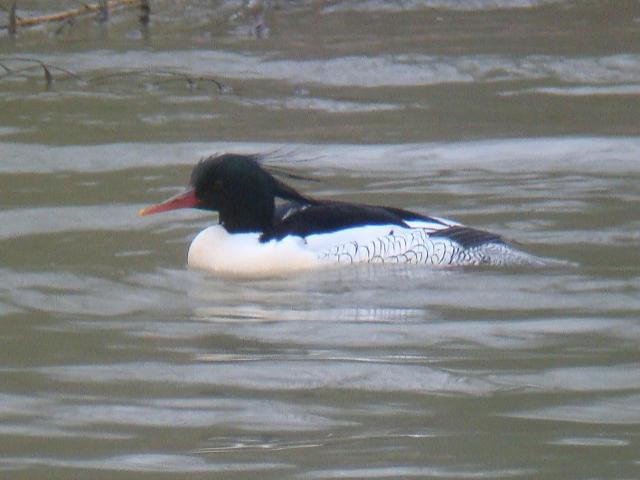 Distance and poor light prevented me from making brilliant pictures…but still…Scaly-sided Mergansers!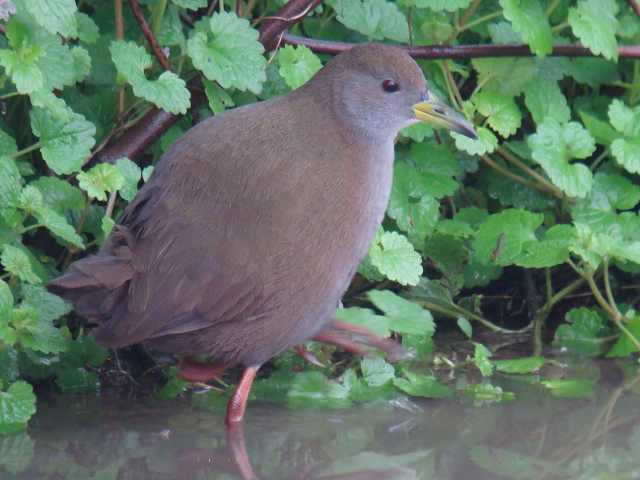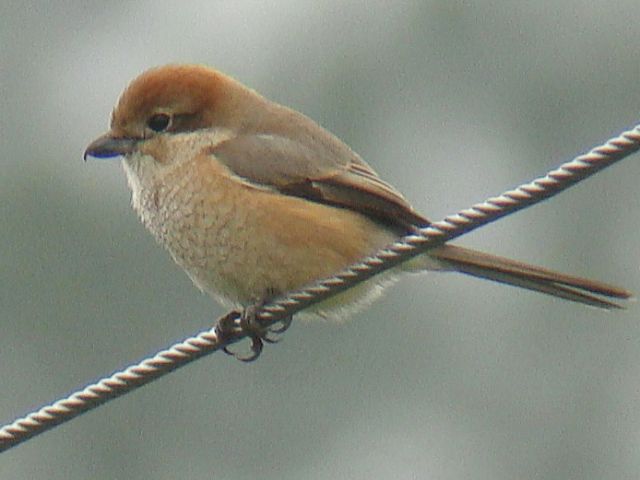 Brown Crake, seen daily but this one good for a portrait. Bull-headed Shrike, another real good bonus on this trip.
Day 4;
Met Zoe Zuo of www.wildgiantpanda.com in the lobby and had a hearty hot noodle soup breakfast together before Laolin took us to see "the Cranes" at some different part of Poyang Hu. The heavy rain that morning had certainly not made the track easier to drive and I'm sure we would not have made it through the mud without the sturdy 4WD + Laolin's "Paris-Dakar" skills!
All worth the effort though; 100s White-naped Cranes were a highlight, some dancing, and constantly calling, 6 Siberian Cranes were distant, then 2 more in flight before we got 1 bird close with White-naped Cranes for excellent views.
With 99 % of the world population of Siberian Cranes to winter at Poyang Hu…lets hope there's some more at other corners of the lake or that most birds had already started the northward migration! Anyway…Siberian Crane will be extinct soon. The central population already is (Bharatpur birds), same for the western birds… and the last birds of the critically endangered eastern population (Poyang Hu) could certainly deserve some more 'conservation' attention and efforts!!! If the Three Gorges project proves to have an impact on water levels in Poyang Hu lake, the species might simply loose its entire wintering ground. If the impacts of this development prove to be less damaging than is feared, downlisting would still be no option!
Only 2 birds were noted of the third species of Crane for the morning, Hooded Crane, good we had already got those on our first day too. Some nice males Falcated Duck, although distant, were good and other birds seen this morning included Common Merganser, plenty Oriental Skylarks, Pied Kingfisher, Oriental Greenfinch, Japanese Quail, Dusky Thrush and 2 Hoopoes.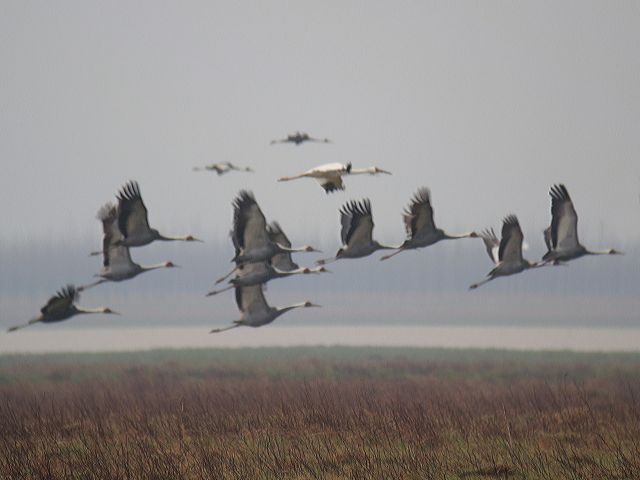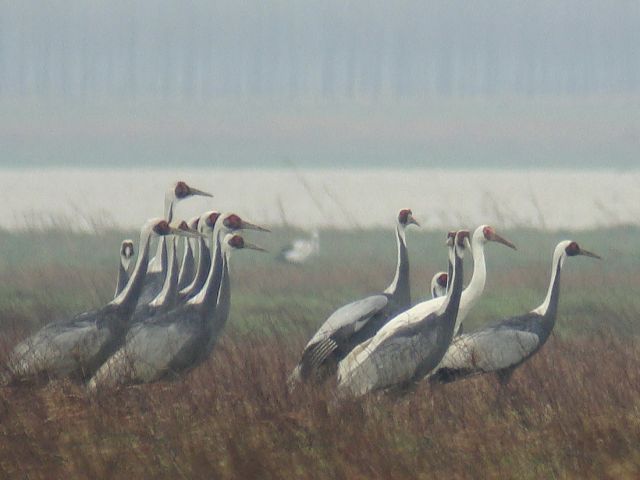 Siberian Crane with White-naped Cranes at Poyang Hu. Oriental Stork in the background!
After a last delicious lunch in the nearby town, time came to head for the airport. Also time to get warm again further south, as it had been very windy and damp this morning, which in a combination with just a few degrees above freezing, gave an extreme feel of cold I hadn't came across for a number of years now, years spent in SE-Asia.
Nevertheless, just a little cold…the Cranes, Oriental Stork, Mergansers and others were nothing less than a dream come through…thanks Laolin for an excellent trip!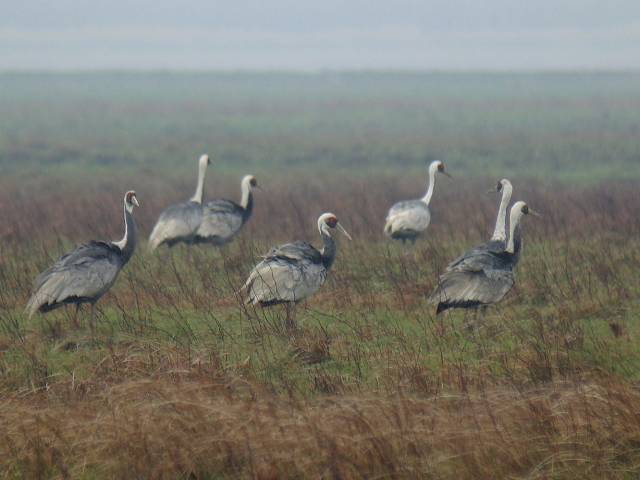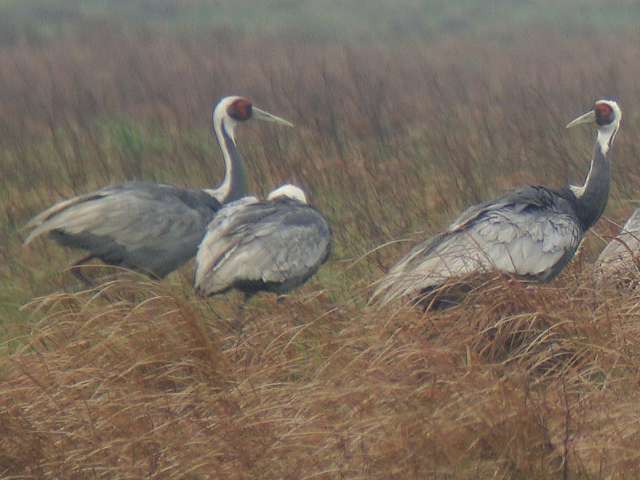 Some more White-naped Crane images. Bird of the trip I guess, "stunning" in any case.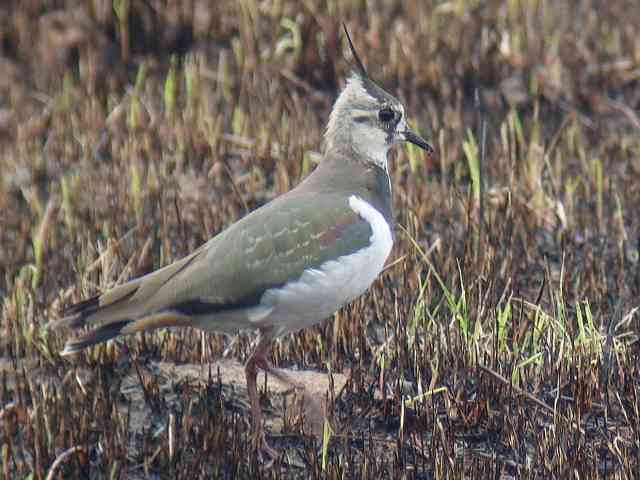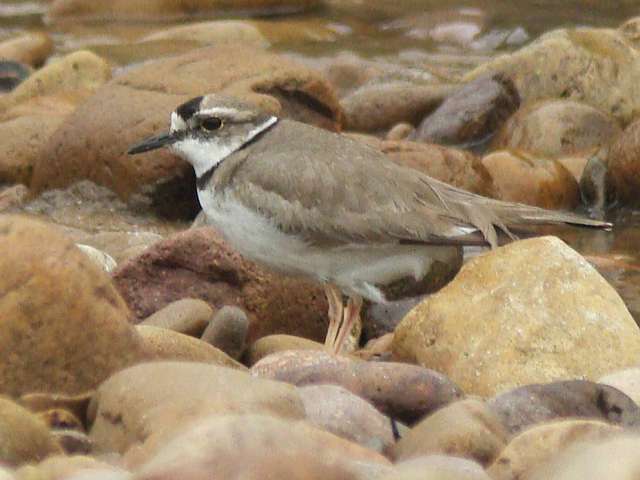 From birding back in the old days in Belgium; Northern Lapwing! This is one of the better Asian waders, Long-billed Plover.
Chinese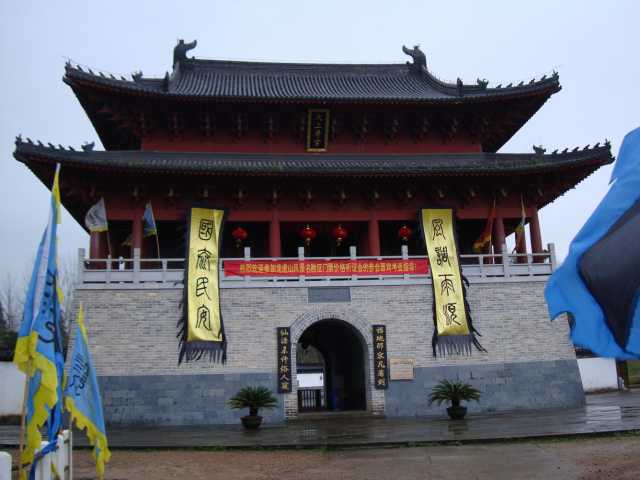 Temple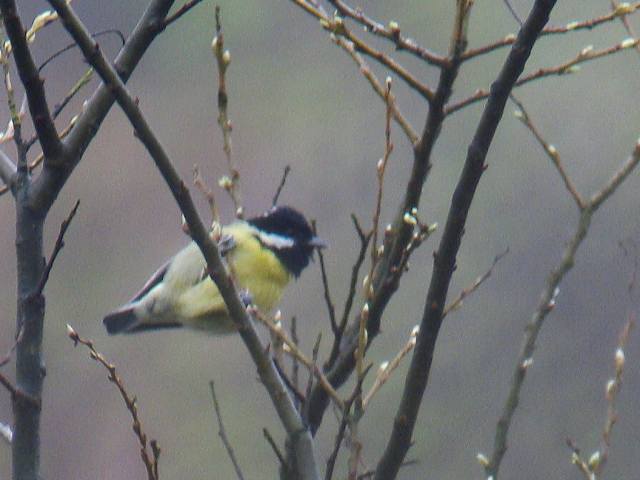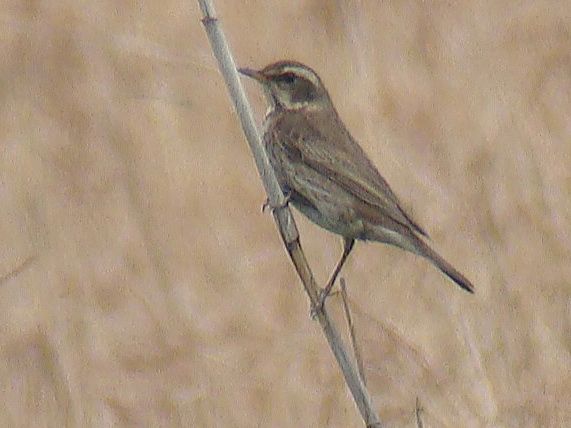 Yellow-bellied Tit Dusky Thrush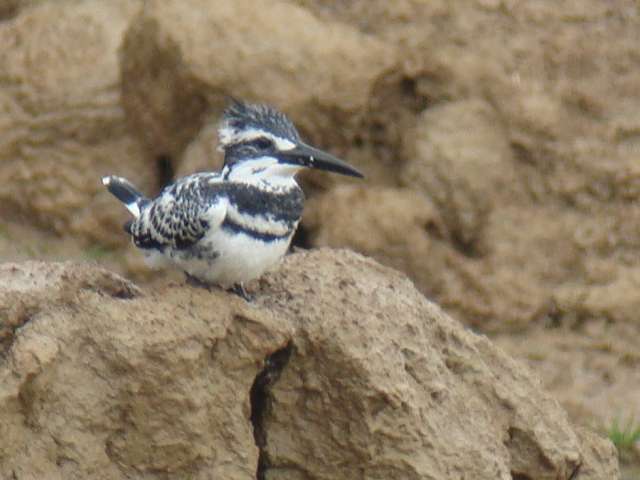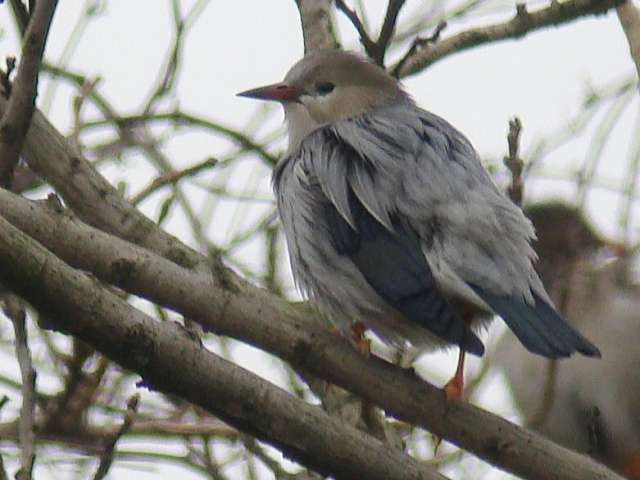 Pied Kingfisher Red-billed Starling
Bird sound recordings made on this trip;
Spot-breasted Scimitar Babbler
Full trip list B2A reports / Trip reports main / top / Birding2asia home
Stijn De Win / Birding2asia.com published this information page on 21 March 2010.
Copyright

Birding2asia

All rights reserved.