Stijn De Win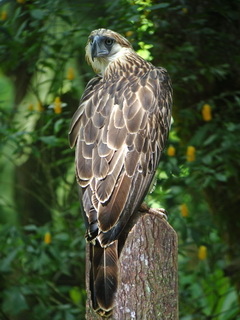 Philippine Eagle,
Malagos Eagle Center

We power your vacation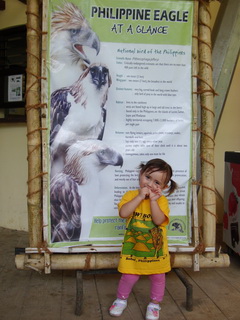 My baby girl at the Eagle Center!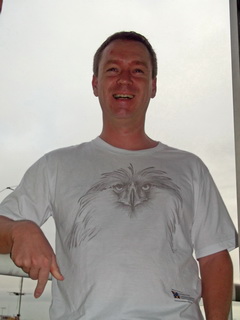 Papa with his new Eagle shirt!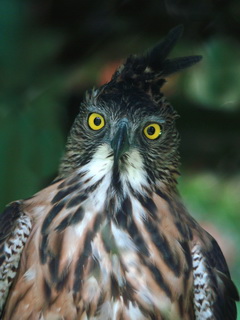 The Eagle Center is home to some other
rescued raptor species; this is the
endemic Pinsker's Hawk Eagle we
did also see in the wild at Eden.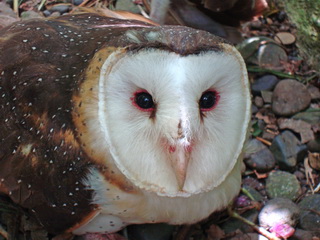 Grass Owl at the Eagle Center.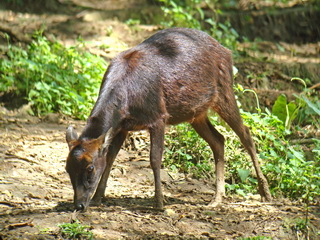 It is unlikely you'll ever see the rare
Philippine Brown Deer in the wild...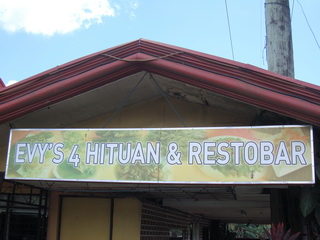 Best meal I've tasted in the Philippines
at this restaurant...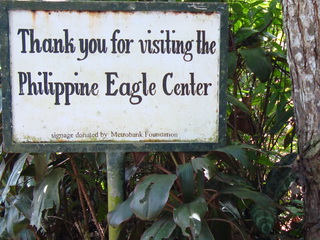 For 'wild' Philippine Eagle photos
Photographs taken
'on this trip'
by
Stijn De Win
Copyright © Birding2asia.com

All rights reserved.
Davao;The Philippine Eagle "easy"
Mindanao, 24 - 27 February 2013
Stijn De Win
Mt. Apo / Mt. Talomo, Philippine Eagle center
A short visit to Davao in February 2013 proved to be a very rewarding experience and the main reason for doing this trip report is to let people know how easy it may just be to connect with 1 of those 'must' see birds in the world; The Philippine Eagle definitely ranks amongst the top 10 in my opinion. Of course Mount Kitanglad is 'the' famous Eagle watching site but at the same time any visit would most likely involve arranging for a 3 night (preferably) stay in the basic Del Monte lodge. Most people visit Kitanglad on organized tours and while for many participants this does often ends up as the highlight of the tour it also means, besides camping out without electricity, quite a bit of walking up and down on trails that can be quite muddy at times. Maybe this doesn't fit for everyone so how about watching the Philippine Eagle 'in the wild' –virtually- from the comforts of a car?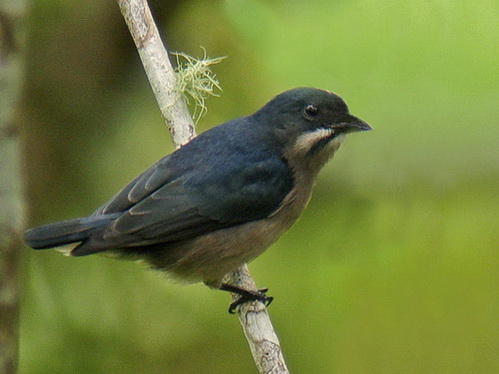 The scarce and localized Whiskered Flowerpecker simply allowed me to get the first ever
quality shot of it taken in the wild! Thank you sweet little bird!
Davao, which by all means is a very safe city I must say, was a family visit for us and this turned out ideal. Being based in the city I went off birding in the mornings only and by 11 AM there was time for lunch together with my wife and 2 year old baby girl. No need to say the afternoons were spent shopping and on the kids playgrounds provided in the malls although on 1 morning we did visit the Philippine Eagle center together, which was a delight. If your future visit would be birding only, I would possibly recommend a stay of 3 days. All birding sites are within 1 hour drive so any hotel in the city would make for a good base. Also do remember that Davao is the best gateway for going Picop in case any extension to see Mindanao's lowland species would be of interest.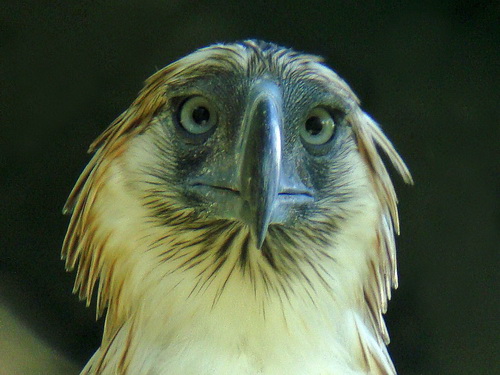 There're 2 good and easy birding sites to visit near Davao, I did focus on a site called 'Barangay Eden' in the foothills of the majestic Mt. Apo, as this is the best place in Philippines to connect with the rare and localized Whiskered Flowerpecker. Besides numerous sightings of this the site did hold many of the same Mindanao mountain specialities also found on Kitanglad. First of all we did see a Philippine Eagle on our second morning session by the end of the trail well beyond the Eden Nature Resort. The bird of our sighting was quite distant and I should mention that Eden would be the best site for finding the Whiskered Flowerpecker while another nearby site with the name Pakatanan is the better place to go for Philippine Eagle sightings, eh, from the car would be possible indeed… even before having visited myself ever, I did help a party of 4 Chinese birders in December 2012 with arrangements through our guide in Davao and they did very well with sightings of both wild Philippine Eagle and Mindano Eagle Owl (Giant Scops) before travelling onwards to Picop.
Anyway, apart from the Eagle, both our short morning sessions at Eden did produce plenty other superb birds, and those were often endemics indeed. Stripe-breasted Rhabdornis appeared to be common, it was great to see Naked-faced Spiderhunter nest building at this altitude, Cinnamon Ibon showed regularly while many Coleto perched atop dead trees. Eden holds a fine selection of Flowerpeckers and we did see no less than 6 different species in a couple of hours on 1 morning; Whiskered Flowerpecker of course which is virtually guaranteed but also endemic Buzzing, Orange-bellied, Bicolored (scarce and endemic) and Fire-breasted Flowerpecker, additionally we had Olive-capped Flowerpecker, another Mindanao endemic, showing well. Red-stiped and Pygmy Flowerpecker would be other possibilities making up for an impressive 8 species of Flowerpecker recorded from the site. Further, I was impressed to see Pinsker's Hawk Eagle here. Elegant Tit and Mountain White-eyes are common and flocks of these support Black-and-cinnamon Fantail and Sulphur-billed Nuthatch. White-browed Shortwing and Long-tailed Ground Warbler remained heard only and we didn't see Purple Needletail or Montane Racquet-tail on this visit but both are good possibilities. We did see Philippine Needletails though and those really are amazing, just their wing shape alone is a sight to behold.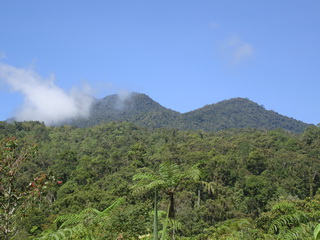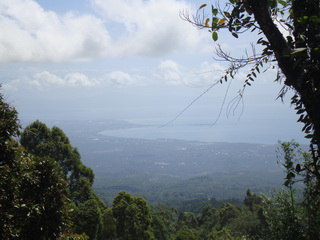 The view on Mt.Talomo from the top of the trail at Eden; This is taken from the same spot we did see our wild Philippine Eagle on 25th February 2013. Second photo is the view looking back to Davao city from up the mountain at Eden.
The Philippine Eagle Center is a research, rescue and education facility managed by the Philippine Eagle foundation which we visited on 26 February 2013. The center is open daily and for a minimal fee impressive close-up looks of this most remarkable Eagle, known to grab monkeys, would be yours. It could well make a life-changing impression for all who have seen it in the wild. I mean, 'only' for those who have seen it in the wild… for others I'm afraid the experience may be similar to any visit to any zoo. Anyway, the center sits on well wooded grounds and I should mention quite a few wild birds do occur. On our family visit my wife brought my attention to a Silvery Kingfisher (she always does find those…) while I was trying to get photos of a Brown-breasted Kingfisher. I quickly turned to the Silvery Kingfisher… never seen it from closer by. The Eagle center seems to be good place for photography I may conclude. Other birds that have been recorded on the grounds are Yellow-wattled Bulbul, Brown Tit-Babbler, Orange-tufted Spiderhunter, Purple-throated Sunbird, Everett's White-eye, Orange-bellied Flowerpecker, Flyeater, Rusty-breasted Cuckoo, Hooded Pitta, Yellow-breasted Fruit-Dove and Everett's Scops Owl.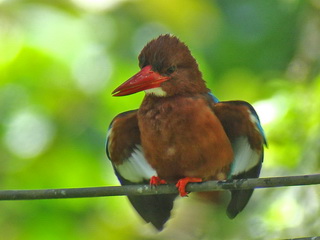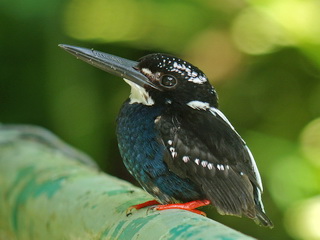 Wild birds photographed on the grounds of the Eagle Center;
The Brown-breasted Kingfisher and the Silvery Kingfisher are both endemic to the Philippines.
Handy notes for birding Davao;
-Our guide mentioned Bucana Beach, river mouth and ponds near Davao which hold plenty waders in the winter season and may be good options for spending some time in the afternoons. We didn't visit those in Feb. '13.
-The Eagle Center would be quite easy to visit on your own. It's located in Barangay Malagos, less than an hour drive from Davao city on good roads. Best would be to charter a taxi for the journey incl. waiting time at the center. On our way back we stopped at a local restaurant specializing in "hito" (snakehead fish). Gush, at Evy's 4 Hituan, we had the delicacy cooked in creamy coconut milk soup and I must admit until this day it remains the best dish I've ever tasted in the Philippines. I'd even like to add that Thailand's version "Tom ka" would not easily come close. It'd be like compare fine cuisine with roughly done street-stall food…
-At the back of the EagleCenter lies the Malagos Watershed forest. In addition to better chances of any of the wild birds mentioned for the EagleCenter this holds rarities as Rufous-lored Kingfisher and Black-headed Tailorbird. Unfortunately a 'personal' permit (not day visit permit) is required to enter. I've heard from our guide that he only recently managed to obtain this permit so for now I presume joining him may be your only bet on a visit to the Watershed Reserve while at the same time I guess it would be an opportunity to cut out the charter taxi cost for the Eagle Center visit.
-With your own transport or a chartered taxi it's fairly straightforward to get to 'Eden Nature Resort', however, the good birding at Barangay Eden lies well beyond this resort and would require 4WD or a fairly long slog walking up the hill. Luckily our guide in Davao has a brand new sturdy SUV that delivered us right by the start of the trail.
-For the best Eagle watching opportunities it would be best to visit Pakatanan. To be honest I have no clue myself about directions getting there other than that it must be quite close to Eden as the crow flies but not accessible from there. Local guide + transport necessary I would say.
-The same can be said for Picop, unless you're on an organized tour don't even think going there without the local guide Zardo, all I can do is tell people Zardo is both excellent and essential on a visit. Luckily a Picop visit as an extension to the Davao sites can be arranged easily and would include accommodation, transport, permits, Zardo's guiding... Pick-up and drop-off from your hotel in Davao city seems to be the way to go? Count 4 days for this. Fly to Davao and use it as a base and it would give you the opportunity of an excellent week of birding, packed with endemics indeed. Writing this I can hear my baby girl say 'wow nice'!!
-Davao's modern airport has numerous connection options. Cebu Pacific, Phil. Airlines, Zest Air (AirAsia) operate direct flights from Manila, Cebu, Cagayan de Oro, Palawan, … and Davao also features a few international flights; Silk Air from Singapore is one I can recall.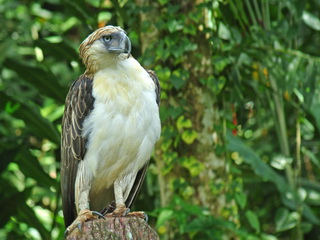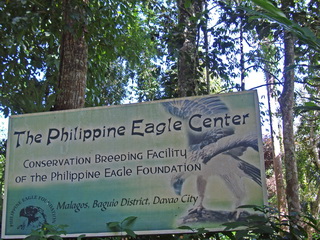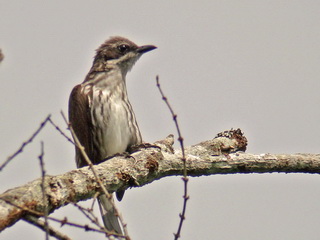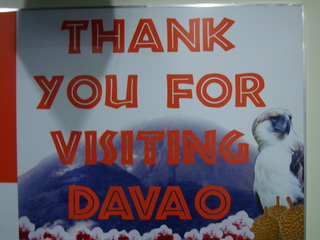 Stripe-breasted Rhabdornis, Barangay Eden. Sign at Davao airport.
Contact; stijndewin@birding2asia.com